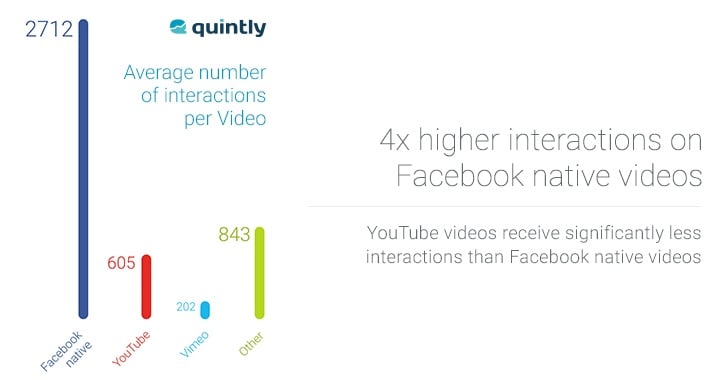 Info: Please find the update version (March 2017) of our Facebook Native video study here.
Travel back in time for one year and think about your Facebook timeline. Scrolling down you'll be likely to find significantly fewer videos than you would today. Facebook pages try different content strategies to engage their users and win their attention for a short period of time. Creative videos are a perfect way to engage your community. Creating a video comes with a higher amount of work than uploading an image and companies want to have a return for that investment - with reach and interactions as the currency.
Different sources reported that it might be suboptimal to upload a video on Facebook as a YouTube link. This post will clarify why this is true and which amount of interactions the average Facebook page receives with a video upload exactly. For a valid sample set we analyzed more than 1 million Facebook video posts.

Facebook Native Videos receive highest amount of interactions
In our analysis we found that Facebook native videos perform up to 4 times better than all other video formats. Facebook seems to incentivize businesses to upload videos straight to their "in-house" service. As well as that, features that are just available for Facebook native videos, such as auto-play, seem to boost the performance of video posts. Knowing that companies relying on videos in their content strategy should consider to upload their videos to YouTube and Facebook separately.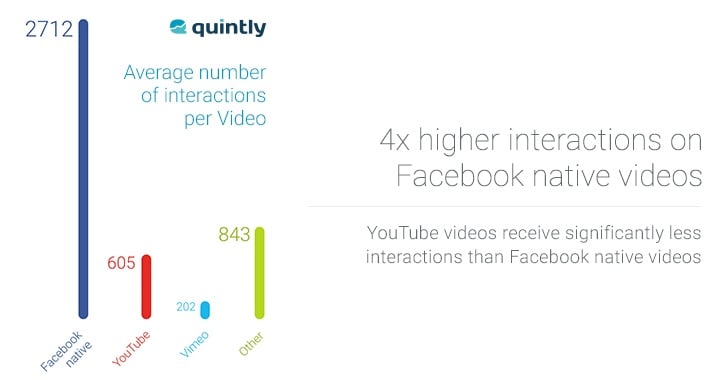 Differently put, take a look at the Interaction Rates:
Facebook Native Video: 0.53%
YouTube: 0.15%
Vimeo: 0.13%
Other: 0.14%
Facebook Native Videos Dominate
First, we wanted to identify the status quo of video uploads. Our analysis shows that Facebook native videos dominate timelines. Youtube videos are not even one quarter of all videos posted by page owners. Other video players such as Twitch, Vevo and Red Bull's own media player reach a combined share of 10%. Thus, businesses active on Facebook prefer to upload their videos directly to Facebook instead of using the probably already-existing link from YouTube.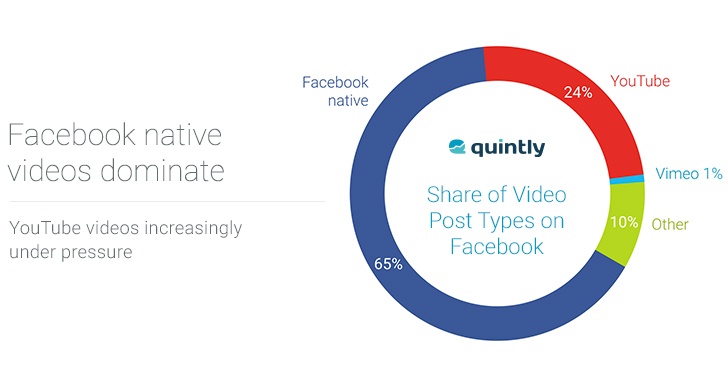 Let's have a closer look at the potential reasons:
1) Facebook's EdgeRank
Facebook invests a lot of resources to increase the pressure on the video "top-dog" YouTube. Having an own algorithm which ranks updates in the user's timeline, Facebook is able to determine which reaches more people. As YouTube videos can be seen as competition for Facebook it would make sense to incentivize videos uploaded straight to Facebook.
2) Special Facebook native video features
Another reason for companies to upload straight to Facebook are features that can help to increase interactions on the video. Firstly this is the auto-play function. This feature has the power to grab people's attention while just scrolling through their timeline. As a result, content has to be attention-grabbing in the first seconds. Despite the fact that this feature is disabled by many users it can be greatly beneficial for marketing on Facebook.
These two facts can lead to higher reach, social sharing and a faster snowballing effect. A prediction for 2016 would be that we will see a constantly increasing amount of Facebook native videos.
Facebook and Vimeo videos sponsored most frequently
Advertising on social media receives more and more attention. Companies want to reach as many people as possible and that's why it gets more popular among companies to invest financial resources on Facebook. With the help of our new sponsored post algorithm we were able to reveal that Facebook and Vimeo videos tend to get promoted most frequently. YouTube videos, on the other hand, are less likely to get promoted on Facebook.
Lastly, we wanted to provide readers with deeper insights in the strategy of the average Facebook page and analyzed how different video upload possibilities are used. Pages have multiple options to upload video content and do not have to decide for one. This analysis showed that Facebook and YouTube uploads both play an essential role for businesses relying on video content.
Knowing that native videos perform significantly better than YouTube uploads, businesses actively marketing on Facebook should go for Facebook native videos rather than any other video formats. To see the full details of our study take a look: