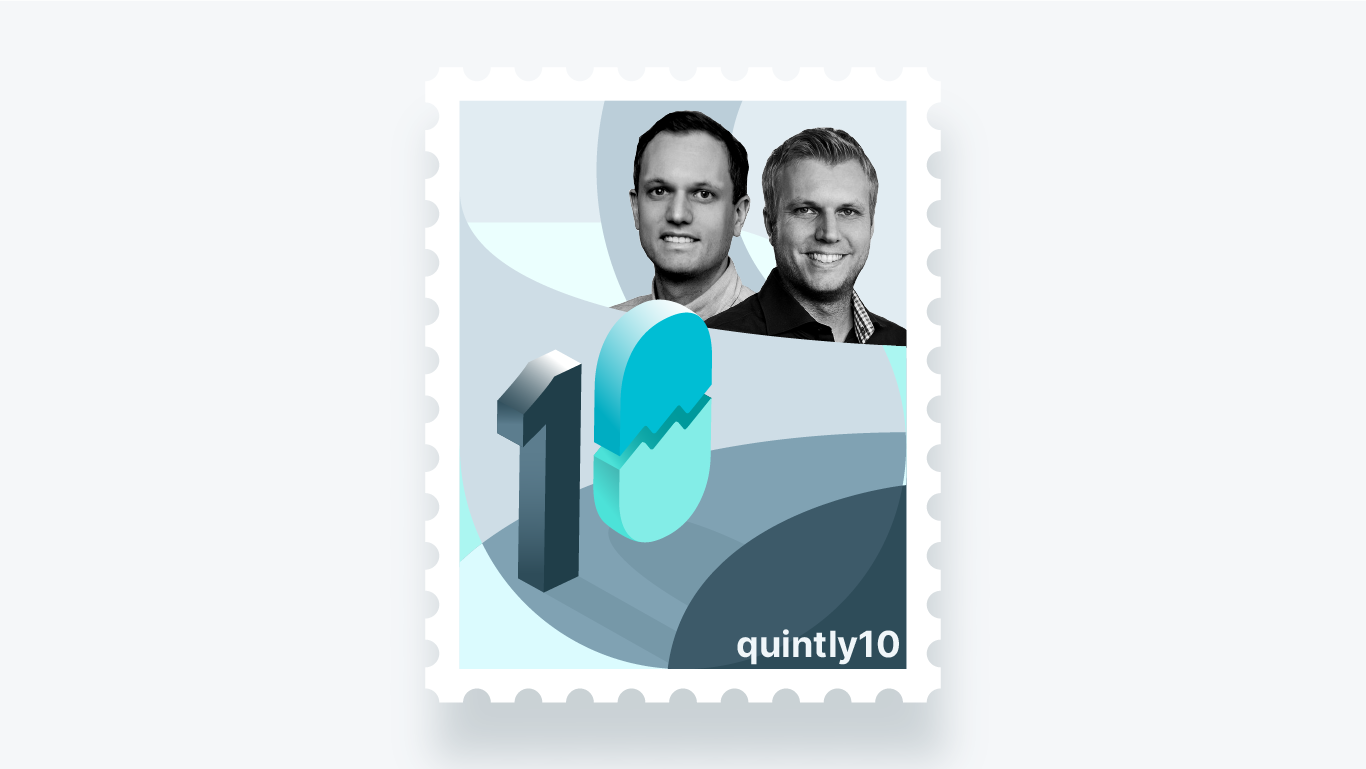 Time is flying and this March we are officially 10 years old! Actually, it's a little longer but you can read all the details below. It has been a crazy ride with lots of ups and downs, and we want to use this article to share our journey from a founder's perspective. The last ten years have been one big learning experience for Fred and me, and we are really grateful that we got the chance to steer quintly to where it is today.
Before we go into the details, we want to say a big "thank you" to our customers, because without them we wouldn't be where we are today. For a bootstrapped /profitable company like us, revenue is the main way of funding, so we are very grateful that our customers "invested" in us continuously over the last 10 years.
Also, we are really thankful to everyone in the quintly team, current and former employees, who gave and still give so much energy into moving the quintly story forward.
Now, let's get started and travel back in time.
The idea and first customers (2010)
Back in 2010, Fred and I were running an IT consulting company where we developed lots of web projects and some of the first social media apps. We learned the challenges of making a "charge by the hour" model work and what it takes to make sure we run such a business in a profitable way. We always dreamed of building a "product business" that can be scaled beyond the hours we can work, and we tried a lot of different things.
After some failures and lots of wasted hours on ideas that didn't work, we got the challenge to help one of our customers understand the true performance of their Facebook activities. Talking through this, the customer brought up the idea of developing a simple tool for it. So, in the first half of 2010, we developed a quick prototype that could show the fan numbers of Facebook Pages, how they developed over time and how they rank against competitors. We were not really creative in finding a good name, so we just called it "Social.Media.Tracking".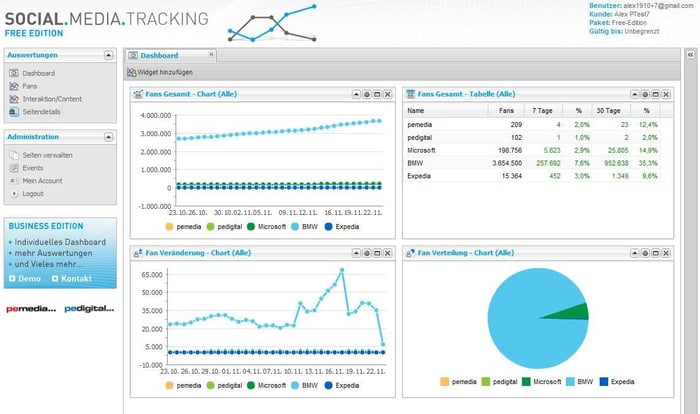 The first working dashboard showing Facebook metrics, 2010.
This was how it started and it's still crazy to think about the fact that a decade later, this is still the core idea (of course with a lot more complexity). Today, it's standard to measure everything, but back when Facebook was still getting started, the number of analytics tools was very limited.
By the end of 2010, we won the first few customers from our extended network and many of them are still customers today.
Incorporating and getting fully started (2011)
In 2011, things got real and more customers came on board. In March we closed a funding round to grow our customer base in the US and this helped us develop the product further. At the same time, we renamed our product "AllFacebook Stats".
As tech founders, we were pretty concentrated on making the product better, so we had a tough time selling, therefore growth was rather slow. We weren't used to the typical funding model, so we never really used any of the money that we raised.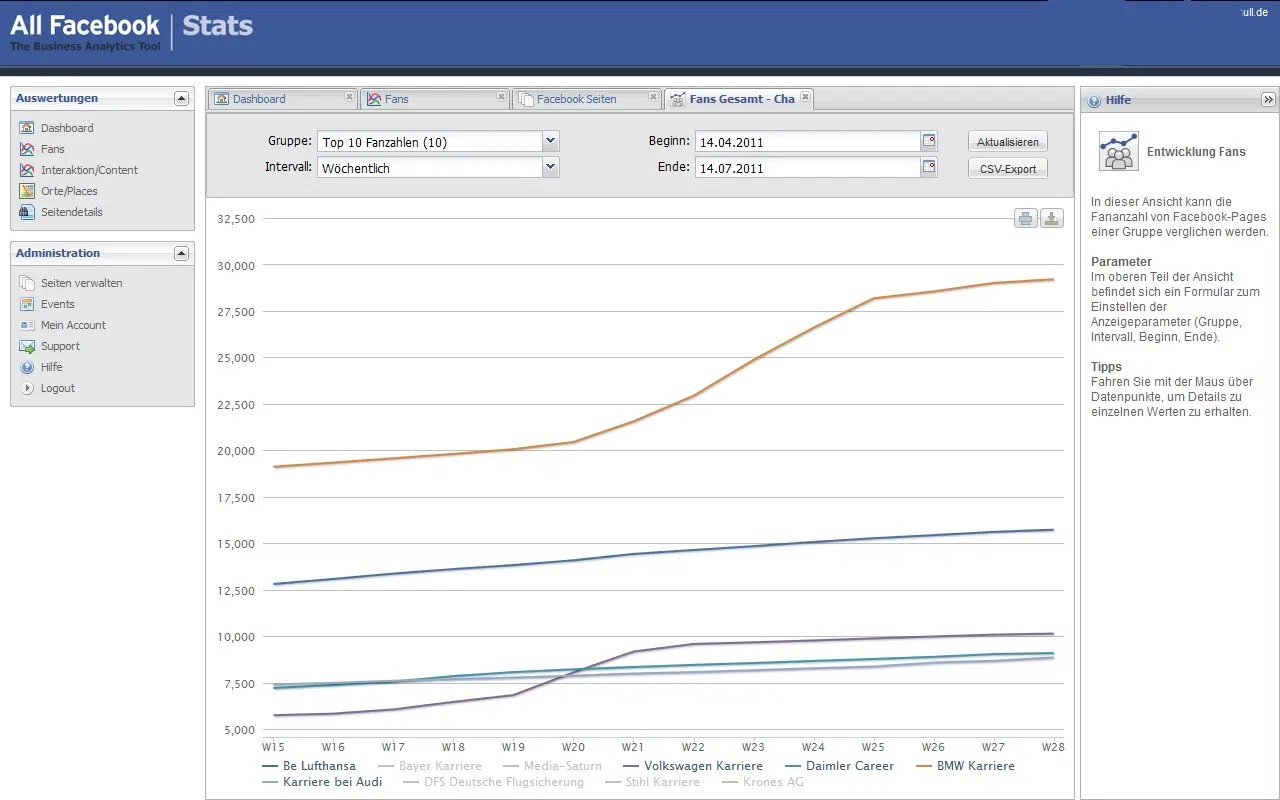 AllFacebook Stats - first commercial product, 2011.
Back to bootstrapping (2012)
1.5 years after getting the funding, we and our investors weren't too happy with our growth so we decided that this model wasn't for us. We agreed to buy back the shares from the investor and decided to try it in a bootstrapped way from thereon. We were still really positive about the idea as we had some really happy customers and churn was low.
On the product side, we added a couple more social networks besides Facebook, therefore our Facebook-focused name we had didn't work anymore. After some weeks of thinking about it, we came up with the name "quintly" with the goal to build up a brand. It's always tough to go with a non-descriptive name, but we wanted to be unique and give it a try. It matched pretty well with our very long-term approach in general.
Until mid of 2012, it was just myself working full-time on quintly whereas Fred and our remaining team were mainly working on our consulting/services business so that we could afford to try out this new idea.
Spending time in the US (2013)
In 2013, we realized that although we had slow growth, things weren't coming together so easily. We had a great product but somehow we couldn't get it out to the market and win new customers at a higher pace. As tech founders, we didn't have a lot of experience in marketing and sales and therefore we always went back to working on the product. As we didn't like sales, we tried to outsource it to external companies, but this also led to nothing.
In the summer of 2013 Fred and I went to San Francisco for a couple of months to learn from other SaaS businesses out there and looking back this was one of the best decisions we made. Here in Germany SaaS companies were still rare and Silicon Valley was the perfect ecosystem to be in. We learned that as founders we needed to do more than just build a product. We should sell it ourselves, go out, collect feedback and understand the core needs of the customers better.
So back in Germany later in 2013 we dived deep into the sales process and started doing product demo after product demo. If you look at our MRR/revenue charts now, you can see a real uptick at that point in time. The results were amazing and by doing sales ourselves we were able to increase growth from 1% per month to about 10% per month. We didn't know back then that this was the start of three crazy growth years. It was the first time that I felt that we had some degree of "product-market fit" and the vision was very clear.
Real growth kicking in (2014 - 2016)
The next three years were just a crazy ride. We increased our monthly revenue by a factor of 6 and our team grew from 4 people to around 30 team members by the end of 2016. Our core strategy was the same as today: Build a great product and have outstanding customer service. We learned how to do inbound marketing and could grow our customer base further.
We did a lot of iterations and improvements on our product and this is what it looked like in 2014:

quintly is born. Growth, marketing and learning curve 2012-2016.
In this time we also incorporated a US entity to serve our customers in the US better. We rolled back that decision in 2020 though as overhead was bigger than we expected and doing US business with our German entity was nearly as easy.
Here is a picture of our bigger team from one of our company trips to Marbella back then. Big thanks to everyone who was there and went through this crazy time with us.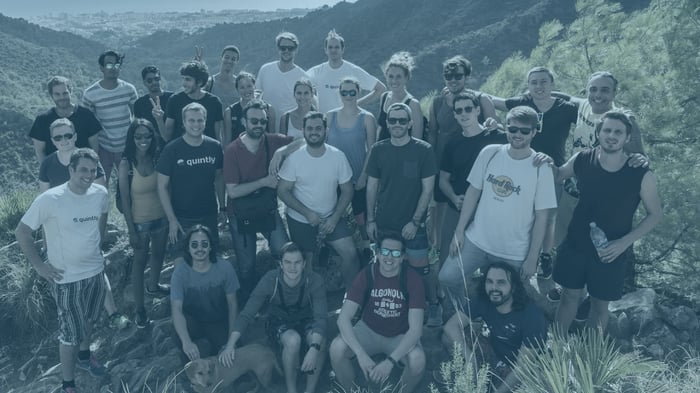 Sun, strategy, Marbella. Part of our amazing team back then, 2017.
Learning the pains of a growing business (2017-2019)
What we didn't realize in these crazy 3 years from 2014 to 2016 is that growth, especially on the team size, brings big challenges along. Everyone in the company knew just one direction and that was upwards and when things were getting tougher no one (including us) didn't really know what to do about it. Being a startup ourselves we liked to be very agile and fast, but with the growing company, we felt more and more tied to our own processes. As founders, we had to learn how to lead a company and manage other people. We needed to add a first management layer and delegate many of the tasks that we were still handling ourselves.
For 30 people we needed to bring systems in place that could work also for 50 or 100 people, but that slowed us down so much that we couldn't focus on the important things like the product and our customers. We were always very innovative in the past so it was very painful for us to see the declining output. Hours and hours every day were spent in internal meetings, but the results to the outside were becoming lower and lower. Some other effects like the Cambridge Analytica "scandal" came along at the same time which made it even tougher (more on this below).
So we went from crazy growth in the years before to stagnating revenues and it took us some time to realize that this is the new truth and we cannot just continue as we did before. Looking back at this time probably half of the issues came from internal struggles and the other half from outside effects like the data privacy scandals and market changes.
The Cambridge Analytica "scandal" and the side effects (2018)
In 2018 the social networks were shaken by data privacy problems, starting with the Cambridge Analytica "scandal". I'm putting the word "scandal" in quotation marks because as a technical person knowing all the details about social network APIs, it wasn't really a scandal and no big surprise. To everyone in the developer ecosystem the mechanics were clear and known for years. New was the size of the datasets that were extracted and how it was used to collect data about individual people to target them accordingly. Our activities had nothing to do with the problematic areas, as we were focusing purely on business profiles.
Still the effects and changes this brought up also hit us hard. We needed to go through in-depth app review processes with the different networks as they wanted proof that our model was in line with their terms (which it was at all times). These processes plus a lot of API changes cost us a lot of developer time, which we couldn't use productively to make the product better for our customers.
Setting up the company for long-term success (2019)
In 2019 we decided that we cannot continue on the same path. With stagnating revenues and a big team we were too slow to adjust and because of our need to be profitable, we couldn't give a great outlook for every individual in the team. Besides that, over the years we always invested our profits into growing the company so after 9 years we asked ourselves more honestly what we want as founders. While managing a team of 30 people was a great learning curve for us we realized that we don't enjoy it as much as being in the trenches and building the best product. So going back to our roots we decided to increase profitability, shrink the team and again create better future perspectives for everyone in the company. As sad as this was at the time, it clearly was needed and proved to be a new beginning for us.
Full focus on the product (2020/2021)
Of course, at the beginning of 2020, we didn't know that this crazy Corona year was lying in front of us. As to our strengths, we pushed hard on the product to make sure that our customers can trust in us to get the best out there. Until today we have made tremendous progress and we are proud of what we have achieved. Looking at other solutions out there quintly is one of the last remaining specialists in the social media analytics segment and from what we hear from our customers this is needed more than ever.
Corona had some impact on us as customer budgets were smaller or delayed and some existing customers couldn't renew their contracts as planned before. But of course, we can't complain compared to so many other businesses out there. On the contrary, we could use the quieter time well to bring us into shape for a great year 2021. We have lots of plans still for this year and you can expect a fully motivated and fully focused quintly.
The product has come a long way with more networks supported, deeper integrations to other systems, and generally new features that make the lives of our customers easier. This is how it looks like today: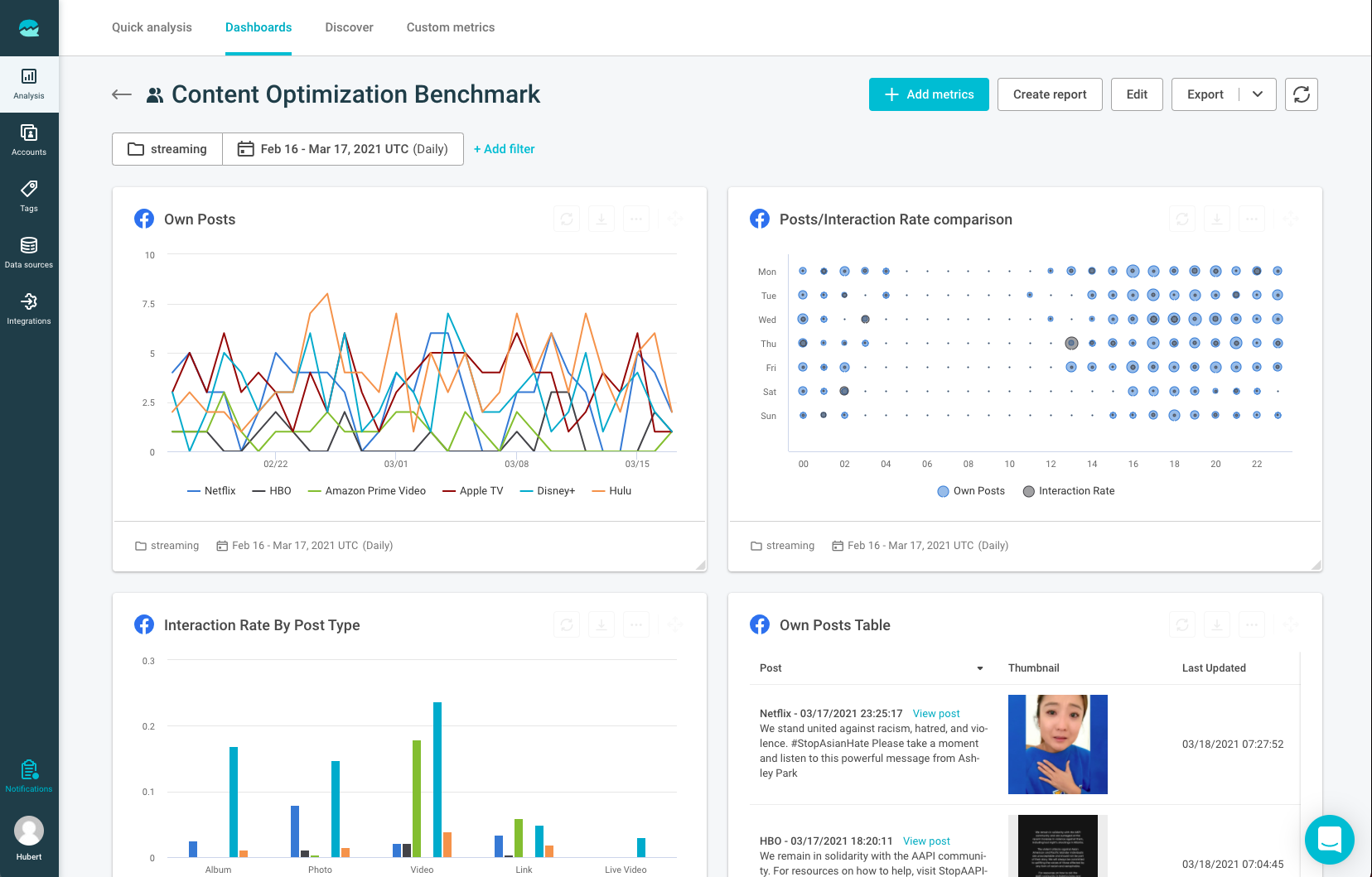 quintly today. A product-led, customer centric company, that proudly stands by those values.
What's up for the next few years?
The last ten years have been a real rollercoaster and we are very grateful for all the learnings we collected. We believe that our company and our product have a great future and we look forward to shaping it together with our team and our customers. We believe in the bootstrapped and profitable business model more than ever as it allows us to be a strong and reliable partner. We want to be the leader in the social media analytics space and help our customers to leverage the positive sides of social media (although this is no easy task).
What would we do differently?
I'm not a big believer in being too hard on our decisions in the past. Of course with our current knowledge we could have been "smarter" or faster in some aspects, but to be fair we need to analyze our past decisions taking into account the knowledge we had when taking a decision. Taking this approach I'm pretty happy with how we moved along. It was never our goal to create a unicorn. We rather wanted and want to create a great place that people love to work at and that gives us flexibility and optionality to go after our entrepreneurial ideas. Being bootstrapped and profitable plays an important role in this long-term vision for ourselves.
One learning I definitely took for myself is to listen to my gut feeling more and to make faster and bolder decisions. So many things were dragged along although it was already clear in our minds.
Our strength was always to focus on the long-term and we never took decisions because of short-term effects. The most important thing for me is that we always stayed true to our personal values and beliefs. We never let someone down on the way, we never treated a customer unfairly (we even cancel them proactively if they don't use our platform), we always stuck to our word and we want to show that you can be both successful and nice/human. Overall I'm really happy with how we developed and I wouldn't want to miss a single thing from that 10 years and I would definitely do it again.
On top of that, we met so many great people along the way (customers, team members, other founders, …) and we had so many memorable trips around the world. It's still crazy to know that I can pick a random big city anywhere and I can easily go and visit a quintly customer (at least after Corona). That international side of the business makes it even more attractive.
The nice thing about our current quintly setup is that we don't need to grow for the sake of growing but we can design the company in a way that serves our customers perfectly but also allows for flexibility for ourselves and the team. Family has gotten much more important in the last few years as we have gone from "no one has kids" to "nearly everyone has kids" in a very short time. Naturally, that changes priorities and we feel we are in a great position to build a company that supports rather than contradicts changes like these.