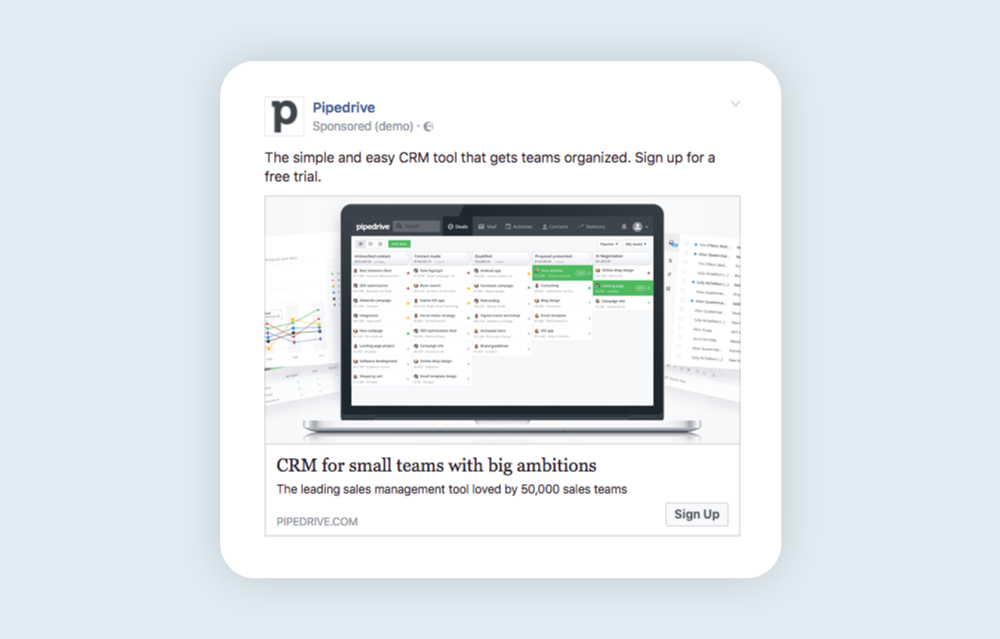 More and more organizations are moving their operations to the cloud. This is fuelling the rapid expansion of cloud-based SaaS (software-as-a-service) businesses that offer their customers cost and scalability benefits without long-term commitments.
With the increasing number of SaaS businesses in every niche, making your business stand out to increase brand recognition, attract new customers, and retain existing ones is a tall order. One way to thrive amidst the growing competition involves leveraging social media marketing.
If you are operating a SaaS business and looking to make a mark, this piece has you covered! Let's explore some key social media tactics your SaaS business can implement.
Use paid ads on social media
A survey showed that customers spend 20% to 40% more with businesses that have a compelling and proactive social media presence. You can use social networking channels to ask questions, provide quick customer resolution, and keep customers updated.
Make the most out of social media ads to get leads from these platforms. For instance, using Facebook's Meta for Business can help identify the interests and demands of your target audience. Accordingly, your SaaS products can have content tailored to suit the audience.
Also, you can geo-target your SaaS social media ads so that your business penetrates a new market and provides your sales funnel with leads.
Here are a few quick steps to get started:
Have a virtual, remote assistant that has the necessary social media skills
Identify your key platforms. Usually, SaaS businesses are best suited to Twitter, Facebook, and LinkedIn.
Conduct audience research using the right social media ad tools
With this method, you must monitor your audience's activities closely to determine when to display your adverts. Another way involves retargeting on social media as well, which we'll cover later.

Show how your product works
Your SaaS customers will look for quick answers when facing issues. Ideally, a tool such as Hiver's customer support solution can help your team provide an excellent customer service experience.
But failing to provide timely customer support may lead to customers switching sides to a competitor. Consider leveraging social media platforms to answer common customer problems that blend with customer support services.
Here are some of the many ways to use social media for product updates:
Educational and how-to posts
Going live on Facebook and Instagram
Conduct Q&A sessions
Create explainer videos
Furthermore, creating explainer video ads can prove effective to boost conversions. Videos help provide more information, keep your audience engaged, and improve conversions.
Here's an example of Zenreach, a SaaS marketing platform using Facebook video ads to generate sign-ups. In case you need inspiration for setting up your video campaign - find 7 tips for your successful video ad.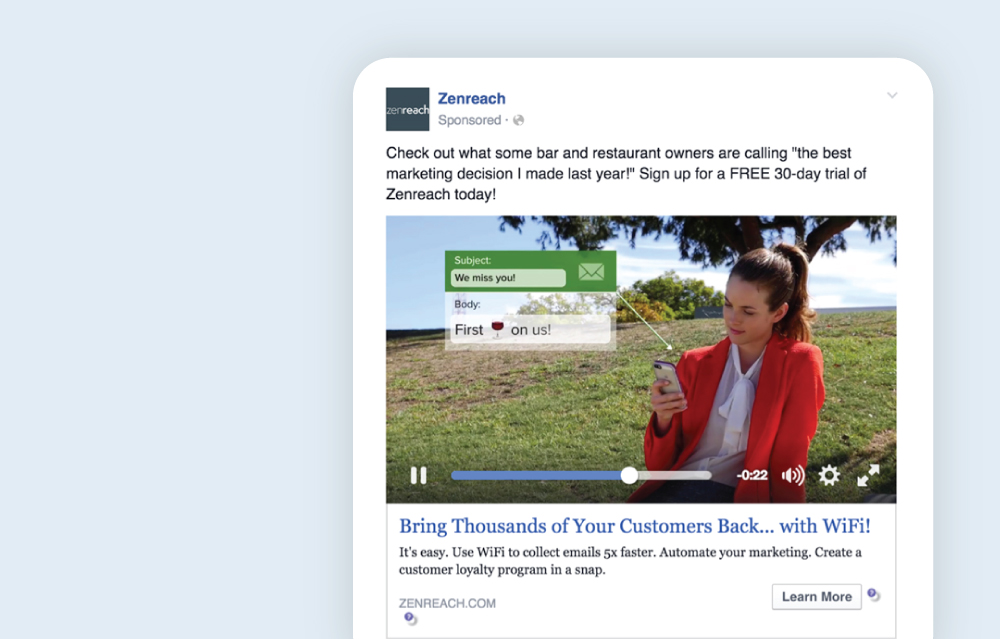 Source
Partner up with influencers
When collaborating with social media influencers, the biggest challenge is identifying trustworthy and credible influencers that understand SaaS in general and can help create insightful content promoting your solution.
You can find and work with social media influencers if you follow a few simple guidelines:
Use tools like Google, Quora, and The Trend Spotter, search for relevant influencers in your field, and contact them. Here's a quick look into the top SaaS influencers you should follow in 2022.
Use relevant hashtags on sites like Instagram and Twitter to promote your SaaS product's nature. Analyze their accounts and the content they've posted to determine whether they might be considered an influencer.
Take a look at the influencers who are endorsing your rival's SaaS product. Even if you can't work with them right now, you may discover a network of influential people you may approach later.
Create top-notch visuals
According to a HubSpot survey, social media users prefer images. Almost 60% of respondents urged businesses to provide more visuals. Another research suggests that visual content on Facebook timelines — photographs, videos, infographics, etc. — increases content engagement by 46%.
As a SaaS business, you need to push more data-driven infographics, visual how-to posts, and so on to drive engagement.
You can use Canva to design standard layouts for your social posts. Canva's templates help you brainstorm better. As a best practice, infographics should break down the value proposition of your SaaS product. For instance, think of infographics having use-case scenarios, industry trends, etc.

Use remarketing
Remarketing is an ideal strategy if you want to engage people who've shown interest in your product and thus boost your SaaS product sign-ups. It's a way of using data analytics to convert customers on social media.
For example, with remarketing, you can target those who have signed up for your free trial as ideal candidates for retargeting ad campaigns.
Next, push your BoFu content when adopting social media remarketing. This should include infographics, ebooks, and white papers tailored to drive conversion. The goal is to instill loyalty in them from the outset. Moreover, ensure that your content eases the onboarding process for your SaaS product and addresses any issues that may arise.
This approach helps to lure back visitors who did not download or use your free trial but have shown interest in your product in the following manner:
Visiting your website
Subscribing to one of your social media channels
Signing up for your newsletter
Sharing their information for a personalized demo


You can also use Facebook's Meta Pixel for retargeting ads on their platform. This is useful once visitors leave your site and you'd want to share personalized adverts on Facebook. This nudges them to return and sign up.
Key ad performance indicators like comments, shares, and clicks are all tracked by this tool.
You are now in a position to control the following:
Pause or end the ad campaigns that are not delivering desired results,
Optimize ad copy
Re-allocate the advertising budget for your top-performing ads.


Here's an example from Pipedrive CRM, they use paid advertising on social media with a remarketing campaign to have audiences sign up for a free trial.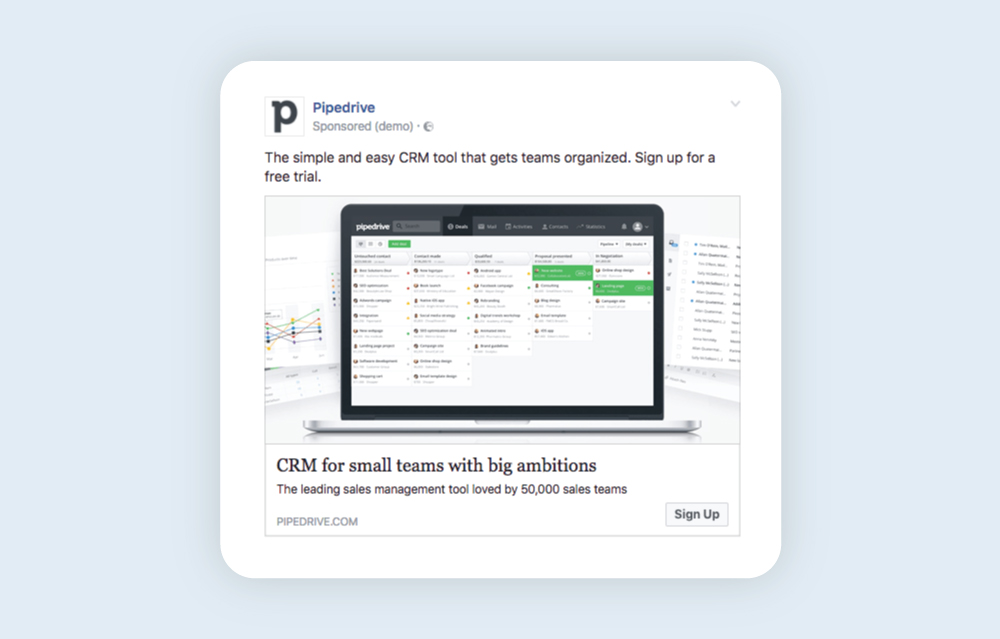 Source
This ad above showcases the product's dashboard, provides social proof in the copy and asks users to act.
Over to you
To summarize, choose your platforms and use both organic and paid ads to promote good content. Tie up with your industry-specific influencers on Instagram.
Social media should be a part of a cohesive digital marketing plan. Also, it helps to educate your product team on how your marketing teams are promoting the product and what customers expect.
Involve your brand-specific social media storytelling across platforms and try out different content formats to find the best one for your business.
So, how do you currently use social media for marketing your SaaS business? Feel free to share your tips and tricks in the comments below!