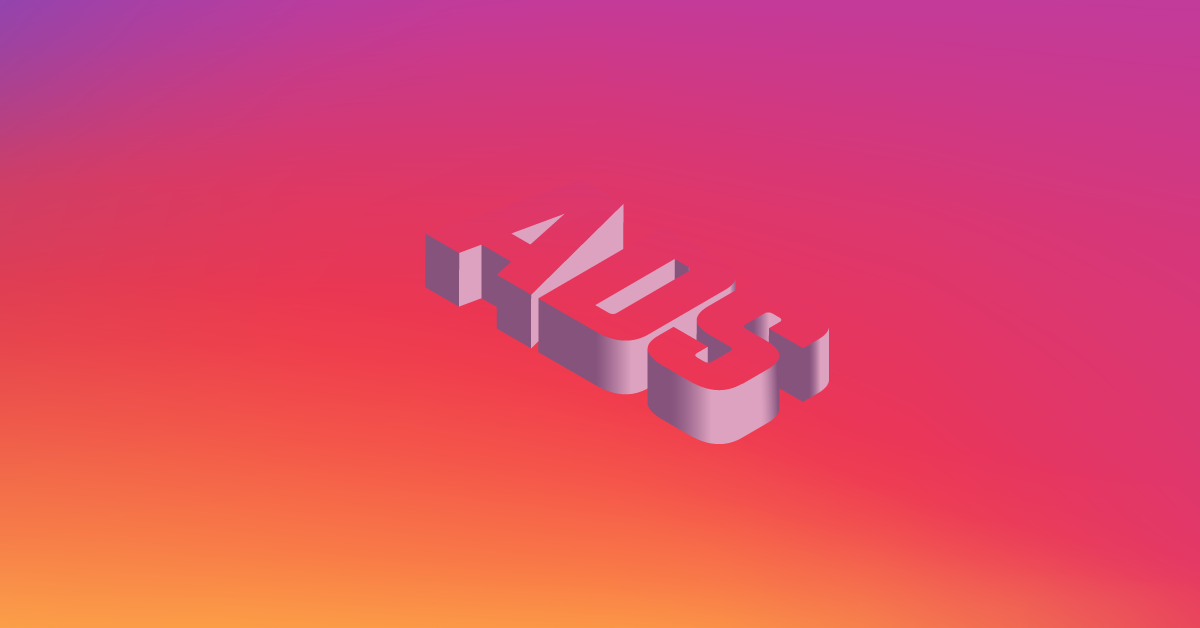 Looking for a guide to leveraging Instagram Reels ads like a pro? If you're not, there are so many reasons why you should be.
By advertising on Instagram, you can potentially reach millions of people in the US and billions across the world.
And with new features like Reels Ads, there are more opportunities than ever before to reach and engage with your target audience.
In this quick guide, I'll show you how to leverage Instagram Reels Ads like a pro right from the steps to create the ads to maximizing their success.
So let's get started and unlock the full potential of this powerful advertising tool!
Steps to Create Instagram Reels Ads
The first step in this guide to leveraging Instagram Reels Ads is to set up an Instagram Ads account.
Set up an Instagram Ads account
To set up an account, head to Facebook Meta Ads Manager and click on "Go to Ads Manager."

Image via Facebook
A 'Campaigns' page opens up. Click on "create" to start a new campaign.

Image via Facebook
Facebook asks you to pick an ad objective before you continue.
Choose the ad objective
There are six objectives for Instagram Reels Ads as you can see in this image below.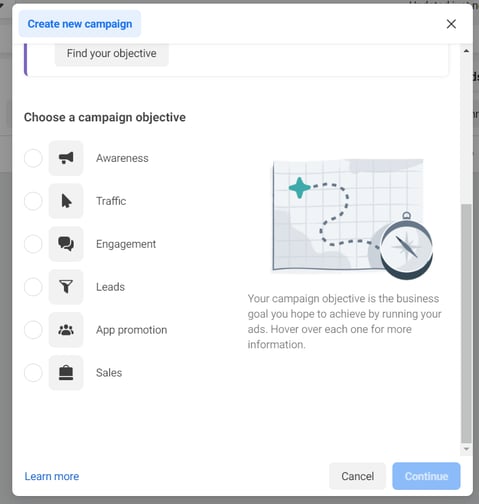 Image via Facebook
Facebook also requires you to pick a conversion location in addition to a conversion event for most objectives.
For instance, if you want to generate leads from your website, pick the "Leads" objective.
Now your website is the conversion location (where the conversion will take place) and "Contact" will be the conversion event (the action you want your website visitors to take).
Facebook has given the specific locations and events for each objective that you should check out before going ahead with your campaign.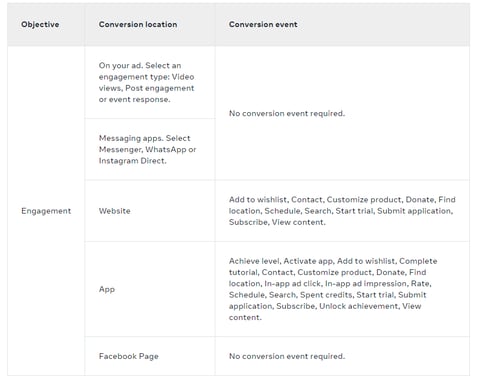 Image via Facebook
Once you choose the objective, you will be taken to the next step where you can choose to set up A/B testing for your Instagram Reels Ads (recommended) and decide the conversion location.
Set the campaign budget
Facebook allows you to set a daily budget and a lifetime budget.
If you set a daily budget of $50, Facebook will try to adhere to this budget as closely as possible. But, it may spend more or less depending on the opportunities available to maximize results.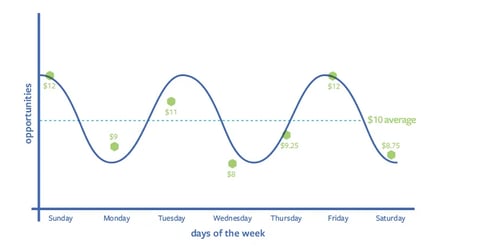 Image via Facebook
At this point, you'll also need to specify:
Your target audience demographics (age, gender, and language)

The geographic location where you want your ads to be shown

The placement for your ads.
You can choose the placements manually or let Facebook Meta Ads Manager pick the placements to maximize ad exposure.

Upload your video
The next step is to create your Instagram Reels Ads video. Facebook offers two options to create your video:
Using the "Dynamic Creative" option that offers pre-built templates"

By manually uploading a video you have already created
If you have selected the Dynamic Creative option, just select a prebuilt template, upload your video or images and Facebook Meta Ads Manager will create a video.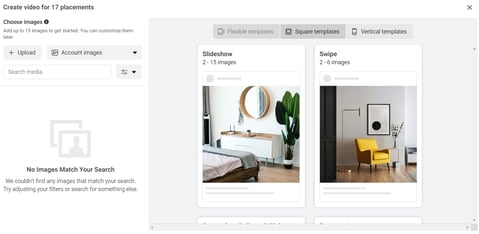 Image via Facebook
You can also upload your video manually.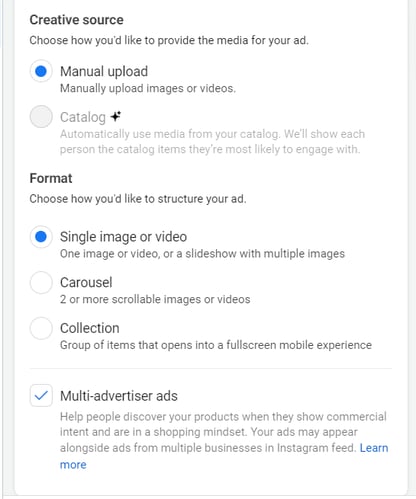 A quick way of creating a video is to use AI-text-video-generators.
Get the aspect ratio, width, and height right
The length should not be more than 60 seconds as per Instagram's specifications. Facebook recommends fullscreen vertical videos for Instagram Reels with an aspect ratio of 9:16.
Here are the design recommendations for IG Reels ads: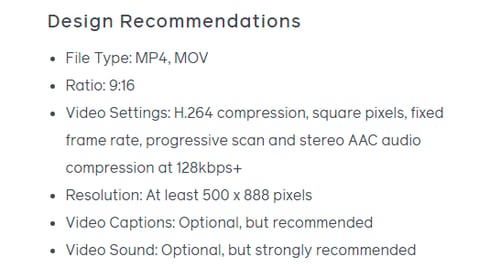 Image via Facebook
You can leverage the best video editing software to edit your reels or you can hire a professional video editor who can help you create a compelling video if you are not concerned about the video editing cost.
Add music to your Instagram Reels ads
Instagram does have a licensed music library, but not all business accounts may have access to it.
These accounts can instead leverage Facebook's Sound Collection which has over 9000 sounds and songs. To find the music library in your Instagram app, click on the Reels camera and then click on the 'Audio' button.
You can also add music to your IG Reels ads and carousel posts in the creatives section of the Ad Manager.
If you want Facebook to automatically pick a song, tick the 'automatic tracks' box. Else, select up to 5 songs when creating your video.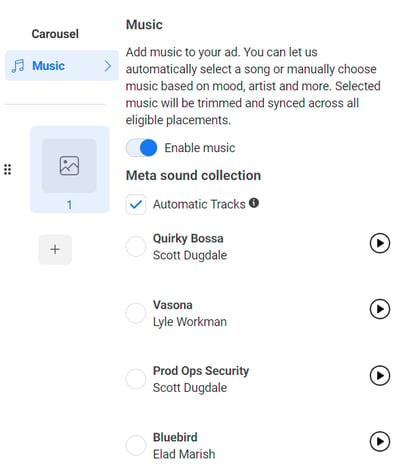 Set up tracking
You will need to set up a pixel code to track the activities on your website, URL parameters (to identify metrics such as source of traffic) and app events to track installations and app engagement.
Facebook has helpful tutorials on these topics that you can go through. You may need to hire a developer if you're not familiar with pixel codes and app ads.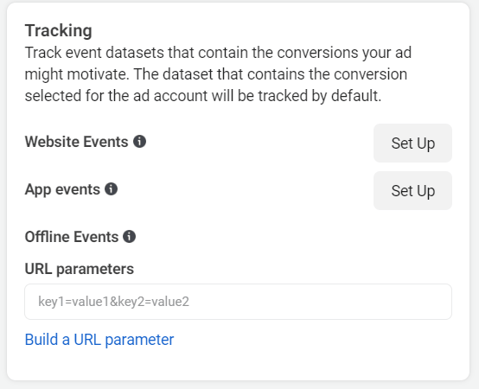 Once you complete this step, you can click on " publish" and complete the payment set up. Now you're all set to see the benefits of Instagram Reels ads roll in.
But there's more to Instagram Reels ads than merely following these steps.
Tips For Running Successful Instagram Reels Ads
To maximize success, you need to know the secrets of creating impactful Instagram Reels ads. That's the last part of this guide on Instagram Reels ads.
Tailor it to your audience
Consider the demographics, interests, and behaviors of your target audience and create content that speaks to them on a personal level.
Use language and visuals that resonate with your target audience and make them feel like the ad was created specifically for them.
Here's a great example of an Instagram Reels ad from AT & T that creates awareness around the internship opportunities by using a brand ambassador program.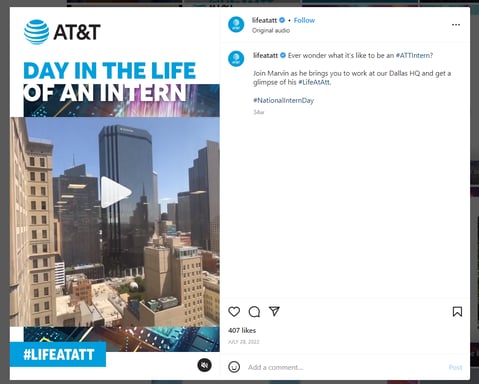 Image via Instagram
Use eye-catching visuals
Visuals are key to catching the attention of your target audience whose attention spans are reducing by the minute.
Use bright colors, bold fonts, and eye-catching graphics to make your content stand out.
Take a look at this IG Reels ad from blogger and vegan food specialist Greg Bellefontaine. While showcasing mouth-watering recipes, Greg packs in beautiful visuals.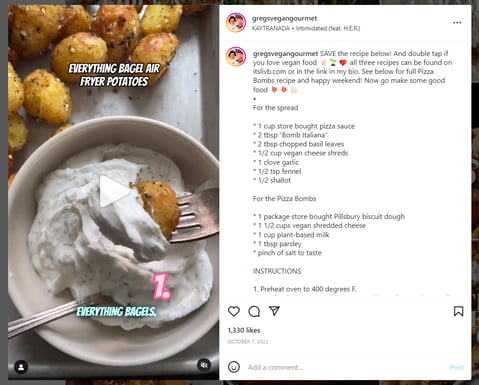 Image via Instagram
Keep it short, fun, and sweet
In addition to engaging visuals, use sound effects and transitions to keep your audience entertained and interested. Create your IG content including funny and engaging elements, and avoid being too promotional or salesy.
Here's a witty Instagram Reels ad from TSA (Transportation Security Administration). Note the compelling visuals and the generous sprinkle of humor ("If you're feeling fried with the same old travel experience, here's a spud-tacular tip!").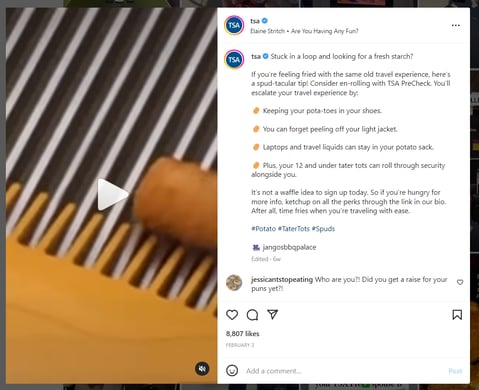 Image via Instagram
Incorporate brand elements and add a strong CTA
Make sure to incorporate your brand elements, such as your logo, colors, and brand voice, into your Instagram Reels ad. This Instagram Reels trick will help build brand recognition and make your content more memorable.
Also, be sure to add a strong call-to-action (CTA) that encourages your audience to take action, such as visiting your website or following your Instagram account.
You can use reels for your business and you can create customer service-oriented reels and spread the link using the business text messaging apps. In this way, you can get reel feedback and customer feedback on your products and services.
This Instagram Reels ad from Adobe gets all these elements right. The short video offers 3 gifting ideas for the holidays, all of which are based on using the different features of Adobe Photoshop. In other words, branding at its best!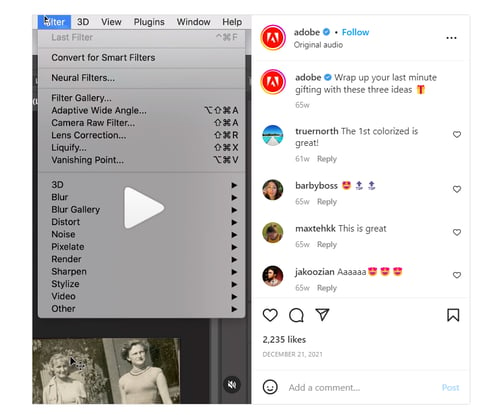 Image via Instagram
It's important to also boost your posts by using relevant hashtags. Of course, you can also embed a Google review widget in your website to build social proof and drive traffic to your IG account.
Monitor ad performance and make adjustments
Keep track of key Instagram metrics such as impressions, reach, engagement, and conversions, and use this data to optimize your targeting, messaging, and creative.
You can also use specific Instagram analytics software to measure these metrics. These tools can help you to know the real time performance of your reels.
Make adjustments based on the performance of your ads to ensure you're getting the most out of your ad spend.
Conclusion
With the right strategy and careful execution, you can leverage this powerful ad format to create engaging content and maximize your ROI.
Get your targeting right, choose your ad campaign goals well, and ensure your video is of the highest quality possible to improve the chances of your campaign succeeding. When it ticks all the right boxes, your Reels ad campaign can help in driving real results for your brand.
I hope that this quick guide has given you an insight into how to use Instagram Reels Ads like a pro.
Start creating awesome Instagram Reels ads today!