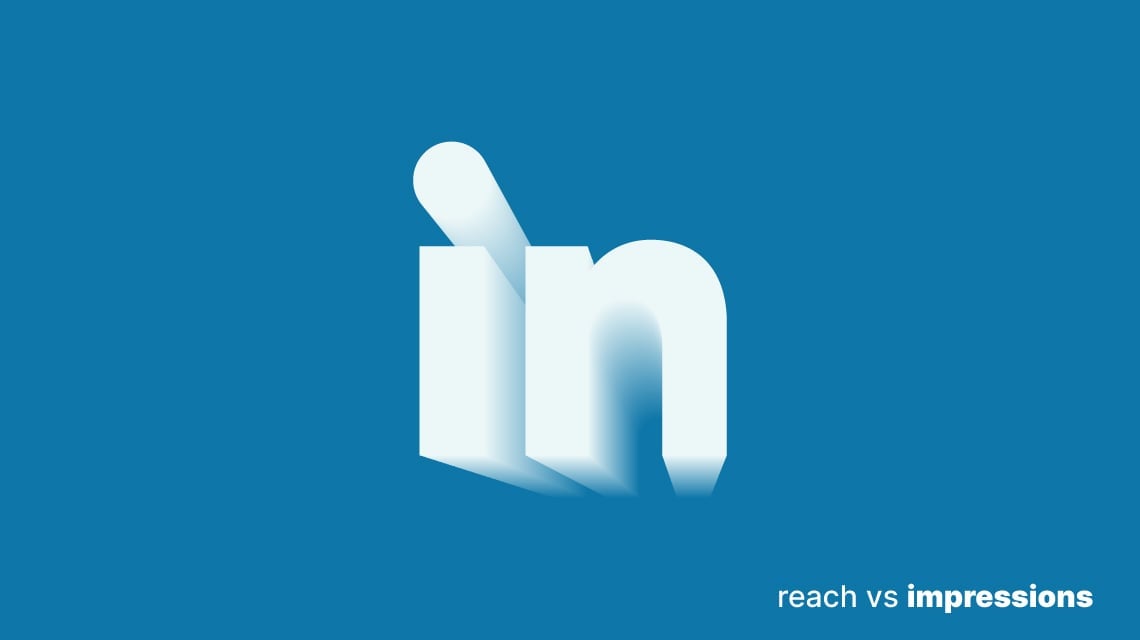 It may not be the trendiest social media platform on the block, but with more than 774 million members, LinkedIn is one of the world's most influential social networks.
According to LinkedIn data, in 2020, the amount of content created on the platform increased by 60%, and there were 55% more conversations happening between members. There were also more than a billion interactions on LinkedIn pages every month!
In the same survey, 96% of B2B marketers said they used LinkedIn as a marketing channel, making it a competitive space. For LinkedIn marketing to result in leads and conversions, you need to maximize your impressions so as many people as possible to see your content. If you are still hesitating find out reasons to integrate LinkedIn in your social strategy.
In this post, we'll explain what LinkedIn impressions are, why you should track them, and how to increase them.
Find out how quintly can help you dive deep into LinkedIn analytics and measure the impact of your LinkedIn marketing using data.
What are impressions on LinkedIn?
LinkedIn counts impressions as the number of times your content "is at least 50% in view, for at least 300 milliseconds on a signed-in member's device screen or browser window."
In other words, whenever your content shows up on a screen, that's an impression. This includes when the same user sees your post more than once.
For example, if one of your followers sees your post once in their newsfeed, and again when someone else shares it, that counts as two impressions.
What are unique impressions on LinkedIn?
Unique impressions are the number of times your content is shown to individual LinkedIn members.
When a piece of content shows up multiple times for the same person, it will only count as one unique impression.
LinkedIn impressions: organic vs paid
We can split impressions into two categories, organic and paid. An organic impression means your content has appeared in someone's newsfeed naturally because they follow you and LinkedIn's algorithm decided to show it to them.
A paid impression, on the other hand, is when a user sees your content because you've paid to promote it.
Why should you track LinkedIn impressions?
When you run a marketing campaign on LinkedIn or any other channel, you have to set and track KPIs to assess your progress and measure success.
One of the most important metrics to track is how many times your content gets seen. Without knowing this, you can't put other data, like engagement rate, into perspective.
Impressions can also show you when your audience is most active online, and therefore the best times for you to post new content.
If you see a decline in LinkedIn impressions, it could mean your content is not engaging enough. This is because when your posts receive less engagement, LinkedIn's algorithm won't serve your content to as many people.
What's the difference between Linkedin impressions and views?
In the case of article and video posts, LinkedIn makes a distinction between an impression and a view.
Someone must watch your video for at least 3 seconds in order for it to count as a view.
For articles, a view is whenever someone clicks on the article and allows it to load completely.
What's the difference between LinkedIn impressions and reach?
When we talk about reach on social media, we're referring to the number of unique users who view your content. However, impressions are the total number of times your content appears in news feeds.
So, if one person sees your post 3 times, this counts as 3 impressions, even though you've only reached one person.
Essentially, reach is the same as what LinkedIn calls "unique impressions".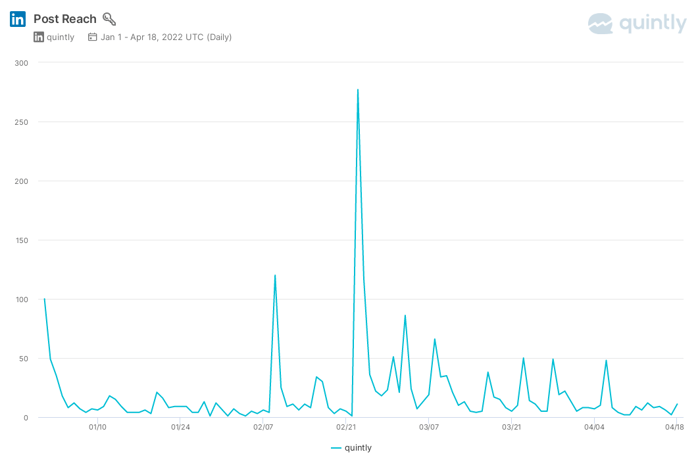 In quintly, you can track your LinkedIn reach and compare it with reach on other channels.
One of the benefits of using quintly to collect and analyze social media data is that our tool cleans and standardizes all your data as it comes in from various sources. This makes it easier to compare data from different channels and take action based on what you find.
How to track Linkedin impressions with a social media analytics tool
The best way to track LinkedIn impressions is by using a social media analytics tool such as quintly.
quintly allows you to connect all your social media channels and collect and analyze data all in one place. You can build personalized dashboards to display your data, and there are tons of metrics to choose from. You can even create custom metrics (or have our team create them for you) if there's something specific you want to measure.
Now let's look at some of the metrics you can use to track LinkedIn Impressions with quintly.
Impressions over Time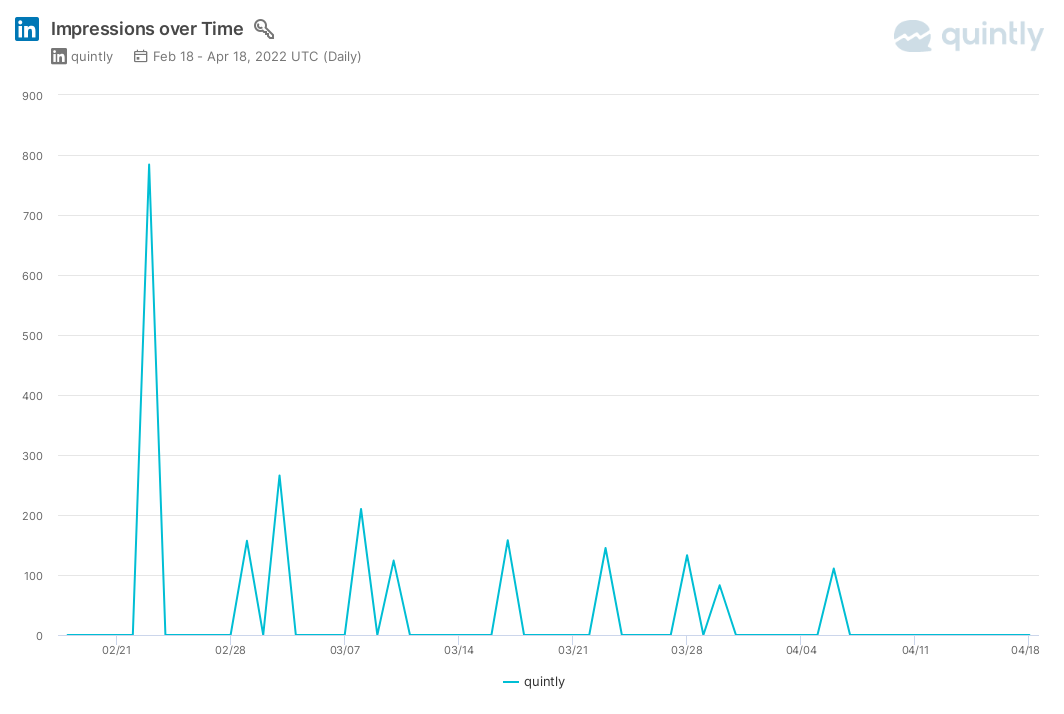 Impressions over Time shows you how your account's posts performed based on how many impressions they got on in the selected time interval.
You will see the sum of all impressions on all the posts each day within the interval.
Post Impressions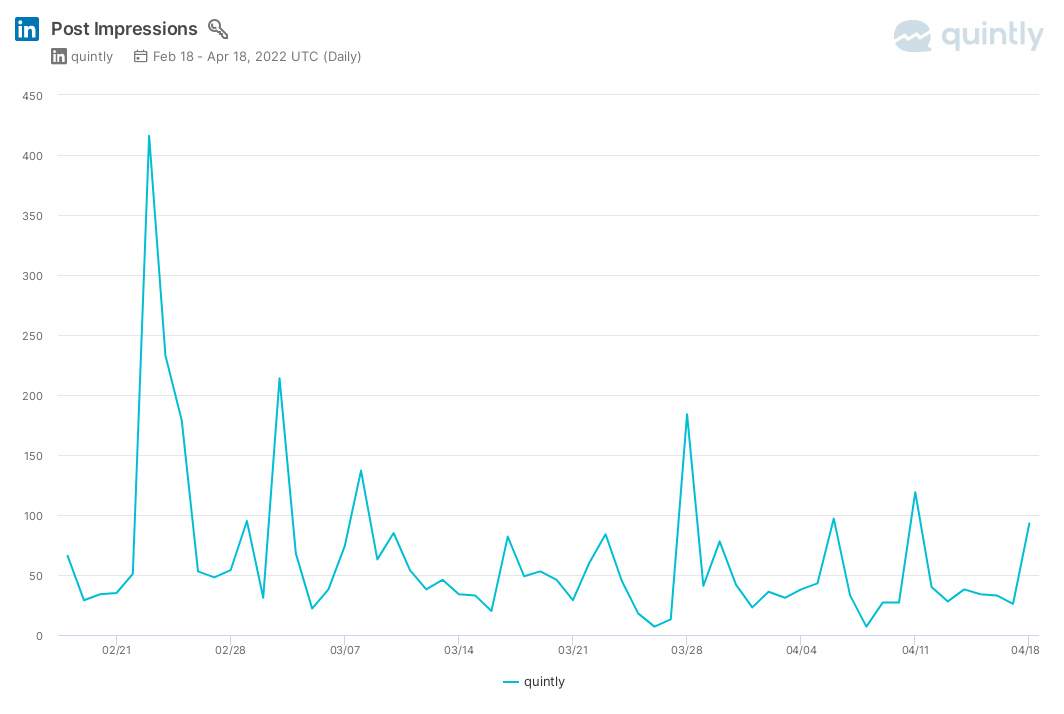 The Post Impressions metric shows the number of times users have seen a post from your page over time, grouped in daily, weekly and monthly intervals.
Engagement Rate by Post Type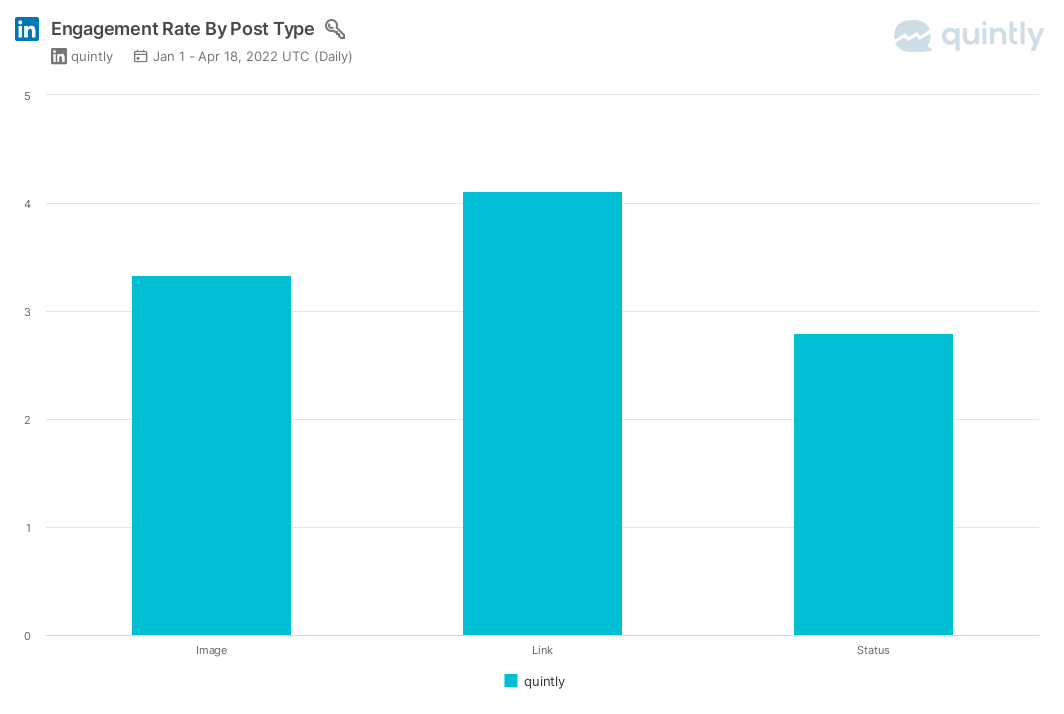 This metric shows you the average engagement rates of your posts, split according to post type, such as photo, video or text posts.
It's useful to know how much engagement you get in relation to your impressions, as this will tell you whether your content is interesting enough to get interaction from the people who see it.
Engagement rate is the total of your likes, comments, organic clicks and shares, divided by number of impressions.
Interaction Rate
Another way to measure engagement is to look at the interaction rate of your posts.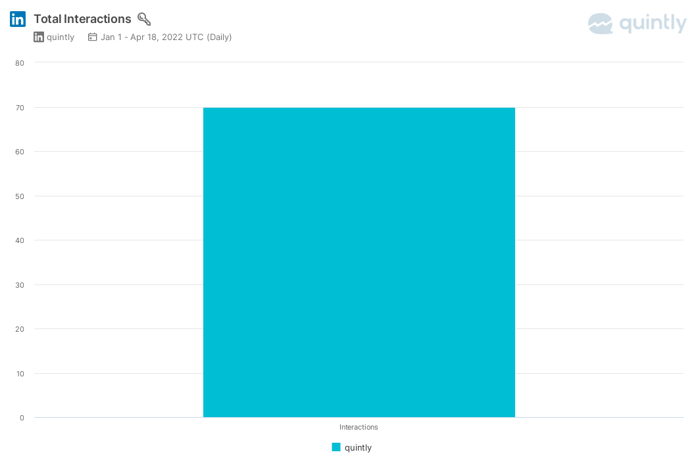 The Total Interactions metric shows you the total number of interactions that occurred on updates posted within a selected timeframe.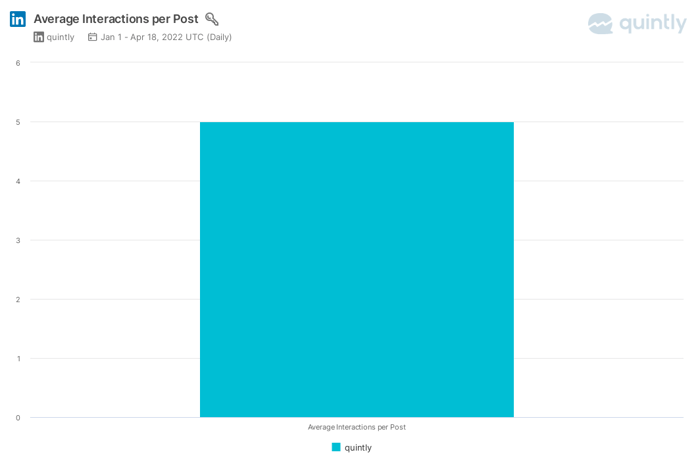 You can also add the Average Interactions per Post metric to your dashboard to monitor how well your posts usually perform.
How to increase LinkedIn impressions
To increase your LinkedIn impressions, you first need to understand how LinkedIn's algorithm works.
Pete Davies, LinkedIn's senior director of product management, says that the news feed is designed to show you "People you know, talking about the things you care about."
LinkedIn prioritizes posts from personal connections that align with users' interests, with the aim of promoting engagement. It gauges people's interest in different topics by what groups they're in and the hashtags, people and pages they follow.
So, how can you maximize your chance of getting your content seen by more people and therefore boosting your impressions, as well as engagement?
Here are a few of our tips.
1. Be relevant to your audience
Keep your target customer in mind when you create posts, and think about how your content will help them deal with specific problems.
The algorithm wants to show people content that they're going to like. If your content is tailored to the interests and needs of your target audience, LinkedIn is more likely to show it to them.
Once you've created relevant content, make sure to tag and label your posts so it's easier for the algorithm to identify what it's about. To do this, use hashtags and keywords in your post.
"We invest a lot in understanding what you're interested in and matching that to what the posts are about."
—Pete Davis from LinkedIn on how the platform aims to show users content that's relevant to them.
2. Get engagement, fast
The sooner people engage with your posts, the better. If LinkedIn's algorithm detects early interactions with your posts, it will continue to boost your content in people's feeds. So it's a good idea to encourage people to interact with your posts as soon as they go live.
One way to do this is by sharing your posts in the company Slack and asking employees to react or comment on posts.
You can motivate your audience to engage by making your posts more interactive. Ask questions, get people to vote, or encourage them to share their opinions. Continue to boost engagement and impressions by reacting and responding to every comment that your post receives.
3. Be genuine
Though LinkedIn is a professional social network, users still want to be entertained. They want to see thought-provoking posts, inspiring content, and they want to learn. There's even a place for memes and jokes if done in a way that fits your brand.
Maybe your tone of voice will be slightly different for the LinkedIn audience than for Twitter or Facebook, but you should still make sure that posts reflect your brand personality, and appeal to your target customer.
People are more likely to read and engage with posts from brands that feel authentic.
4. Mix up different types of content
There are lots of different types of posts you can create on LinkedIn. For example, as well as a standard "status update", you can try:
Articles
Native Videos
Polls
Carousels
Single Images
Multi-Image posts
Documents
Experiment with these different kinds of posts, and track each post type's performance using a metric like Interaction Rate by Post Type.
5. Post at the right time
Use a metric such as Interaction Rate by Time to find out which day and what time your audience seems to be the most active. You can use this information to guide you on when to post.
In general, most LinkedIn activity happens from Monday to Friday, during work hours. According to research from Hubspot, Tuesdays and Wednesdays were the best days to post on LinkedIn and 2 to 5 times a week was the ideal posting frequency.
6. Optimize your profile
Another way to increase your impressions is to make sure your company profile is fully completed. Include all relevant information, add connections and accept requests, take part in conversations, and promote your LinkedIn page wherever possible.
If your profile is complete and you are active on the site, you will be more likely to grow your following. The more followers you have, the more organic impressions your content will get.
7. Use paid ads
If you're looking to quickly get your content in front of more people, it could be worth investing in running paid ads on LinkedIn.
Ads can be a great way to boost your conversions as well. Sponsored content on LinkedIn will show up in your audience's newsfeed and can be in different formats including video, carousels and images.
You can also set up Sponsored Messaging, which is where you send advertising messages directly to people's LinkedIn inboxes.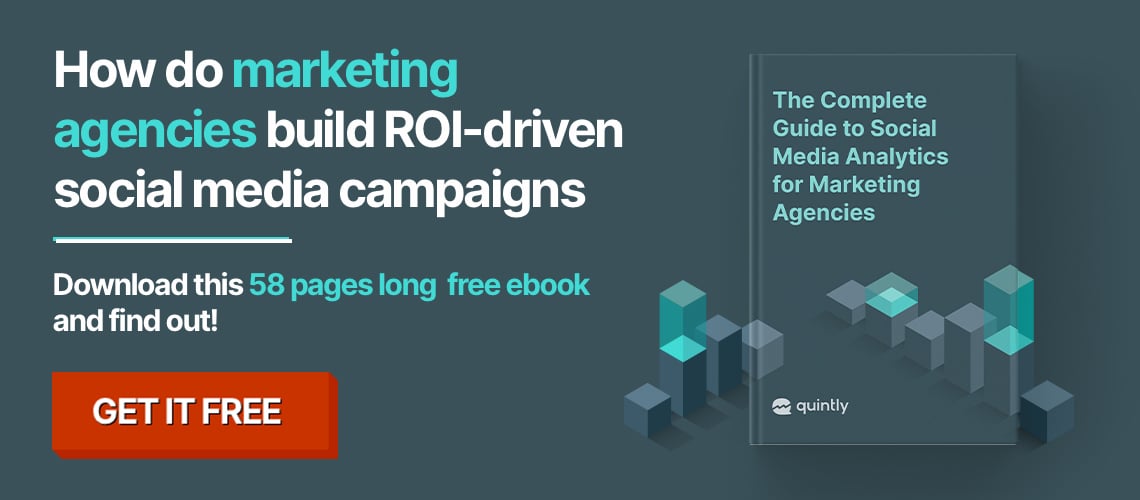 Start tracking your impressions, let more people see your content
Your LinkedIn campaign can drive awareness of your brand, increase leads and sales. The first step is making sure your content gets in front of as many people as possible.
To increase your impressions, make your content as engaging as possible and relevant to your target audience. Experiment to find the right time to post and try different content formats until you learn what your audience likes best. Investing in paid ads can also help boost your impressions.
Set a goal to boost your impressions and start tracking your progress with quintly.
Find out how quintly can help you dive deep into LinkedIn analytics and measure the impact of your LinkedIn marketing using data.
Also a must read: The human side of Social - a complete guide on employer branding.