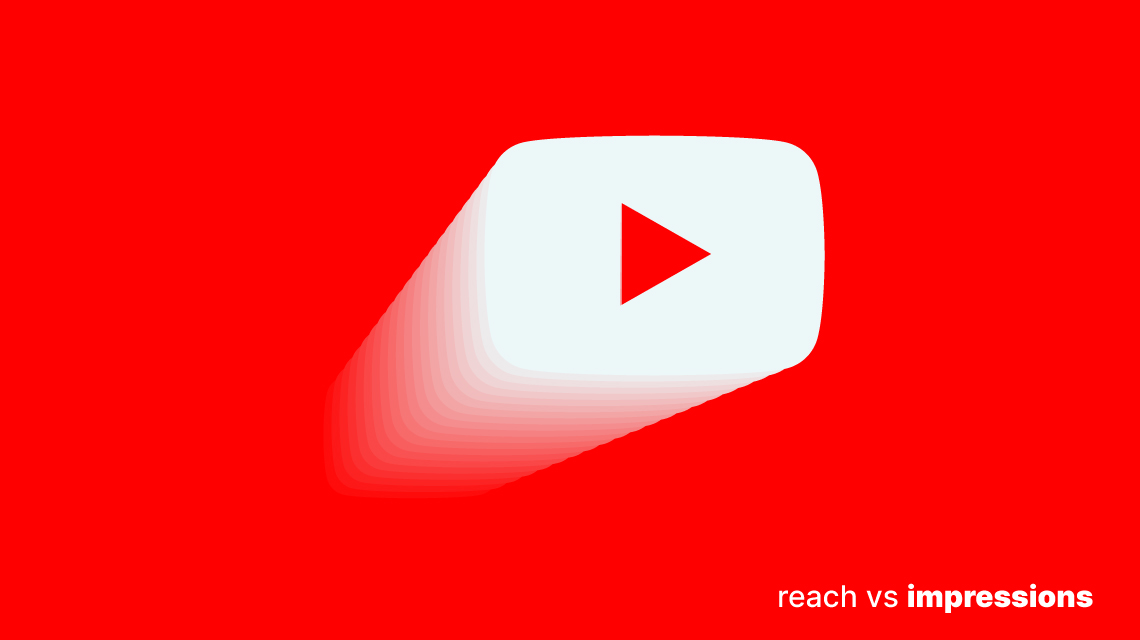 If you want to get more eyes on your YouTube videos, then the first metric to master is YouTube impressions.
But what do impressions mean on YouTube?
YouTube impressions are a fundamental metric that can help you get more views and a better impressions click-through rate.
With over 2.2 billion users worldwide, YouTube can give your video content more exposure than any other video channel.* But relying on YouTube's vast reach alone can't guarantee the success of every video campaign. You need to know how to increase your impressions before you can even measure a video's performance.
In this post, we'll help you understand YouTube impressions and provide you with valuable tips to increase your YouTube impressions and get more people to view your content.
Find out how quintly can help you dive deep into YouTube analytics and measure the impact of your YouTube videos using rich data insights.
What do impressions mean on YouTube?
YouTube impressions are the number of times a video's thumbnail is seen on YouTube. YouTube limits impressions to thumbnail views only and doesn't include video clicks or views.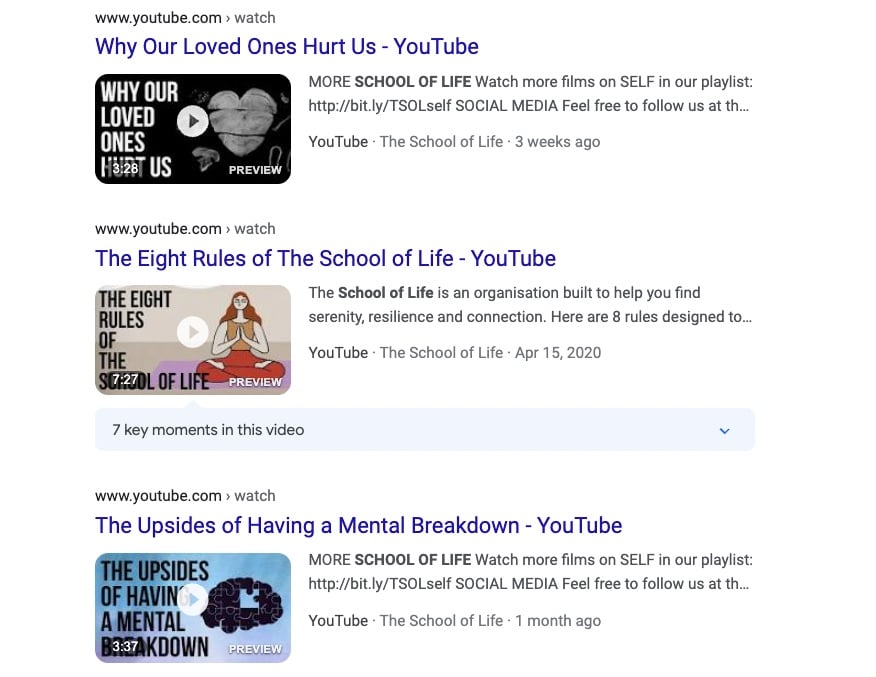 Examples of YouTube thumbnails in Google search results. Source: Google
So, if no one watches your video, why track impressions?
Impressions show you the efficacy of your thumbnail to reach potential viewers. If you can't get enough eyes on your thumbnail, then you'll have less probability of clicks and views. YouTube impressions are the first metric you want to track.
What counts as an impression?
An impression counts every time a video thumbnail is at least 50% visible on a user's screen for over 1 second on YouTube. However, YouTube will limit these impressions to certain spaces within YouTube.
Here's a complete breakdown of where impressions count (and where they do not):
Where are impressions counted?
Counted on:

Not Counted on:

YouTube on PCs, TVs, video-game consoles, mobile devices (iPhone, iPad, Android)

Any website, app, or social media platform that's not YouTube

(i.e., embedded videos or social media links)

YouTube's search, homepage, playlists, and feeds

YouTube's mobile website

YouTube's Kids and Music apps

YouTube recommendations

(the right-hand column next to YT's video player)

Emails, notifications, or YouTube's True View Discovery ads

Content, like cards or end screens, within YouTube's video player

YouTube videos that play but are not seen (i.e., videos that run in the background)

Thumbnails on YouTube that are less than 50% visible or seen for less than 1 second.
Where can you find your impressions in YouTube Studio?
To see your impressions, go to YouTube Studio. You'll need to authenticate your YouTube Studio account the first time you access it.
Once in YouTube Studio, go to the left-hand sidebar and click on Analytics. The default setting will bring you to the Overview of your YouTube analytics dashboard. Next to Overview, click Reach to see your Impressions.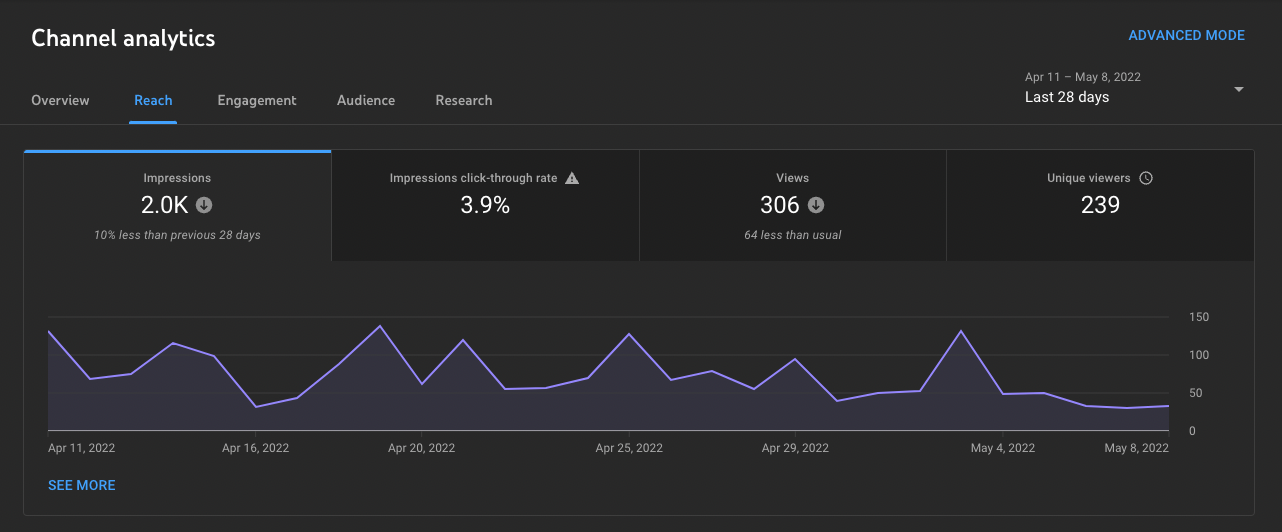 YouTube Studio analytics dashboard. Source: YouTube Studio
Under Reach, you'll also find other YouTube analytics metrics, like
Impressions click-through rate

Views

Unique viewers
In the upper right-hand corner, you can also choose the dates you want to analyze.
Are impressions the same as views on YouTube?
Views differ from impressions because they are the number of times someone has watched your YouTube video.
Just as all impressions don't turn into views, not all views stem from impressions. While some views come from your YouTube impressions, views also include the number of times users watch your video on external sites or other apps or platforms, such as embedded videos in blogs, articles, or social media.
So, if you have a low number of impressions and a high amount of views, this means the majority of your audience comes from sources outside YouTube.
What does the impressions click-through rate mean on Youtube?
Impressions click-through rate (CTR) is a conversion metric that shows how many of your YouTube impressions turned into views.
Impressions CTR is important because it shows how effective your thumbnail is in attracting an audience to click and watch your video. It's also one of the metrics YouTube's system uses to show your content to more users in YouTube feeds, searches, and suggested videos. So the higher your CTR, the more chances you have of YouTube sharing your video within its platform.
Why use a social media analytics tool to track YouTube performance
As the second most popular social media channel, YouTube provides you with great exposure. It's only natural to analyze your campaigns thoroughly to get the most out of this powerful platform.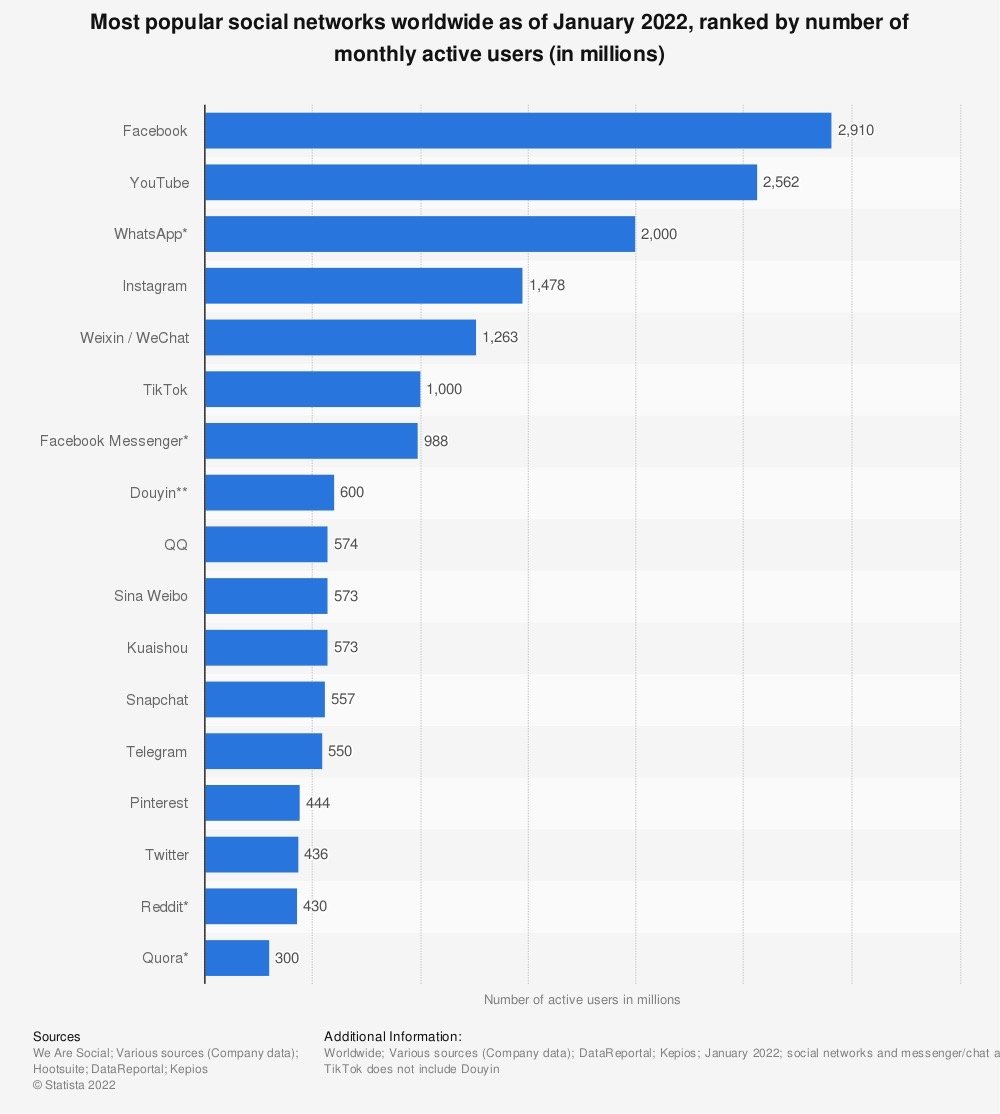 Most popular social networks worldwide January 2022. Source: Statista
But YouTube Analytics can only get you so far. With YouTube Analytics, you'll only be able to see reach, engagement, and audience metrics for your specific videos.
Instead, using a social media analytics tool helps you deep-dive into your video performance and analyze the competition, too. Here are the major benefits of using a social media analytics tool like quintly:
Perform competitive research and benchmarking. Use quintly to study and compare public data to tweak your campaigns, increase your market share, and beat the competition.
Receive more detailed metrics and deeper insights than on YouTube. You can better optimize your strategy when you have better data.
Study clean and standardized data across all your social media platforms. With quintly, you can compare metrics from a variety of channels uniformly.
Create clean and user-friendly reports. Whether you're a one-person team or leading a cross-border organization, you can assemble easy-to-read reports to divulge data and gain insights.
Use historical performance to inform your strategy and analyze up-to-date data to spot new trends.
Choose from over 350 pre-built metrics to create customized dashboards and track the data that's most meaningful to you. If you need a custom metric, you can modify an existing metric or create one from scratch–and the quintly team can help you build it.
Take advantage of quintly's native integrations, API connections, and data push feature to take your analytics to a whole new, customized level.
Here are a few examples of quintly's various pre-built YouTube metrics.
Key Metrics Table
The Key Metrics Table is great for comparing your performance on key metrics (Subscribers, Total Videos, Total Views) to competitors.
For example, you can see Mercedes-Benz has published over 3 times as many videos as BMW, but they only have 35% more subscribers. Audi's channel is much smaller and publishes fewer videos overall. It's clear they are not trying to grow as aggressively on YouTube as the other two channels.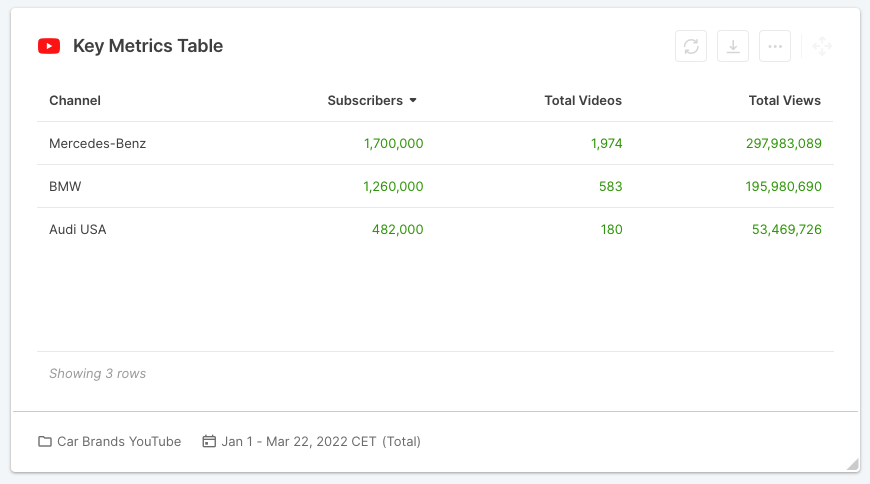 Performance comparison of car brands (Mercedes-Benz, BMW, and Audi) on Key Metrics Table. Source: quintly
Videos Table
In the Videos Table, you'll find all the videos of the selected profiles in the selected time and how they performed.
You can sort them by the number of views or interactions such as likes and comments. This helps you discover the best-performing videos in your industry and adjust your strategy accordingly.
At first glance below, you can see Mercedes-Benz and BMW videos are both receiving a high amount of views. You could adjust the dates to last 30 days, then sort the table by number of views to see the best performing videos in the last month.
Or you can set custom dates to see the strongest performing videos of 2022 of each brand to date. When used together with other metrics, like Key Metrics Table above, you can discover if Mercedes-Benz's strategy will keep them in pole position or if BMW can overtake them.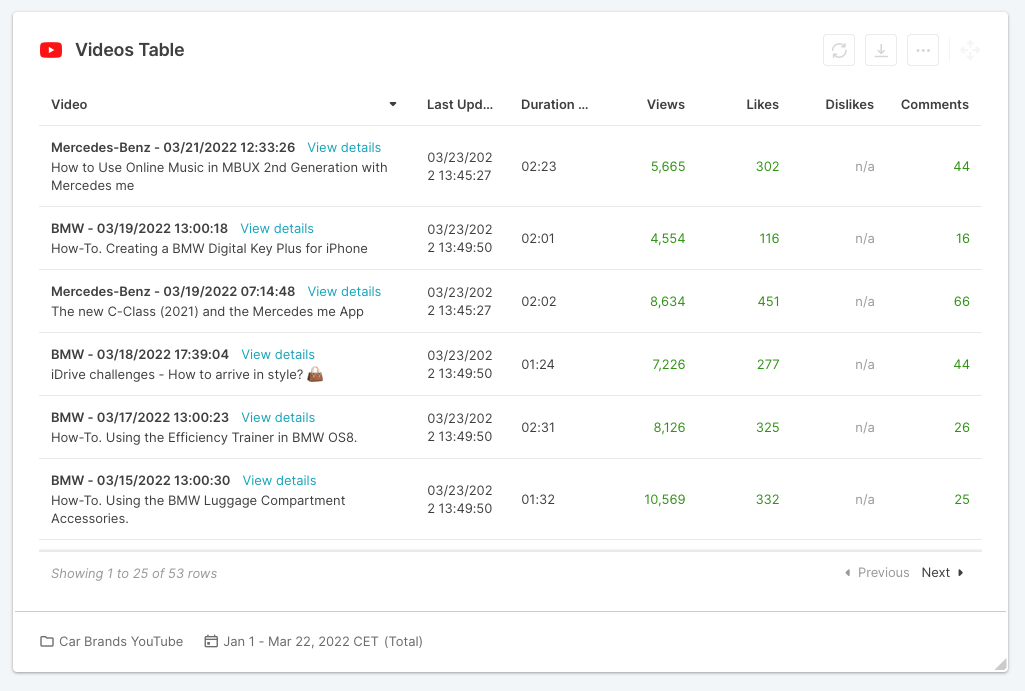 Video performance comparison of car brands (Mercedes-Benz, BMW, and Audi) on Videos Table. Source: quintly
Private metrics
With quintly, you can track and analyze private metrics if you have a connected and authenticated YouTube account. Private metrics give you a deeper understanding of your videos' performance on various levels and categories. Here are a few examples:
Demographic analysis: Views Age Distribution, Views Gender Distribution, Country Metrics by Channel. These metrics will allow you to get to know your audience better and tailor your video content to them.
Content optimization: Videos Table, Top Videos Table, and Videos Tag Performance. Use this metric to discover the types of content that work best, from your best-performing videos to video titles.
Audience analysis: Use audience analysis to know how your audience consumes your video content. Audience metrics include YouTube Premium Views, Traffic Sources by Channel, Videos Tags Distribution, and Breakdowns of Subscribed Status, Traffic Sources, Live Broadcast Status, Device Type, Operating System, and Playback Location.
Engagement analysis: When you want to understand how your audience engages with your content, use the metrics in engagement analysis. Here you'll find Metrics by Channel which includes Country (top 45 countries per YouTube Channel), Traffic Source, Devices Table, Playlists Table, and Card Key Metrics Table.
How to get more impressions on YouTube
So how do you make potential viewers stop scrolling and notice you? To get more YouTube impressions, make a great… first impression. Elements like your thumbnail, title, and description are your keys to capturing viewers' attention.
Here are the top 5 ways to get more YouTube impressions.
1. Create eye-catching thumbnails
If you don't create a thumbnail, YouTube will automatically choose a random frame from your video for you.
But you don't want to leave your impressions up to chance because your thumbnail is more than just a single frame of content. A thumbnail can be a still-frame teaser of your video. Whether a subscriber is browsing your channel's home page or your video winds up in a recommended list, a good thumbnail will make anyone who sees it stop and take notice. And a great thumbnail will make people click and watch.
Here are a few ways to make your thumbnails stand out:
Tease your audience's expectations
The School of Life, a popular personal development platform, excels in creating thumbnails that promise to reveal one of life's hidden truths. Often, they combine burning questions with vivid graphics to turn their thumbnails into an irresistible puzzle you can't help but ponder over (and click).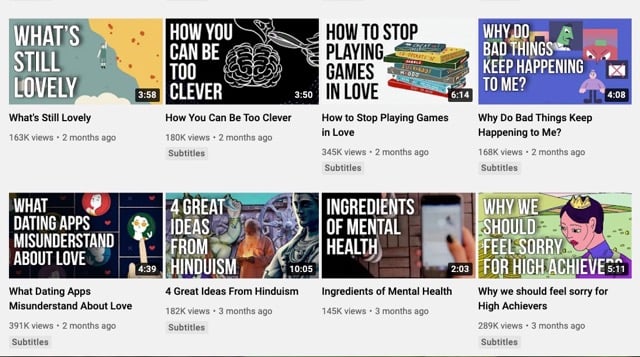 The School of Life thumbnail examples. Source: The School of Life YouTube channel
Choose a distinctive design to make thumbnails memorable
When you make your thumbnail designs original, your subscribers can identify you in a crowd, like in Google search results or a list of suggested videos. You'll also intrigue newcomers with your originality.
For example, a distinctive brand logo will help viewers recognize you, as in these Canva and Puma thumbnails.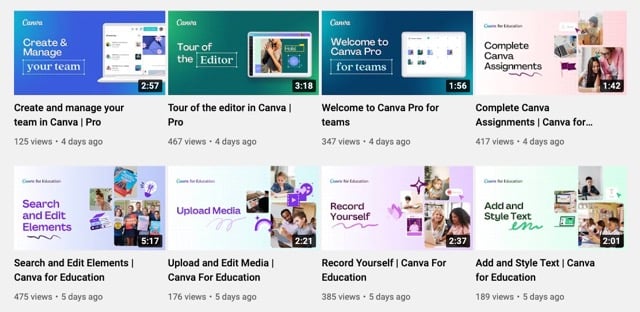 Canva thumbnail examples on YouTube. Source: Canva YouTube channel

Puma thumbnail examples for their distinctive logo on YouTube. Source: Puma YouTube channel
Finally, you can choose bold colors, high-contrast images, and photos of people to help you stand out. Red bull excels in all three.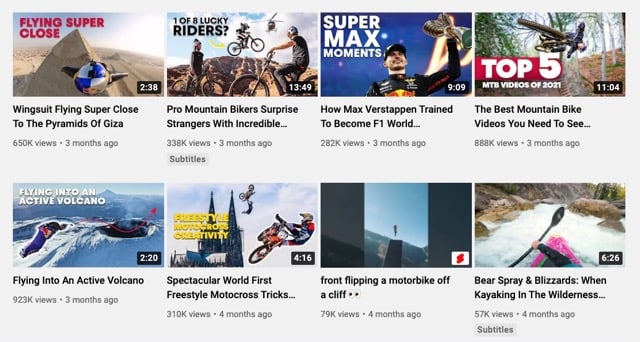 Red Bull thumbnail examples on YouTube. Source: Red Bull YouTube channel
2. Choose the right keyword
Another way to get more eyes on your video content is to choose the right keyword because SEO applies to YouTube, too. Many people will use YouTube as a search engine, bypassing Google search altogether. So be strategic with your keyword choice.
Let's say you want to discover the best TV shows in 2021. You might type "the best TV shows 2021" into YouTube. The top two results, Mojo and Austin Burke, used SEO tactics: they put the keyword in their titles.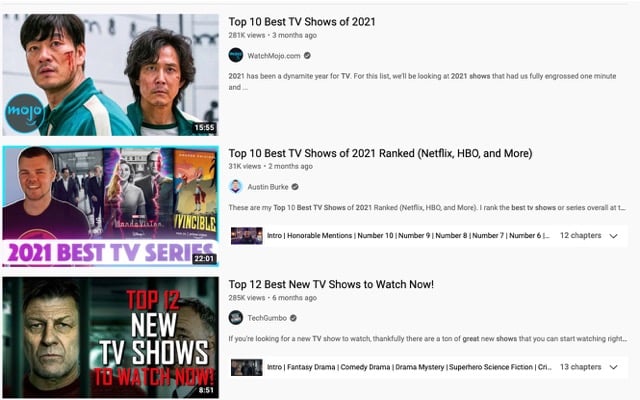 Example of good keyword usage in thumbnails and titles on YouTube. Source: YouTube
Once you identify your keywords, track their performance using quintly's content optimization metrics, like Videos Tag Performance.
3. Create catchy titles
Now that you have the right keyword, tempt viewers with a tantalizing title. Think click-worthy instead of clickbait. As we've seen before, The School of Life is a champion of catchy titles. But you don't need to be a well-known company or brand to get an audience's eyes on your content.
While your noteworthy title should reflect your video content, you can make titles more attractive when you put the searcher's pain points front and center. For example, if someone is looking for videos on how to become a photographer, the examples below all play upon common fears and desires, like making money and the fear of missing out.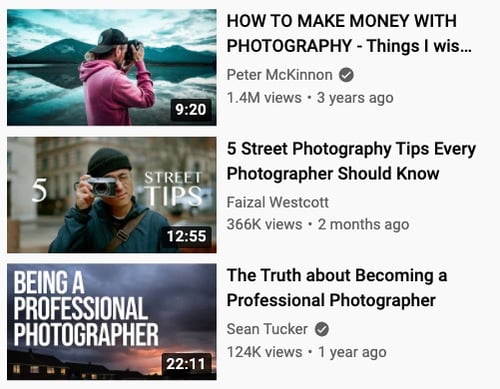 Example of good titles to increase YouTube impressions on YouTube. Source: YouTube
4. Create audience-centric descriptions
YouTube descriptions are often under-rated and under-used. However, like catchy titles, descriptions can center on searchers' needs and desires to draw their attention.
When we searched for "how to make money fast," only a few of the top results stood out for their descriptions. Which video would you choose to teach you how to make money? Would you choose a description that claims "there are a ton of ways to make money online" or the one that says "I'll show you how to earn $2197 just by listening to music?"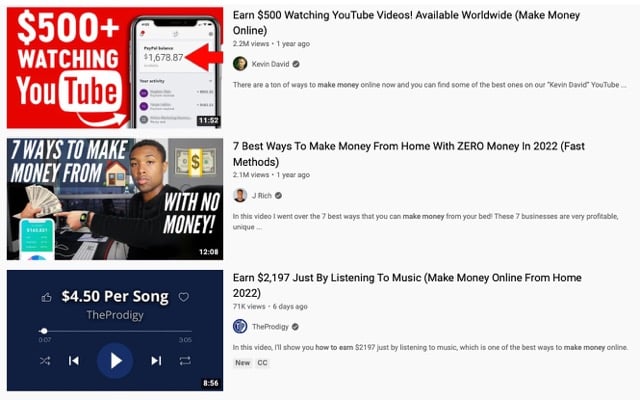 Example of attractive descriptions to increase YouTube impressions. Source: YouTube
5. Publish consistently at the right time.
Finally, you want to get your subscribers used to a consistent publishing time. That way, even if they miss an email alert or push notification, they'll know new content is on your channel on a certain date.
With quintly, you can discover the optimal times to post as well as how often. Your primary audience may be in another country and time zone and they may be more active at a certain time of day. You can also benchmark and see when your competitors are publishing and when their audiences are most active.
You can set yourself up for success when you use the right metrics to find the best publishing times.
Get rich YouTube insights on your video campaigns with quintly
Now that we've answered, "what does impressions mean on YouTube," you're ready to take the next step of converting impressions into views and monitoring your video performance.
With a powerful analytics tool, like quintly, you'll get deeper insights into how you can increase your YouTube impressions, replicate your success, and get wider exposure to potential viewers of your videos. Your campaign success is in the data. YouTube impressions are just the start.
Find out how quintly can help you dive deep into YouTube analytics and measure the impact of your YouTube videos using rich data insights.
Also read: YouTube Now! How to Improve Marketing Goals with YouTube Videos