Insta-News Unveiled:
Analyzing the Strategies and Successes of 12 Major Media Outlets on Instagram
Report Analyzing 12 Instagram Profiles by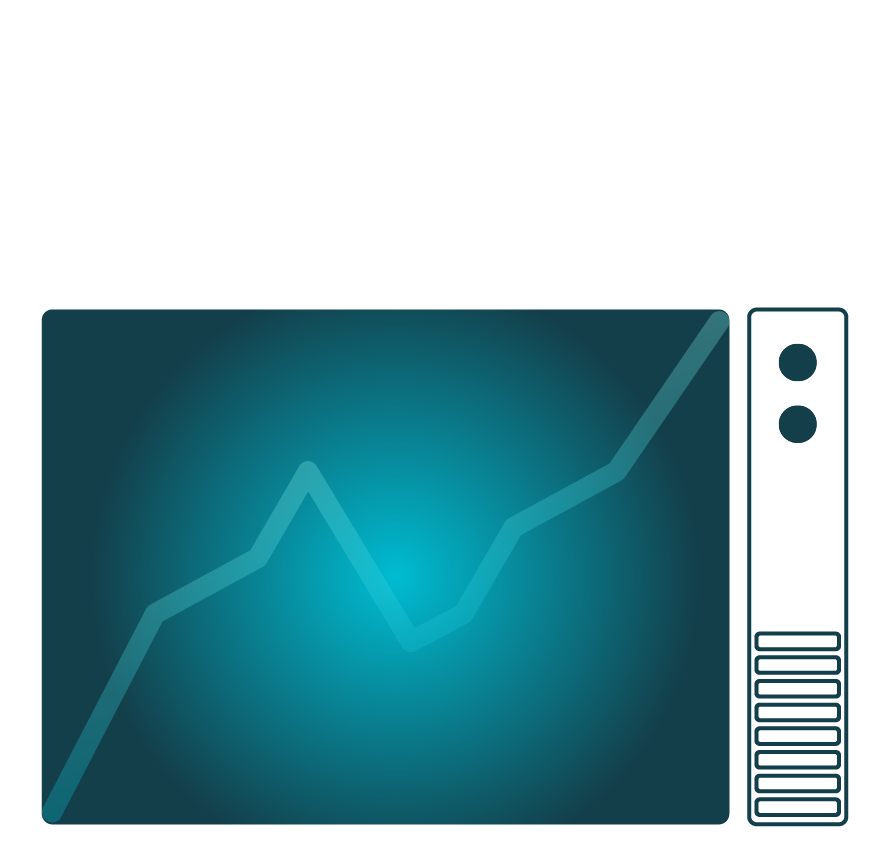 Table of contents
Introduction
In today's fast-paced digital world, social media platforms like Instagram have become a critical tool for communication, particularly for media outlets. Instagram's ever-increasing user base and engagement offer a significant opportunity for media outlets to connect with their audiences and extend their reach.
In this analysis, we will take a closer look at 12 major media outlets from different countries, each with its unique approach, tone, and specific strategies. From Wired, which focuses on technology news, to BBC News, which provides global coverage, to national news outlets such as Germany's oldest and most watched news program on German television, Tagesschau and Spain's El País, we will explore the diverse content and tactics that make these media outlets successful on Instagram.
Our analysis will delve into the strategies and successes of these media outlets, identifying best practices that can be applied to improve social media engagement, attract new audiences, and create content that resonates with users. We will also investigate the type of news and post types that generate the most attention on Instagram and how media outlets can adapt their content to cater to the preferences of their followers.
The aim of this analysis is to provide valuable insights into the importance of media outlets on Instagram and how they can utilize the platform to their advantage. Whether you are a marketing specialist, social media specialist, or just someone interested in media trends, join us as we explore the possibilities and potential of media outlets on Instagram.
Let's dive in!
Methodology
In our analysis of media outlets on Instagram, we utilized our social media analytics tool to gather in-depth data from 12 of the most relevant media accounts. These included profiles such as The Guardian, Al Jazeera, and national outlets like French Le Monde. By using quintly, we were able to collect extensive data that allowed us to analyze the content of these media outlets on Instagram with a higher level of detail and accuracy.
These are the 12 accounts we analyzed, sorted by their number of followers:
For the analysis, we used mostly used a three-month period between January and April 2023.
Followers
When it comes to assessing the success of your Instagram account, simply monitoring your follower growth and the number of likes on your posts is no longer sufficient. While focusing solely on follower metrics may be considered outdated, closely tracking increases and decreases in followers can provide valuable insights into how to improve your content and engagement strategy.
By analyzing when people join or leave your page and linking it to the content you posted on those days, you can gain a better understanding of what resonates with your audience and what doesn't. Furthermore, individuals who have actively chosen to follow your page have already demonstrated some level of interest in your brand, making it easier to promote your products and brand on your page and drive greater success.
Follower Distribution
Based on the Follower Distribution, two media outlets stand out: BBC News has the largest number of followers among the analyzed accounts, followed closely by the New York Times. The Guardian, Tagesschau, and NBC News also rank in the top 5.
The left-hand metric indicates that the 12 Instagram accounts analyzed collectively have 70,163,414 million followers and have grown by 3.12% over the last 3 months.

Followers Change
Analyzing when Instagram accounts gain or lose new followers can provide valuable insights into their performance. Peaks and drops in follower count can be attributed to the specific content posted on specific dates. Analyzing this data can help users to better understand what type of content resonates with their audience and inform future content creation.
If there was a significant drop in followers after posting a certain type of content, it is advisable to avoid creating similar content to prevent further loss of followers. This approach can help optimize a content strategy and attract more engagement on Instagram. When it comes to media companies, they may also need to rethink their choice of pictures or tone of voice to avoid alienating their audience.
Let's review the change in followers over the last 30 days.
In terms of total numbers, BBC News gained the most followers (+294,095). The New York Times followed closely behind with an increase of 97,486 followers, and the Financial Times came in third with 43,051 new followers. Check out the rest of the list below.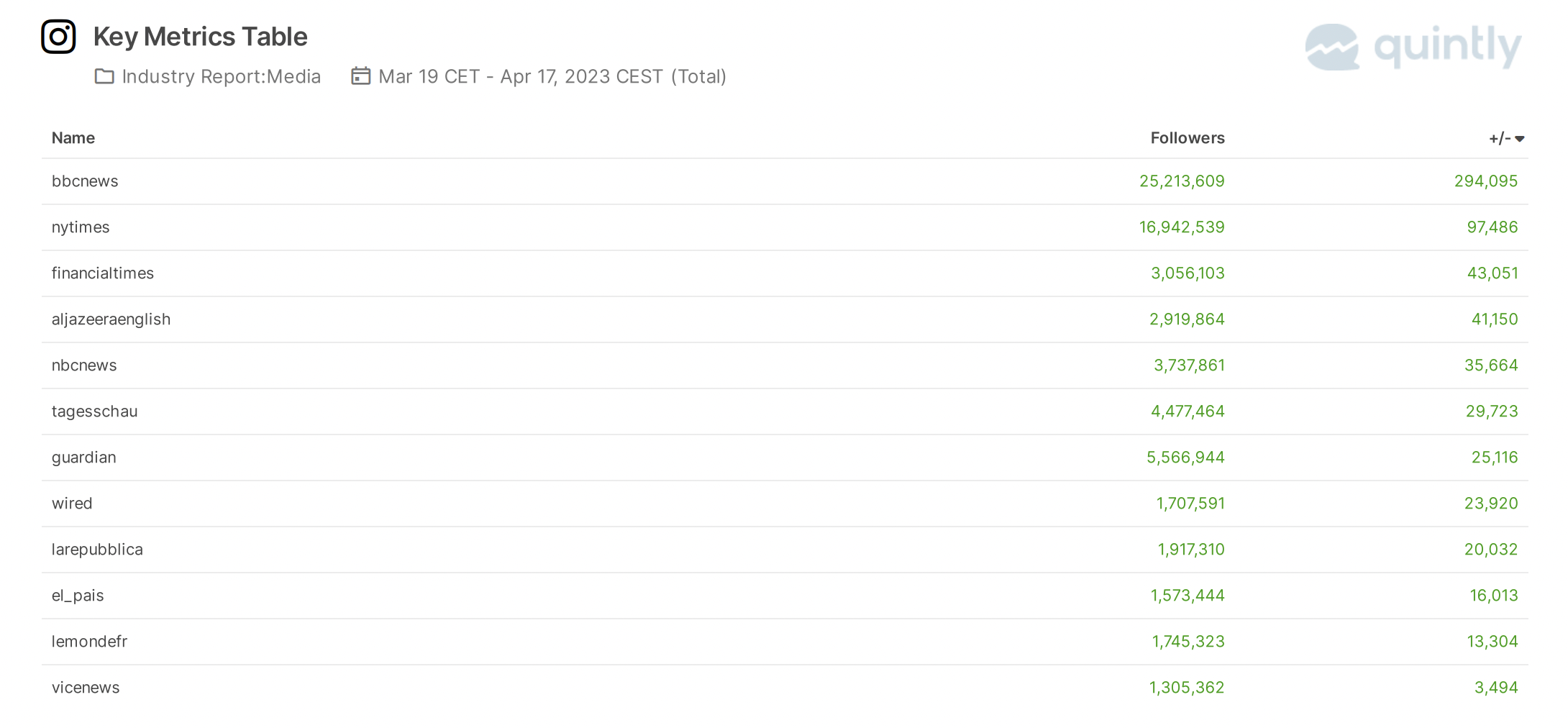 Let's take a closer look at the percentage increase in followers for each account. Al Jazeera English, Wired, and the Financial Times had the highest percentage increase at 1.4%, followed by BBC News with a 1.2% increase, and La Repubblica with a 1.1% increase.
Social Media Data Analysis Tip: while an increase in numbers can indicate growth or change, a percentage increase provides a more meaningful and comparable measure of change relative to the initial value. This is particularly useful when comparing changes in quantities that may have different starting points, such as when benchmarking Instagram profiles with varying numbers of followers.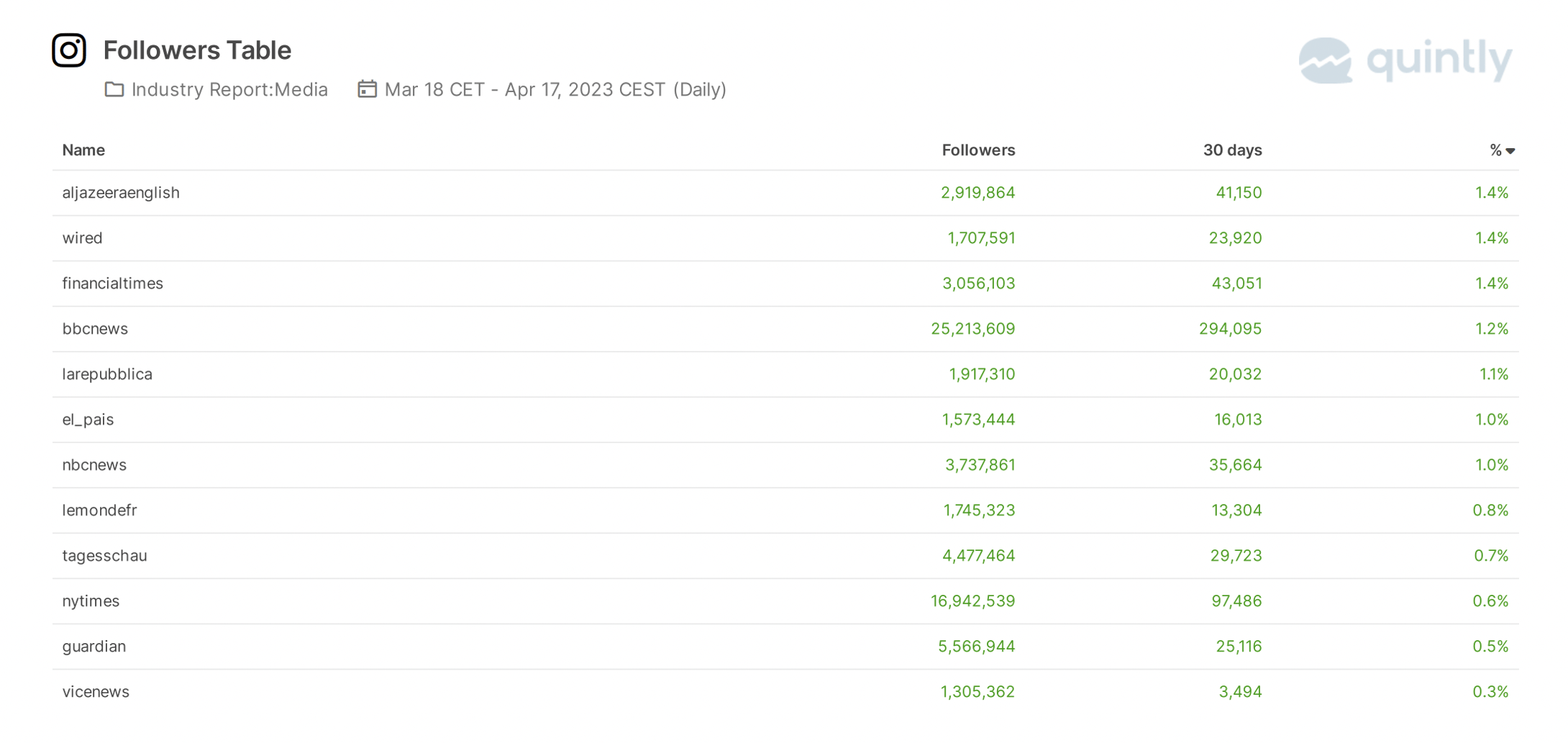 As previously mentioned, significant increases or decreases in followers can occur after specific posts. We would like to share two examples from the New York Times to illustrate this. As shown in the metric below, the New York Times experienced a significant drop in followers on April 2nd, 2023, losing 19,696 followers. However, on February 7th, 2023, the New York Times gained 18,061 followers.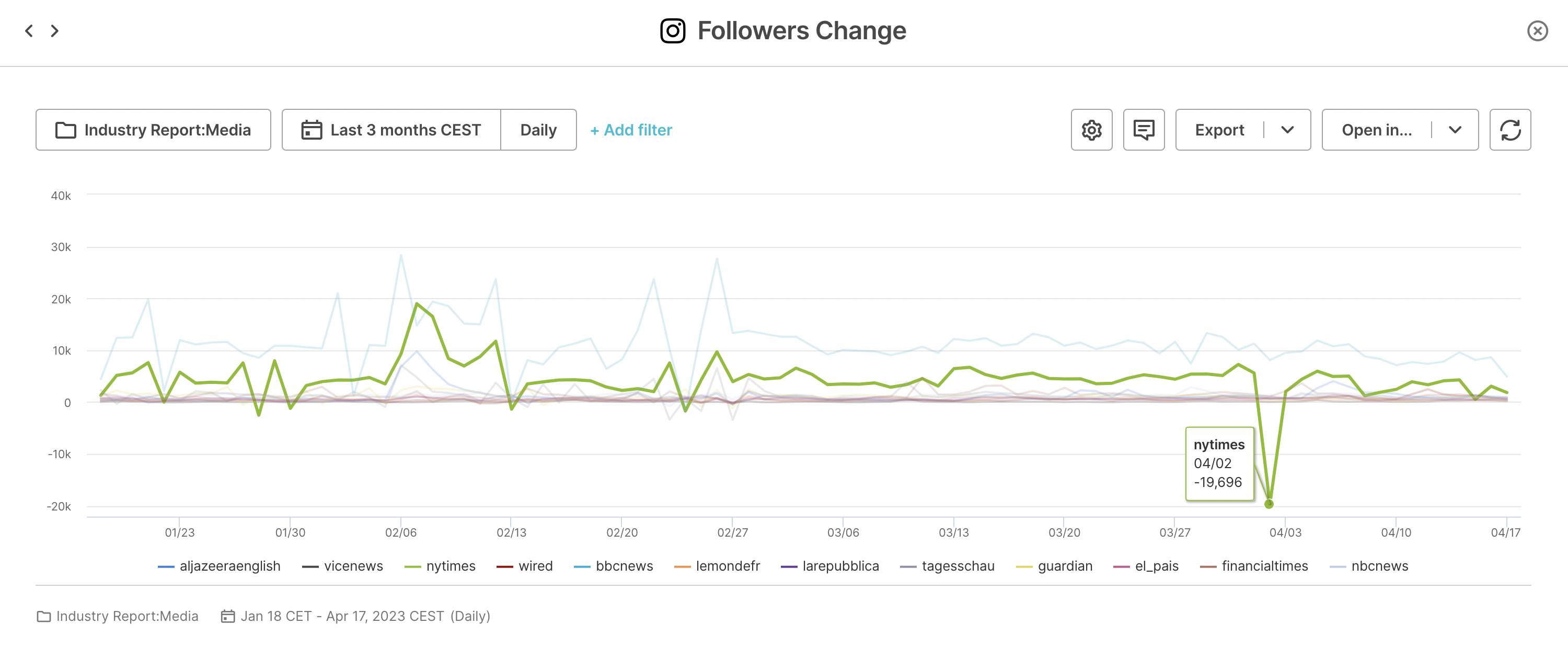 But what post was the reason for this decrease in followers? Let's take a look.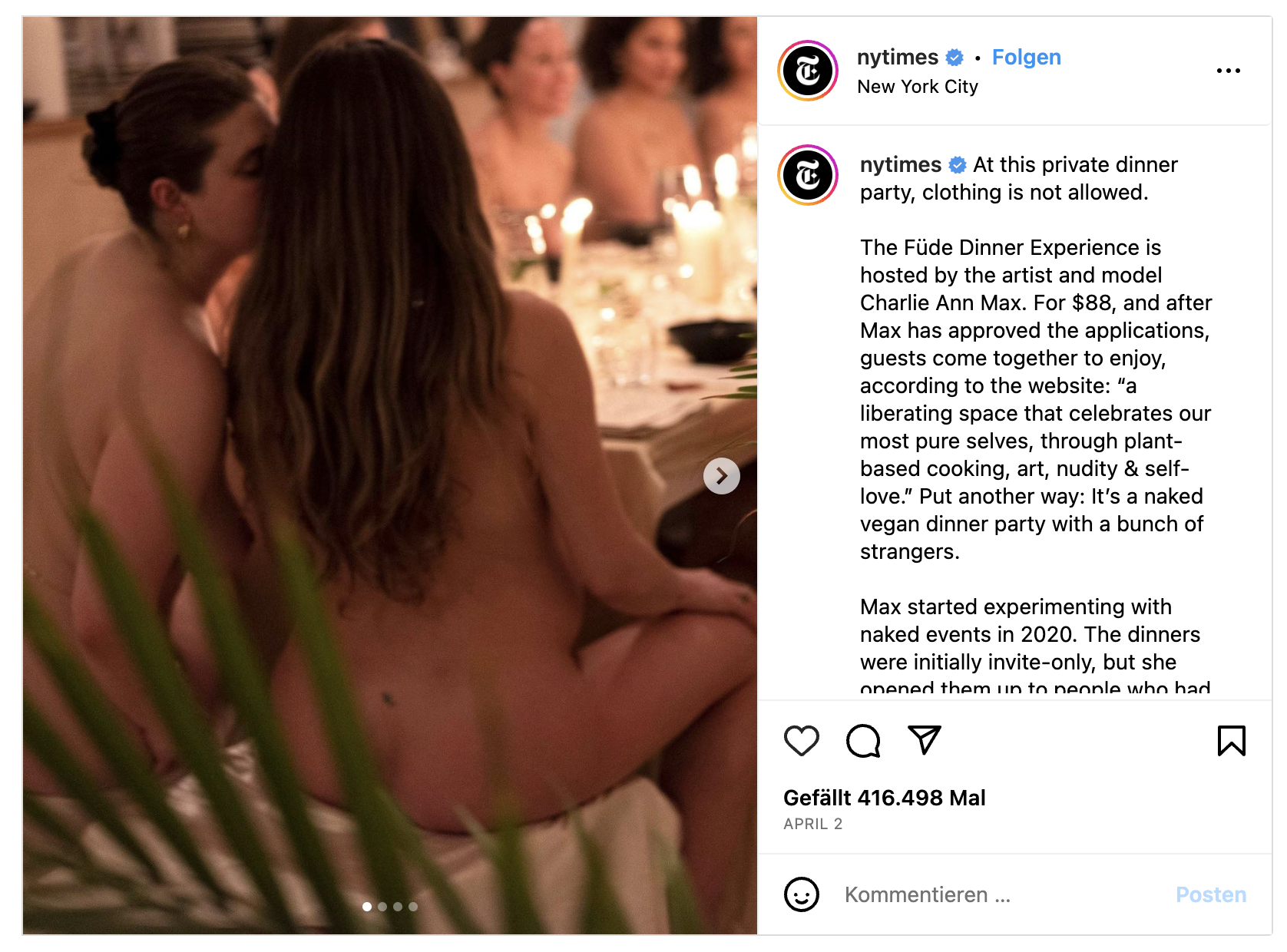 The post about The Füde Dinner Experience, a private dinner party in New York where clothing is not allowed, generated a lot of controversy. The post received 416,476 likes, but also garnered 11,277 mostly negative comments (resulting in an interaction rate of 2.5%) and caused almost 20,000 people to unfollow the Instagram page.
In contrast, let's take a look at when the New York Times gained the most followers within the analyzed time frame. On February 7th, 2023, the New York Times gained 18,061 followers. Similarly, BBC, Al Jazeera, and Tagesschau all experienced a surge in new followers around this time. We speculate that the earthquake in Turkey and Syria, which occurred on February 6th, prompted people to seek out news and stay informed on the topic, leading them to follow more news outlets on Instagram.
Posts
Publishing high-quality content that resonates with your audience is a key factor in driving engagement on Instagram.
To better understand how to create effective content, we analyzed the posts of several media outlets on Instagram, comparing them to one another, examining post frequency, and identifying standout posts. By studying the content and strategies of these media outlets, we were able to gain insights into how they effectively communicate news and engage with their audiences on the platform.
Despite the fact that the primary purpose of media outlets is to cover news, they have the freedom to decide how to present their content on Instagram, including their choice of post types, the language they use, and the overall tone of their posts. This can greatly impact audience engagement and overall success on the platform.
So, let's take a closer look at our findings and explore how media outlets can optimize their content for greater success on Instagram.
Post type distribution and who posts the most?
What types of visual content perform the best? Our recent research on Reels has shown that Reels receive a higher percentage of likes and comments compared to other types of posts. This could be due to Reels being more engaging, interesting, or humorous than other types of content, or simply because Instagram prioritizes them over other content. Regardless, creating more Reels may be a good strategy for increasing likes and comments on your Instagram posts.
However, it is important to note that each audience is unique, and what works for one may not necessarily work for another. Therefore, it is crucial to analyze the data and metrics of your own audience to determine which type of visual content resonates best with them. While Reels may be an effective strategy for some, it is important to always evaluate and adapt your approach based on the feedback and engagement of your audience. Ultimately, the key to success on Instagram lies in creating content that YOUR audience finds valuable, engaging, and relevant.
Let's examine the types of posts used by the media outlets analyzed and identify their strengths and potential areas for improvement based on the data.
Among the analyzed media outlets, Tagesschau stood out by publishing the most posts (1019) in the last 3 months. They focused on Carousels, with 496 posts, followed by an almost equal distribution of Reels and Images (276 Reels vs 244 Images) and 3 Videos. Their interaction rate was 1.5%, the second-highest after La Repubblica. Images and Carousels had the highest interaction rates, with Reels receiving much fewer interactions. Videos had the lowest interaction rate.
AlJazeera published the second-highest number of posts (873) and heavily relied on Reels, with 530 posts. They shared almost the same number of Images and Carousels from mid-January to mid-April and published no Videos. They received the highest interaction rate on Reels, followed by Images. Unfortunately, compared to other news outlets, AlJazeera had a low interaction rate of just 0.3%.

La Repubblica had the highest interaction rate (1.8%) among the analyzed media outlets, with 844 published posts. They focused on Reels (357) and Images (470), with very few carousel posts (just 16) and just one Video post. In terms of Interaction Rate, Images had the highest performance, with Reels following closely behind. However, Carousel posts had a low interaction rate. Surprisingly, the single video they published had a high interaction rate.
Le Monde heavily relied on carousels (570) in their strategy, but actually, Reels performed best for them, with only 127 published. They posted very few Images and Videos, but the interaction rate of Images was close to that of carousels. They could consider distributing their post types more evenly and putting more focus on Reels to see if the overall interaction rate increases.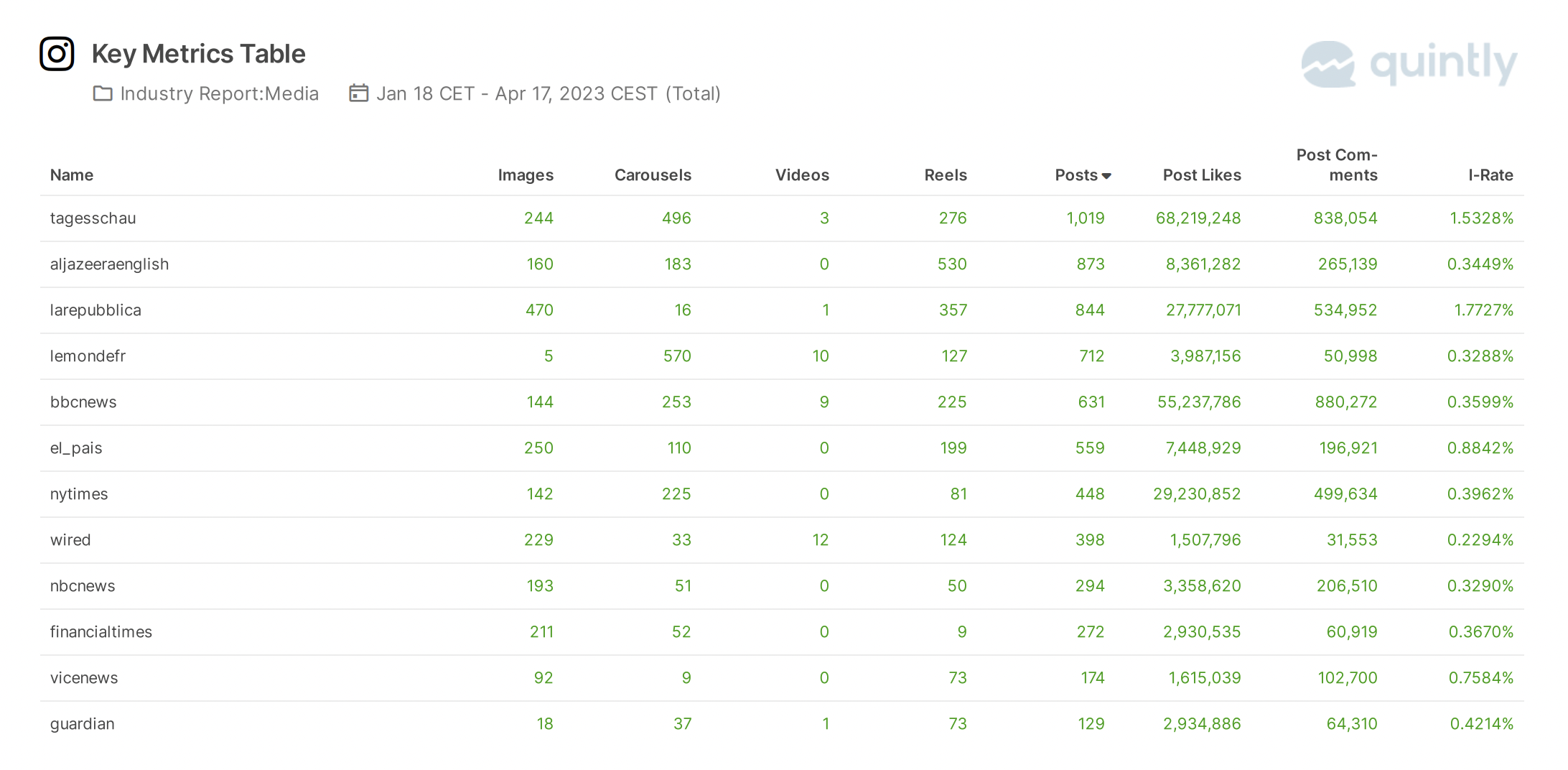 Social Media Insight: As of July 2022, Instagram has reclassified video posts that are under 15 minutes as Reels, replacing the previous 90-second limit. In addition, Instagram has merged the Video and Reels tabs on user profiles, creating a unified place for all video content. However, Instagram's API continues to differentiate between Videos and Reels, causing our analysis to consistently categorize videos over 15 minutes as Videos. This is why they show up in our metric, even though they're invisible in the app.
Interactions
Social media marketing aims to engage people, and interactions are crucial for achieving this goal. Interactions include likes, comments, shares, and saves, and they are essential for increasing engagement on social media. On Instagram, interactions are particularly important because they are the most visible and tangible form of engagement.
To better understand how users are interacting with media outlets on Instagram, we conducted an analysis of their posts. By examining the number and type of interactions on each post, we were able to gain valuable insights into how users are engaging with media outlets on Instagram.
These insights can be useful for media outlets to tailor their approach and create more engaging content. By understanding which types of posts generate the most interactions, media outlets can create more of that type of content to increase engagement and build a stronger relationship with their audience.
To get an idea of which posts got the most interactions, we collected and compared the number of interactions the 12 media outlets got within the measured time period.
Average Interactions Per Post
Average interactions per post refer to the average number of likes, comments, shares, and other forms of engagement that a particular post receives. It is calculated by dividing the total number of interactions by the total number of posts.
When it comes to media outlets, engagement is the name of the game, and in that regard, three companies stand out from the rest: The New York Times, BBC News, and Tagesschau. While The New York Times and BBC News may have the largest following among the analyzed outlets, Tagesschau's impressive 4.4 million followers are not the only thing that sets them apart. With their consistently high average interactions per post, it's clear that Tagesschau has a loyal and engaged audience that can't get enough of their content.
Interaction Rate
Let's now turn our attention to the Interaction Rate, a vital metric that reveals how well media accounts engage with their audience regardless of their follower count. This metric is the ultimate indicator of a brand's social media performance, and we're excited to share the results with you.
It's clear from our analysis that Tagesschau and La Repubblica are the undisputed champions of Interaction Rate. With rates of 1.5% and 1.8%, respectively, they are miles ahead of their competitors. It's worth noting that even though BBC boasts the most followers of all the analyzed media outlets, they fall short with a meager interaction rate of 0.4%. The other outlets also trailed behind, with interaction rates ranging from 0.2% to 0.9%.
We believe that Interaction Rate is the key to unlocking a brand's true social media potential. By harnessing this powerful metric, media companies can transform their online presence and connect more effectively with their audience.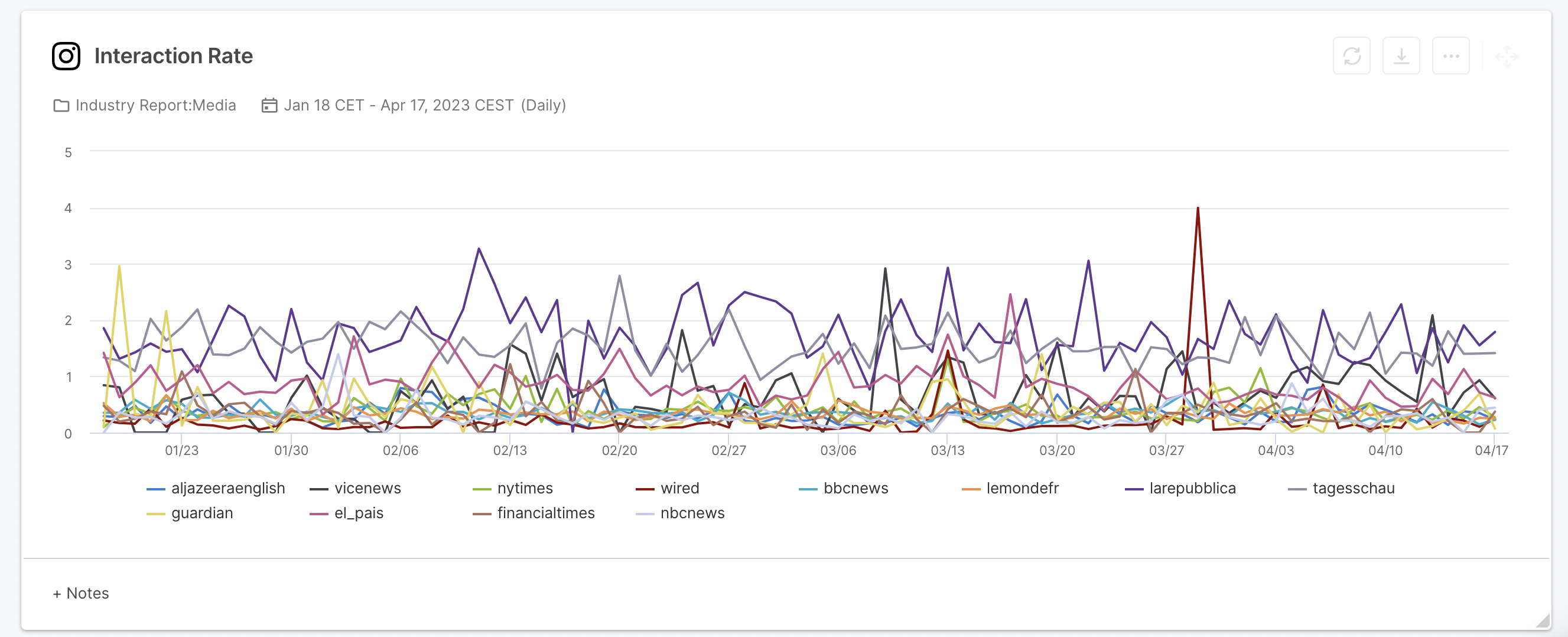 Total Interactions
Let's delve deeper into the metrics that reveal how engaged an audience is with a particular piece of content. While average interactions per post and interaction rate use different calculations to arrive at their values, total interactions offer a more general overview of engagement for an account or post over a specific period.
And the numbers tell a story: despite having fewer followers than media giants like NY Times, BBC News, and The Guardian, Tagesschau shines with outstanding interaction numbers. They received 69,066,278 interactions in total during the analyzed time period. It's clear that Tagesschau has a highly engaged audience that actively interacts with its content, proving that engagement is more valuable than just having a large following. Meanwhile, BBC News, La Repubblica, and The New York Times also feature impressive interaction numbers, with BBC News leading the pack due to its significantly higher follower count. The other media outlets fall short of these top performers.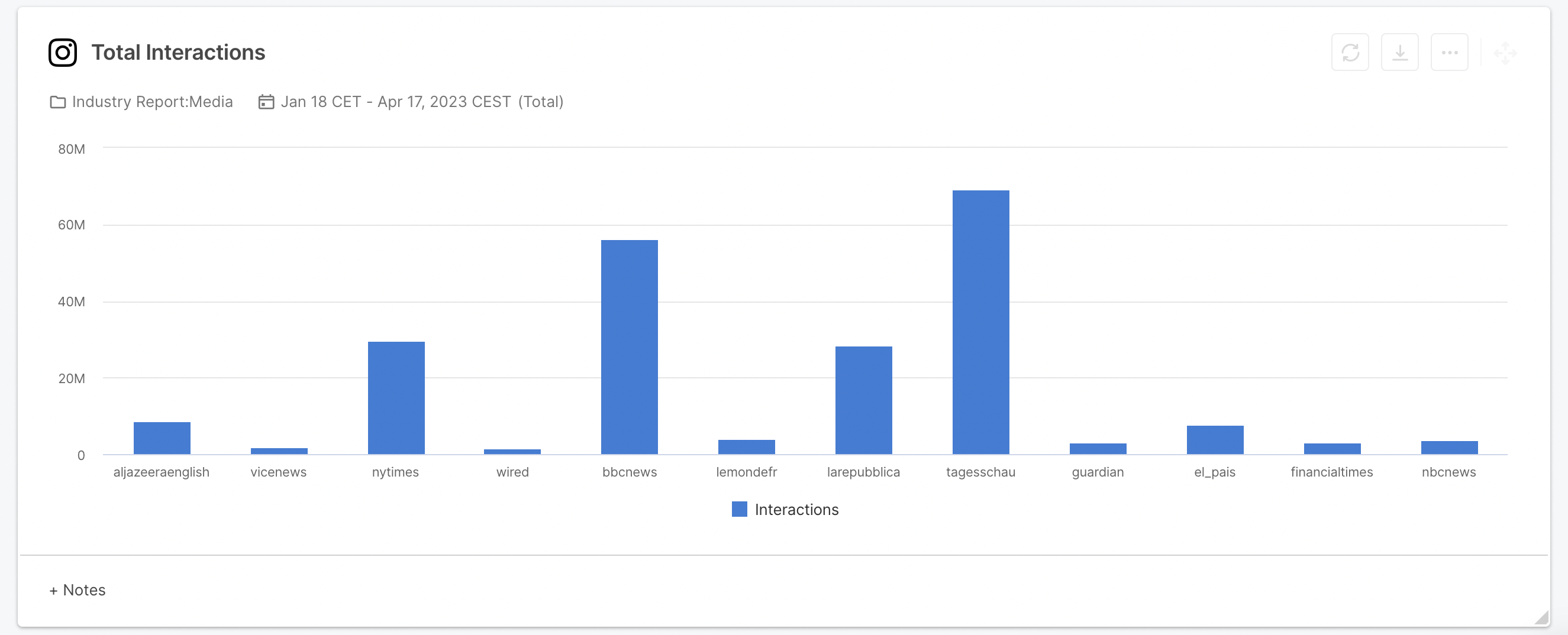 Best performing posts
Let's take a closer look at the most successful posts in terms of interaction rate - the ones that really caught the attention of the audience.
At the top of the list is a Reel posted by Wired, featuring Joanna Fang, a renowned foley artist for PlayStation Studios. This post garnered an astounding interaction rate of 21.7%, despite Wired having the lowest interaction rate of all analyzed media outlets during the studied period.
One reason for this post's massive success is undoubtedly its subject matter. The gaming industry is massive, and people are always curious about the behind-the-scenes processes involved in creating their favorite games.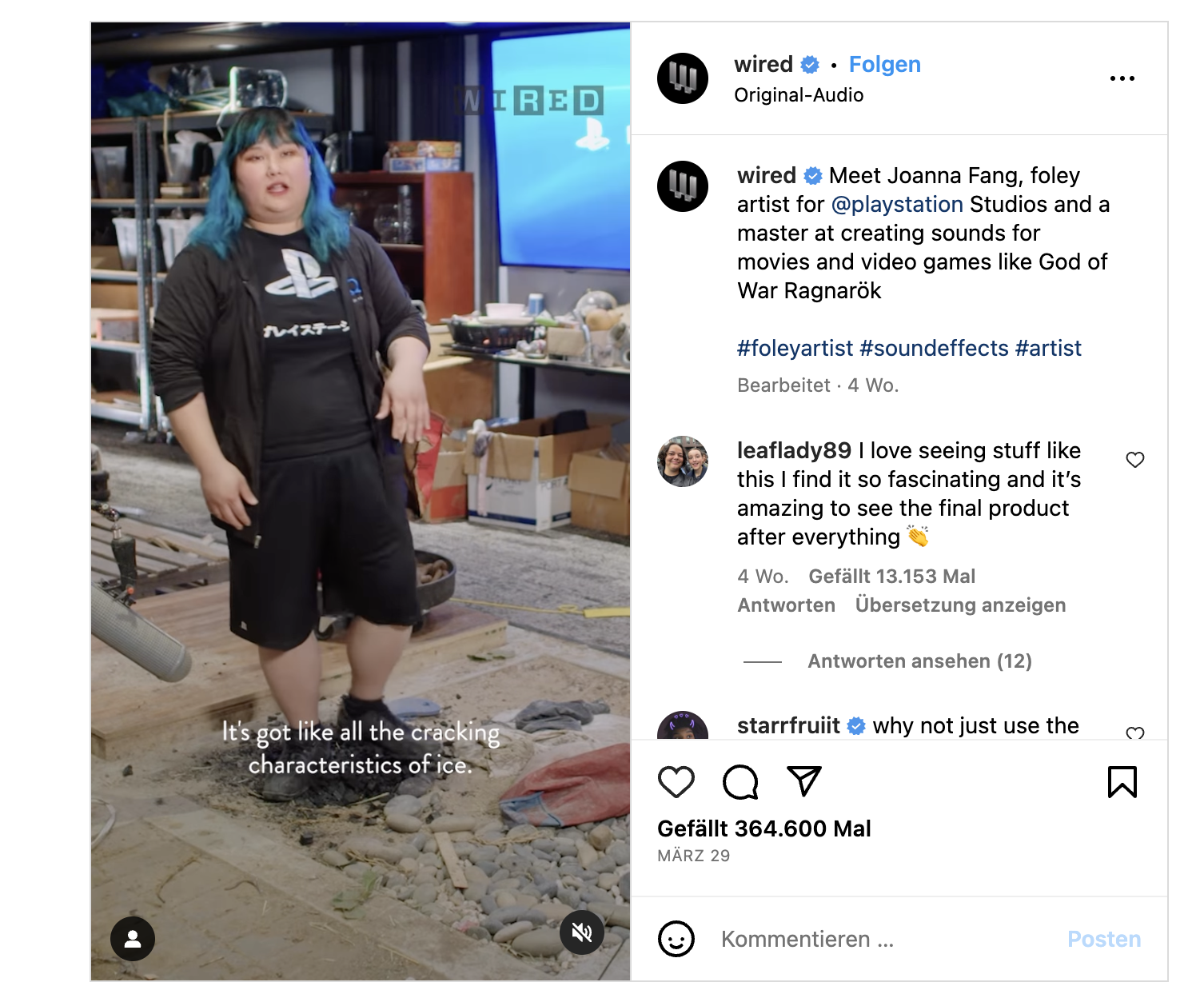 A post from Spain's second most-read newspaper El País about an experimental pill that has shown promising results in treating a rare and fatal form of cancer called Acute Myeloid Leukemia received the second-highest interaction rate of 12.7%. The physicians leading the experiment are optimistic about its effectiveness and availability to patients in need. The post's success may be attributed to its ability to provide hope to people suffering from this cancer and its focus on a new and exciting development in medicine, which can generate a lot of interest from the public.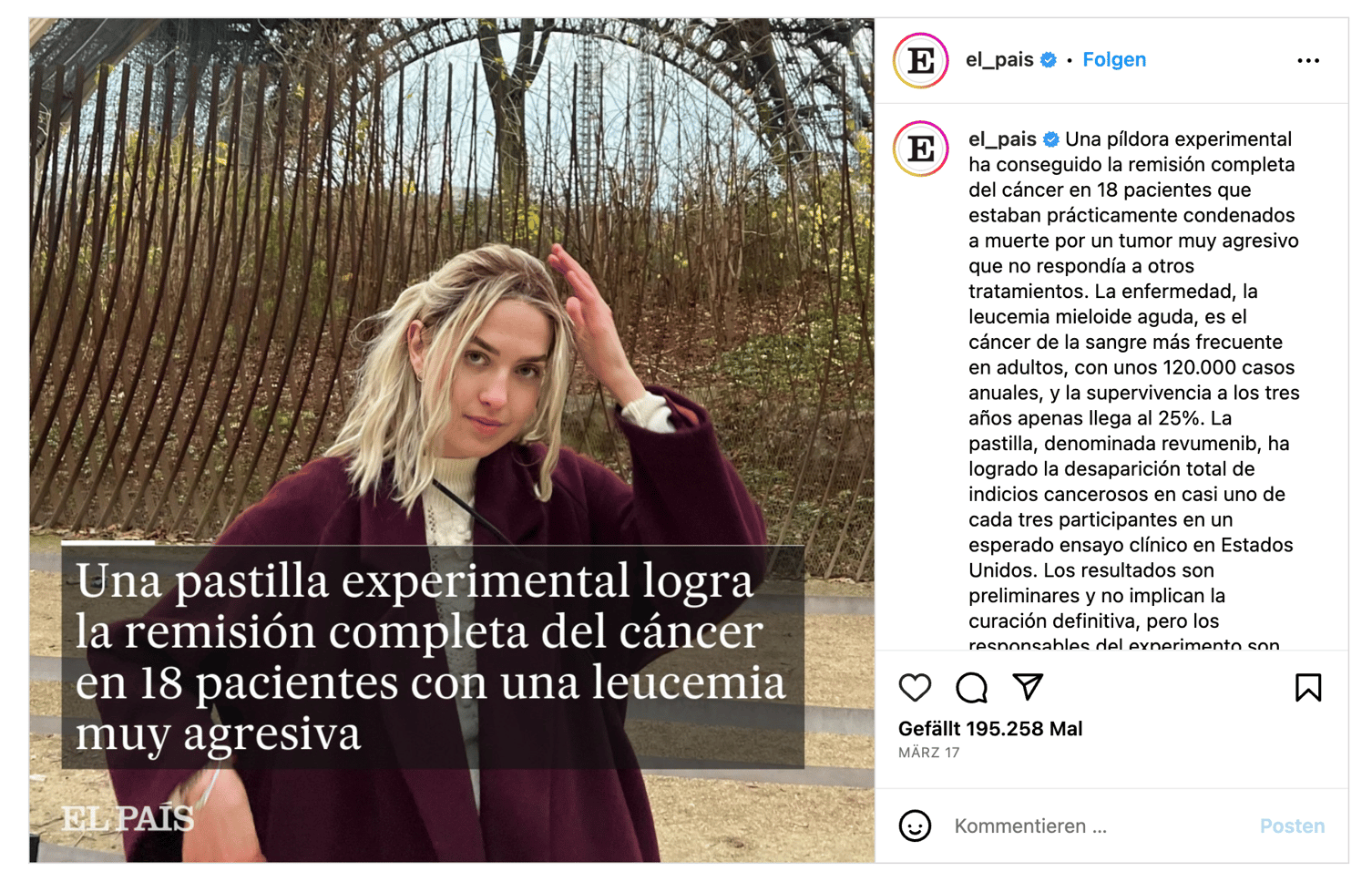 Italian media outlet La Repubblica's Reel showcasing an emotional Marco Mengoni, the winner of the 2023 Festival Sanremo, ranked third with an interaction rate of 11.7%. The festival is a cultural institution in Italy that stirs emotions among Italian viewers. Mengoni's victory with the song "Due Vite" is his second win in the festival, a remarkable achievement ten years after his first success with "L'essenziale," making the post even more engaging for fans. Moreover, the post's emotional moment can be relatable, and Mengoni was already a clear favorite before the festival, generating interest and excitement among viewers.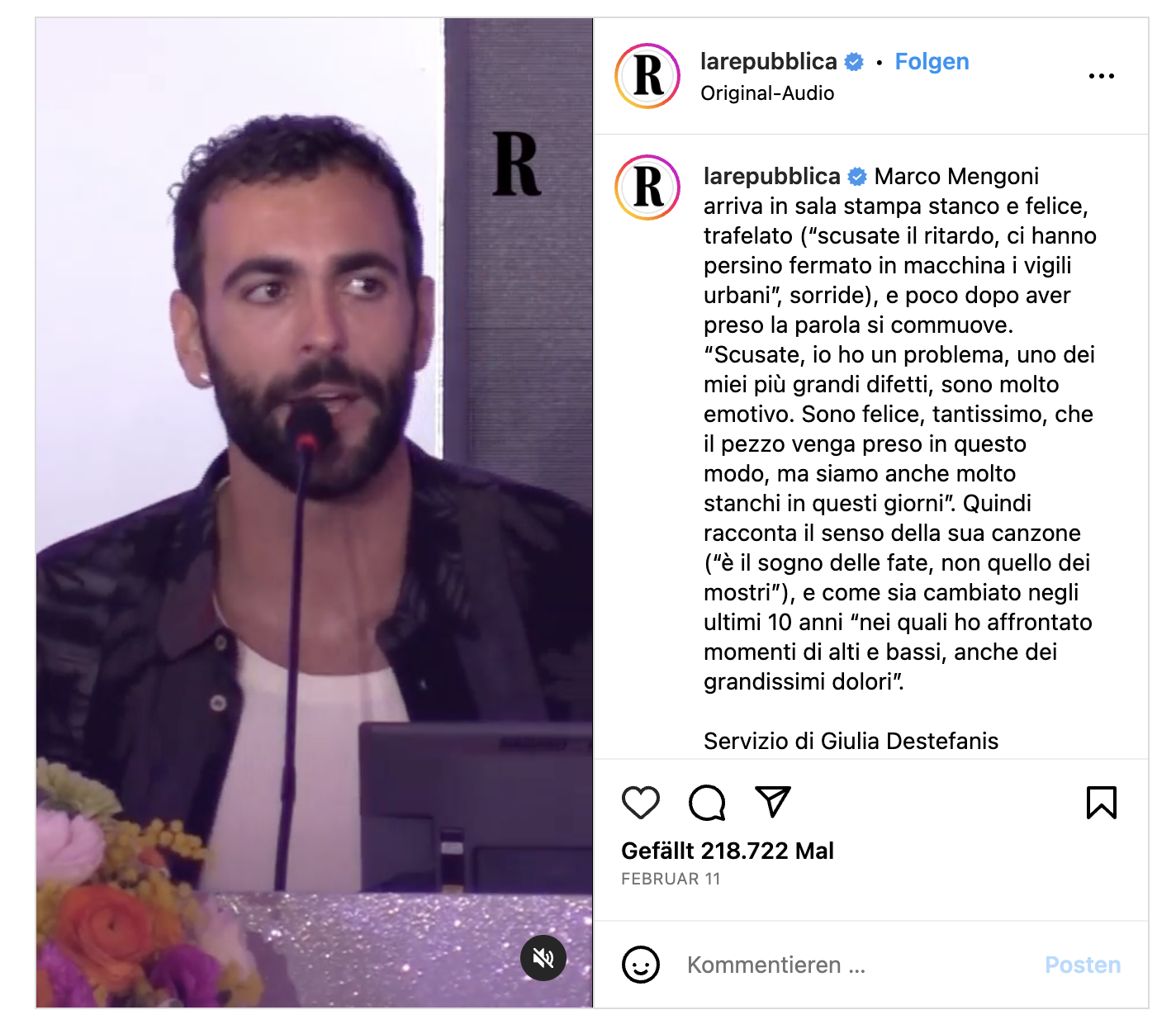 Conclusion
Upon analyzing the Instagram presence of various media outlets, it is apparent that each outlet has its unique approach to the platform. The strategies, topics, and content types they choose to focus on are all different.
However, two media outlets that stand out are La Repubblica and Tagesschau, which have been consistent in publishing heavily and engaging their community effectively. This is indicative of the importance of consistency and understanding one's audience when building a social media presence as a news outlet.
While some news outlets may strive for neutrality, covering controversial topics can sometimes result in a loss of followers. The example of the New York Times losing followers due to controversial topics suggests that it is crucial to consider the preferences and interests of one's audience.
However, this does not mean that news outlets should avoid covering challenging topics entirely. Instead, it is about the tone and pictures used to communicate the story effectively. Emotional and authentic stories resonate with audiences and can result in better engagement.
To thrive on social media, analyzing the data and gaining insights into what content resonates with the audience is critical. By understanding the tone of voice, content types, and visual elements that perform best, news outlets can tailor their strategies and develop content that aligns with their followers' preferences. This approach can lead to increased engagement, a more loyal following, and a stronger brand identity.
Moreover, social media platforms are continually evolving, and staying up to date with the latest trends and features can give news outlets a competitive edge. For example, utilizing Instagram's Stories feature or incorporating interactive elements like polls and Q&As can enhance engagement and connect with the audience on a more personal level.
By continuously analyzing the data and adapting strategies to match the platform's nuances and latest features, news outlets can build a robust social media presence, attract new followers, and provide valuable content that resonates with their audience.
It's your turn
Want in-depth data insights to guide your social media strategy?
You can track all your Instagram analytics, plus data from all your social media channels, with quintly.