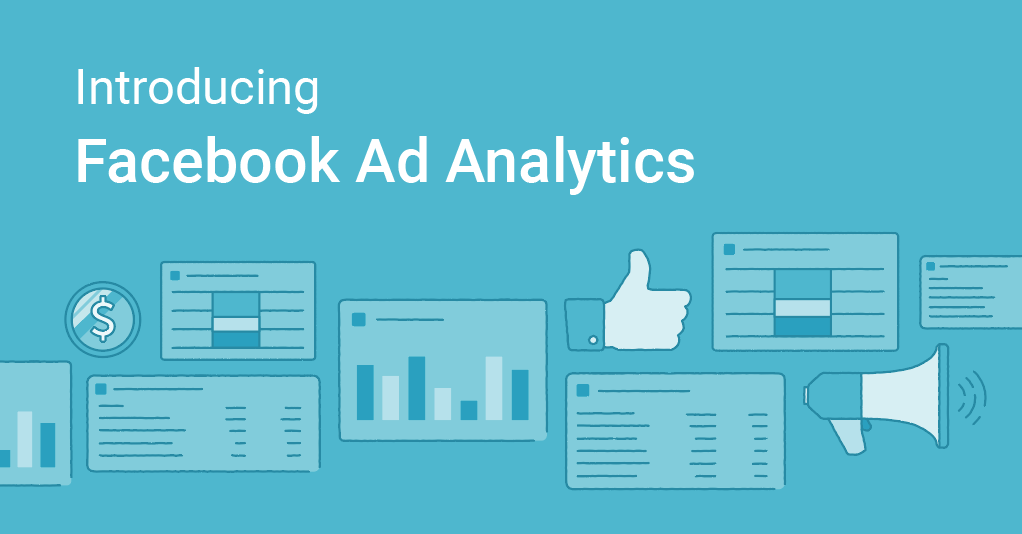 You've asked us and we listened – from today on, quintly offers Facebook Ad Analytics! This means that you can now enhance your social media analysis with data on all ads that you have created alongside your social media performance measurement.
The data visualizations in quintly will now make assessing ad results more convenient than ever. To take your ad reporting to the next level, we added several metrics and an ads dashboard template that will give you a new perspective on Facebook ad performance and your social ad ROI.
Adding Seven Insightful Ad Analytics Metrics
For the launch of Ad Analytics in quintly, we have prepared seven metrics that we find helpful. However, this is no limit! If you have any exciting cases that you need metrics for, let us know and we will do our best to provide fitting metrics. Just drop us a line on Twitter or Facebook, through support and the live chat bubble within quintly.
To get started with Ad Analytics, you have to connect your ads account to the social profile you want to analyze ads data for. So if you like to do it for "Example Inc.", go to its Facebook page in profile management, right click on it and then select Connect Facebook Ad Analytics – done! An now let's see what metrics there are starting today!
Ads Key Metrics Table
To get a fast overview of your overall ad performance, we added a key metrics table as you already know it for the different networks we support. According to the timeframe you choose, you can easily spot what you have achieved on an ad account level.
The metric shows you how many ad creatives you used, how much you spend, how many reactions (likes and reaction emoji) you received, how many clicks and comments as well as page likes you got from ads. It also displays the amount of impressions for the chosen timeframe as well as the average reach per post used as an ad.
Ads Performance Table
When you want to dig deeper into the individual performance of specific ads, the Ads Performance Table will be the go-to place for you, giving a clear view on what you achieved with your ads.
This will enable you to easily identify the ads that you put the most budget on, that reached the most people or gained the most impressions. You can also sort them by post type, creative type and also the chosen objective, giving you an optimal glance at the performance of different ads.
Ads Costs Table
To go deeper into how much your ads' results cost, we also added a metric that presents more cost related insights on an ad level, showing cost per 1,000 impressions (CPM), cost per click (CPC), cost per 1,000 people reached (CPP) and cost per engagement (CPE). This can help you to determine the ROI of your social media ads. Also, each of the ad metrics contains detailed explanations of all data that is being displayed – so if you ever are unsure of what one of the many terms means, you can find all the knowledge directly in quintly.
These can also be sorted by the ad type, which can either be an organic post, meaning posts that have been created inline as an ordinary post. These are visible to anybody who visits your page and have been sponsored (or boosted) afterwards. Dark posts mean posts that have been created within the Ads Manager and don't appear on the timeline of the page.

Ads Objective Distribution
Facebook offers various objectives for ad campaigns, like optimizing their delivery for web traffic, engagements or brand awareness. Depending on your strategy, certain objectives might be better suited than others to create the biggest impact.
The Ads Objective Distribution metric gives you an overview of which objectives you optimized for in a given timeframe. As a marketing manager, this stacked column chart offers you the possibility to clearly show what results you strive for and how you implement your strategy.
Ads Clicks Distribution
When a friend tells you that a certain product is awesome, you tend to believe him or her more than when the brand itself tells you. This effect is called social proof and can also be very helpful for your ad campaigns. This is why Facebook uses data of your friends and display that they have liked the brand behind the ad that is displayed - thus adding social proof to it.
Our Ads Clicks Distribution metric shows the ratio between results that your ads received while social information was shown ("social clicks") and while not ("other clicks"). Through this you can easily find out how much social proof has been added to your ads resulting in clicks.
Ads Creative Type Distribution
Talking about organic and dark posts as content for your ads, we have also added a metric that shows the ratio between these two types. This metrics allows a direct overview of which kind of ad post types were used in your campaigns.
Ads By Weekday
To keep a clear view on how many ads you have created at what time, you can use the Ads By Weekday metric. With this column chart you can analyze and compare the total number of ads created by each page broken down by weekday.
This Is Just the Beginning
Let us know if you find these metrics helpful. Should you have any goals for your ad strategy that are not represented in this set of metrics and you also think it could be important for the quintly community out there, we are more than happy to talk to you and try to create a metric that fits your case.
We will also provide additional dashboards in the future, comparing valuable data on your overall social media performance with ads insights. This will give you the power to get the most out of Ad Analytics for optimizing your strategy and spendings for a better social ROI.
Just drop us a line on Twitter or Facebook, through support and the live chat bubble within quintly. You can also always enter new suggestions on our ideas portal.