 Email and social media are powerful tools for businesses. Each of these can be used to promote products and services.
That means if you combine the two, you can have an even more potent tool.
Email and social media combined can be used to attract even more potential customers and further strengthen relationships with your loyal ones. You can get even better results when it comes to increasing brand awareness, driving traffic, and, ultimately, increasing conversion rates.
That said, here are several ways you can combine email marketing and social media:
1. Add social media icons to emails
Adding social media icons to emails is one way you can combine email marketing and social media.
With these icons, you can direct your readers to your business's social media pages. This is your opportunity to offer more to your target audience. On your social media accounts, you can engage with more people, share updates, and post great content that's relevant to them.
With the icons, your subscribers can also easily share your email on their preferred social media channels.
One example of a company that is making the most of its email marketing campaigns this way is H&M. Here's an email footer from one newsletter. Notice the five social media icons shown at the bottom.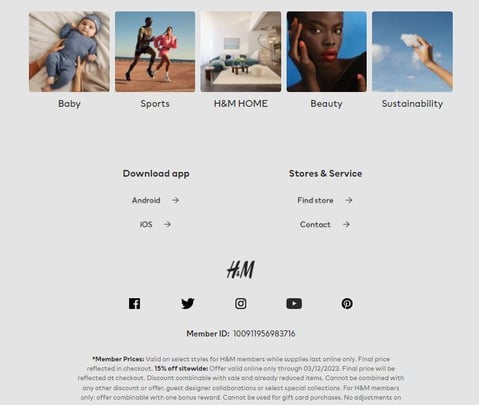 The best place to include your social media follow icons is either in the email header or footer. The social buttons should serve as a secondary call-to-action. They should be visible but shouldn't be the star of the show. Your primary call-to-action (i.e. buy, read blog, etc..) should be the first things your email subscribers see. (This, of course, doesn't apply if your email's primary goal is to get social media account followers in the first place).
Also, it's best to include multiple social media icons. You can't assume everyone has an Instagram account. So, if they don't have one, you at least give them other social media platform options. So, they can check out your Facebook posts or share your email there instead.
Incorporating social media buttons into your emails isn't hard. There are tools such as AddThis or AddToAny you can use to generate a code for these buttons. Then, just insert this code into your email newsletter.
Using social media icons this way is one of the best practices in email marketing for small and medium enterprises. The strategy won't just ensure you drive traffic to your socials and reach a wider audience. It also helps you build brand awareness and further nurture relationships with customers.
In the end, implementing this simple strategy can mean more sales!
2. Target interested email subscribers with social media ads
Social media ads are an effective and affordable way to retarget interested email subscribers. Create targeted ads that will be seen by those who are already familiar with your brand. People who have shown interest in your products or services are easier to convert into paying customers.
To set up a retargeting campaign, you'll need to install a tracking code on your website. If you're running your ads on Facebook, for instance, you'd need to install the Meta Pixel. Then, send an email to your subscribers' email addresses. This email, which can be about your recent blog content or an announcement of your newest products—should again lead people to your site. You can then make social ads for those who clicked through your page.
Apart from Facebook, you can place your ads on other social networks, like Instagram, TikTok, LinkedIn, Twitter, and Pinterest. Use the ads to reiterate your special offers, discounts, and other incentives.
But, if you want your subscribers to click on your email newsletter in the first place, your content must be engaging. Here are some great tips for creating an effective email newsletter:
Offer the consumers something extra to go to your website and make a purchase, like a promo code, or a special offer.

Create a sense of urgency. Making your offer valid for a limited time or to a limited number of customers will make people take action now.

Pick one primary call-to-action telling the reader what you would like them to do.

Upsell or cross-sell your products. Show the consumer suggestions for similar or complementary products.




Of course, you need to write an enticing and engaging subject line. This is, after all, the first thing your email subscribers will see. For best results, personalize your subject lines and your email body.
3. Upload your subscriber list to social media platforms
Uploading your subscriber list to social media platforms is a great way to get your content and message out to a wider audience. It allows you to reach your subscribers who may not see your social media content just yet. Your subscribers are people who are already interested in your content (they subscribed to your email content, after all). That means, you can expect them to engage with your social media posts, too.
In essence, then, uploading your subscriber list to social platforms is not just one way to get Instagram followers or increase your Facebook audience. It's also one way to get likes and shares.
But how do you upload your email list to your social media platforms in the first place? The specific steps vary per social media platform, of course. But here's what you do on Facebook:
Open your admin panel on your business page.

Choose 'Build Audience' at the top of the screen.

Click on 'Import Email Contacts' from the drop-down menu.




Then you can invite all your imported contacts to like your business page.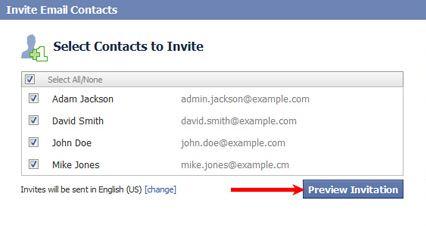 Alternatively, you can gather all your contacts in a document. Then import the list and build custom audiences for your personalized ads. Just go to Facebook's ads manager and access the Audiences section to do this:

Additionally, use the insights gained from social media to better understand the interests of your audience. Then tailor your content accordingly.
4. Leverage social media to grow your email list
Did you know you could use social media to promote subscriptions to your email list? Many social platforms have features you can leverage for this.
Twitter Cards, for instance, allows people to sign up for your newsletter without leaving the platform. All Twitter users need to do is click on the "Sign Me Up" button. Here's an example of such a Twitter Card: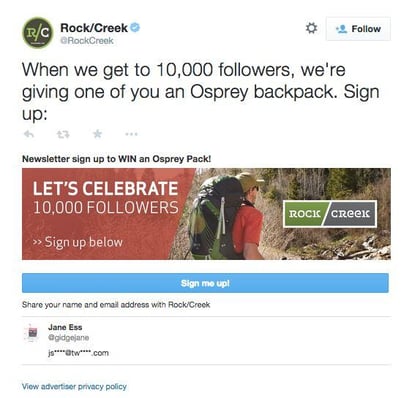 Facebook, meanwhile, gives you the option to add a newsletter sign-up button to your page. Your followers can sign up for your email newsletter with also just one click.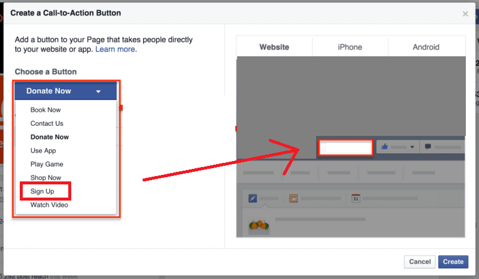 You can also add such a button to the social media posts that you publish on the platform.
Another idea is to run contests and giveaways on social channels to incentivize people to join your email list.
Here's an example giveaway run by The Whisky Don on Instagram. The company is promoting its venue by offering free tickets and gifts. To enter, the social media followers must sign up for the company's email list.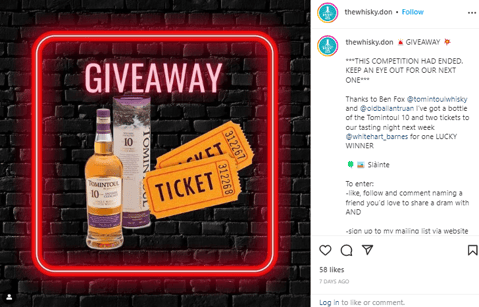 Use social media to create valuable content users will be interested in. This will give them a reason to join your email list and stay engaged with your brand on that platform.
Conclusion
Combining email marketing and social media can bring your business many benefits. You can reach a larger audience and further increase brand awareness. You can also further nurture your relationships with your customers.
You learned four ways you can combine social media and email marketing. To maximize your reach, include social media icons in your emails. Also, target interested email subscribers with social media ads. Upload your subscriber list to social media platforms. Lastly, invite your social media followers to join your email list.
Follow these tips and you'll reap the best results. Good luck!