 The use of social media is continuously on the rise, highlighting its tremendous potential for marketers. In addition to running marketing campaigns, increasing brand awareness, and facilitating direct sales of products or services, social media provides valuable data that can aid in brand growth and driving more sales.
There are many types of social media data you can collect and find useful. This includes purchase history, engagement rates, and even photos and videos. If you leverage social media data the right way, you can generate content, brand awareness, and conversions.
But how do you go about using social media data to your brand's advantage? Here are six ways:
1. Create buyer personas
Social networks provide you with priceless data about their active users. Major social media channels like Facebook, Instagram, or Twitter come with analytics tools that gather this data you can use to create your buyer personas. The data includes people's demographics, like age, gender, educational level, industry, and location.
Here's a buyer persona template showing the basic information needed to create a profile.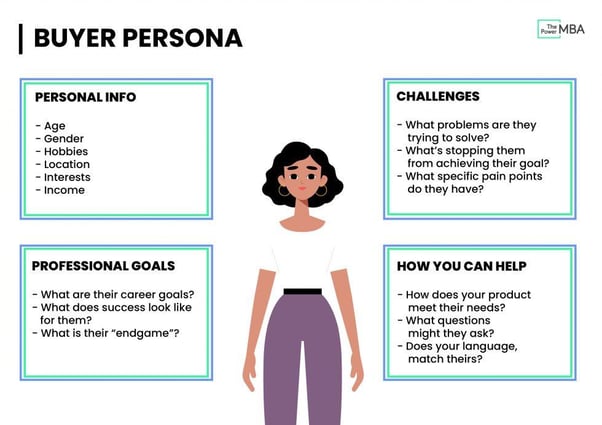 But what do you need the buyer persona for? Answer? You can use it to create content tailored to your segments' likes and interests.
That content doesn't necessarily have to be for social media. Since your content is based on a specific group's interests, you can use it on any platform for as long as you're targeting the same people on that platform. You can e.g. create personas based on social media data for recruitment marketing, too.
Using social data to get to know your followers will put you in the best position to offer the products, services, and content people want. To make it easy for you to monitor your social media platforms for this data, you can use a social media analytics tool like quintly.
quintly allows you to see your accounts in one place. You can also customize your existing social media metrics or create new ones from scratch with the tool. The platform's Analysis feature enables you to quickly find a specific data point without having to comb through many data sets. With all of this relevant information in one place, you can automatically generate analytics reports and send them easily to your team.
2. Use UGC for content marketing
You can also gather User-Generated Content or UGC from social media. UGC is content that's related to your brand but is created by someone who is not associated with your business. A text, a picture, or a short shared by a happy customer are just a few examples of UGC.
Here's an example of a restaurant re-posting UGC from its customer: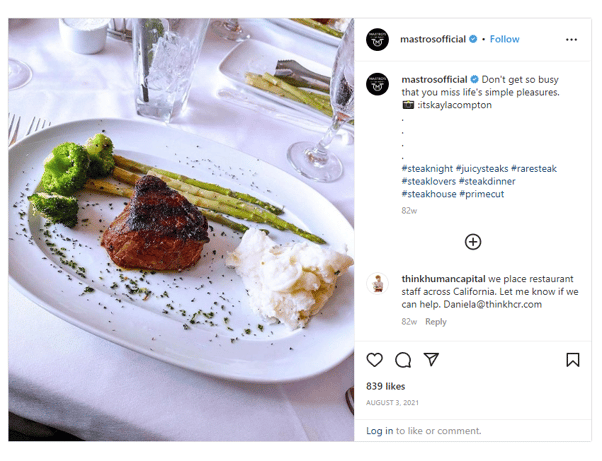 You can use UGC for content marketing as a great way to build trust. Potential customers see pictures or reviews from customers praising your company as referrals. So, your current customers can help you build authenticity for your brand. Ultimately, you can reach a larger target audience, attracting more people to engage with your brand.
UGC in your emails, social campaigns, or on your website can show your audience how your product looks or works when used by a typical user. This is a method of promotion that's more trustworthy than a planned promotional advert. Around 72% of consumers believe that UGC is more credible than the brand talking about their products.
But how do you encourage your social media users to post UGC? Run contests and encourage active users to submit their content. You can ask them to use specific hashtags, too. This way, you can just look the hashtag up and share the content on your social media.
Dove is a great example of a brand that leverages the UGC strategy. The beauty brand launched Project #ShowUs on social media and collected over 10,000 photos of people from around the world.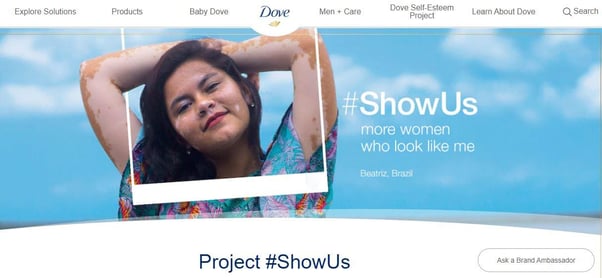 In the end, Dove gathered tons of UGC which they also used in other marketing campaigns to promote its products.
3. Perform a competitive analysis
Social media platforms allow you to check what your competitors are doing. A competitive analysis of the audience's engagement with your competitors' new launches and promotions can help you understand your target audience preferences. You can use this data for your new campaigns and even for product development.
Monitor the content your competitors come up with. Learn how your competitors get Instagram likes and Twitter retweets. Do they publish product photos or short videos for your niche and how do they perform? For some industries infographics, gifs, articles or reports prove to be successful. Then come up with similar content to generate the same (or more) engagement, too.
Don't forget to check out the influencers your competitors work with, too. Around 61% of consumers trust influencer recommendations. That means influencer marketing can be an effective brand promotion strategy. You won't be able to collaborate with the same influencer, but you can at least get an idea of the types of influencers that resonate with your audience (also your competitor's audience).
You can also check what active users are saying on social platforms about your competitors. Then identify gaps in your competitors' products or services that your brand can fill.
4. Incorporate social media into your sales funnel
Many businesses use social networks only for awareness. The thing is, you can do so much more than just spread awareness with social media. You can fit social platforms in your sales funnel and use social data to promote your brand, educate, challenge, entertain, and ultimately make more sales.
In other words, you can leverage social media (and social media data) throughout your sales funnel.
Here's a visualization of the funnel stages and sample actions taken by a consumer at each stage.
So, when promoting a product through social media channels, track your post's click through and conversion rate. Use social media data to learn customer interest in that specific product. This can help you decide whether the product is worth promoting in the first place.
If you already know the audience demographics of the people who are more likely to be interested in your product (maybe historical data), you can look for people who have similar demographics across social media platforms. Then use paid ads or other content to reach that specific group where there's more potential for purchase.
So, for your awareness stage, you would release sponsored content to get the user's attention. Here's one example of an Instagram sponsored post published by HappySocks.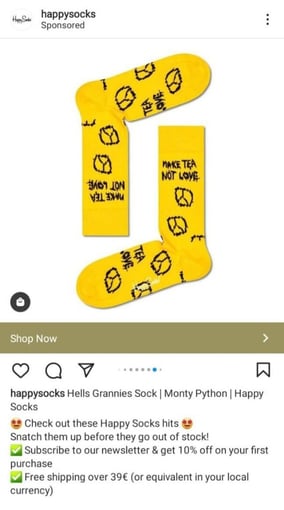 In the consideration stage, you'd target those who've already shown interest in or recognized a need for a product like yours. So, you release valuable content like this one from L'Oréal. It's a short video tutorial on how to do carnival make-up on YouTube.
In the conversion stage, you'd offer a discount for potential new customers. You could also offer credits to get new users, like Twitter did when it was promoting its Twitter ads: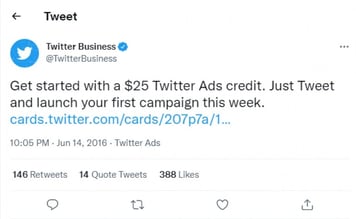 After the sale, you can also use social media data to enhance customer loyalty and advocacy. For instance, you can set up a loyalty program with incentives your customers show interest in on social media. So, if you have a product that has had great social media reception, you can offer discounts on that product for your loyal customers.
In other words, social media data can help you make informed decisions about your marketing efforts throughout your funnel. All you need to do is leverage that data so you can reach the right people with the right content.
5. Improve customer service
Today's customers like to reach out to brands through social media. It's easy and quick—they already spend time on the platforms anyway. Besides, the notifications let social media active users know instantly if someone mentions them or responds to their comments.
Brands that play along and make timely responses through social media networks can create a positive customer experience and improve their customer service.
So, to create a better online presence you should monitor mentions, and brand and industry-related hashtags with a hashtag analytics tracker. Using social media data this way can help you jump in conversations and lay down a plan of action for aggrieved customers if necessary.
Here's a Tweet from a complaining Domino's Pizza customer. Because the brand was monitoring the platform, it was able to react quickly to the complaint. The result? The company earned extra points as a brand that seems to care for its customers.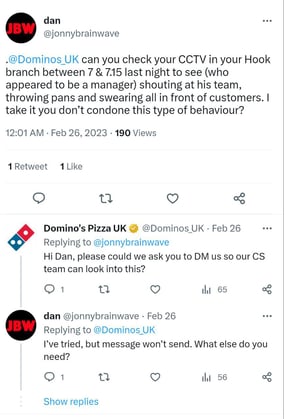 Don't just respond to negative comments. Respond to the positive comments, too. A simple "thank you for the good review :)" will go a long way. Your customers will know you're listening to them every step of the way.
6. Come up with better communication strategy
Using social media data as the foundation of a brand's communication strategy can work wonders. When you align the way you communicate with the way your audience speaks, you can make them relate to you. People are more likely to buy from your brand if they feel connected with you in some way.
So, learn where your target audience likes to hang out online. Take note of the language they use to interact on social media. Then use this type of language in coming up with your marketing content. Take note of the topics they talk about, too. These are the topics you want to touch on to generate interest and engagement.
Check out Skittles' social media posts, and you'll see the brand's language tone is very specific: it's funny and casual, the same language you'd use when talking to a friend: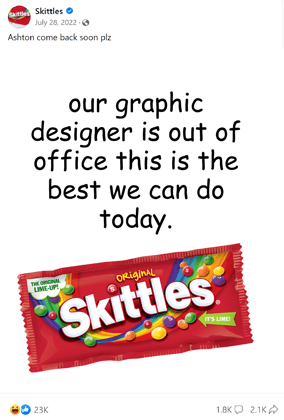 In its posts, Skittles talks about anything under the sun, too. However, it finds a way to relate these topics to the brand. In the post above, it managed to somehow connect a typical office topic with Skittles.
Based on the post engagement, these are the types of topics and language that resonate with Skittles' audience, too.
Conclusion
When you're using social media data for your business, you increase your chances for success. Social media data can help you understand your audience's needs and their interests. Empowered with this knowledge, you can make informed marketing, sales, and other business decisions.
You learned ways you can leverage social media data.
Create engaging and comprehensive buyer personas, use UGC for your content marketing and incorporate social media into your sales funnel. Use social media platforms to gain insights into what your competitors are doing. Also, using social media data to improve your customer service and your communication strategy is key.
Follow these tips, and you'll reap the best results.