The amount of money spent on social media is nowhere near a decline as ad revenues surge especially on Facebook. It is no surprise that more and more brands want to closely measure their social media marketing success in order to allocate their financial resources efficiently. Among the options that exist for social media performance measurement, it is easy to get lost. In order to buy the best social media analytics tool for your goals, you will have to ask yourself some questions about what you want to do excatly with such a tool. What are your needs and goals? To help guide you towards making a well informed decision, we have created this list of nine frequently asked questions when searching for the best social media analytics solution. You can click on each question to instantly jump to what matters to you most.
1. Which networks can I track with social media analytics?
While Facebook is still clearly dominating the world of social networks, brands are usually active on various different social media channels, among them Twitter, Instagram, Youtube and Pinterest. However, not every social media analytics tool supports all of them. In order to find the tool that fits your social media marketing activities, you have to keep a close eye on which social network data you can track. For example, quintly offers analytics for Facebook, Twitter, Instagram, Pinterest, Youtube, LinkedIn, Google+ and blogs.
2. Can I track all networks in one place?
If you want to track a certain social media campaign, it is handy to see data from all networks in one place. Accordingly, it is important that you know if a social media analytics tool you might want to buy includes a central overview of all data. For example, you might want to compare the engagement through interactions on Facebook, Twitter and Instagram. If you can view the relevant data in one place, it is more easy to see which network is performing best for your specific goals.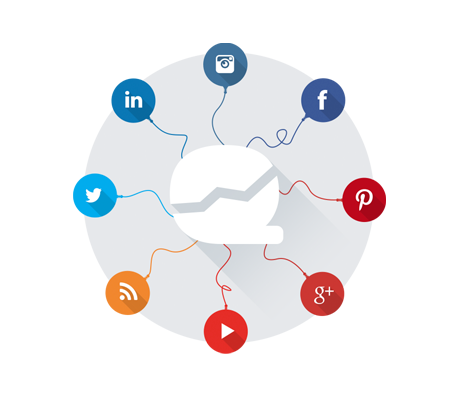 3. Can I benchmark my social media performance against my competitors?
Looking at the data of your own marketing activities can already be highly insightful. However, in order to optimize your social media strategy, it is key to make use of benchmarks against other actors in the market. If you want to find the best social media analytics tool for your purposes, consider the number of profiles you can add to your tool and how many you can compare at once in your analysis.
4. Can I use the social media analytics tool for reporting?
Most social media marketers don't only need to monitor data, but they also have to report it to their colleagues and superiors. Working for an agency, reporting for clients is a task that is being demanded frequently. So if you need to provide reports, the best social media analytics tool is one that offers excellent reporting features. If you need recurring reports on a weekly or monthly basis, automatic reporting would be a very helpful feature. If you are working for an agency then white labeling would also be an important feature, so keep your eyes peeled for a tool that offers this. Furthermore, you need to know how you want to export your social media reportings. Do you prefer a ready to present format like PPT or PDF? Or do you want to visualize the data within Excel and need an XLS or CSV file? If you aim on sending your reports out to your colleagues on a regular basis, being able to set up reports for delivery by email is another important feature.
5. How about integration with other softwares and tools I already use?
If you already use a software that offers data dashboards and you want to expand its features with a social media analytics tool, you need to check the possibilities of integrating it with what you already have. For doing so, it is necessary that you can access the API of the tool which allows developers to create applications that can be integrated with it. This option gives you the necessary flexibility to use social media analytics with software and tools you already developed or purchased. In this way you can use an analytics tool as another fully integrated building block of your performance measurement. quintly offers complete API access that doesn't even require coding skills. Existing services like Klipfolio already offer easy quintly integration.
6. Can I easily use the social media analytics tool with multiple users?
If you work in a small agency and do all the social media reporting, it might be enough to have one account for a social media analytics tool. However, if you are part of a big company that spends a lot on social media marketing, you might have to share your tool with other employees. This is where the option to create sub-accounts comes into play. If a tool offers this feature, it is possible to share it with different people who can all work within their own workspace without having to buy several independent licences. In quintly, these different workspaces are simply called Spaces. It is also possible to add multiple users either as read only or admin.
7. How many different KPIs can I measure?
Most social media analytics tools offer a certain amount of default metrics for measuring the most important social media KPIs. These are often enough to cater a wide range of users. However, sometimes these might not be enough to measure exactly what you want to evaluate. If you need a high degree of flexibility, it can be crucial to look for a social media analytics tool that offers various customization options that get you to your goal. In quintly, you can either adjust pre-existing metrics or create whole new metrics from scratch. It offers the option to change visualization types of metrics with some simple clicks. For users who want to exactly tailor their metrics to what they want to achieve, quintly offers the option to create metrics with the quintly query language (QQL) that is based on SQLite.
8. How can I improve my customer service with social media analytics?
Social media is not a one way marketing channel but it also offers various means of communication with your audience. It has enabled both consumers and brands to interact and share content on a public stage. As a result delivering excellent customer service on social networks is more important than ever for brands all over the globe. According to several analyses the majority of people expect brands on Facebook and Twitter to respond within the hour. Since it isn't always easy to fulfill all customer expectations on social platforms, social customer support requires guidance, planning and of course measurement. quintly provides a variety of metrics for measuring the success of customer service on social media. You can find out your response times and when your own customer care efforts happen. These can be compared with with all your competitors. Learn what your audiences is writing both on your channels and the ones of other brands in the market.
9. How flexible is the subscription?
Most large scale businesses run various social media channels and accordingly need constant performance measurement. Many social media analytics tools offer year long subscriptions and this actually fits many companies. However, many smaller agencies only need an analytics tool for a shorter period of time because of a certain contract. In this case it makes more sense to choose a subscription that can be cancelled soon after the task has been fulfilled. With quintly you have the possibility to cancel your subscription at the end of each month which gives you the perfect flexibility to only spend money on social analytics when you really need it.
Finding the best social media analytics tool
Every social media marketing campaign or strategy is different, so there is no one-size-fits-all approach on how to track your efforts. Accordingly, it is important that you choose the social media analytics tool that gives you the best options for social media marketing performance measurement.
Do you have any comments or questions? We are just one tweet away! If you want to learn more about social media analytics, head over to our free social media analytics course in the quintly Academy.