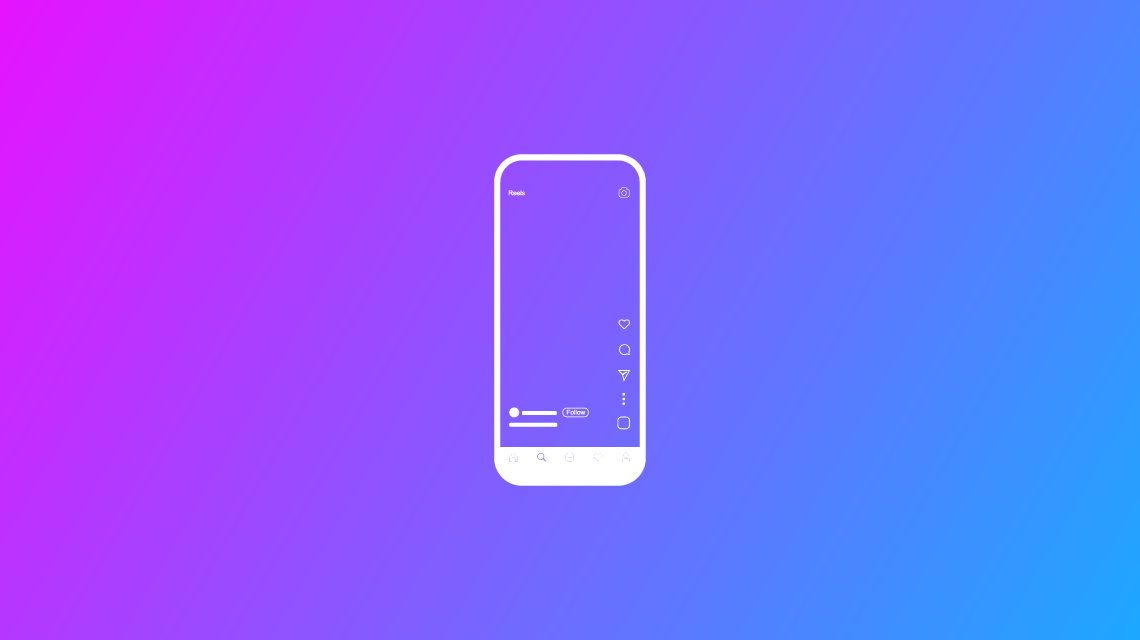 "Capture and Share the World's Moments". This is Instagram's tagline and they have definitely succeeded at that. Currently, Instagram has amassed over 1 billion monthly active users and 500 million daily users, making it one of the top 4 social media platforms in the world.
Thus, it is no surprise that many brands and businesses are trying to leverage the features of Instagram to achieve their goals.
Their most attractive feature to date is none other than the short form video format "Instagram Reels". They are short, bite-sized videos that are not only easy to create but can also be easily discovered by people, granting you an advantage and a higher success rate to elevate your online presence.
No matter what industry you are in, Instagram Reels is a wonderful creative tool and medium you can use to promote your products, grow your brand online, and skyrocket your business – and now is the time to learn its ins and outs and make it work FOR you.
Let me share with you 5 secret hacks you can do to make your Instagram Reels go viral and bring more attention to your business. Let's go!
What are the 5 hacks for Instagram Reels?
1. Let Instagram know who you are
First things first, you need to let Instagram know who you are, or what your business is all about, and this is why it is important.
Instagram is mainly made up of algorithms and AI technology. In other words, it is a platform that constantly learns new things about its users and acts upon them.
Whenever you post content, key in hashtags, follow someone, or interact with a user on the platform, Instagram will collect this information and find the most ideal group of audience to push your Reels to. Based on this concept, the algorithm would naturally connect you with the right audience who would be interested in your content and business.
However, the thing is, that it takes quite a while for Instagram to set this in motion for you. By the time the algorithm starts working its magic, it might be too late already, especially in business and marketing where time is of the essence.
But fret not! Here's a 2-step guide that you can follow right now to speed up the algorithm research and connect with your audience quicker:
Step 1: Find your competitors
Start looking at your competitors' social media profiles. Viewing and searching for accounts that are related or similar to yours will actually help the algorithm understand who you are, or what type of business you are in.
Step 2: Interact with your competitors' followers
Next, interact with your competitors' followers by simply liking, commenting, following, and/or direct messaging them. This will give Instagram more valuable and important information on who your target audience might be, which will help down the line to recommend your account to the right group of people.
If you do this tactfully, there is a high chance you could increase your followers at the same time as the people you are interacting with are already interested in a similar type of business or service.
However, you do not want to overdo this! Engaging with too many people in a short duration of time with bot-like interactions might have Instagram thinking it is spam. This will end up backfiring your efforts and might even cause your account to be suspended.
I recommend doing this for just 5 to 10 minutes a day, and while you are doing so, always feed yourself the mindset that you are also doing this to build long-term meaningful interactions with potential customers. This small daily effort is bound to go a long way, and it will eventually help your brand grow significantly, get a baseline for engagement, and keep your account safe and reputable!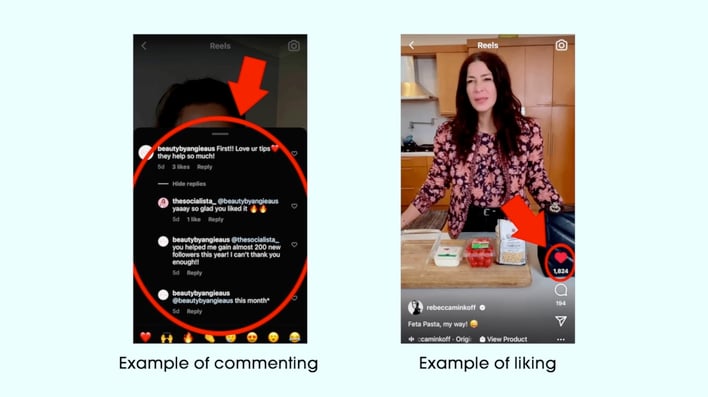 2. Length matters
Ever heard the saying, "More is less, and less is more"? This applies for the duration of your Instagram Reels too.
When Instagram was updated to allow for a maximum of 90 seconds for Instagram Reels, many businesses and brands make the mistake of thinking that the key ingredient to going viral is to max out the full 90 seconds.
From their point of view, creating a longer Instagram Reel – packed with more information and more screen time to sell your business or service – will provide more value, which sounded like a better strategy for conversion. However, this actually makes it harder for your reels to go viral!
The ideal length for Reels is actually… 7 to 15 seconds! That will help you achieve the most optimal reach and increase your chances of online virality.
There is a good reason for it. Instagram mostly rank their Reels based on the completion rate of the video. If you create a longer Reel, it would require a much longer watch time from your viewer to be ranked higher on the list. However, if your reel was between 7 to 15 seconds long, a much lesser watch time is needed, which makes it a lot easier for your reels to rank.
That being said, Instagram likes it if you make use of all its features. Hence, it is also wise for you to post reels with a longer duration every once in a while. This will help the algorithm boost your content to a wider group of audiences as it recognizes that you offer content of many different varieties.
The other bonus of doing this is that it will also keep your audience engaged with something fresh, and not bore them with repetitive content, fostering a stronger connection between them and your brand.

3. Mix the original and "unoriginal"
The most common advice you hear for content creation is probably to always create and post original content. This is true to a certain degree for Instagram Reels.
Both original and "unoriginal" have their own set of benefits, so why not make use of both of them in your Reels?
First, let's understand the difference between an original and an "unoriginal" content approach.
An original content approach means brainstorming for brand-new, never-been-used-before ideas. This could also include using your own sounds and music too. Original Reels will help position you as an expert in your niche and attract a loyal group of followers as they are drawn to your unique content and offerings.
The downside of that is that it requires more investment on all fronts: time, effort, and resources. There is also the risk that a brand-new concept does not always guarantee a viral hit. This may end up being a poor investment that does not yield many results.
On the other hand, an "unoriginal" content approach can be understood as repurposed content. It is a strategy where you replicate an idea that someone else has already done before, or make use of a trending audio or music track created by someone else. This approach will save you time in brainstorming and increase your chances of online virality because it has been tested and proven before.
The downside of this approach is that you might appear as overplayed in your niche, but ultimately, this all depends on the creative spin you put on it. There are many successful reels that utilize an existing video concept but reinvented it in a much better fashion.
Think the best of both worlds. You should make full use of both approaches to maximize the strengths of each.
How to start creating original content?
Lots of brainstorming and preparation work goes into creating an original piece of content. You will need to spend a considerable amount of time on the drawing block, and design video ideas that are not only creative and unique but will allow you to hook and engage your target audience.
Gather your team and have weekly brainstorming sessions. Search for inspiration every day. Write down your ideas, no matter how big or small. Think out of the box and be courageous to try something new.
Once you have the idea thought out, you can start putting it in motion.
How to start creating "unoriginal" content?
There are two main things you should keep in mind when creating unoriginal content. They are the art of replication and trending sounds.
To replicate an idea, simply research what your competitors have done so far, and study the ones that have gone viral. The goal is never to copy blindly but to see what areas of improvement are there, take it a step further, and inject your own unique style and creativity. You should aim to deliver something even better and much more engaging.
Next up, it is quite easy to find trending sounds that you can use for your reels. Open up the explorer feed for reels, and keep scrolling until you find a sound that is accompanied by an icon of an arrow pointing upwards. This icon shows what sounds are currently trending and popular with Instagram users. Using trending sounds for your Reels helps broaden your audience as there are a lot more people following this sound.
Now that you are equipped with the starter pack of creating both original and "unoriginal" concepts for Instagram Reels, start making and posting on alternate days of the week for maximum reach!
4. Create in Vertical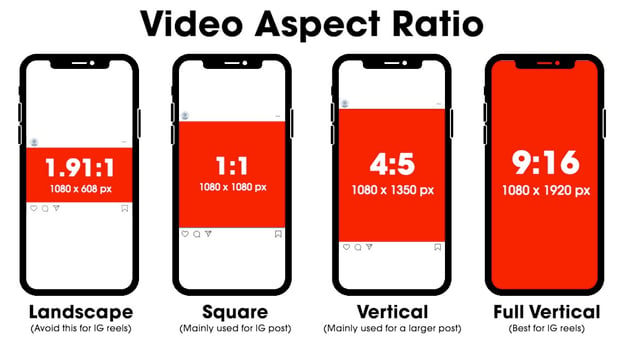 Thinking of reformatting an older horizontal video for your Instagram Reels? Stop!
Oftentimes, brands and businesses think they can just reuse and reformat a video that was filmed horizontally (landscape) and post it as a Reel. What they do not know is that this move is severely limiting their reach and potentially costing opportunities with their audience.
As almost 80% of Instagram's users use their mobile phones to browse the app, it is crucial for your reels to adjust to their viewing habits too. In other words, you should post videos created or edited in a full vertical format (1080 x 1920 pixels).
Not only will you be doing your audience a favor, but the mobile-friendly content will also encourage the algorithm to boost it to a wider group of audience too!
5. Decluttering
This hack is not often talked about but it can make or break the success of your Instagram Reels: Decluttering. To put it simply, this means removing unimportant information in your reels that are not engaging.
I understand the feeling after you record a Reel - everything looks great, and you want to share every last bit of it. However, the hard reality is that not every second of your content may be interesting to an average viewer.
The real mastery is to train yourself to filter out parts that can be left out, in order to edit the duration of the reel down to 7 to 15 seconds (Remember we talked about this in #2!). It may be tough at the beginning and there may be times you think it is impossible – but with a little practice and getting some opinion from external parties – you will eventually get the hang of it.
For example, if Uber were to create an Instagram Reel, they should not be including information on where their headquarters are located at. An effective Instagram Reel for them would be to share updates on their ride-hailing services, any promotions, or new features that would engage both new and existing users alike.
Pro Tips
If you ever do find yourself in a situation where you cannot seem to trim your Reels down further, here are 2 more tips you can try:
Instead of posting that 50-second clip, try cutting it down to a series of 5 x 10-second clips and posting them individually throughout the week. With this trick, not only do you get to keep the duration of your reels under 15 seconds, but you have also managed to create a good backlog of content you can post for the week.





If your Reel needs to be presented in one video itself and cannot be cut down for reasons, here is an alternate trick you can do: Create a very short Reel, pair it with a trending audio track, and include a catchy title like "5 fashion hacks that will change your life" after which you direct your audience to read the caption to read the bulk of the information you wanted to share or any other call-to-action you would like them to do. This way, you can still showcase all the information you need without making your Reels draggy.




Conclusion – Ultimate Strategy Kit for Reels
Now that you know all 5 hacks for Instagram Reels, it is time to put all of them together to form your ultimate strategy kit for reels: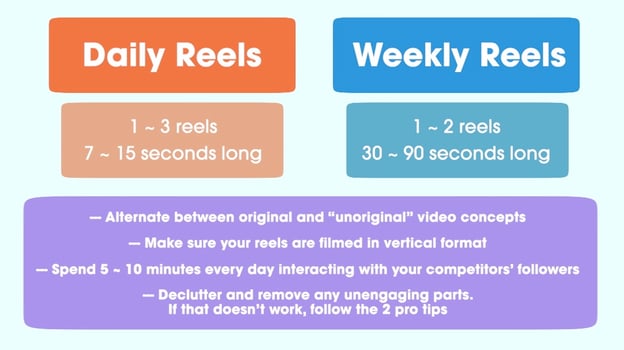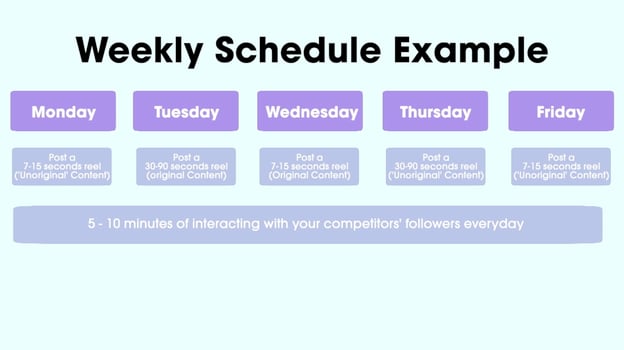 There you have it! You now see the puzzle pieces you should put together to create Instagram Reels that perform. Keep them in mind in your Reels creation journey and keep working!
Website URL: https://thatsivan.com/