Where there is social media, there is customer service. Through having a social media presence it is inevitable that your clients will try to reach out through your social media channels. Especially when it comes to customer service, social media can be a curse and savior at the same time. Everyone stumbled upon on the embarrassing social media customer service moments made by other companies, that everyone tries to avoid as good as they can. That said, keep in mind that there aren't only downsides to social media yet it is also a really good way of providing excellent social media customer service. But going back to our initial thought: What is the relation between social media and customer service? What do you have to keep in mind when my Facebook timeline or Twitter feed suddenly becomes an additional support channel?
A quick answer to this question can be found in using dedicated customer support metrics. We will take a look at observational and analyzing elements that will help you to provide excellent support via social media, and also give you useful insights into the performance of your customer support activities. In order to improve you customer satisfaction department on the long run, we want to highlight some metrics that will bring light into the dark sphere of customer support on social media platforms. Let the quest begin.
Be quick! Response Time in customer service
The reason why your customers try to reach out to you via Twitter or Facebook is that they want to have a quick answer to their question. According to a study by the Social Habit, 42% of customers that use social media as a customer service channel, expect a response within 60 minutes. That means your customers want a quick answer, otherwise they would have sent you a letter or a fax (some people still do that). But how should you measure the quickness and effectiveness of your support team? An indicator that gives you an idea of your replying time is the response time metric. This metric lets you know how fast your customer service employees answer on your social media platforms.
Therefore, it is necessary to include a dedicated response time metric to your social media analysis. That said, it is also really crucial to dig deeper into this topic by not only analyzing the response time in general, but also by differentiating your answers in different time periods. An example could look like that: Cluster your answers in different sections. A segment for posts that were answered in less that 2 hrs, one for posts that were answered in 2-8 hrs, and finally a column for post you haven't replied to (you should definitely avoid this!)

In addition, these customer service metrics are also great for benchmarking your performance against your competitors. From this observation we can already create our first key take away: Be there for your customers and try to get back to them as fast as the wind. Do you want to learn more about your response time? Sign-up for our 14 day trial!
One of the fastest and better Customer Service: @JetBlue ! Thanks and Happy Thanksgiving

— Esaí Vélez (@EvpLares14) 26 November 2015
Learn more about your social media customer service!
After we measured your quickness, we are now focusing on learning more about your customers. To gain a broader understanding of your customers it is necessary to have an overview of your incoming requests. Most of the customers that get in touch with a company are hungry for answers. A good way to receive an overview of all your incoming questions is a dedicated questions table that gathers all questions on Facebook, Instagram, Twitter and YouTube. In quintly, you have the convenient possibility to analyze all your customer questions with a questions table. This table collects all questions that have been asked by your customers.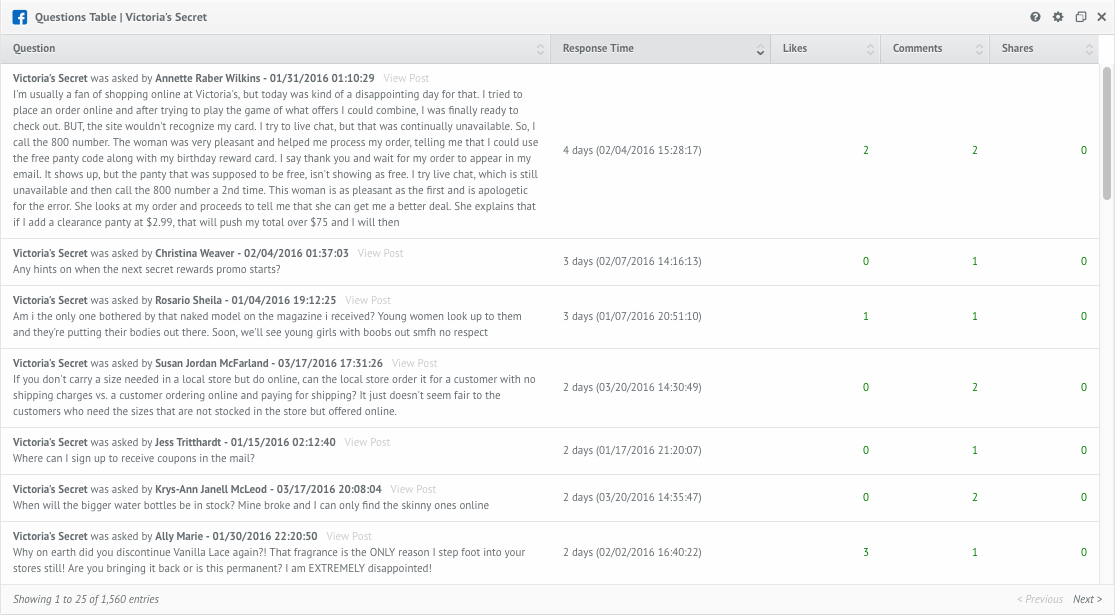 In addition, this table also includes your response time to the posts that have been made, and it also features the amount of retweets and likes to each post. The benefit of this metric is immense: With the help of the questions table you can measure the effectiveness of your customer support. The provided data like the response times and the number of questions that remained unanswered can help to improve your customer service. All this can be greatly beneficial for your next customer support meeting.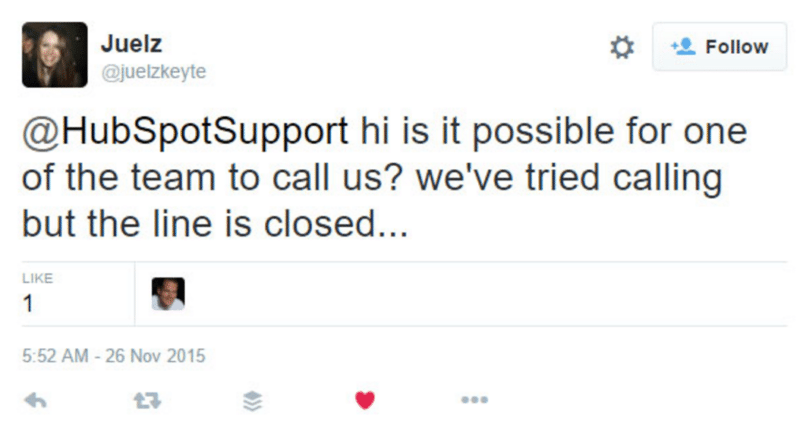 Listen to your customers
So far we have covered the response time and the customer questions metrics. The third metric we want to focus on are the user posts. Instead of solely looking at customer questions, we now want to look at all incoming user posts. The user post table is a really helpful and valuable metric, because you receive a direct and measurable overview of all your customer posts. By summarizing all of your posts per day (quintly also offers you the possibility to drill this metric down to specific hours of the day) you receive more specific insights on the post behavior of your social media follower base, and the workload that your social media employees have to handle.

An extreme example on how listening to your customers not only can be beneficial for your customer service team, but also for your marketing team was shown by the American restaurant chain Mortons. The loyal and tremendously hungry customer Peter Shankman sent out a tweet to his favorite restaurant asking them for a free steak.
Imagine you sent out an innocent request, just for the fun of it and and all of the sudden a 24 oz. porterhouse steak is waiting for your at the airport.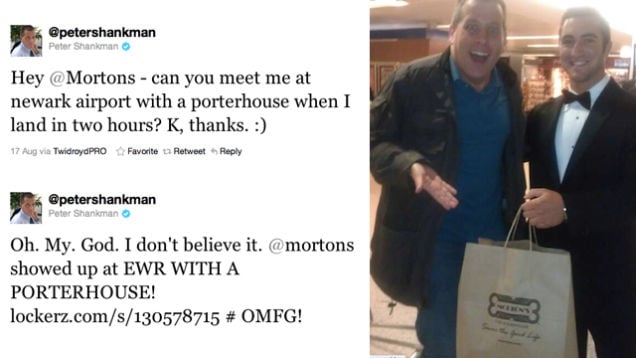 This example is of course extraordinary, but it shows that listening to your customers can be a huge benefit to build up a good relationship with your customers. Another great example on how listening to your customers can put a smile on their faces was made by the British supermarket chain Sainsbury's. They engaged in a really funny twitter conversation with one of their customers about a really "fishy" topic.
I hope you have learnt more about how an analysis of your social media profiles can be a huge help for your customer service department. Of course, these customer service metrics are not a guarantee for instant success, but they can help you make your customer service more efficient on a long term perspective. So let's sum up our findings: Try to focus on these three values - quickness, learning and listening - and you will be on the safe side. Trust us, your customers will appreciate your effort.
Should you have an inspiring addition to our blog article we are just one tweet away or reach out to our customer satisfaction team.