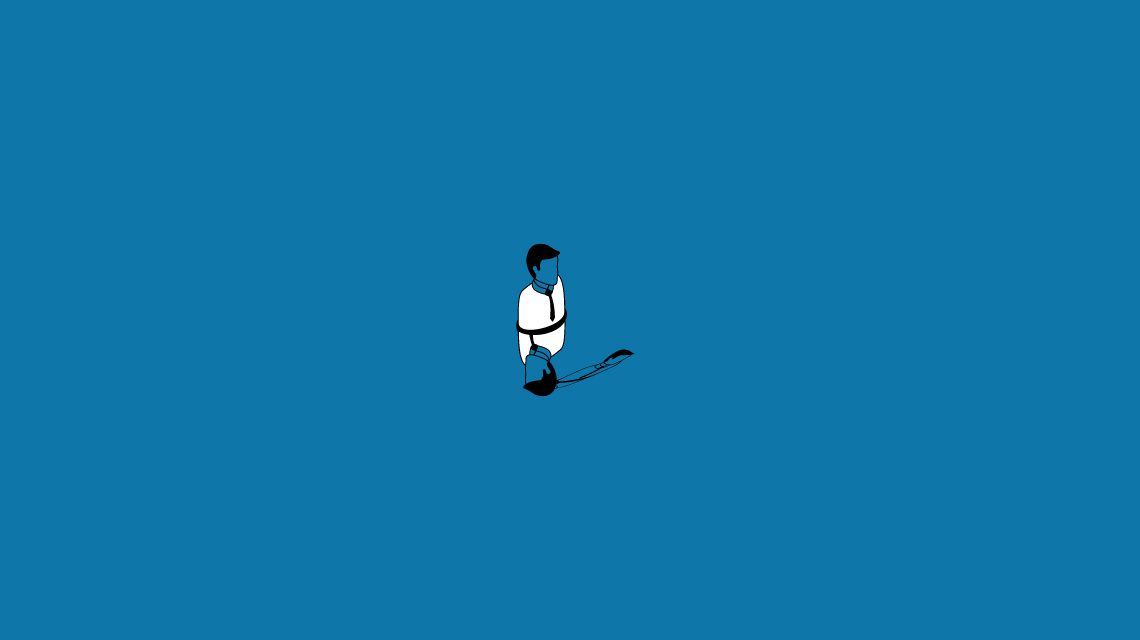 You can't sleep on LinkedIn if you've made ambitious plans to market your business. It's the ultimate destination for B2B brands and individual contributors to engage with their target audience, deliver impactful content, and create a stellar brand that attracts leads.
As simple as it sounds, it's not easy to crack the LinkedIn code. You need a full-fledged strategy and workflows to make it work for you.
Thankfully, you don't have to look far.
This comprehensive guide will give you actionable steps for building and leveraging a LinkedIn brand for sales enablement. Get ready to rise above the noise and make your mark—let's get started!
4 reasons why LinkedIn branding matters
LinkedIn is one of the hottest social media platforms for professionals—and for good reason. While the platform was traditionally known for hiring and finding jobs, it's become much more than a job platform today.
We've listed the four most important reasons why you should consider building a brand on LinkedIn:
Create a lead generation machine: From B2B companies to freelancers, LinkedIn can become an active channel for generating leads. On top of building brand awareness and attracting top-of-the-funnel prospects to

boost your sales funnel

, you can also use LinkedIn's targeting advertising options to stay front-of-mind for your potential customers.


Build a solid brand reputation: LinkedIn gives you a space to share relevant, value-packed content that resonates with your audience. This is great for showcasing thought leadership and positioning your brand as an industry expert. It all adds up to create credibility for your business and pays dividends through a

social selling campaign

.


Research the market: Whether you want to spy on your competitors or get a pulse of your audience, LinkedIn can be a goldmine to uncover relevant insights for your research needs. You can look at how your competitors speak to their audience and analyze potential customers' expectations, pain points, and more on the platform.


Establish industry partnerships: LinkedIn branding can also open doors to meaningful collaborations with other companies in the B2B sector. Work with complementary businesses to engage your target buyers and accelerate growth with mutually beneficial

relationships with your customers

.
You can achieve all these benefits by dedicating enough time to content creation, expanding and engaging your network, and automating your LinkedIn presence.
Corporate vs. Personal Brand on LinkedIn
Now that we've seen why LinkedIn marketing matters, let's understand the difference between a corporate and personal brand on the platform.
Corporate branding on LinkedIn is an extension of employer branding where employees act as brand advocates to bring sales leads. Here's how it works:
Focuses on promoting brand values and the company's offerings
Follows a consistent tone and voice aligned with the brand identity
Emphasizes thought leadership content to create a reputable brand image
Broader audience engagement to connect with professionals in the network
Personal branding aims to create a brand around an individual. It focuses on personal experiences, skills, and expertise. Here's how it differs from a corporate brand:
Showcases your unique personality and style
Revolves around personal expertise and network
Strategizes for positioning the individual as a trusted authority


While corporate brands are suited for employees and senior leadership—like CEOs, managers, and similar, personal branding is ideal for freelancers, consultants, and individual contributors.
How to leverage LinkedIn to build your brand: An actionable playbook
This start-to-finish guide will give you everything you need to use LinkedIn to build a lead-gen engine and drive sales for your business. Let's dive right in.
Establish a strong LinkedIn company page
First things first, create a company page on LinkedIn. A company page looks different from a personal profile. Think of it as a single hub to tell visitors everything about your company with a tagline, About section, location, and more.
Follow these tips to make your LinkedIn page compelling:
Craft a strong brand message: Once you've defined a brand positioning you're confident about, focus on building the right messaging to represent the position. Write about your brand with a strong and impactful tone.


Create a Showcase page: Besides your company page, you can create Showcase pages to display more specific information about your business. For instance, you can create a page for different regions you operate in or for

showing customer testimonials

.


Optimize your company profile: Become visible to the right audience and create an immediate impact on visitors by optimizing your profile. Use relevant keywords to write your company tagline, About, and other content. Here's how

Floik

did it for the keyword 'product-led growth':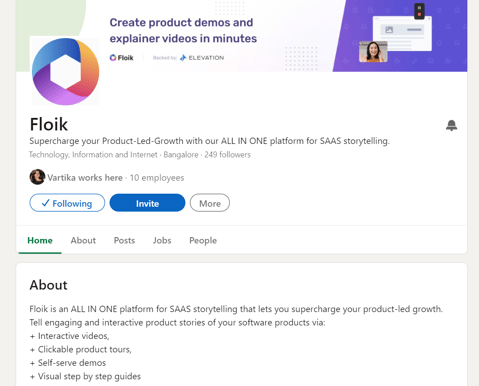 Start advertising to get more reach: Another way to get more traction on your LinkedIn page is by

running targeted LinkedIn ads

. To make it look more organic and less disruptive, you can promote your company posts or content posted by any employee.
The bottom line: make your LinkedIn company page shine to give new visitors a good glimpse of your brand.
Take care of the personal LinkedIn pages
Another way to use Linkedin to your advantage is by encouraging employees to create business-focused LinkedIn brands.
Your employees, especially those at the top, can talk more about your brand to tell more people about your business. They can share content about your core values, behind-the-scenes activities, announcements, new launches, and more.
Here are a few best practices to double down on employer branding on LinkedIn:
Build consistency with similar assets across all profiles—like the banner image, profile picture, and headline
Design tone and style guidelines to bring everyone on the same page for writing and ideating content
Host brainstorming sessions to think of new content ideas to share on the platform
Turn LinkedIn branding into a team effort instead of leaving it to individual discretion. Incentivize and involve as many people as possible to spread the word about your business.
Optimize your LinkedIn profile(s)
This is a no-brainer: if you want to succeed on LinkedIn, you need an optimized profile. Follow these simple steps to optimize yours today:
Use high-volume keywords relevant to your industry
Tweak your profile URL to make it cleaner and more specific
Come up with a killer headline that piques the curiosity of readers
Create a compelling banner that communicates your brand values quickly
Add a section for services you provide to become discoverable to your leads
Add a unique profile picture with a custom background to set it apart from the rest
Think of your skills strategically and add your top skills, then get endorsements for them
Use this checklist to optimize your LinkedIn profile for search results within and outside the platform. Here's an example from Jason Vana's profile.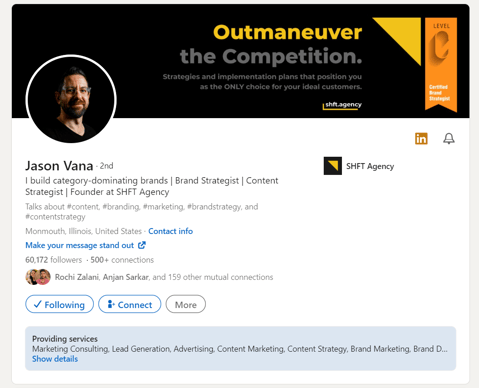 Establish thought leadership on LinkedIn
Once you've nailed the basics, it's time to work on content creation. Most users give up on this part because they lose motivation or don't find the time to develop new ideas regularly.
Building and maintaining a healthy momentum for consistently creating content is important. Here are a few ideas to build thought leadership with consistent content creation:
Share valuable insights and expertise with your network: People are drawn to personal experiences and lessons. You can draw on your past experiences to create content around your expertise, then tie this content back to personal stories. Remember to

schedule each post

in advance to maintain continuity.


Create long-form content to establish authority: You can also post search-optimized articles to show up on organic search results. These long-form content pieces give readers a deep dive into any theme and communicate your knowledge in the domain.


Hosting LinkedIn Live events: Regularly connect with your audience by

hosting webinars

with the LinkedIn Live feature. Invite guest speakers and create a panel to share valuable insights on industry events, trends, and key topics. You can also

attract and score leads

with these live events.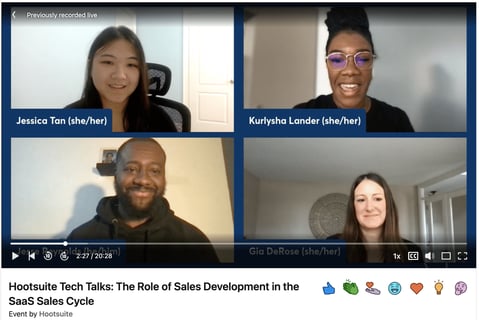 Remember to create workflows to streamline your processes for content creation on LinkedIn. Consistency is the key!
Engage with your network regularly
Engaging your audience is just as important as posting content consistently. It'll foster meaningful relationships and increase visibility for your profile. With regular engagement on others' content, you can also create a sense of reciprocity for others to engage with your posts too.
Here are a few tips for engaging with your network:
Add relevant people to your network:

Identify your ICP

and expand your network by adding people fitting this profile. This has twofold benefits: it ensures that you consume relevant content from other people and your content reaches the right audience. You can also engage meaningfully to

nurture leads

in the initial stages.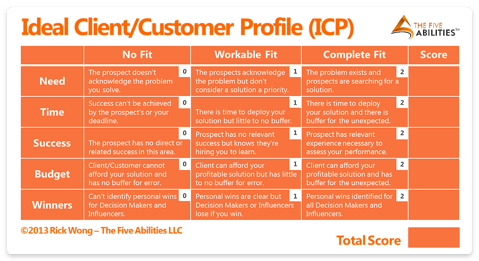 Leveraging LinkedIn groups: Turn the spotlight on your brand by joining LinkedIn groups and sharing impactful content. You can share links to content assets you've created or answer questions in the community to organically talk about your brand. In either case, it's a win-win!


Personalize your efforts: There's no rinse-and-repeat strategy for engaging LinkedIn prospects. You have to

personalize your content

to add more value to the conversation. Whether you're interacting with someone's posts or conducting outreach on the platform, personalization is a game-changer.
Engaging your audience on LinkedIn can be particularly useful for cold outreach. Once you've shortlisted your target leads, interact with their content on the platform for 2-3 weeks to warm them up. This way, your cold emails won't look so cold to them.
Collaborate with industry influencers
Another interesting way to lift your brand on LinkedIn is by partnering with influencers or key opinion leaders. These are people with a huge following and authority in your industry.
By collaborating with them, you can borrow their influence to reach your intended audience and establish a good reputation for your brand. Besides maximizing visibility, influencer campaigns can also help you expand your email list.
Influencers encourage brand discovery and bring more prospects into your sales funnel.
Track and analyze LinkedIn metrics
Here's the harsh truth: all your LinkedIn branding efforts can fall flat without the right analytics to measure progress and identify gaps or opportunities. It's like shooting in the dark—you don't know where your shot will land.
You need a powerful social media analytics tool like quintly to ensure you're reaching the right people and making tactful changes to your strategy.
quintly is an all-inclusive platform with advanced functions to help brands stay on top of their social media performance. You can choose from 700+ customizable dashboards to track different metrics and derive useful insights from all the data.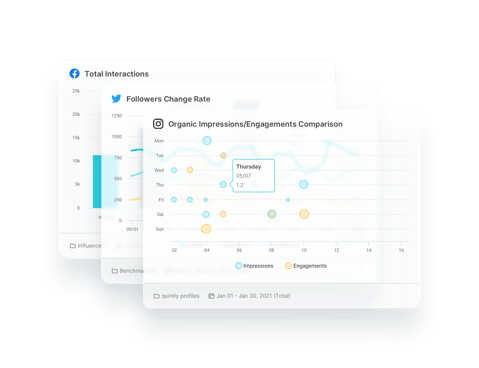 Turn your LinkedIn into a lead-generation engine
A LinkedIn brand is not just a nice-to-have for B2B companies. It's essential to your lead generation and sales efforts. More importantly, you need a stellar LinkedIn brand to effectively position your company, build credibility, and reach the right people.
Bookmark this comprehensive guide on LinkedIn branding to take the first steps toward success on this platform. Remember to try
quintly to streamline your performance tracking and analytics.