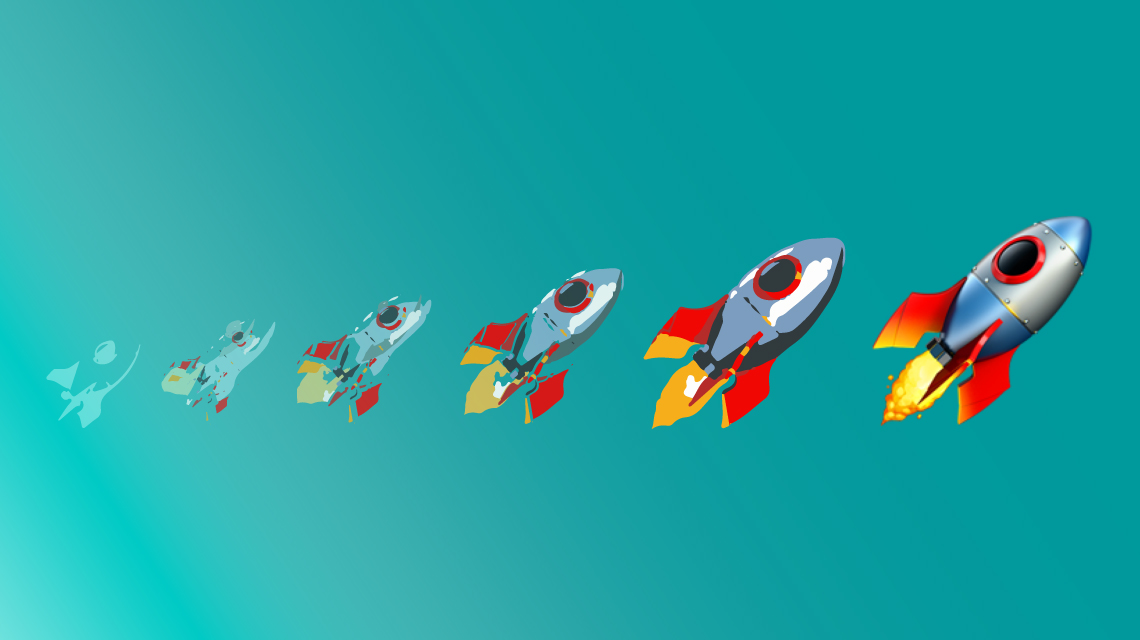 Marketing agencies face a unique set of challenges in the collection and analysis of their clients' social media data.
Firstly, you need a smart way to track data. It has to be faster and more reliable than manually going through each social media channel's native analytics.
Secondly, you need to make sure your numbers are accurate. The large volumes of data you collect from various sources must be high-quality and in a standardized format.
Thirdly, you need to get on the same page with your clients. Each of them has different goals, so it's important to work together to identify the social media metrics and KPIs that fit their needs.
And finally, you need to condense all the data you've collected into an easy-to-browse report that even your least data-savvy clients can understand.
Accomplishing all this is crucial for you to prove the success of your campaigns, and turn data insights into clear takeaways and next actions.
It sounds like an ambitious undertaking. But with the right social media data collection tool, you can achieve all these goals.
In this guide for marketing agencies, we'll help you understand why and how you should collect, analyze, and present social media data to your clients.
You'll learn some of the most important metrics to track, how to create a social media report, and how to choose the right social media analytics tool.
Do you want to see how multi-client analysis works in quintly? Check out our made-to-measure social media analytics solution for agencies.
Why should you collect and analyze social media data?
Social media data is the information that is collected from a company's profiles across different social media networks such as Facebook, Instagram and Twitter, LinkedIn, YouTube, and Snapchat.
It helps you understand how people consume and engage with content through likes, shares, comments, reactions, clicks, and more.
Collecting and analyzing social media data can help you improve your marketing efforts, stay on top of emerging trends, and offer your clients proof of your results.
And, it can help you continuously refine and improve your strategy. When you are guided by data, you waste less time on guesswork and minimize your risk of making mistakes.
You can learn so much from social media data, so let's talk about some of the key insights you'll be able to offer your clients.
The most effective channels
Most brands have numerous profiles on a wide variety of social media sites. However, not all are equally effective.
For example, your client might have lots of followers and high engagement rates on Instagram, but their Facebook page brings little value.
This information will shape your strategy, but you'll need to know more before you decide whether to double down on Instagram or bring your Facebook campaign up to scratch.
Audience identity and behavior
Figuring out which channels to focus on is easier once you know who your audience is.
Collect data from social media to discover what kind of people make up the brand's audience. This will also tell you which channels they prefer, so you can decide which channels deserve more attention.
Similarly, knowing followers' time zones and when they are most active online will help you plan when to post.
Also read: How to build Social Media Buyer Personas
What type of content works best
Not all social media posts are created equal. Maybe your client's audience prefers images to text, or would rather watch videos than read blog posts.
As you collect data from social profiles you'll be able to see what type of content attracts the most interest and produce more of it.
If you pay attention to how the audience reacts, you'll get better at creating content tailored to their needs.
How past campaigns performed
Analyzing the results of past campaigns is essential for optimizing your social media strategy.
Of course, what worked yesterday might not work tomorrow. But you're more likely to succeed with your next campaign when you base your decisions on data.
Besides, marketing agencies need to demonstrate their value to their clients. Comparing your campaigns to previous ones can help you validate your success and show your clients their return on investment.
How your competitors perform
Brands on social media don't exist in a void: they're part of a competitive landscape.
Understanding how your competition performs on social media can help you spot their strengths and weaknesses - and your opportunities.
By comparing your social media data to that of your competitors, you'll be able to learn from their mistakes, spot holes in their strategy, and use that information to get ahead.
Why is it important to track clean social media data?
When you collect information from social media, you compile various types of data from different sources. And that data comes in all sorts of different formats.
For example, Facebook's idea of engagement rates is very different from Instagram's or LinkedIn's.
Because of this, if you use each social media channel's built-in analytics tool to track results and create reports, it's impossible to compare your performance across different channels.
What's more, your clients may have their own definition of certain social media metrics. Maybe the way they calculate engagement rate doesn't match up with the way that social networks do it.
So how do you untie this knot?
Social media analytics tools like quintly automatically clean your data and convert it to a standard format.
This is how social media data collection tools like quintly can make sure that the data you get is always accurate, complete, and high-quality.
The data that is retrieved via API integrations with social media channels can then be analyzed and compared in a single tool, regardless of the source.
Plus, quintly lets you create custom metrics and dashboards so that you can track and report on the exact data that your clients need.
Learn more about how quintly brings all social network data into one place!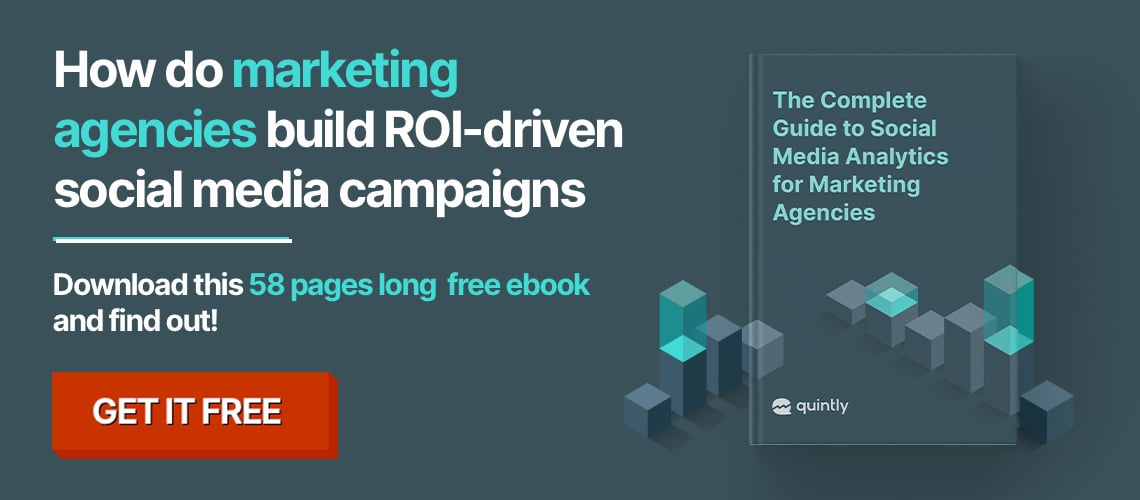 Top social media KPIs to track
When you start collecting social media data, it's crucial to define the KPIs you want to hit.
KPIs will not only help you measure your progress and prove your success to clients but also guide your decisions when it comes to improving your social media strategy.
It's important to make sure that the KPIs you choose support your client's overall marketing and business goals.
If you're thinking isn't aligned, you could be setting false expectations, which diminishes your chances of a successful collaboration.
The exact KPIs will vary for each client, but they will likely be driven by metrics that fall under one of the following areas:
Content optimization
Customer care analysis
Competitive benchmarking
Audience analysis
Ad analytics
Demographics analytics
In the next section, we'll cover why each of these areas is worth monitoring, and highlight some of the top metrics to track to inform your KPIs.
Content optimization
Optimizing content for social media means making sure your content is best suited for getting the most positive results.
This could be using keywords that people search on social, writing catchy headlines that make people want to read or click or including images, videos, hashtags, or people in your posts.
But to find out which of these tricks works best for your audience, you need to monitor the performance of your previous posts and campaigns.
Social media data can tell you what you need to do more of - and what's not worth pursuing.
For example, you could track your Instagram interaction rate and the number of hashtags used per post. This would show you the impact that hashtags have on your interaction rate, and help you decide if you should be using less, or more.
Here's an example from quintly. It seems like Nike's use of hashtags is paying off!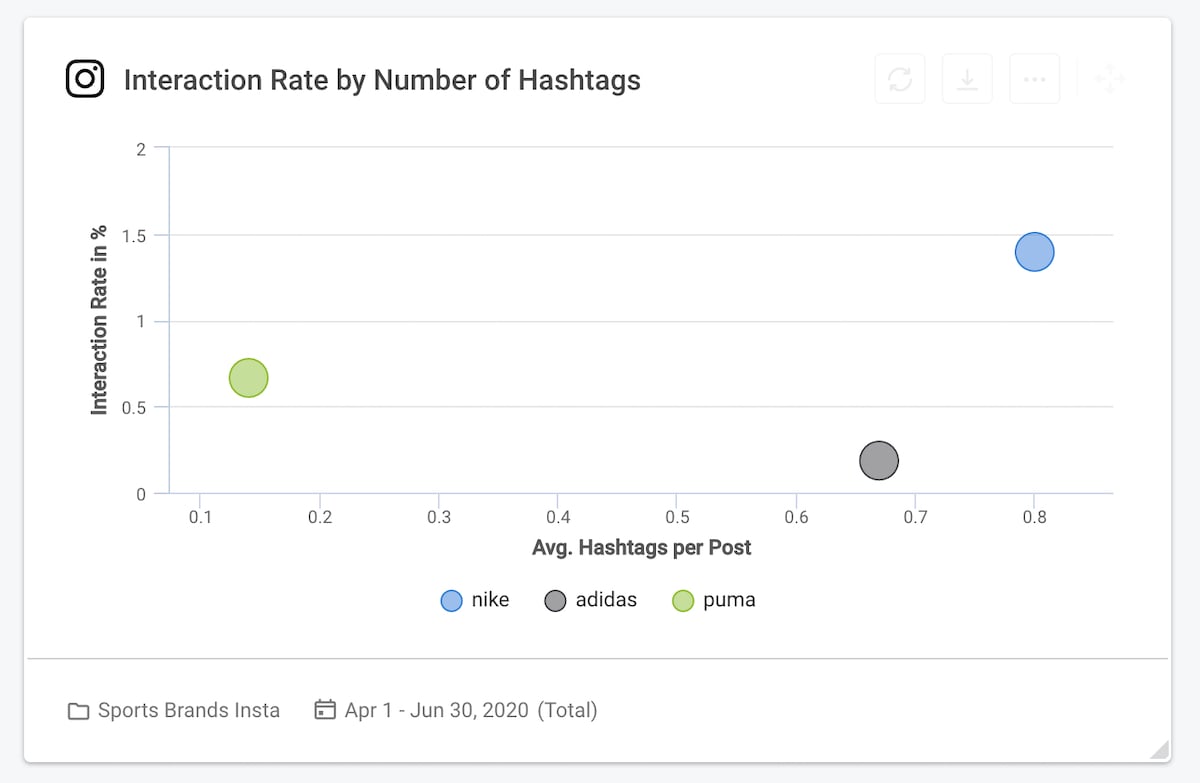 Customer care analysis
Your clients are aiming for customer satisfaction, loyalty, retention, and advocacy.
Collecting data about customer opinions and feedback shared on social media helps you better understand customer needs and improve customer service.
But what does a customer care metric look like?
With quintly, metrics like customer service response times are easy to track across different social media profiles.
You can compare your performance to your competitors', just like we did here with airlines on Twitter: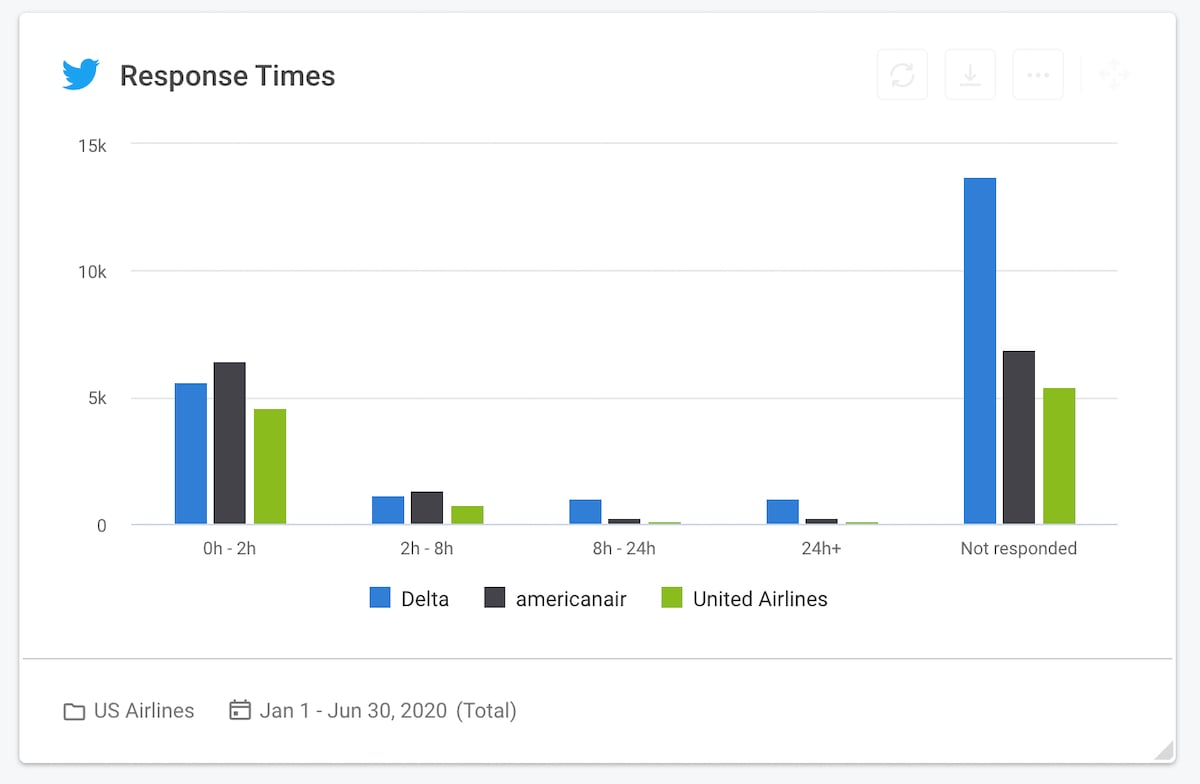 Competitive benchmarking
It's hard to judge how well a company is performing without comparing it to direct competitors and the industry in general.
Competitive benchmarking means tracking and analyzing the public data from your competitors to see how it compares to your own.
For example, you could look at the increase or decrease of followers as a percentage over time compared to competitors.
By doing this you'll get some context to judge whether your growth rate is up to the industry standard.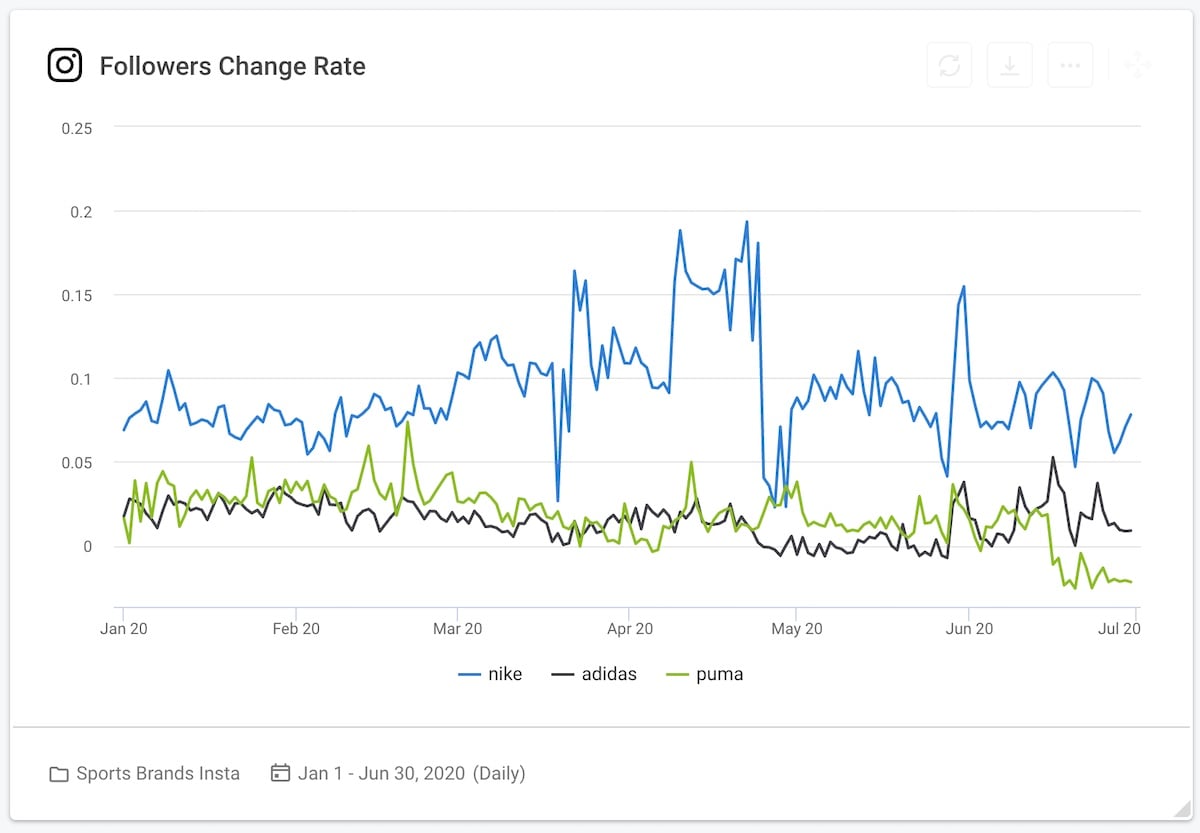 Audience analysis
In order to create and post the type of content that gets engagement and results, you'll need a deep understanding of your client's audience and their behavior.
You'll also need to monitor changes in the audience's size over time, and identify which campaigns bring you the biggest gains.
You can look at metrics like change in the number of followers per weekday, or total fans over time.
Check out Netflix's fan growth rate compared to other streaming services in the graph below: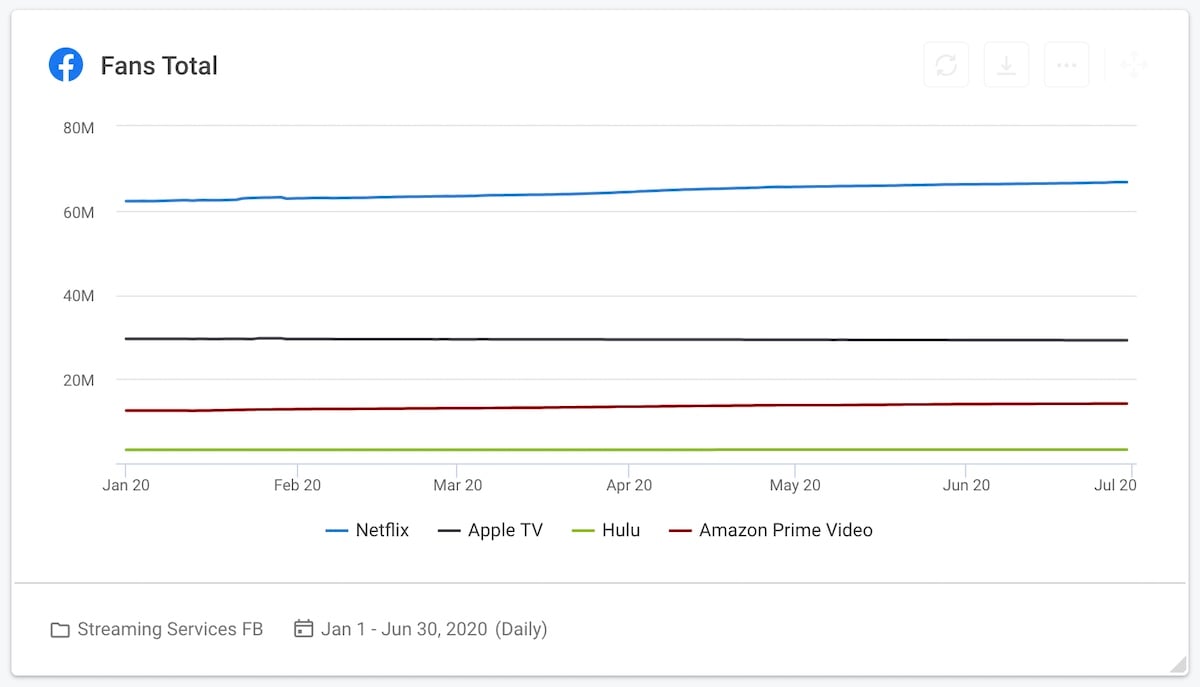 Engagement analysis
Engagement is arguably more important than your number of followers.
It affects the visibility of your content - social media algorithms prioritize posts with high engagement - and it tells you if your content resonates with your audience.
So, it's better to have a smaller audience with high rates of engagement with your brand than millions of followers who are indifferent to your content.
Analyzing engagement means comparing the number of interactions on different posts. For example, finding out which tweets got the most retweets, or which Facebook posts received the most comments.
You can also compare your clients' profiles to those of their competitors. For example, you can track how accounts perform based on interactions relative to their size over time.
Here's an example from quintly using the interaction rates of sports brands like Nike, Adidas and Puma on Instagram: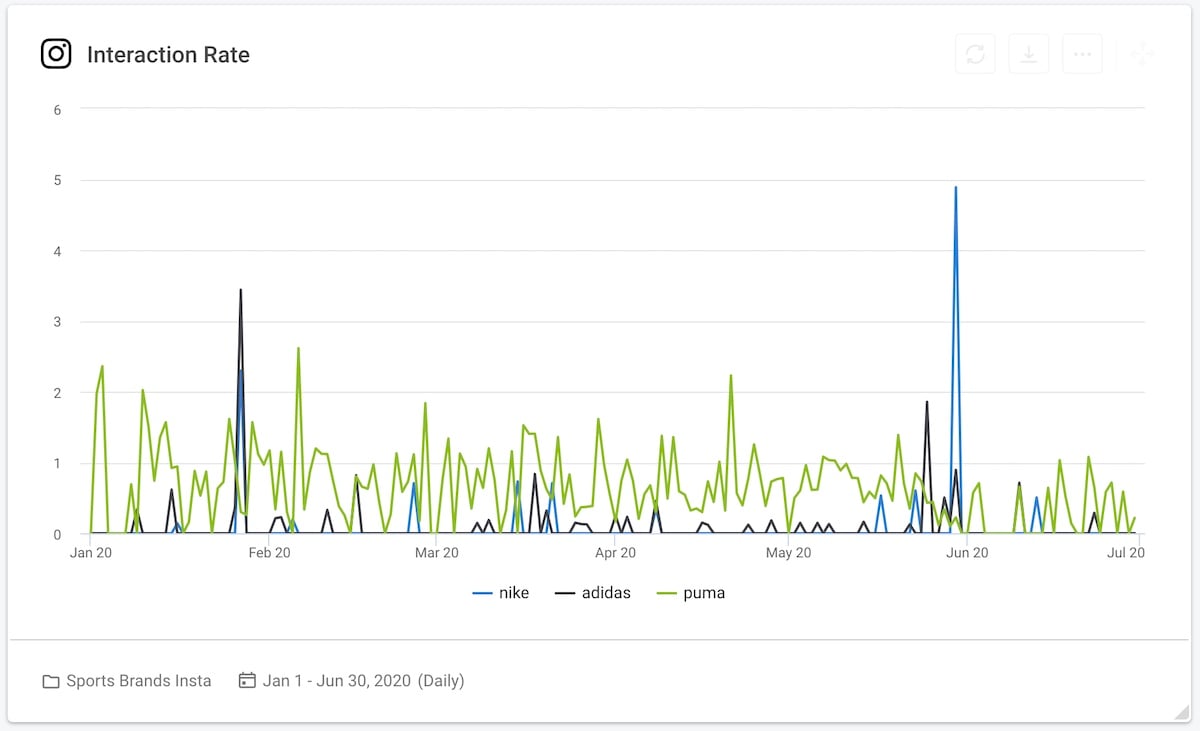 Ad analytics
If your clients are investing money into paid ads on social, they'll want to understand how effective they are.
By analyzing how people interact with ads, you can experiment with changing the text, images, or who sees your ads to make sure your clients are spending their money wisely.
Here's what a Facebook ad analytics table looks like in quintly: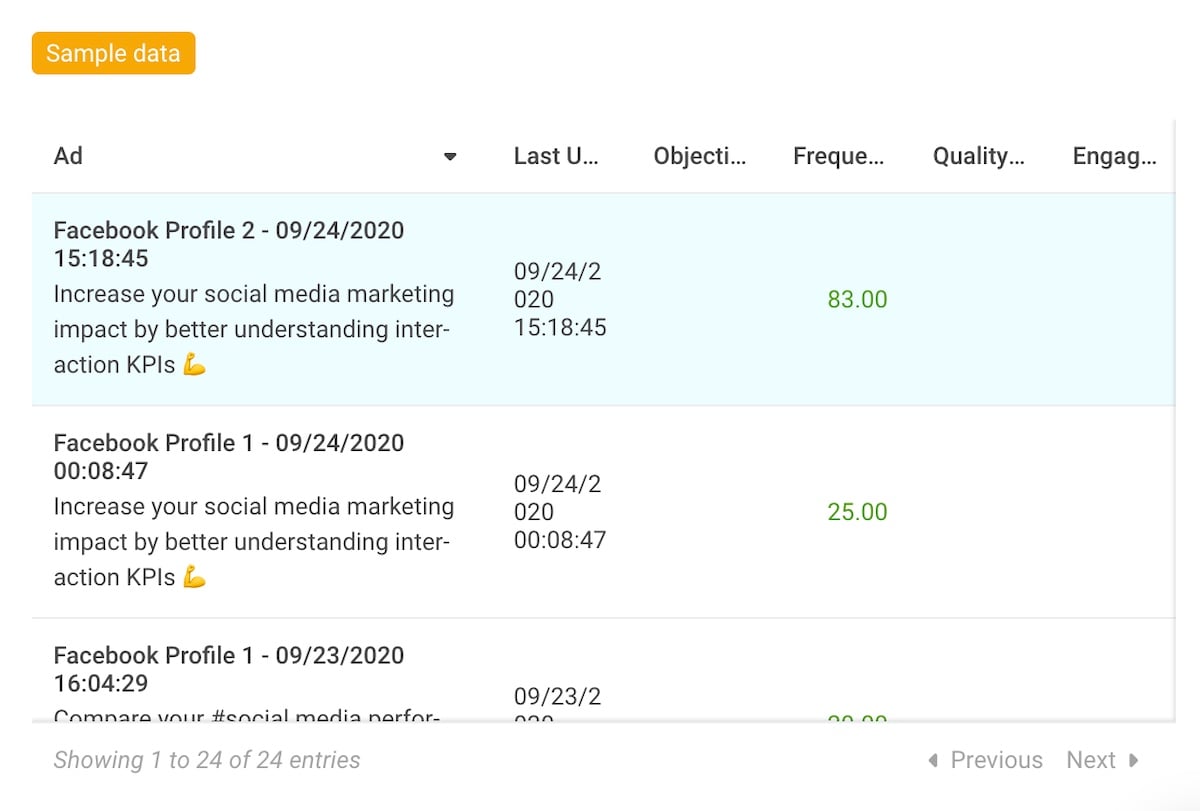 Demographics analytics
Demographics analytics is when you look at the characteristics of your audience.
When planning social campaigns you will need to know what kind of people use different social media networks and how they engage with content.
For example, you could look at average reach by country, or compare the age group and gender of people who liked posts.
Here's a sample table from quintly: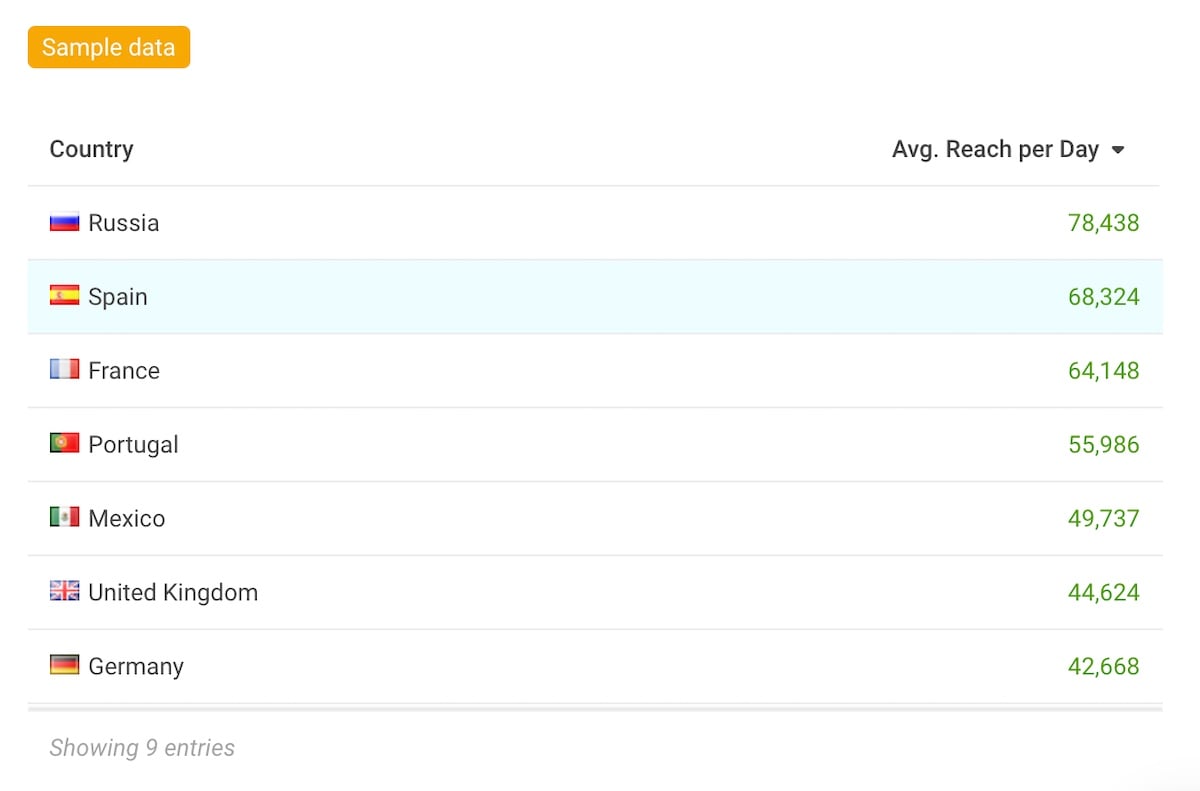 How to create a social media report
Once you've collected and analyzed a sufficient amount of data, it's time to create an easy-to-understand social media report.
Regular reporting is essential for tracking your progress and proving the value of your work to your clients. It's a plain and simple way of showing what you've achieved, with the help of data.
A social media report can take many different shapes, from a simple spreadsheet to a multi-slide presentation. But if you want to impress your clients, it's best to use the reporting function of a social media analytics tool. This way, you'll get user-friendly reports that present your data in a way that's concise and easy to browse.
Before you set up your social media reporting, you should first consider your client's goals. When you know what your clients want to achieve from social media, you'll be able to create a customized dashboard of metrics to track and report.
With quintly you can manage a wide variety of custom dashboards. You can choose a suitable template, or create your own from scratch.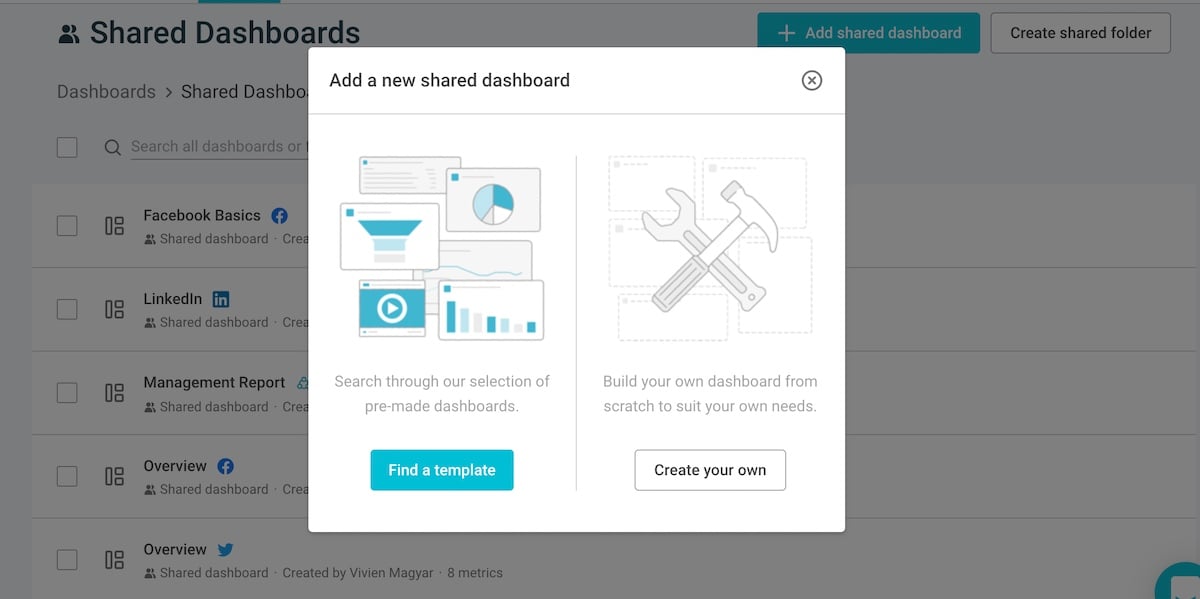 When you want to create a report, open a dashboard, and click 'Create report'.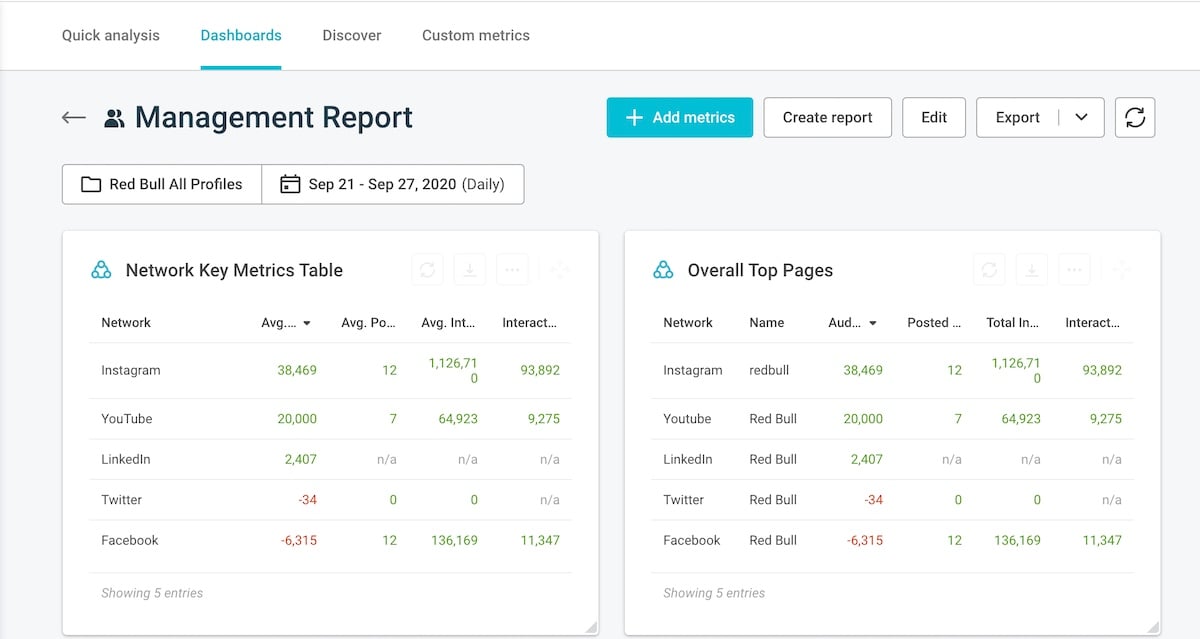 You then have options to fine-tune your report settings: add email recipients, change the profiles and time period you're tracking, add filters, and set the frequency of your report.
quintly makes it easy to share reports with your clients. Next to sending them a static PDF as an email attachment, you can also share a link that takes the recipient to an interactive version of the report.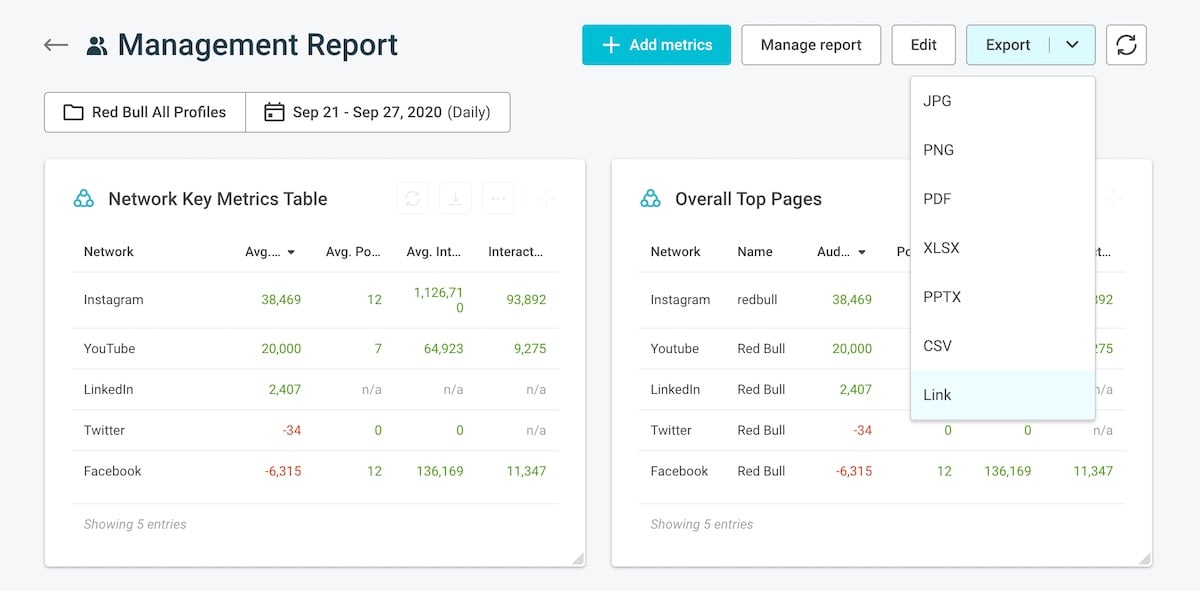 How to run a social media competitive analysis
Competitive benchmarking is necessary for staying on top of other market players' activity and getting meaningful comparative insights to optimize your social media strategy.
The wealth of public data you can extract from social media lets you get a detailed picture of how your business performs and how you measure up to the competition.
You'll also get a clearer picture of your industry, and have more context to your data. For example, if you notice that your performance in one area is slipping, you might think there's a problem in your strategy. However, if the same thing is happening to your competitors, the problem is likely to be related to the market.
Keeping a close eye on your competitors also helps you keep up with trends instead of falling behind.
quintly has premade metrics and dashboards for competitive benchmarking. You can edit these or create your own.
To get started, add the brands you want to compare and quintly will bring in the relevant data, which you can use to measure your performance against your rivals in the wider industry.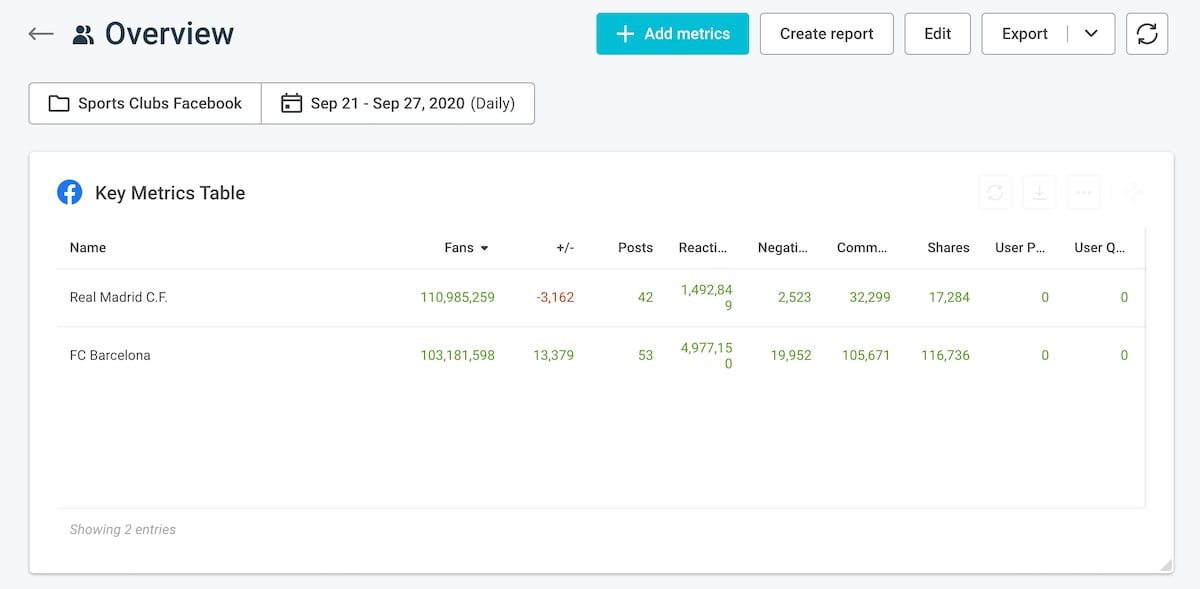 How to calculate social media ROI
When your clients invest a significant part of their marketing budget in social media, it should come as no surprise that they want to be sure they are getting value for money.
Everything that you do as a social media marketer must drive business results, and you need to be able to prove it.
To convince your clients that their money is well spent, it's important to calculate social media ROI (return on investment).
A simple formula for calculating ROI is:
Benefits - Costs (x 100) = ROI (%)
The tricky part is working out your costs, and defining what counts as a benefit.
First, you need to calculate the total spend, per channel and overall.
You also need to decide what counts as a benefit. This comes back to your client's goals: it could be conversions such as a sign-up, a purchase or a download. Or, it could be social media goals, such as gaining new followers, boosting your engagement, or getting click-throughs on a link you posted.
Then, you need to track benefits and figure out the monetary value of each benefit. You can do this using historical data if it's available, or if not, by making an educated guess.
You can track conversions on your website by setting up goals and event tracking in Google Analytics. For tracking social media benefits, use a powerful analytical tool like quintly.
Also read: How to properly plan your Social Media Budget
How to pick the best social media analytics tool
Now you know how to track and analyze social media data, create a report, and calculate your ROI. But how do you choose the best social media data collection tool to help you with all of this?
Of course, there are some free options, such as Google Analytics, and native data tools within social platforms, such as Facebook Insights.
However, a marketing agency working with multiple clients needs to offer a more complete solution and complex data.
If you want deep insights to help your clients get ahead on social media, you'll need a comprehensive tool that can capture large volumes of data, and unearth discoveries that can transform your marketing campaigns.
Here are some features to look for when choosing a social media analytics tool.
Comprehensive data
As a marketing agency, you need to go above and beyond for your clients, and surface data that they would never know how to find themselves.
You need a tool that can scrape data from all your client's social media profiles to form a large data set and give you a clear picture of your client's performance on different networks.
By accessing data that other tools miss, you can provide vital insights for your clients. This information will enable you to get an edge on your competitors.
quintly has the capability to show detailed metrics that other tools miss, such as how long people of different age groups watch videos, organic vs paid engagement and impressions vs engagement.
Customization
You work with multiple clients, and you probably find that each client has their own requirements regarding the social media channels they use and the type of data they need to see.
This is why you need a social media data collection tool that allows you to fine-tune and customize every aspect of your data analytics.
With quintly, you can create custom dashboards from scratch, or use and edit one of our many templates.
Plus, if a client requests a metric that isn't currently available, quintly can create entirely new metrics using QQL - quintly's programming language. We can do this for you or you can program your own custom metrics.
This is especially useful when your client has a slightly different way of defining and measuring a metric.
User-friendly reporting
Your analytics tool should be able to present information and reports in an easily digestible, user-friendly format.
Many clients know they need to measure and analyze data but are not data experts themselves.
Presenting reports in an easy-to-understand format also means less work for you as you won't have to spend time explaining what every metric means.
Quintly allows you to export reports into many static formats like PDF or PNG. And, it also gives you the option to create web-based interactive reports. This is a more dynamic way of presenting the data: clients can click and hover over different aspects of the chart to expand and digest the information more clearly.
Profile swaps and grouping
Your roster of clients may change frequently if companies often contract your services for a fixed period of time. This means you often need to change the profiles you are tracking.
Instead of continuously adding new profiles and having to constantly upgrade your plan to include more profiles, quintly allows you to do profile swaps.
This way, you can keep paying the same amount for your subscription, and you can swap out the profiles that you no longer use for new ones.
Grouping is another feature that can make your life easier. You can group together various profiles based on different sets of metrics, campaigns or social media networks.
Then, you can create dashboards to track and compare the data for each group.

Authentication via link
Some clients may hesitate to give away usernames and passwords for their profiles.
That's why you need a tool that allows clients to give access to analytics via a link.
In quintly, all you need to do is generate an authentication link for each profile you want to connect and send it to your clients. Then, they can go through the authentication process themselves.
This is a great way to put your client's minds at ease and makes it easy to add profiles to your client's account.
Competitive benchmarking
We've talked about why competitive benchmarking is essential.
Clients want to see how their performance ranks against their competitors. So make sure that your social data collection tool has an easy way to add competitors' profiles and create competitive benchmarking dashboards and reports.
Quintly lets you easily add multiple profiles and the grouping feature lets you put your clients and their competitors in a group.
Ability to compare the performance of organic vs paid traffic
This is a key feature that is not available in every social analytics tool.
Businesses and marketing agencies should know how much traffic is coming from organic vs paid sources.
Many of quintly's metrics provide a comparison between organic vs paid, and this is really important when calculating ROI.
White label option
As a marketing agency, you're doing the hard work of compiling, tracking, and presenting the data.
Your social media data collection tool should allow you to present your findings in reports branded with your logo.
At quintly, we offer a fully customizable white label reporting option which is designed especially for agencies.
This way, you can impress your clients with easy-to-understand social media reports that carry your brand identity.
Customer success at the forefront
Finally, one of the most important factors is that your analytics provider puts customer service at the forefront of everything they do.
You need to have access to support whenever necessary and a team that will work together with you to help you get the most out of your data.
At quintly, we value customer success. We want you and your clients to achieve maximum results from your data.
We're here to help you with whatever you need, and we'll even help you design the dashboards and custom metrics you require.
Start collecting and analyzing social data
We hope this overview has helped you understand the why and how of social media data collection for agencies.
Are you ready to give it a try?
Find out more about quintly's social media analytics tool for agencies.