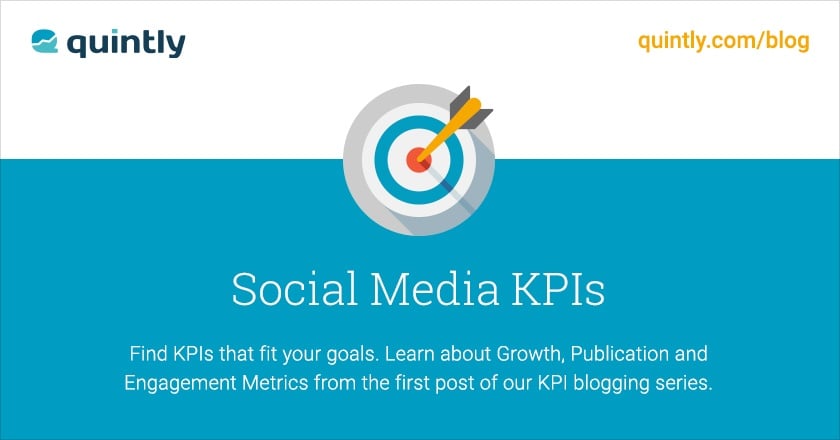 The amount businesses spend on communications is shifting fast towards digital – and social media marketing is a big part of it. As a social media manager it's key to perfectly know how your ongoing campaign is performing in order to invest your time and money right. You can achieve this through measuring your key performance indicators (KPIs). In this article about social media KPIs we'll introduce the essentials of successfully monitoring your social media performance.
Basically, a KPI is any indicator or metric that's central for the success of whatever action you take. However, it's vital to use the correct metrics in order to tailor your reports towards the goals of your campaign and company. But which indicators can you use to get started? In the following, I'll present three groups of possible social media KPIs.
1. Growth Metrics
These metrics quantitatively observe fan or follower growth goals. They help identify how your campaign is performing but also how your competitors are doing. Here are some important social media KPIs if you're trying to gain more fans and subsequently enhance your reach.
Fan Growth
The growth of your fans is one of the most basic KPIs for monitoring if you continuously reach more people.
Besides looking at your followers through tables and graphs, there is also a very useful visualization if you want to measure your status while you are aiming for a specific goal. The Gauge chart gives you an accessible insight into your current stage towards reaching the set goal. Based on this chart, you are able to adjust your actions and spendings easily.
Fan / Follower Change
On your way to reaching a certain follower goal, one day the number will rise steeply and sometimes it won't – it might even go down at some point. All of these are normal fluctuations. Monitoring this rate of change can help you identify successful campaigns or determine actions that might not have achieved their intended result. This relevant social media KPI can be measured by the Fan Change metric.

This graph comparing three major brands shows that Coca-Cola had the highest gains but also the biggest loss compared to BMW and Sony. The metric doesn't only help you to better understand your own performance but also to always be a step ahead of your competitors.
Reach (Facebook Insight metric)
If you want to monitor your own brand's social media appearance, it is possible to gain even more useful KPIs by connecting Facebook or Instagram Insights. This helps to measure if you've done a good job amplifying your real reach. The Reach metric gets increasingly important in times where organic reach decreases and companies may have to invest more into sponsored content.
If you are admin of a Facebook Page you should measure how the reach of your posts develops. Shameless plug here: This and a lot more is possible with our social media analytics tool. Start your 14-day free trial now!
2. Publication Metrics
These metrics will present you quantitative data that will help you identify your own and the posting behavior of your competitors.
Own Posts
This KPI will show you the number of the posts that have been published. Having a close look on this metric is important to know if you have posted the targeted amount of content and if you or your competitors post the most. Here you can see that Coca-Cola has cleared posted the least out of all three.
Own Posts by Time
Managing the timing of your posting can be vital especially if your pages have a global audience. In order not to miss any region by only posting when it is late at night in its time zone, every social media manager should have a close eye on the Own Posts by Time KPI.

In quintly, this social media KPI will be visualized as a bubble chart showing you not only when you post but if you post often at any given time. It will also help you identify relevant posting patterns. In the case of Mercedes-Benz, you can observe that they show a clear pattern by posting at 3 am, 10 am and 7 pm on every weekday, covering all time zones.

Post Type Distribution
Besides knowing how often and when you post, it likewise important to know the distribution of post types. These could be photos, videos or links. As some content is more effective than others, this KPI gives you insights into which of these you use the most. Based on this information, you will see if you really publish the content that works best.

One thing becomes clear very quickly: Verizon uses a high percentage of videos and AT&T is very close to that. T-Mobile shows a greater mix of content types.
3. Engagement Metrics
Most social media managers value the engagement of users the most as this is creating a dialogue between a business and the potential clients. At the end, it might help to tightly bind loyal customers to your company and make them brand advocates. As for all the other KPIs it is also important to track the Engagement Metrics of your competitors.
Total Interactions
A central social media KPI measuring engagement is the Total Interactions. This metric will easily show you how many interactions your channels or the ones of your competitors get, giving you an overview of how engaging your content is overall.

This graph shows that there are significantly more interactions happening on Verizon's Facebook page than on AT&T's or T-Mobile's. For the latter, it might be interesting to have a closer look at Verizon to try and find out what they do right.
Interaction Rate by Post Type
We've created an Interaction Rate that makes benchmarking profiles with different fan or follower numbers and different posting behavior easier. By splitting this index up by different post types, you can quickly identify which format works best for you or your competitors.

Within this metric you can spot that T-Mobile gets a rather high Interaction Rate on status updates. It's findings like these that make Analytics so helpful, as rather simple status updates are generally not considered as the most engaging content. And while we've already seen that AT&T and Verizon use almost as much video content, Verizon clearly receives the highest Interaction Rate on their video content.
Average Interactions per Post
This last KPI is going one level deeper into the process of social media analytics. By monitoring the interaction for a specific post, you will be able to find the posts that are working especially well. By doing so, your company can prevent spending money on content which is not creating a high rate of engagement.

It's clearly visible that Verizon gets the highest peaks in this graph. Besides also giving an impression of the overall performance in regards to interactions, this metrics makes it easy to identify specific dates where the highest amount of interaction was created on average.
Finding the Right KPIs Is Key
Now you should have a good overview of some key metrics that can help you make the first steps towards measuring your company's social media performance. Here are all social media metrics discussed in a quick summary:
Growth Metrics
- Fan Growth
- Fan Change
- Reach (Insights metric)
Publication Metrics
- Own Posts
- Own Posts by Time
- Post Type Distribution
Engagement Metrics
- Total Interactions
- Interaction Rate by Post Type
- Average Interactions per Post
Never Forget Your Real Goals
This post presents some metrics that can be beneficial to your analytics process. However, in the end it is always you who has to decide which social media KPIs are the most useful ones for your current goals. If you aim to integrate social media KPIs in your strategy, head over to our free social media analytics course in the quintly Academy.
Additional Resources:
Facebook Analytics by quintly
How to Analyze Facebook Reach
Average Interactions on Facebook: Industry Insights
7 Ways to Get More Facebook Video Shares
6 essential KPIs for your Klipfolio dashboard