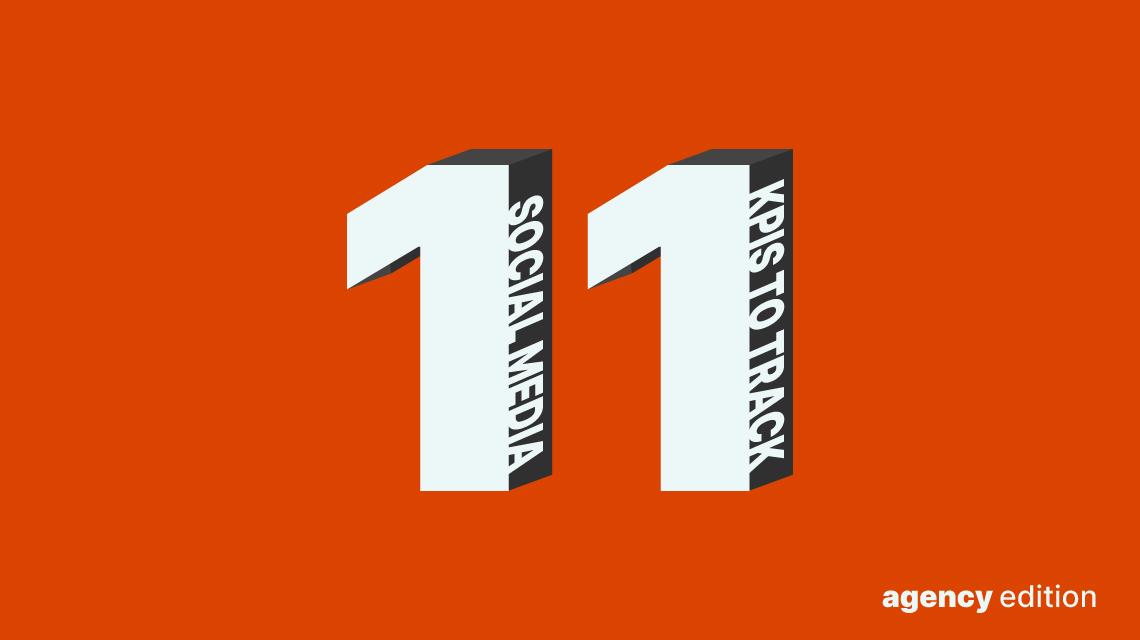 Key performance indicators (KPIs) help you assess the performance of your social media marketing campaigns against your objectives.
Setting KPIs for social media helps marketing agencies:
Make sense of all the information you gather through social media data collection.
Know exactly where to focus your efforts.
Measure how close you are to reaching your clients' goals.
Demonstrate the success of marketing campaigns.
However, you can't track everything.
Instead, you need to identify the right KPIs for your clients - and in this article, we aim to help you do that.
We'll suggest 11 of the most important social media KPIs that every agency should track, and show you how to measure them with quintly.
quintly has hundreds of metrics to choose from, and you can create custom metrics and dashboards so you can always measure what matters most to your clients.
How to identify the best KPIs to track for your clients
KPIs are closely linked to goals. They guide future actions and help you understand how close you are to your intended outcomes.
The data points that will help you measure your social media marketing KPIs are called metrics. The two terms are often used interchangeably, but it's important to understand the difference.
For example, total Instagram follower count is a metric that could help you track a KPI like increasing Instagram following by 10% within the next 3 months.
Here's some advice for setting KPIs for your clients:
Always keep your clients' goals and objectives in mind. KPIs measure your progress toward these outcomes.
KPIs should not be vague. Remember the SMART criteria to make sure your KPIs are Specific, Measurable, Attainable, Relevant and Time-bound. This will make it easier to evaluate your progress.
Don't try to track everything. Focus on a relatively small number of metrics that will provide the most value.
Organize metrics into dashboards so you can see everything in one place and easily make comparisons.
Ultimately, every company will have unique goals and KPIs. However, the following recommendations provide a great starting point for metrics that every marketing agency should track.
Are you looking for a simple way to manage all your clients' social media accounts? Learn how to track the performance of all your accounts from a single dashboard with quintly.
Top KPIs per social network and how to track them
Now let's dive into some of the most important KPIs for each social media channel.
Top Facebook KPIs to track
If your clients are aiming to increase the impact of their Facebook page, you could set a KPI like:
Increase the total number of Facebook fans by X% within the next Y months
To measure this, you'd track metrics such as Fans Total and Fans Change Rate.
Fans Total shows you the total number of Facebook fans for your profile at any time. You can also compare to your competitors such as in the example below: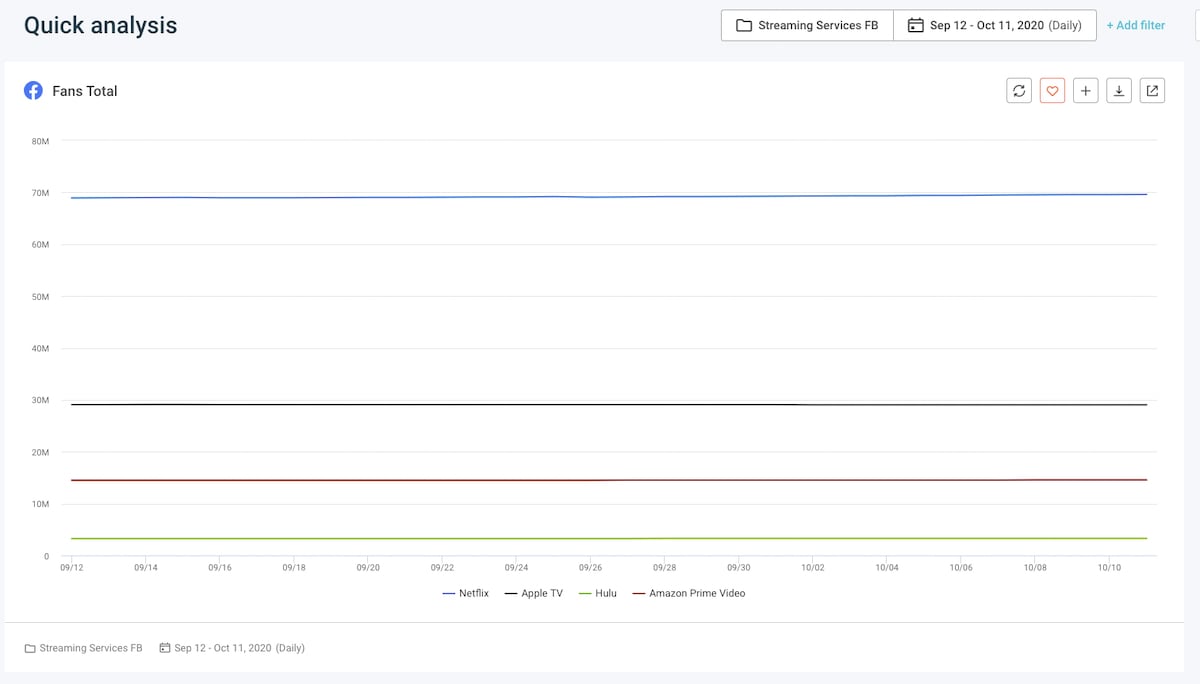 Fans Change Rate shows you the change in the number of fans as a percentage over time.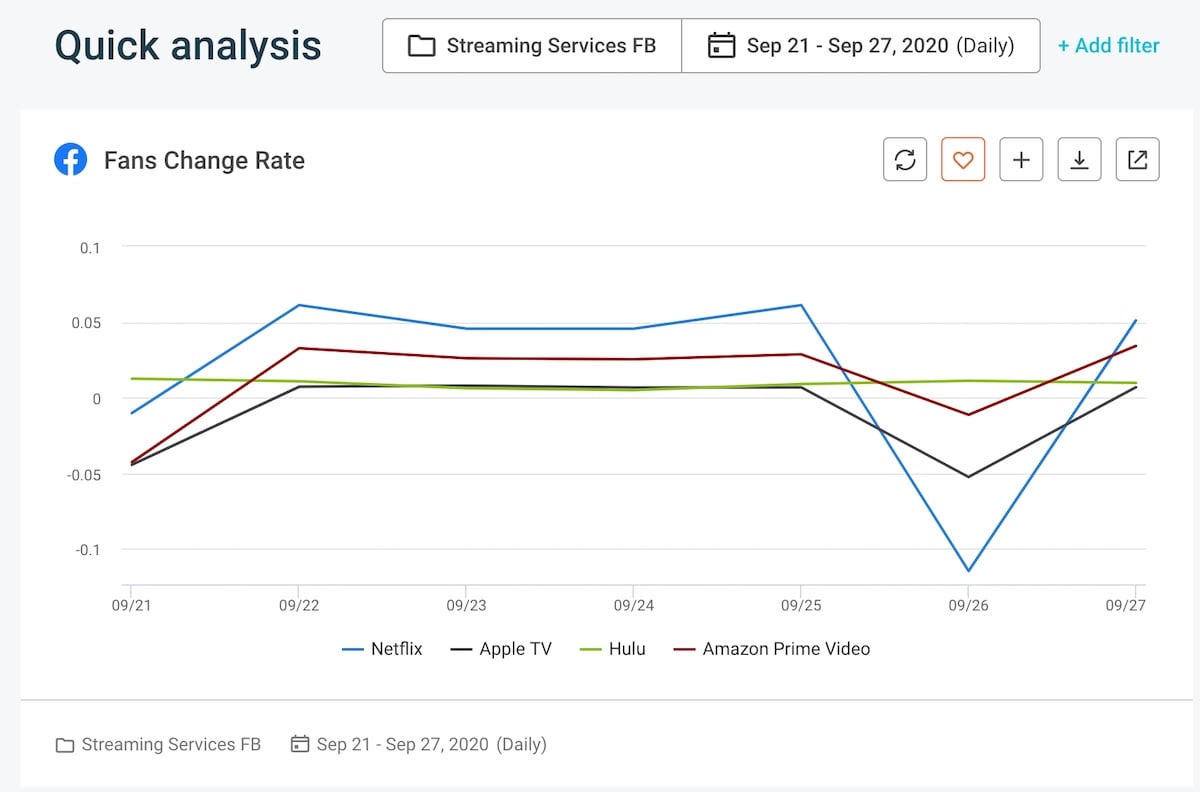 Maybe your client has a large number of followers, but engagement rates are low. To work on boosting interactions, set a KPI like:
Achieve an average of X interactions per week
The following metrics would help you track it:
Total Interactions. Add this metric to your dashboard to track the total of all interactions during a given period.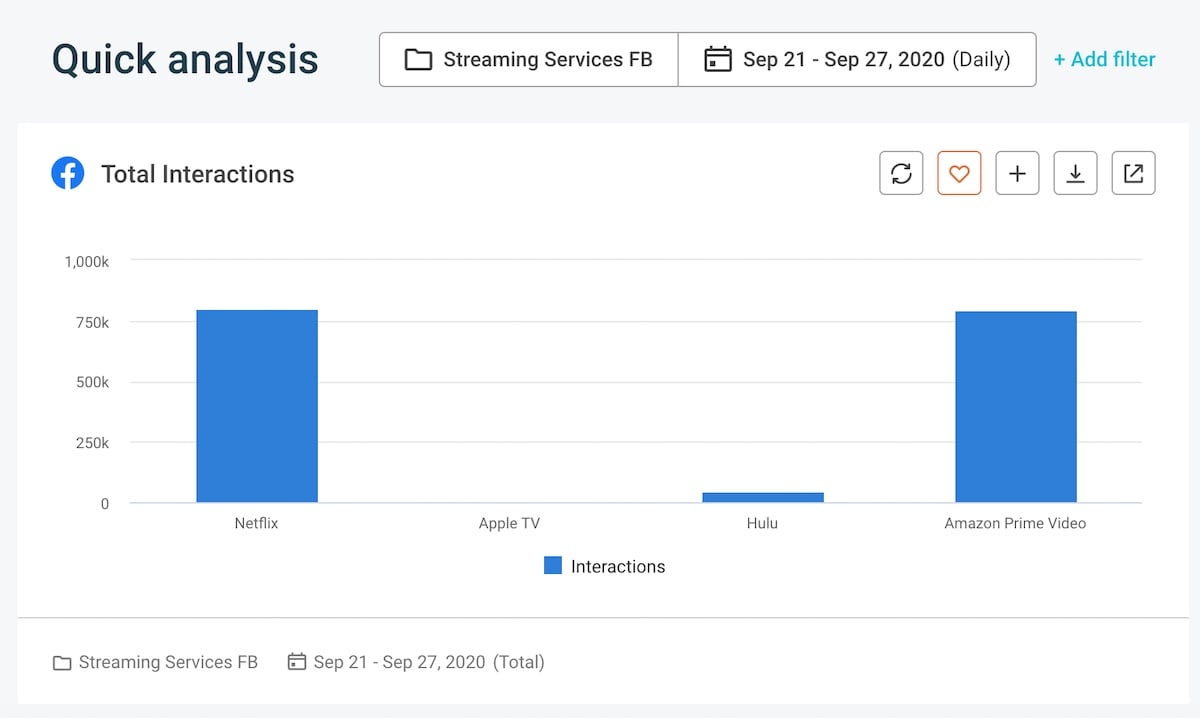 Interaction Rate. This shows your average engagement rate as a percentage of posts.
Interactions Distribution. Dig even deeper and compare the different types of interactions that posts receive. This is useful if your client wants to focus on increasing high-value interactions such as comments and shares.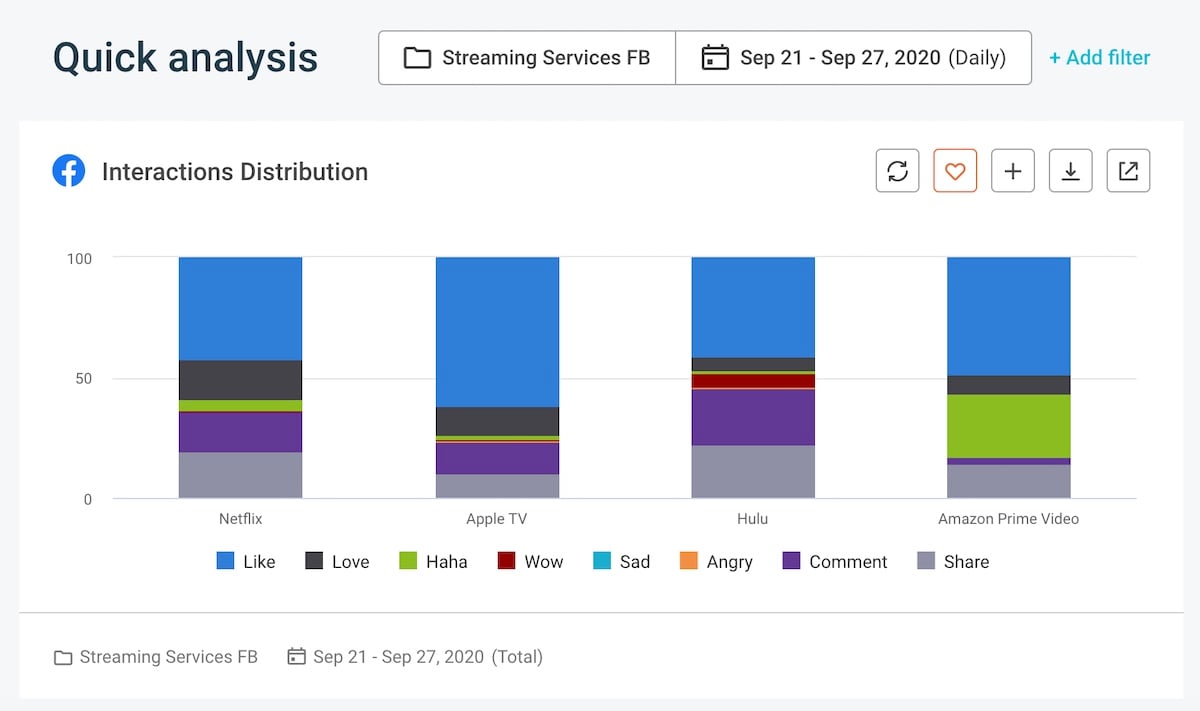 In the above example, you can see that out of the various streaming services, Apple TV has the most likes, but it has fewer shares and comments. Meanwhile, Hulu's posts receive more comments and shares.
Top Twitter KPIs to track
If Twitter is an important channel for your client and they want to increase follower engagement, you could set a KPI to:
Increase average daily retweets and mentions by X% within Y weeks
Here, you can see the number of retweets mentioning Red Bull and daily mentions across the same period: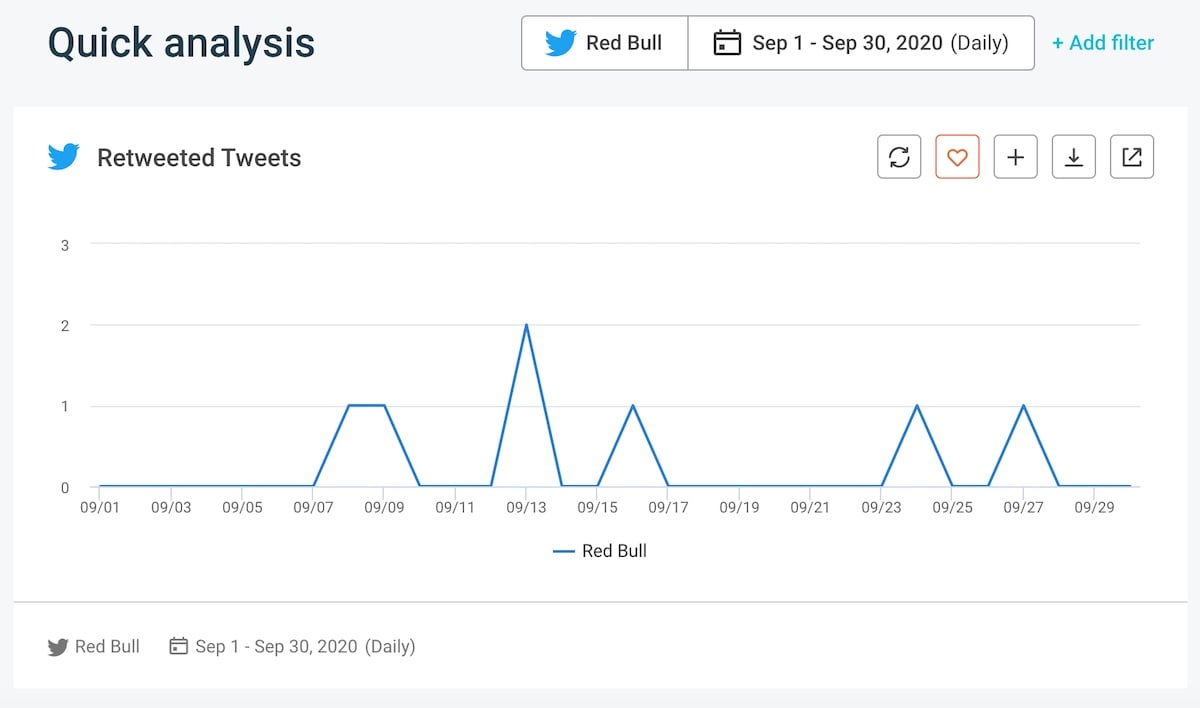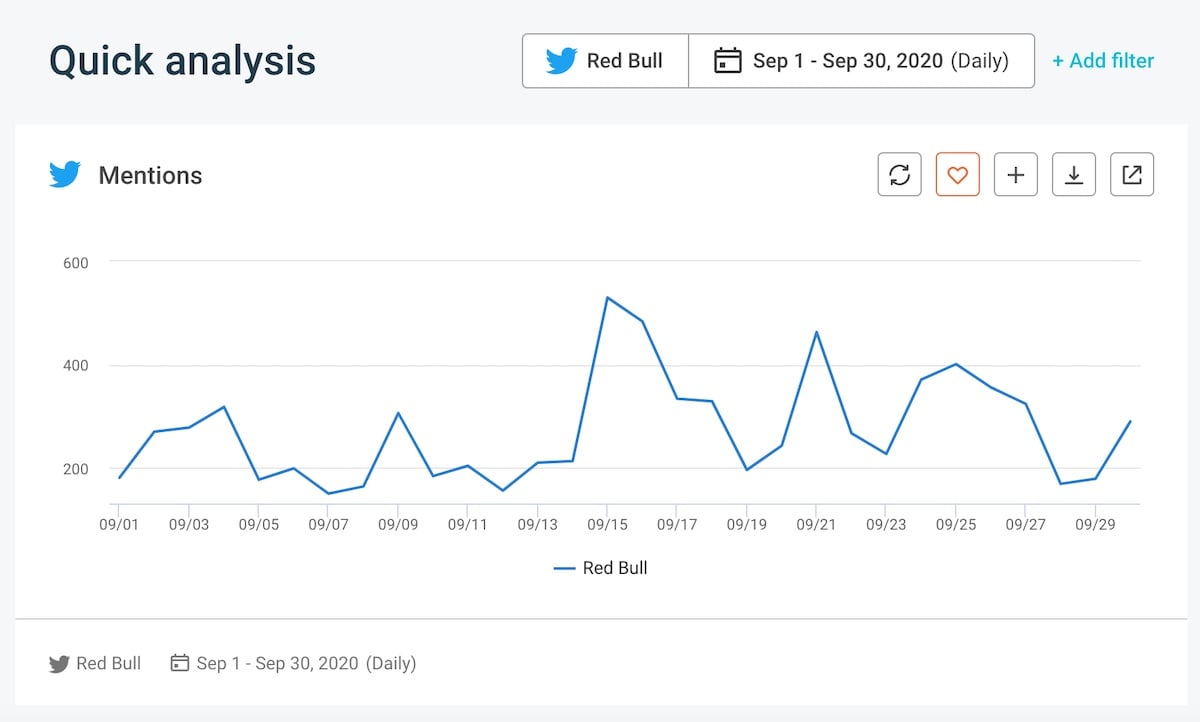 Top Instagram KPIs to track
You may be testing various hashtags in your client's Instagram campaigns, and you need to know how effective they are. When you connect your clients' social media accounts to quintly, you'll have access to rich private data such as hashtag detection.
An example social media KPI might be:
Double interactions on posts using the hashtag #Z
To analyze the effect of hashtags on posts, you could use the Hashtag Detection metric. This provides a breakdown of how posts perform according to the hashtags used.
Also read: Why Instagram Engagement should be your Top KPI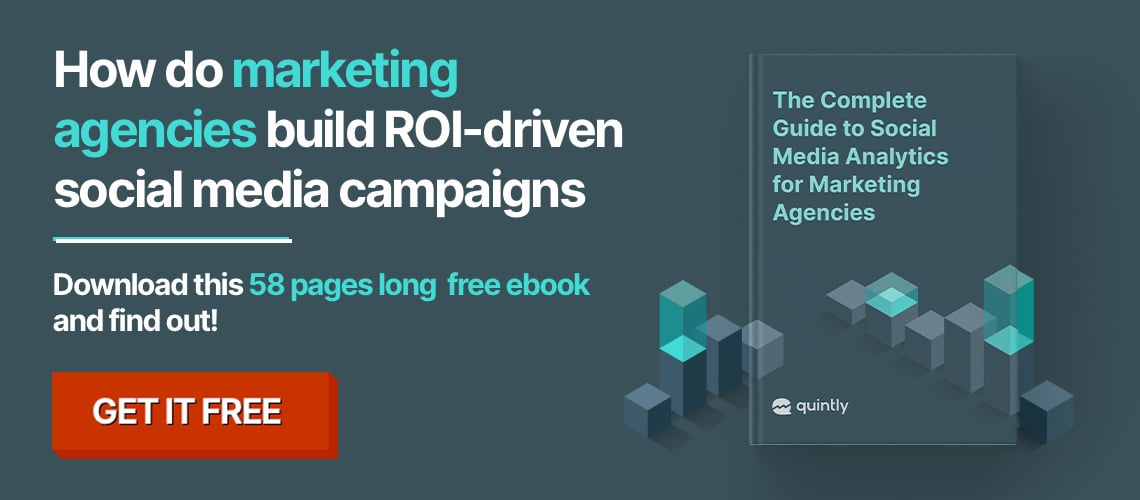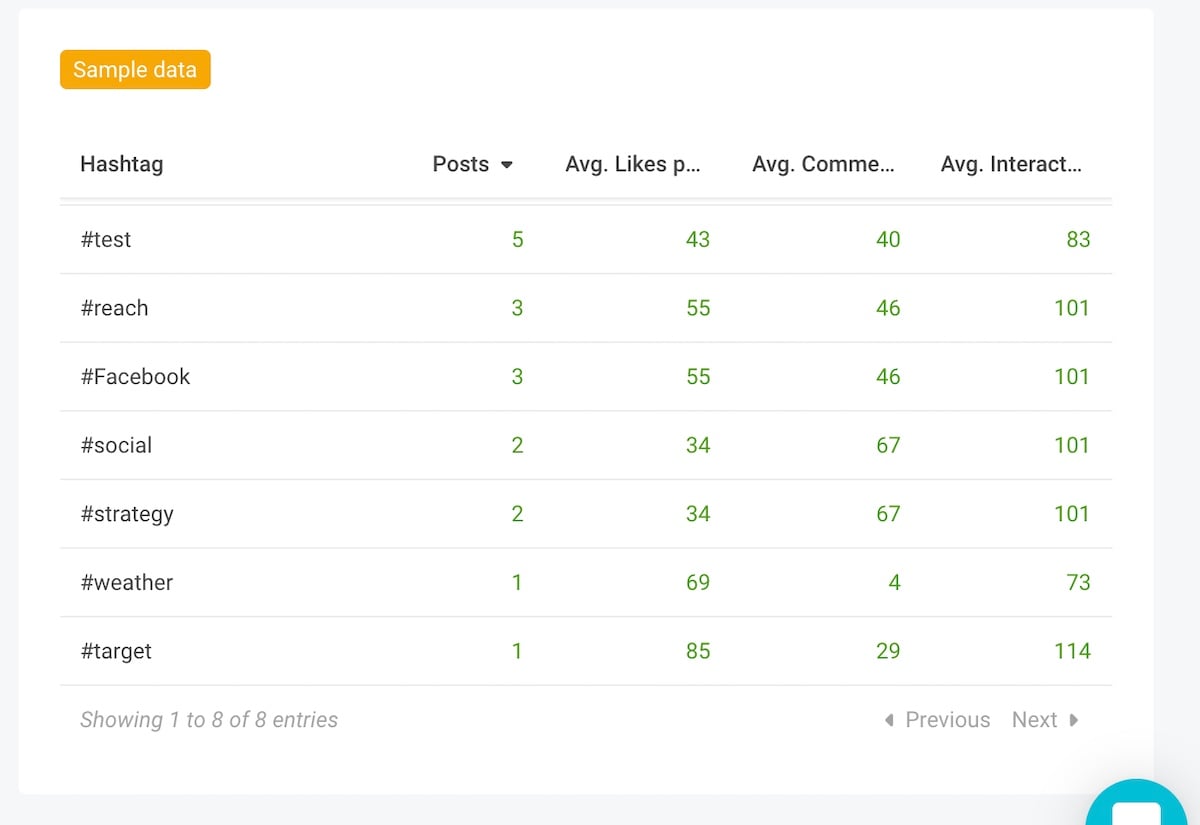 Top LinkedIn KPIs to track
Imagine your client wants to boost their presence on LinkedIn to generate more leads through the platform.
You might set KPIs like:
Increase LinkedIn following by X% in Y months
Boost positive interactions on posts by Z%
To optimize your posts for the most engagement, you might want to look at a metric such as Followers Change Per Weekday.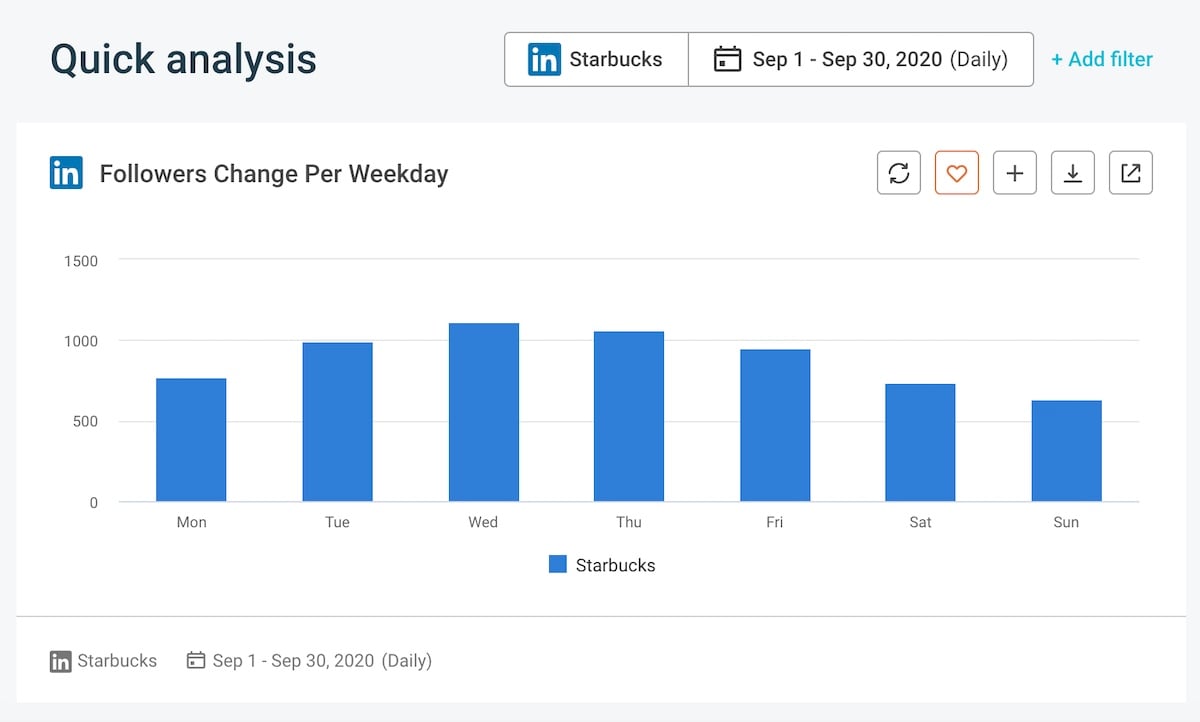 In this example, you can see that most of the new followers arrive on Wednesday. You might then want to experiment with posting on that day to see if it leads to more engagement.
Another KPI is to surpass the follower account of their closest rival, for example:
Beat follower count of Company X by end of the third quarter
You can use Follower Distribution and Reactions Distribution to track how your clients measure up to their competitors.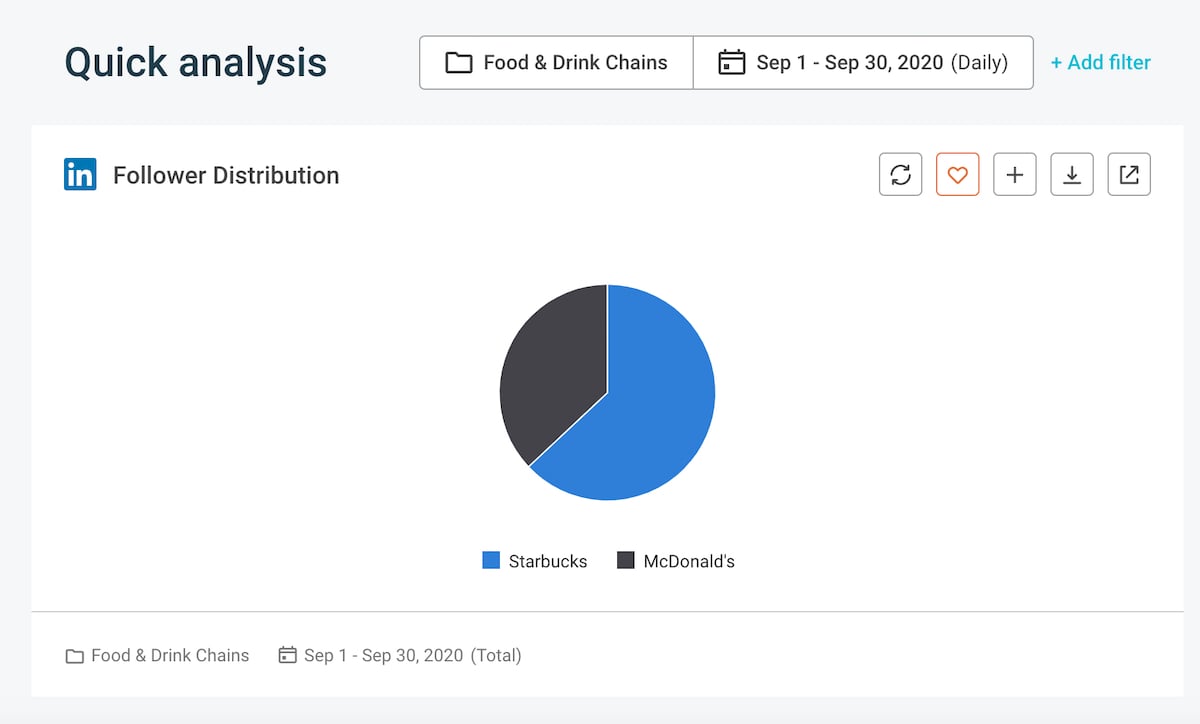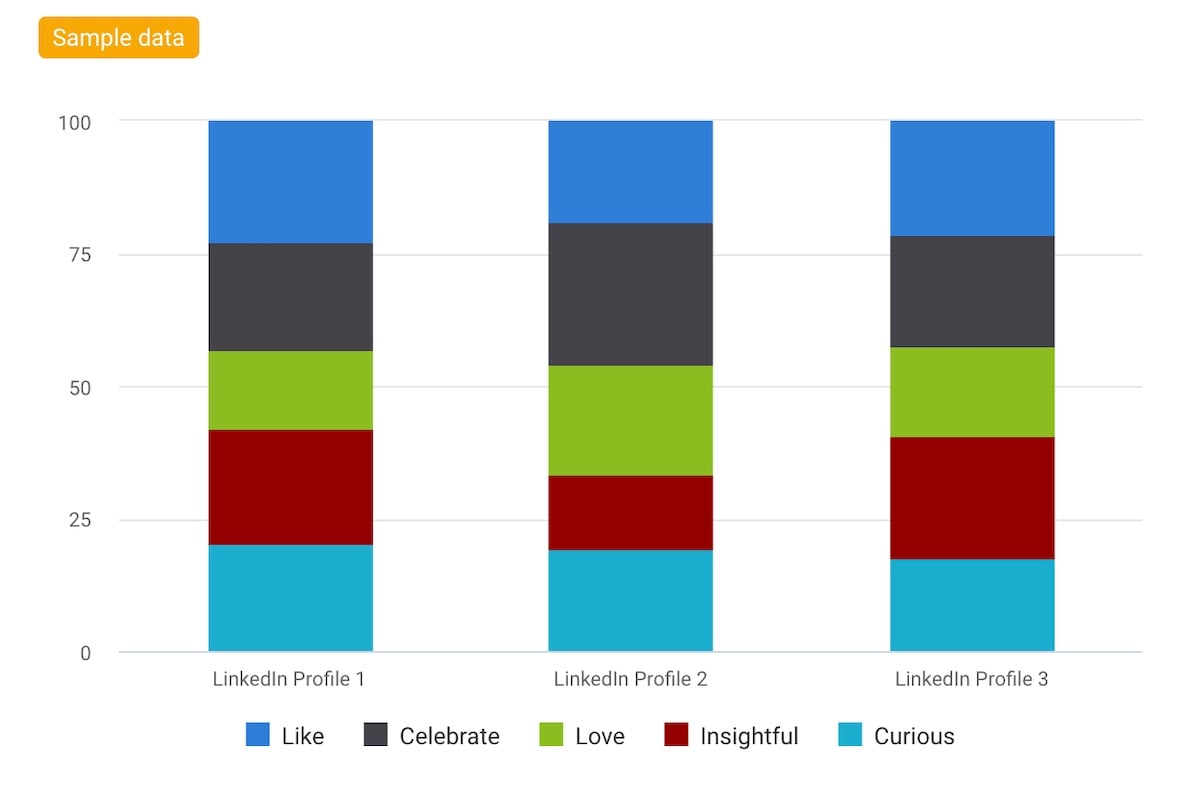 Top YouTube KPIs to track
The biggest indicators of success on Youtube are video views and subscribers.
Therefore, it's likely that clients who use Youtube for content marketing will want to set KPIs to increase these metrics.
For example:
Get X new subscribers by end of the year
Achieve an average of Y views within a week of posting a new video
Here's how you'd track Subscribers over time: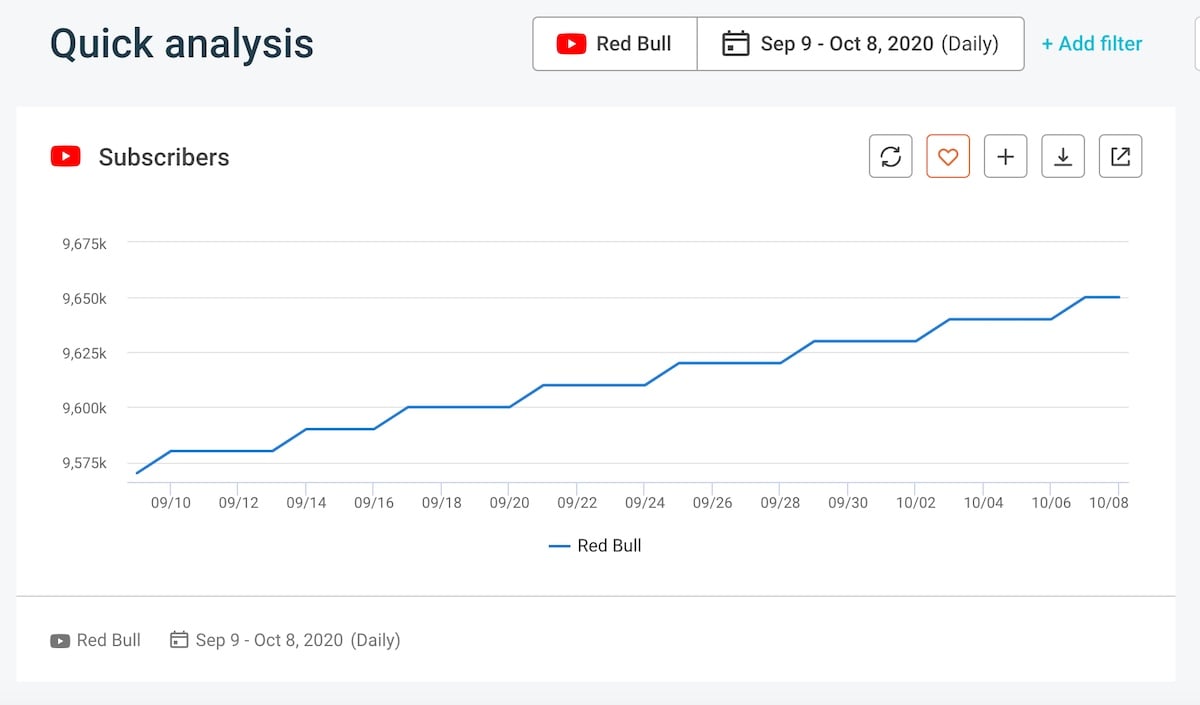 You can also analyze Total Video Views and see a full range of data regarding all videos for a particular channel.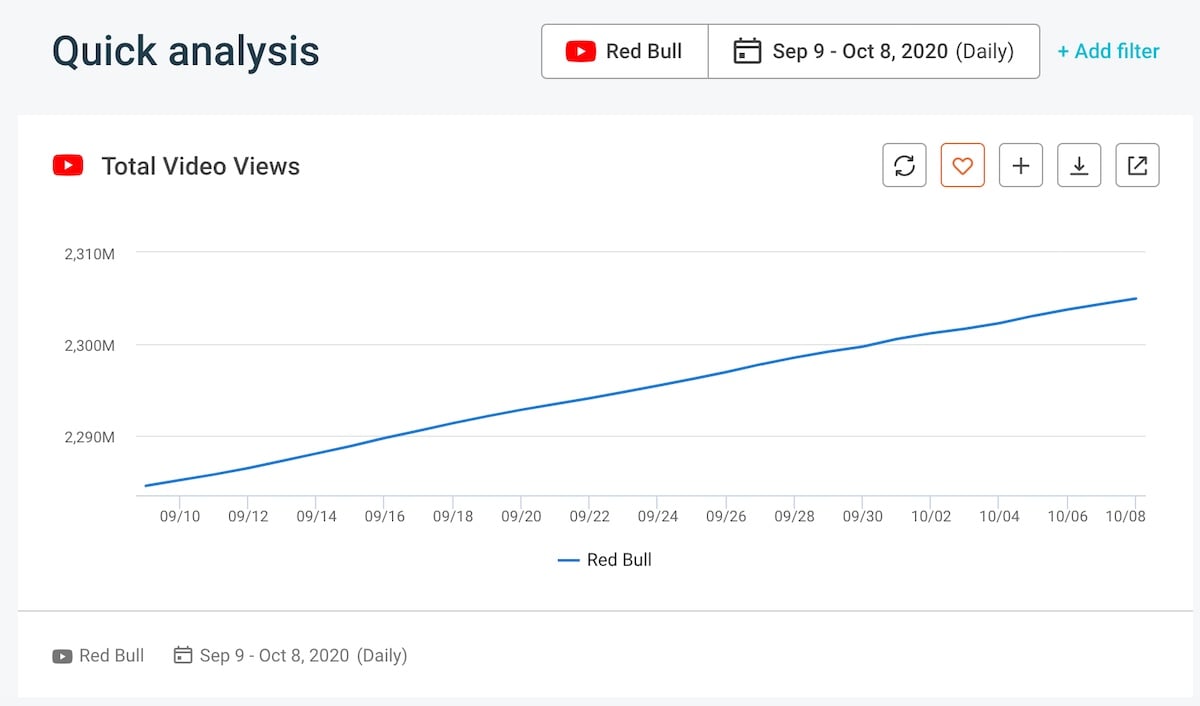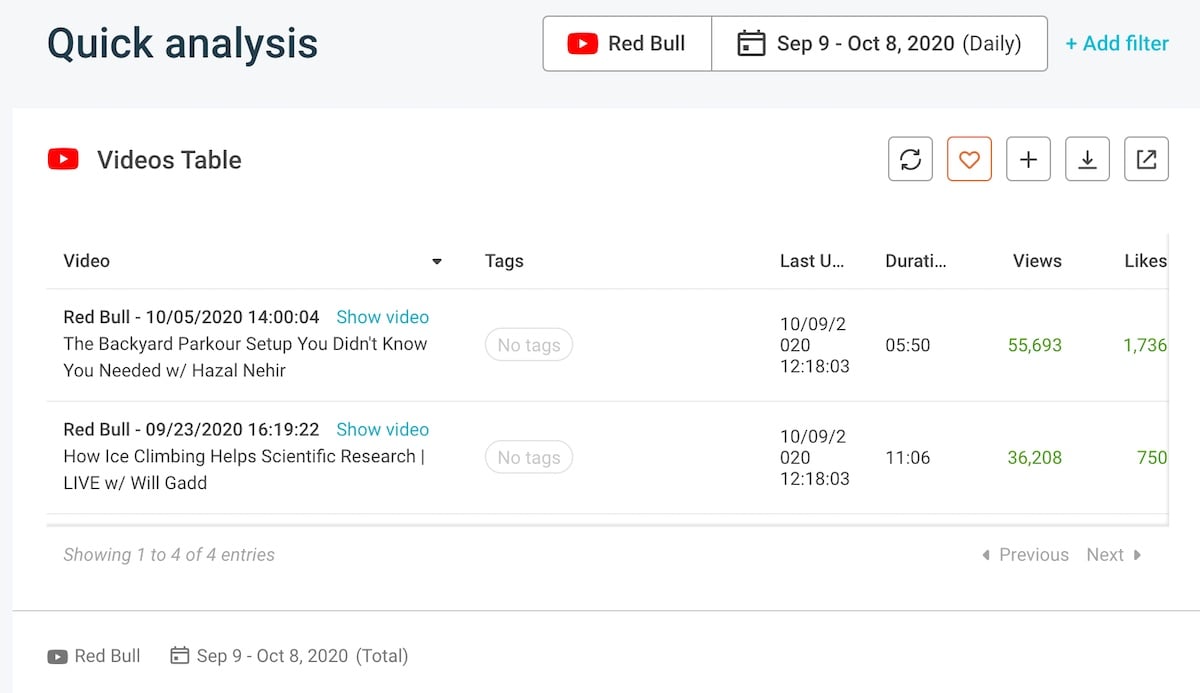 Cross-network analysis
As well as looking at each channel individually, another important aspect of your social media analytics is doing cross-network analysis to compare how your client's brand performs across all their social media channels.
quintly has the unique ability to take data from many different networks and "clean" it. In other words, quintly convert your clients' data into a standardized format which is easy to compare.
Comparing all your social channels can help you determine which channels to focus your attention on and set the right KPIs.
For example, here we can see that Red Bull's Instagram page outperforms both Facebook and Twitter by a big margin.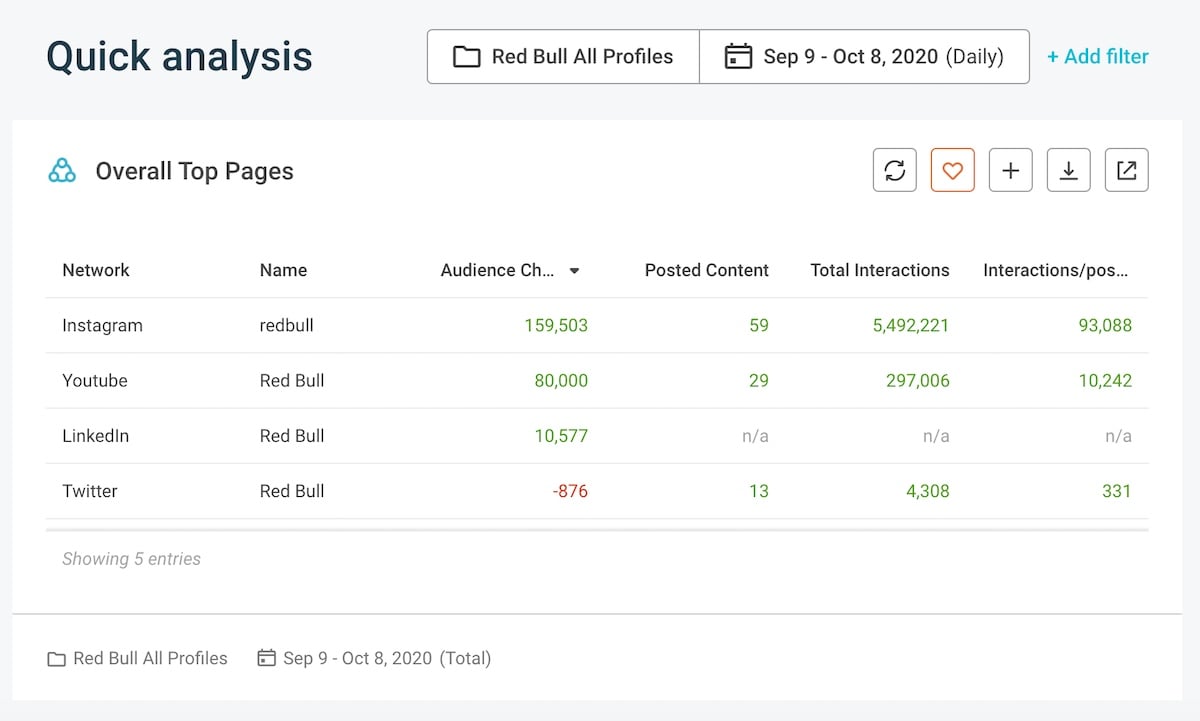 Knowing this, your KPI might be something like:
Boost Facebook interaction rates to match Instagram
Alternatively, your client may want to double down on their most successful channel instead. In that case, your KPI might be:
Increase interaction rates on Instagram by X%
Doing a complete comparison between all your social media pages will help spot trends and issues.
These insights are extremely valuable in helping your clients set goals and KPIs.
Since you can't optimize everything, you might have to choose between pushing a successful channel or trying to improve one that's performing badly. What you decide to do will depend on your client's priorities and their audience.
quintly has many possibilities when it comes to cross-network analysis.
Look at Overall Posted Content to track how much content you are posting per channel.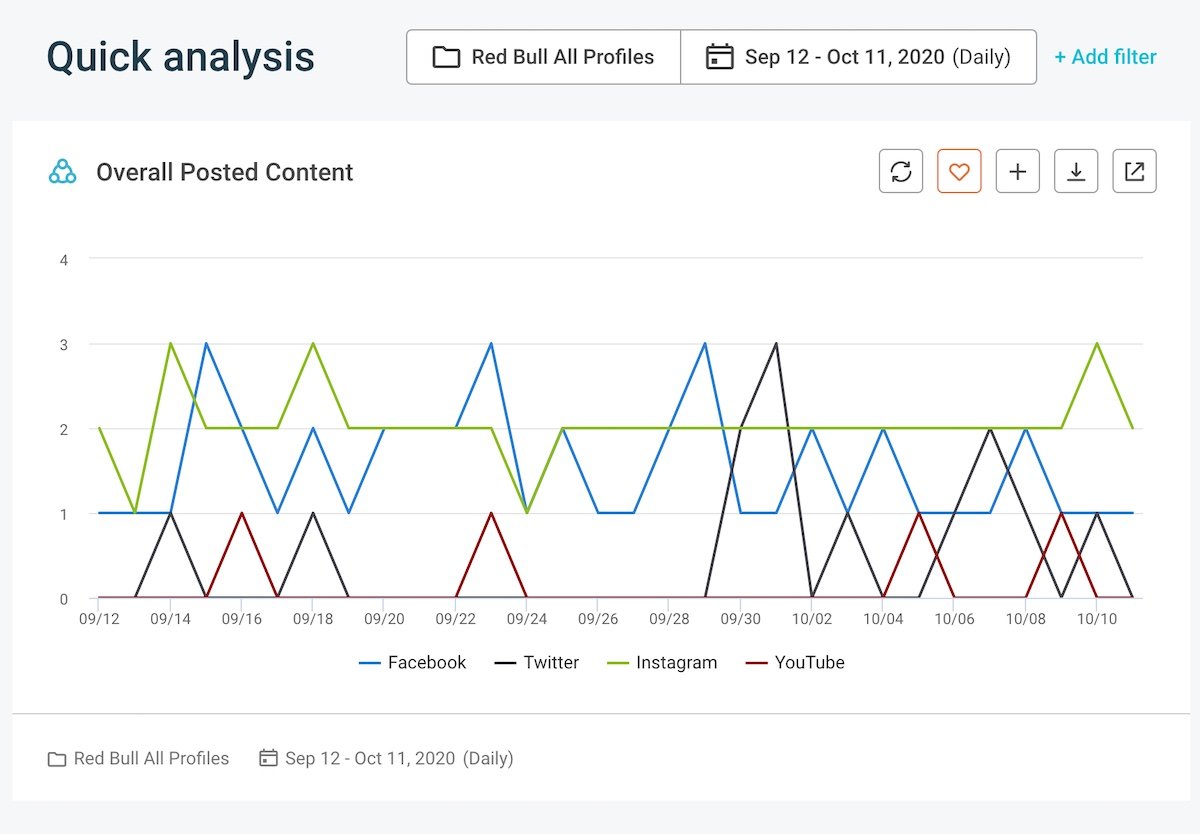 Overall Audience Change Rate can help you compare the growth of all your channels over a certain period.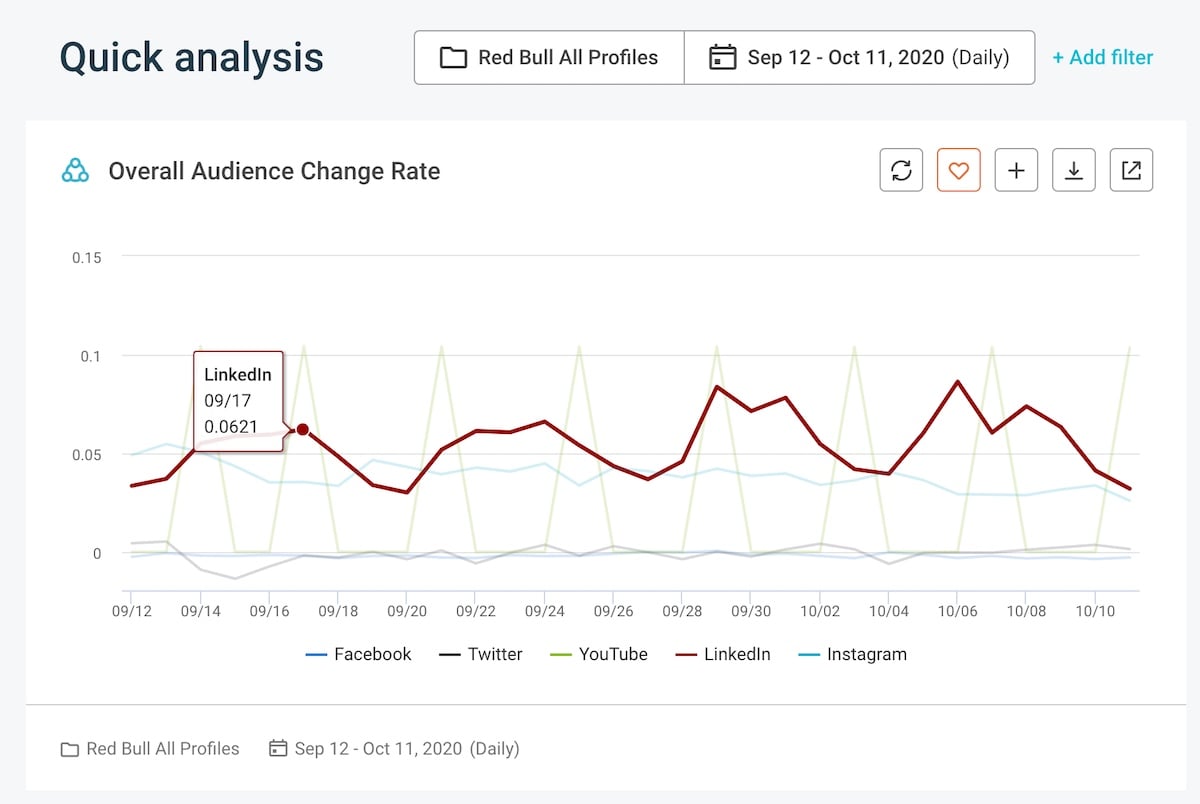 Custom metrics
Your clients may have very specific ideas about which metrics they want to track, and they may have unique ways of defining certain metrics.
How can you make sure that you're always tracking exactly what they have in mind?
In quintly, you can create your own custom metrics from scratch, or modify existing metrics. You can do this yourself using QQL, quintly's programming language. However we're more than happy to help you design whatever metric your clients have in mind.
In fact, we created our existing metrics (all 350 of them) based on real use cases or client requests.
How to measure and optimize your performance based on KPIs
So, you've identified KPIs which are relevant to your client's goals, and assigned the metrics to help you track them.
The next step is using those KPIs to constantly measure, improve and optimize your performance on social media.
This is the key to taking action based on your social media data which will help your clients see business results.
Here are some tips for turning data into action.
1. Create dashboards
You want to have all your key metrics in one place so you can see important data.
In quintly, it's easy to set up private or shared dashboards to collect data on all your social media KPIs in one place, so you can get insights at a glance.
When you go to add a shared dashboard, you'll have the option to build from scratch or use a pre-made template.
You can browse through popular templates by network or use case.
2. Set up regular reporting
You won't hit KPIs and achieve your goals if you aren't checking in regularly to assess your progress.
Set up automatic reporting so that you remind yourself regularly what you are aiming for.
If you review your metrics and KPIs often you'll always be aware of how close you are hitting them or if you need to work harder or change your approach to attain the goal.
You'll also be able to see your progress week on week and demonstrate to clients that things are moving in the right direction.
With quintly, you can create automatic reports that can then be shared with your clients in many formats, including an interactive link that makes the information easy to understand and act upon.
3. Check in with your clients
You need to have an open dialogue with your clients to make sure you always understand their goals and direction.
If their priorities change, you may need to update your KPIs for social media to make sure they are still relevant.
Similarly, changes in your client's industry or even shifting social media trends might mean that you need to adjust your approach.
4. Refine your strategy
If you agreed on several social media KPIs to be achieved in Q2, you must conduct a thorough evaluation of your performance at the end of that period.
If you didn't achieve all your KPIs you'll want to understand why so that you can continuously improve.
Perhaps the goals were too ambitious, or you had too many competing KPIs and not enough time to focus on each.
Whatever the reason, understanding what went wrong is the key to setting your next round of KPIs and improving your performance.
Track social media KPIs with quintly
quintly gives you access to a wealth of data which lets you dive deep into your clients' social media profiles.
The vast amount of metrics can help you set KPIs, view data in simple dashboards, see evidence of your success and continuously improve your campaigns.
Get access to hundreds of metrics with quintly, and help your clients hit their KPIs and goals.
Also read: How to develop a Social Media Strategy