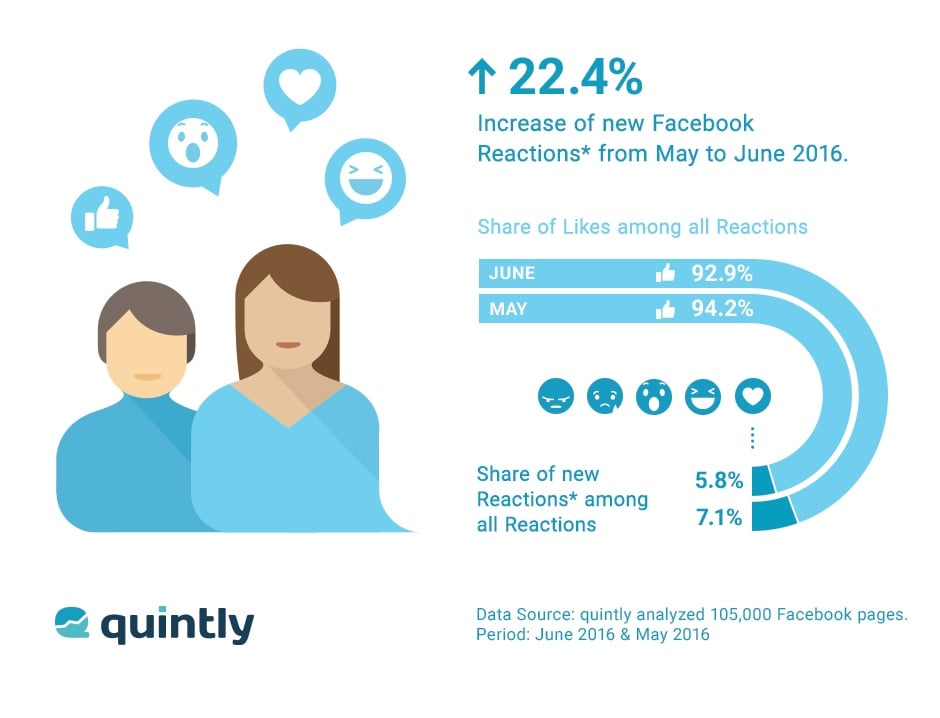 After our popular Facebook Reactions Study, this post summarizes the findings of our latest study. Here we analyzed 105k Facebook pages in May and June and were able to reveal some interesting changes on how Facebook Reactions are being used. As a little heads up: The usage of Facebook Reactions increased massively for the biggest profiles analyzed.
Facebook Reactions are a new way for users to express their feelings and a great opportunity for marketers to gain insights on how posted content is perceived by their fans. How have users embraced this new feature that has been available for some time? Which content stirs more reactions by users? When do users react with a plain "like" and when are they motivated to select a fitting emotion? These, and other questions, will be answered in the following post and can be explored more detailed in our Facebook Reaction study.
For reasons of readability we will use the term "new Facebook Reactions" for reactions introduced in February and exclude "likes". This makes it easier to differentiate and thus easier to interpret our findings.

New Facebook Reactions on the rise
Looking at the chart, it could be assumed that new Facebook Reactions are still hardly used. On the one hand, this is correct as compared to "likes" they make less than 6% of all Interactions (likes, comments, shares, love, haha, sad, angry, wow). On the other hand, we may be jumping to conclusions here. Taking the massive amount of given likes into consideration, the "new" option to express feelings is on the rise. Keep in mind the amount of likes (a few billion) and then consider what a change of a few percent means in absolute numbers. Access our study below to see a more detailed illustration of the distribution on slide three.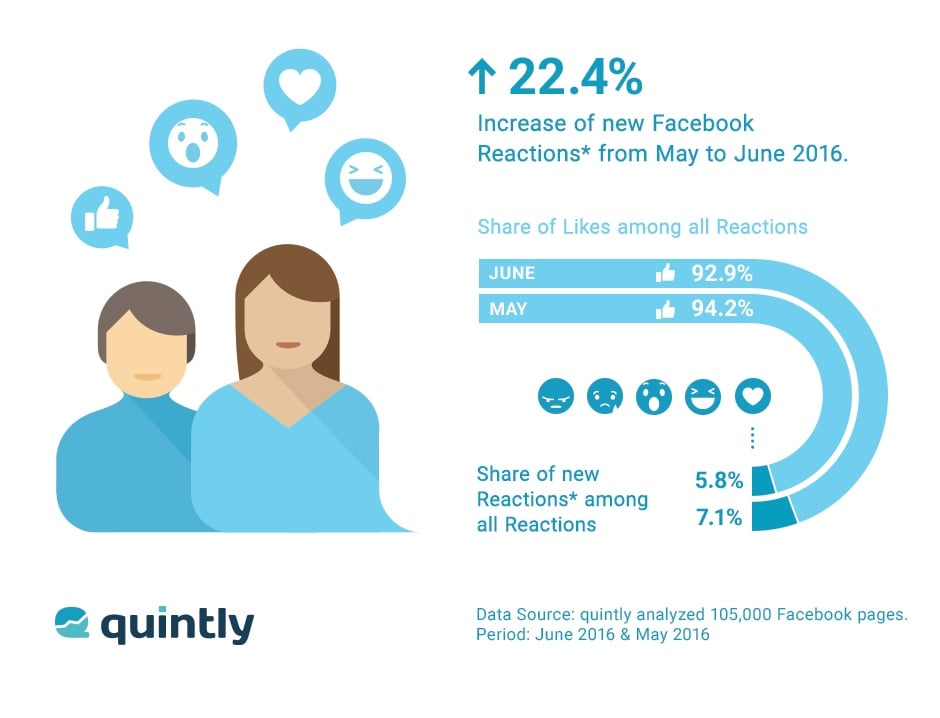 To be precise, for pages with up to 10 million fans, the average growth from May to June was almost 15%. For pages with more than 10 million fans, the new Facebook Reactions increased by a remarkable 47%. This finding indicates that users especially use the new ways of expressing their feelings on posts of the biggest profiles on the globe. These are mainly big brands, sports clubs, politicians and celebrities.

As mentioned above, social media departments can highly benefit from insights on how their posted content is being perceived, and new Facebook Reactions are a great way to measure that. Shameless plug here: All this is easily possible within quintly.
Videos receive more new Facebook Reactions!
One finding of the study underlines an aspect we revealed already in May: Videos receive more new Facebook Reactions than image posts. In our last study published in May, we found a 40% higher amount of new Facebook Reactions on videos. Now, we were able to detect even 60% more new Facebook Reactions on videos.
For the consumer, images are easier and most of all faster to digest. Thus a "quick" interaction is stirred. When users spend more time watching a video, the brand message or information can be communicated in a more precise way than in an image. After watching the video, users seem to have a greater propensity for taking more time to express their feelings in a more detailed way by selecting a reaction and not by simply clicking the like-button.
We now know that new Facebook Reactions are just 6% of total interactions, but are increasing. Video posts receive 60% more "love", "haha", "wow" etc. and the biggest profiles receive increasingly more new Facebook Reactions. One further question we need to answer is 'Which of the new Facebook Reactions experienced the biggest growth from May to June?', and potentially detect a trend.
Strong increase of all new Facebook Reactions
Analyzing the months May and June, we were able to detect a strong positive trend for all new Facebook Reactions. The only reaction that decreased in the analyzed period is the established like - by 1%.
All other dimensions increased by over 16%. The sad reaction especially witnessed the increase, going up significantly by 48%, which could likely be attributed to the high number of tragic events posted about on social media.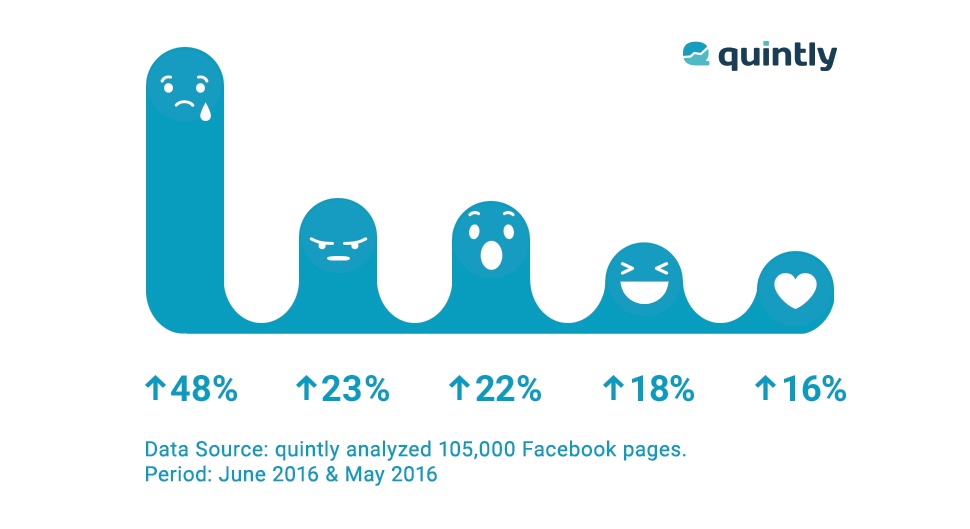 The revealed findings of the increased use of the sad reaction in a month where many horrible news stories were covered implies that users on Facebook are eager to use reactions to express their feelings especially when the user's real emotions are stronger. In May and June, sad reactions were used more often likely due to shocking events such as the shooting in Orlando. Looking at the share of all new Facebook Reactions we found that positive reactions (love and haha) are used significantly more often (70%) than sad reactions.

In a nutshell, it is safe to say that usage of new Facebook Reaction is picking up pace. All new Facebook Reactions are being used more frequently, and the biggest profiles analyzed in this study experienced an especially strong positive change. Facebook Reactions are a highly valuable feature for social media marketers since engagement with a post is one of the most important elements of linking customers to a brand. New Facebook Reactions are a great compromise between taking the time to comment and simply leaving a quick like and moving on. Therefore, businesses would do well to post content that users can react to with 'love, haha, sad, angry, wow' to make the most of this feature and thus receive insights on how their content is perceived.

Since the last study which was published in May, a lot changed. In the next months, it will be interesting to see how the usage develops further. Any questions regarding this study? We are just one tweet away!