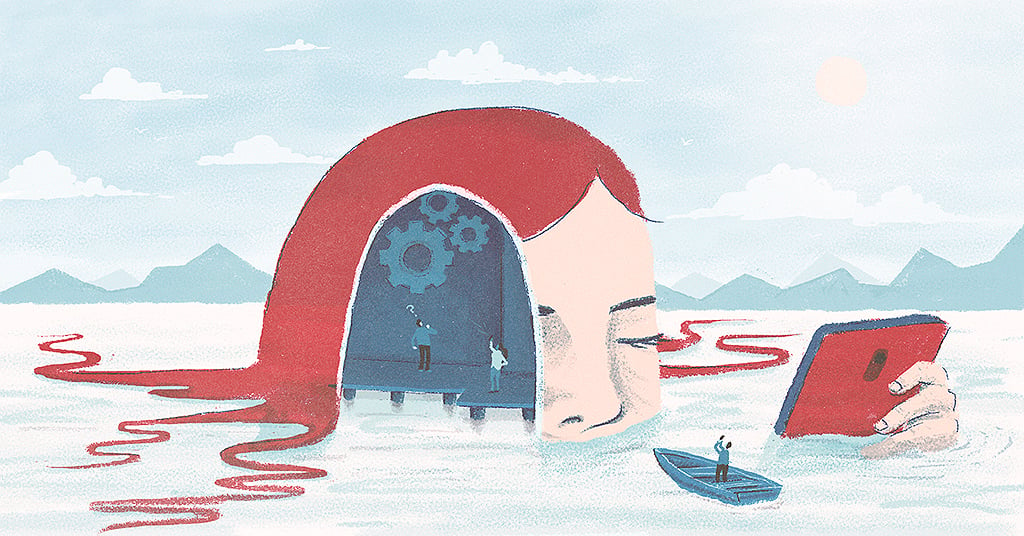 Influencers are playing a big role in social media marketing and may be an important part of your campaign.
I'm sure you already know this, but if not; influencer marketing is a type of marketing where brands and influencers work together in a campaign to expand the reach of that campaign. A lot of brands make successful use of this popular strategy, but it can be quite tricky to find the right influencer for your brand.
Imagine that you're working in an agency on behalf of a brand and your current task is to find a new influencer to promote the specific brand. We're going to take a look at how you can find the best influencers and how to make sure they're the right fit for you and your brand.
In this case, we're going to look at possible micro-influencers for Daniel Wellington, a famous watch and jewelry manufacturer. The company is still fairly young and started out with a small marketing budget. Their products are affordable and stylish costing around €100,- per watch. For Daniel Wellington, influencers have been a crucial factor in their success.
The reason for choosing micro-influencers over bigger influencers is that they have specific niche audiences and are deeply connected with them. Their followers are more dedicated and will probably interact more with the content. This will then result in more engagement from their followers. By comparison, big influencers are much more costly and will take a big cut out of your budget. Working with them would only make sense for bigger brands.
You can follow a few steps to find influencers that spark your interest and figure out if they might be a good fit for your brand.
Relevancy
Find out the correct category for your brand to improve its relevance for the target audience. Typically, influencers are specialized in a specific topic or category, like beauty & fashion, health & sports, or gaming.
For Daniel Wellington, the best influencer would be a fashion influencer, because they're closely connected to the brand's industry and engaged people will be potentially interested in the product.
Next, to the standard categories, there are some other criteria that will help you choose the right influencer. They might be a fashion influencer, but you have to make sure that their fashion fits with your brand. Because Daniel Wellington's jewelry consists mostly of natural and calm colors, it would not be right to work with an influencer who wears bright rainbow colored clothing.
You can find influencers from your specific industry by simply googling them or going through your audience on Instagram, or even looking at other influencers working for other brands (if they're willing to work for others, they may also want to work with you). If you do, you'll be rewarded for your manual work. Don't only trust tools that claim to provide you with the best-fitting influencers for you but also dedicate some time to manual research. This will often produce better results.
The first thing to do is check out their profiles to see if what the influencer is posting is actually relevant to your brand. Look through their previous content or follow them for a week or two to see if what they post is really what you like. If they're posting a lot about sports or food they may not be what Daniel Wellington is looking for.
Following this first step, I found 3 influencers that seem to fit Daniel Wellington's brand well. The aesthetics on all 3 pages is pretty similar, with each of them using calm and natural colors. All of them have worked with clothing or jewelry companies before, which means that they might be open to discussing a collaboration with Daniel Wellington. After scrolling through their pages, it's time to look at some analytics for their profiles.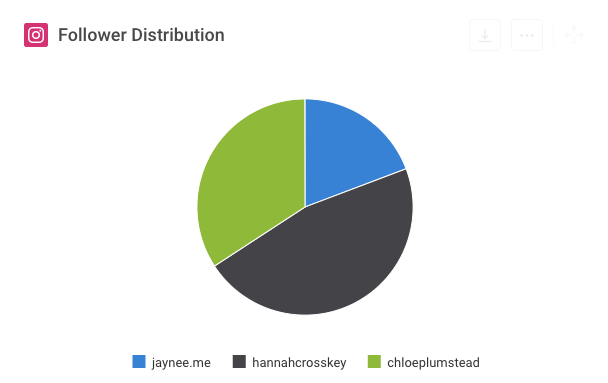 | | | |
| --- | --- | --- |
| Name | Instagram handle | Followers |
| Chloe Plumstead | | 74,000 |
| Hannah | | 101,000 |
| Jaynee | | 42,000 |
A mistake often made is that brands look solely at an influencer's potential reach to decide on their success. But the number of followers is not as important as you would imagine.
If they're posting the wrong type of content, you will get less engagement out of an influencer with 500,000 followers that don't fit your brand than from, for example, a micro-influencer who fits your brand extremely well with 'only' 75,000 followers. Imagine a make-up brand trying to sell their product through a big football star; it will most likely only speak to a tiny portion of their audience.
Measure their engagement
When figuring out an influencer's commercial visibility, the engagement on their Instagram page is key. Engagement on Instagram is measured in likes, comments, and saves.
The most important part of this engagement is the interactions, which are likes and comments.
We used the Average Interactions Per Post to analyze the performance of each Instagram account based on the average interactions they earn.
Which influencer receives the highest average interactions?

This metric shows that Chloe's page received a lot more interactions than the other pages, within the measured time period. Especially on November 24th, she received over 4,000 interactions while the highest interactions for the other pages just hit over 2,000 at most. This metric appoints the interactions to the creation time of the post.
The post that received the most interactions during the measured time was: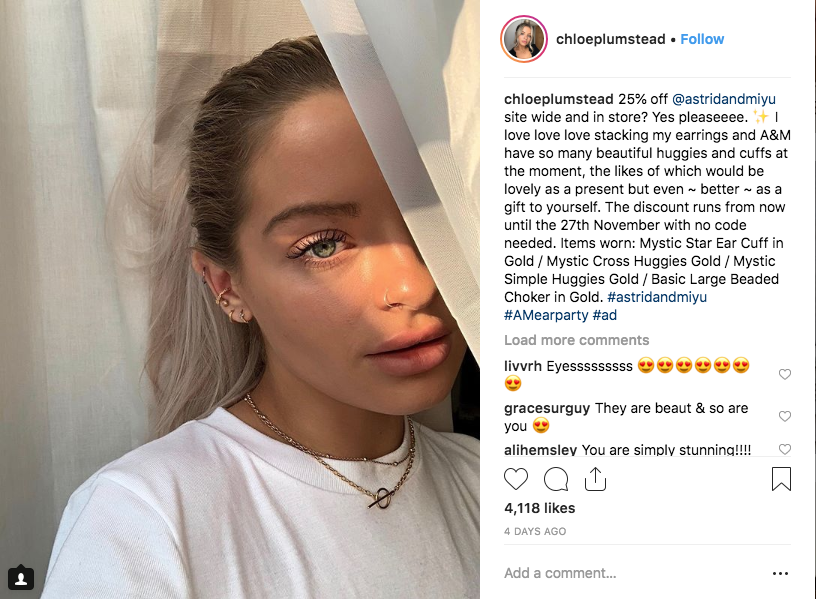 Solely looking at this metric, Chloe might be the best fit for Daniel Wellington. But yet again, only the engagement through posts does not meet all the requirements. So, let's dive deeper into data and get to know the influencers we are considering better.
How often do the influencers post?
There is no rule of thumb for how often you should post on Instagram. It's more important that you're consistent in the amount of content you post and that you measure it constantly. If you've been posting twice daily for a while, you can't all of a sudden post only once a week. This could potentially confuse your audience, which could lead to a loss in followers. Here brands, as well as influencers, need to trial and error a lot until the best frequency is found. In order to find this out, measurement is key.

When looking at this metric, we can see that all the pages post inconsistently which, when considering the previous information, is not the best way to go. That's also the reason for the fluctuation in the interactions.
Who receives the most interactions?

Looking at this metric, it becomes clear that Chloe has to post quite a lot to get to around 32,000 interactions, whereas Jaynee posts less and almost receives the same number of interactions. Assuming that Jaynee receives roughly the same amount of interactions on each of her posts, we can except that she might receive even more interactions when she posts the same amount as Chloe.
Hannah posts almost the same amount as Chloe but only seems to receive about two-thirds of the interactions. When considering this metric alone, Jaynee might be the best fit for Daniel Wellington's campaign.
The influencer's key metrics

This metric shows that Hannah received the most comments during the measured time frame. But if you compare Hannah's follower count to the other profiles' follower counts, she didn't receive as many comments as the rest. From this perspective, it seems once again that Jaynee has done best (also considering her strong follower growth and likes received).
Conclusion
Daniel Wellington could have a good shot if they pick Jaynee to work with. She has the smallest account (of the Instagram accounts analyzed) but receives a lot of engagement. Her fans seem very invested with her content. It also seems that she puts the same amount of effort into every single post and she works with only brands that she likes herself.
How to approach an influencer?
Most influencers receive requests for collaboration from multiple companies, meaning that they have the ability to choose which they would rather work with. If you want the influencer to accept your request, make sure that you tell them you have been watching their page for some time and you have really enjoyed the content they've been posting. Even show them some examples of posts that you liked the most. This will make the influencer feel appreciated, and it shows them that you're really interested in working with them.
This may help the influencer to have a better connection with your brand and they will most likely put more effort into their sponsored posts and collaborate for a long while.
Recommended Readings
A Complete Guide to Influencer Marketing
Instagram Study: We analyzed 9 million posts