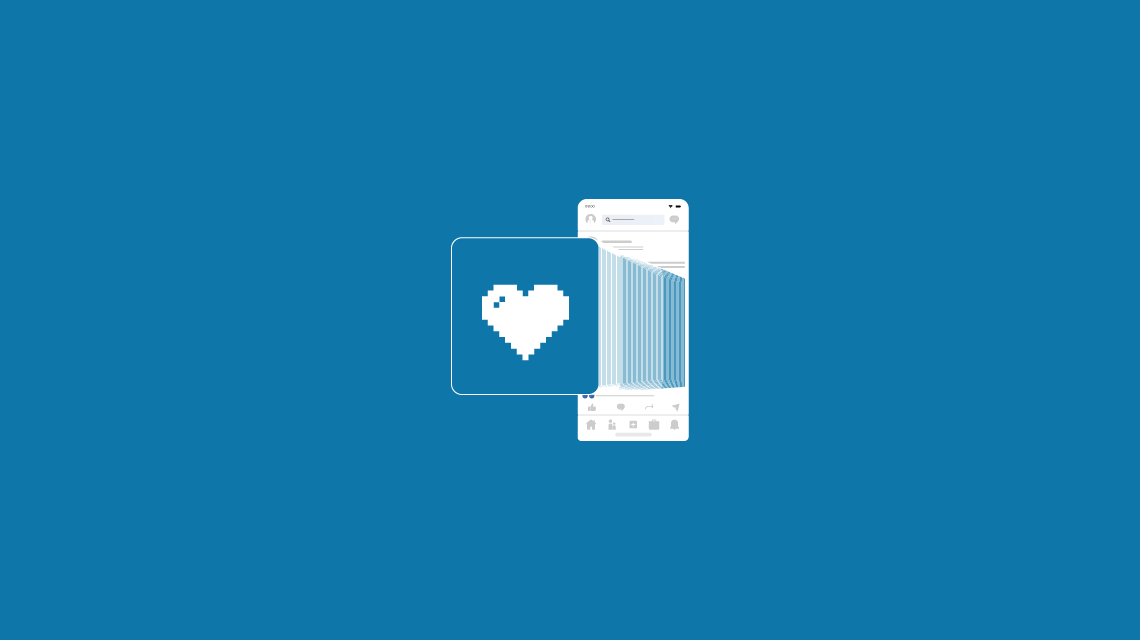 When researching a company, today's employee doesn't stop at job description and pay. While a big name can give you an edge, what really matters to today's job seeker is a brand's reputation. Do you value work-life balance? Are you a fair business to partner with? This is where employer branding comes in.
Whether you like it or not, your potential hires visit LinkedIn to find out more about your company and its image, so the importance of LinkedIn marketing is undeniable.
But before we dive into effective ways on how to build a strong employer brand on LinkedIn, let's find out more about employer branding.
About employer branding in brief
To put it simply, employer branding is your reputation as an employer. Employer branding has to do with all your internal and external efforts to promote your company as an excellent place to work. It sets you apart from similar companies and should reflect how you treat your employees and the type of work environment you offer.
Employer branding affects different aspects of your business:
Your current employees.

Their retention rate, productivity, and overall satisfaction

Potential hires

. Companies with good employer branding tend to attract top talent
In some ways, employer branding also affects how your customers perceive you. Since employer branding is now set on public forums such as Linkedin and other social media platforms, having excellent employer branding can also make your business more appealing to customers.
Why should companies build a strong employer brand on LinkedIn?
LinkedIn was voted the most trusted social media platform for five years straight. According to data by Glassdoor, 79% of professionals use LinkedIn to search for jobs—your audience is definitely on the platform.
Unlike other social media apps like Facebook or Instagram, which people mainly use for entertainment, LinkedIn is used specifically for seeking employment, professional networking, or learning more about a company.

Since LinkedIn is a platform for professionals, it's easily one of the best digital marketing tools to generate more leads for open positions and find the best candidates.
Unlike your other social profiles that are likely focused on B2C marketing, you can dedicate your LinkedIn profile to employer branding, featuring your best employees to show your appreciation and keep them motivated and engaged.
By building a strong employer brand on LinkedIn, you can implement data-driven recruitment and recruit talented candidates and stand out from competitors.
Here are 11 ways to build a strong employer brand on LinkedIn.
1. Design an eye-catching LinkedIn company page
Like any social media platform, you need eye-catching graphics and double-tap-worthy content to increase reach and succeed on LinkedIn. The average attention span of someone scrolling through social media is eight seconds. You need to reel in your audience the moment they land on your page.
On LinkedIn, the first thing your audience sees is your cover photo and your profile photo. Take a look at the Coca-Cola Company's profile: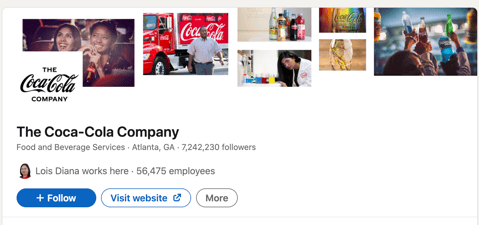 Instead of simply using an iteration of the brand's logo as its cover photo, Coca-Cola created a collage of images that best represent the brand. Since the collage has white borders, they chose a different version of the logo for the profile photo, so both images flow seamlessly together.
When designing your LinkedIn profile, it's important to be intentional about the elements you put on your page. While It's safe to use your company logo as a profile photo, make sure it works well with your cover photo.
Unlike your regular LinkedIn profile, company profiles have different tabs that employees and potential hires can access: Jobs, Life, People, and Events.
The Life tab is where people can learn more about your company culture. It's another section of your profile where you can use images and graphics to stand out.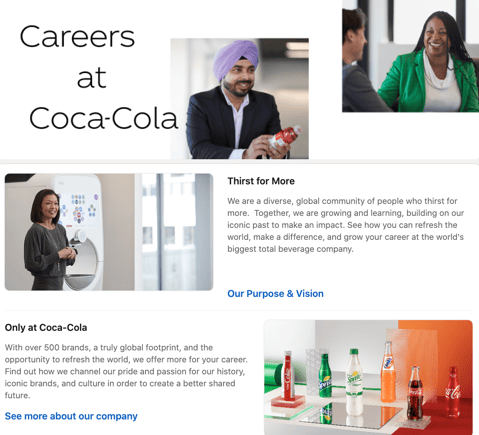 Coca-Cola chose a selection of photos to reflect its diverse culture and product range.
Taking a cue from Coca-Cola's page: Use photos that aren't just eye-catching but also powerful enough to summarize what your company is all about.
Pro tip: If you want to take the next step and make sure your LinkedIn profile is eye-catching and relevant to your target audience, rely on LinkedIn analytics to get insights on your followers, content, and interactions.
2. Highlight your employer value proposition
Why should the best candidates choose to work for your company over others? What makes your current employees stay? Your page should be able to highlight your value as an employer—on top of paying fair wages.

Australian company Canva's page highlights how they value learning and growth in all aspects of their employees' lives.
Potential candidates can easily see that Canva is big on work-life balance and how they value the well-being of their team.
3. Show off a typical workday
More than just the job description and the reputable company name, potential employees will want to know what a day on the job looks like. The highlight of this type of content? Your office.
Tech giants like Meta and Google are perhaps one of the most famous companies known for their beautiful office spaces.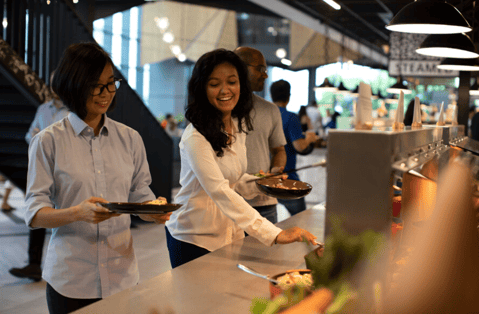 Google's life tab shows snapshots of a typical day at the office. Of course, they must show the most talked about feature of all Google offices—the cafeteria.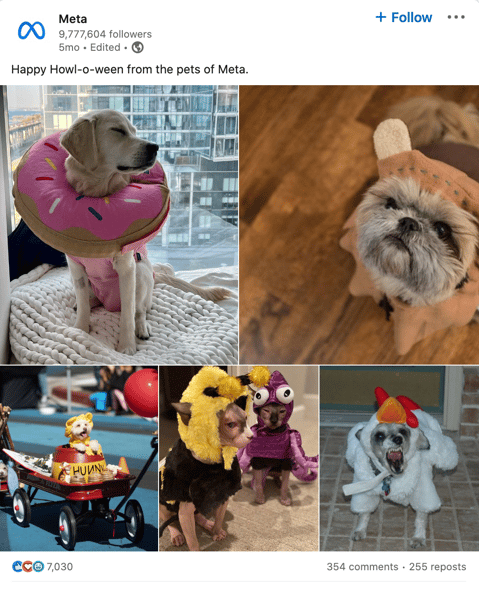 For some companies like Meta, a "typical" workday will include some sort of event or celebration.
Pro tip: Schedule LinkedIn posts in advance to ensure your content is always well thought out. You can also use project management tools like Monday.com or its alternatives to help you effectively manage all marketing efforts.
4. Share your company's achievements
Everyone wants to work for a successful company. Sharing your achievements on Linkedin will show that your business is thriving, inspiring your current employees and making you more attractive to job applicants.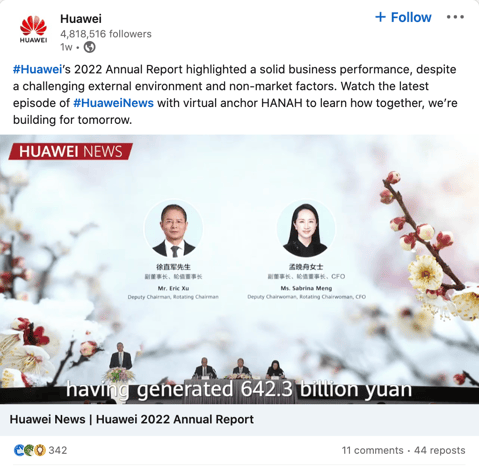 Chinese Multinational company and phone manufacturer Huawei shares a two-minute annual report on its LinkedIn page. The report shows the business' solid performance last 2022.
Pro tip: Don't wait for major milestones to happen before you share it on your page. Post about small wins, and don't forget to thank the people who helped you get there.
5. Announce job openings
A total of 52 million people search for jobs on LinkedIn weekly. If you want to get more qualified leads for your job openings, LinkedIn is the platform for you as part of your lead generation strategies.
As a business page, you have a dedicated Jobs tab where all your openings are arranged by the date posted. This makes it easier for candidates to browse your job openings. You can also make a separate regular post to announce vacancies for certain positions.
The job tab shows the total number of job openings in your company. It also has a search bar so candidates can quickly look for a specific position.
Job seekers will judge a company by its hiring process. It's crucial to make it as straightforward as possible, starting with making all your openings visible to the public.
Pro tip: If you have a candidate in mind for a position and can't find them on Linkedin, use an email finder to help you.
6. Ask your CEO to speak about the company
Your CEO is the face of your company. Having your CEO speak about the company and its advocacies can empower your team, increase engagement, influence decisions, and improve retention rates. With an inspiring leader, you can attract more talent and even customers.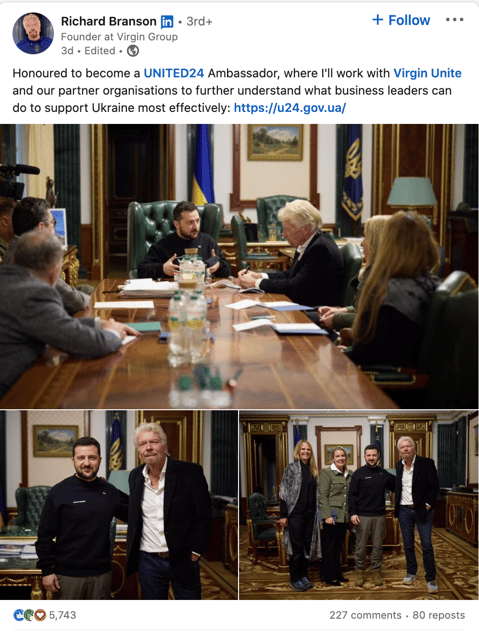 The Virgin Group's Richard Branson is one of LinkedIn's top influencers. The Founder of the British multinational company regularly posts updates on his personal LinkedIn page.
Since a CEO or Founder is not someone a regular employee interacts with on an ordinary day, it's important to have a platform like LinkedIn where they can post high-level updates. Moments shared on the page of a CEO can remind team members what they're all working towards.
According to a study conducted by Brandfog, 93% feel that CEOs who are active on social media can build better connections.
Pro tip: Make sure your CEO is using appropriate LinkedIn hashtags so their posts are visible to more people.
7. Turn employees into brand advocates
Leverage influencer marketing without the added cost. Your employees are your best brand advocates, so called corporate influencer. They know your company and products better than anyone else. But before you ask them to post anything positive about your company, you must ensure they are happy and motivated at work.
The best way to turn your employees into brand advocates is by providing a positive work environment. Recognize that your employees have a life beyond the office, promote open communication between team members, and provide opportunities for growth.
Employees effortlessly turn into brand advocates when they're happy with their place of work.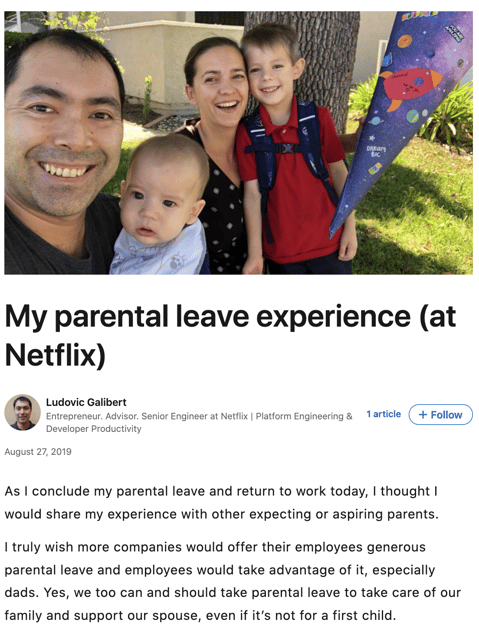 Netflix Employee Ludovic Galibert shared about his parental leave experience, a special benefit not many companies offer. Netflix's flexible parental leave allowed Ludovic to take a total of four months off during different times. His manager allowed him to take the scheduled leaves despite the team experiencing a transition and being short a team member.
Because Ludovic didn't have the privilege of a flexible parental leave in his previous job, he was immensely grateful to Netflix for allowing him to take a leave during a crucial time to care for his family.
Benefits like this can effortlessly turn your employees into your best spokespeople and advocates. Not to mention, they'll stay loyal to your company longer.
8. Organize live sessions
Live videos can drive higher engagement than your regular video post, with up to seven times more reactions and 24 times more comments. According to LinkedIn, 74% of viewers say that real-time interaction allows them to understand a brand better.
So, if you have an upcoming event or an important speaking engagement, consider leveraging videos and streaming them on LinkedIn Live.
Video streaming company Vimeo was one of the first to take advantage of LinkedIn's live feature, by launching a show called "Working Lunch". The series, which streamed weekly, featured experts from varying fields who sat down with their live audience to teach them something new.
Vimeo's series is a great example of how you can use the live feature as it helps establish your brand as a thought leader in your industry.
9. Communicate with followers and potential employees
LinkedIn has been the trusted platform for professionals for over 20 years. You don't want important company announcements mixed up with random videos and fake news on other social media platforms.
Using LinkedIn for communications allows you to showcase your employer brand voice and identity in a public forum. Being open on a platform like LinkedIn will encourage your employees to do the same.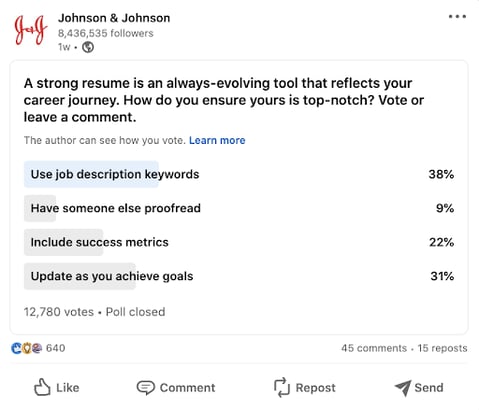 Johnson & Johnson uses LinkedIn's poll feature to communicate with its audience and collect valuable insight.
10. Post partners' reviews
Posting reviews is an effortless marketing tactic to show your audience you're trustworthy. This can help you gain partnerships, attract more job candidates, and improve business relationships.
Alternatively, you can post reviews about your partners on your page. This shows that you're not all about promoting your business. You're also there to lift others up.
Check out how SaaS company Salesforce does it: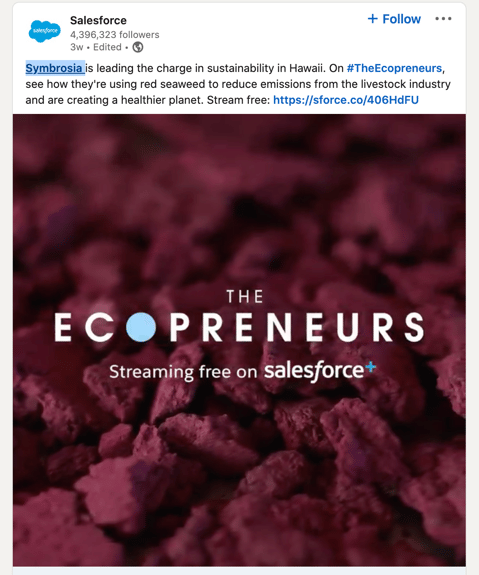 11. Monitor brand mentions
Use social listening tools to find out what people are saying about your brand. Brand monitoring has many advantages including the following:
Managing your online reputation

Building valuable connections (brand partnerships, advocates, and potential hires)

Helping you create content that resonates with your audience.
Use social listening tools to help you monitor what people are saying about you, not just on LinkedIn but on other social media platforms, review sites, and media.
Conclusion
Thanks to the numerous exposés of horrible company culture in recent years, employer branding has become more critical than ever. It matters to people that they're working for a reputable company and a place that values its people.
Use LinkedIn to help you not just show that you're a great place to work, but also to build better relationships with your current team, business partners, and future hires.

About the author
Val is a freelance SMM consultant who helps small businesses promote their products and services. She's a big fan of Instagram marketing, so Val also writes for marketing blogs to share her tips on using this platform for business growth. In her free time, Val learns Spanish and travels around the globe to meet new people.