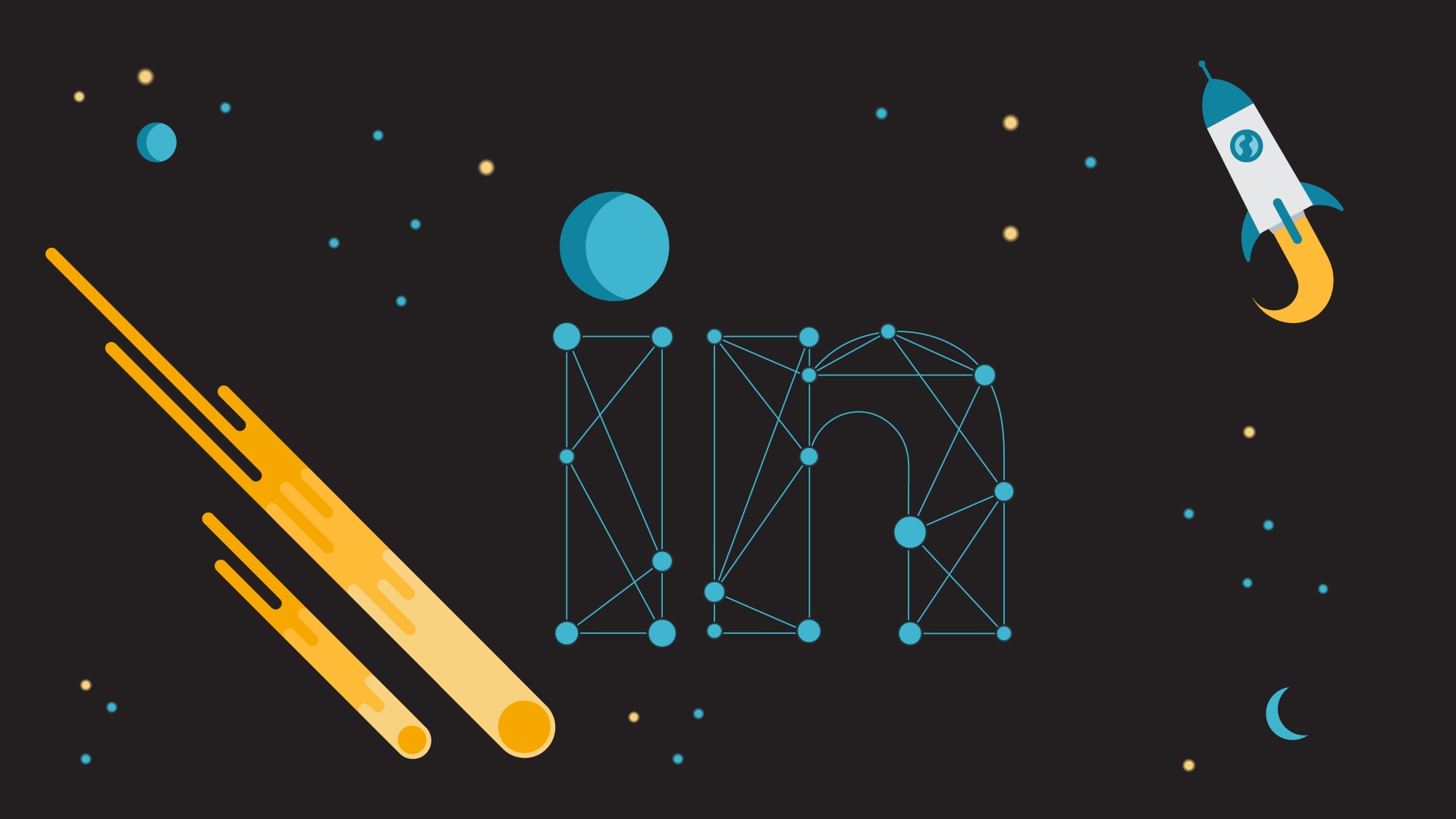 For all business peeps and especially B2B marketers like myself, LinkedIn can be a highly effective social media channel. Frankly speaking, we all have a hard time finding the right people at the right time - which does not get easier with GDPR in place. But just think about it for a second - almost every single one of your ideal customer is on LinkedIn.
Marketing on LinkedIn can be tough as members in groups are careful of what to believe and whom to give a like. The most gentle approach in marketing a product will be slammed within seconds. To crown it, the minimum CPCs are insanely high. But are we here to complain? Of course not! Let's blast off on the LinkedIn rocket, together.
Together with Swat.io we published an in-depth ebook that covers all aspects that I will cover in this post in greater detail.
Let's briefly outline the options we all have for marketing on LinkedIn.
» Head straight to the LinkedIn ebook
Branding on LinkedIn
In the end it doesn't matter if you join LinkedIn with a personal profile or with a company page. As soon as you register you position yourself as a brand. A brand you can fully shape how it is perceived. Here, you have two main points to focus on.
Show your vision
People that follow company profiles show their interest in the company or brand you try to position. Here you have the great possibility to not only share blog posts but also communicate your mission and vision to the outside, showing what your brand is all about.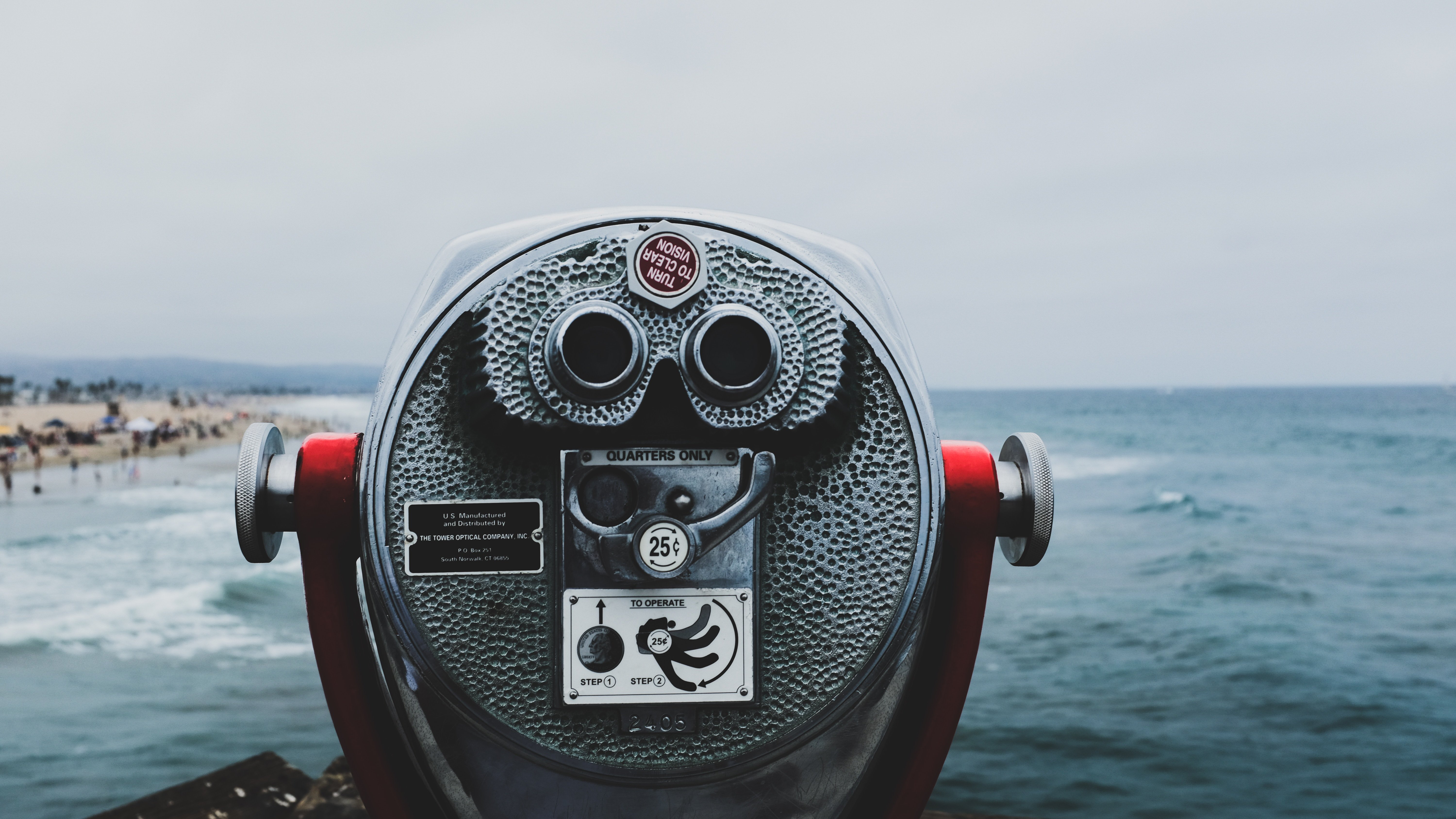 Be consistent
Results won't be surprisingly good in the beginning, that's almost a certainty. A good content strategy with an analytics approach to see what works and what doesn't will help you will help you improve your strategy so it is more successful. For an improved consistency, consider using a tool like Swat.io where you can plan content in advance.
Employee Advocacy Program
Content posted by employees is highly trusted. Multiple studies show the positive effect of it. Beyond that, customer-facing teams such as sales or marketing grew a network over the years of their career. Some bigger ones, some smaller ones, but everyone reaches at least a handful of people. The Employee Advocacy Program makes use of that.
Content by your team
LinkedIn offers the possibility to share status updates or publish blog posts, known as LinkedIn Pulse articles. I like to share very short interpretations of studies we published of features we released.
Through the approach I share features and interpret it in a way other marketers could make use of it. First, this reaches people they wouldn't receive a quintly newsletter or follow corporate social channels. Secondly, sharing these article positions myself as a person with a (hopefully) decent understanding of the market and how analytics can benefit companies.
"Please give this post some love"
In our Slack channels you will read this almost on a daily basis. This approach tries to utilize the networks of the individual employees, my colleagues, further. A like, comment or share does't only help to reach new people but also shows the LinkedIn algorithm that the post gets some traction and benefits its distribution.
Content Marketing & Lead Generation
Marketing school already taught us to analyze the user we want to market to in order to understand him or her. That also applies to LinkedIn marketing. Content needs to be tailored to your audience. Once you improved your understanding through an analytical approach (LinkedIn offers great insights in their default Insights) you can decide between two different LinkedIn marketing possibilities.
Sharing already existing content
Your LinkedIn marketing strategy can contain selected content pieces, of course. This can be applied for your personal profile as well as your brand profile.
Note: Refrain of too much automation! Management tools like Swat.io or Buffer can be greatly beneficial but if you post too often, your content will be perceived as obtrusive.
Sharing already existing content should not only be done by you as a marketer but your entire team.

LinkedIn Marketing Tip: Include sharing content on LinkedIn by colleagues in your standard distribution plan.
Publish with LinkedIn Pulse
As mentioned above, LinkedIn Pulse can be greatly beneficial to add individual thoughts to a topic, feature release or bigger content piece. Keep this possibility on the radar and don't be shy. Be confident in following up with your team!
LinkedIn Groups
Are you actively participating in LinkedIn Groups already? If not it might be time to take an hour or two from now ongoing.
LinkedIn Marketing Tip: Be careful with promoting or even trying to sell. Communities strongly dislike that.
1 to 1 Marketing
Here and there I'm a big fan of doing things that don't scale. 1 to 1 marketing certainly doesn't but can be highly effective. This very targeted approach cannot be automated and requires a lot of thoughts.
If you reach out to people always think how you would perceive the message. Would you like to be contacted to test a tool? Probably not! Would you perceive a personal webinar invitation to a topic of interest better? Probably yes. Would a benchmark analysis tailored to your company be interesting to you? Most likely at least a bit!
When it comes to increasing the individual conversation it's always about the tone of voice, the content, and the link to the person. Here, you need to put effort into researching the person's activities and interests in order to be successful!
Now we covered some possibilities while ramping up your LinkedIn Marketing. Before, while and after doing marketing, analyzing the effectiveness is essential. That's why I now will jump in some basics of LinkedIn Analytics.
Social analytics as part of your LinkedIn Marketing
I personally like to start an analysis with a birds-eye view. This ensures an easy start into the main metrics and a basic understanding of the analyze brands.

In these metrics it gets visible that the traditional sports manufacturer build a large follower base over time.
But here we want to focus on the less obvious. In the chart on the right hand side we can identify a strong fan change of both analyzed companies. This would definitely be worth looking into!
LinkedIn Analytics Tip: Try to spot the less obvious in chart and dig deeper into the reason.
As a next step I want to shed some light into the dark of LinkedIn interactions. To get a better understanding on how to approach the analysis of interactions, just download the free ebook below to find out more on potential LinkedIn KPIs for your business.
The best time to post on LinkedIn
Every community is different and the usage of the different social media networks vary greatly. While analyzing your Facebook performance you should have found a sweet spot for publishing content. This will - almost for certain - be a different one than the one on LinkedIn.
Our Post / Interaction Comparison metric answers the question of the best time to post on LinkedIn in a data-driven way.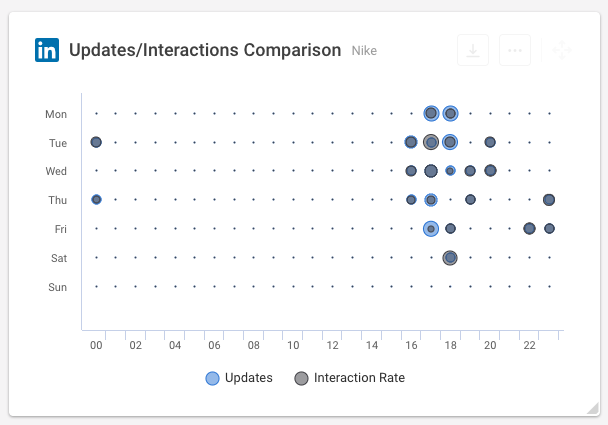 The blue circles show the articles, the grey circles show the interaction rate. On the left is Airbnb, on the right Nike. The multitude of circles shows that Nike posts more often. Try to publish when the grey circles are larger than the blue ones. This means it would be better for Nike to post more on Friday afternoons, but less on Tuesday evenings.
LinkedIn Marketing - The essentials covered
Now, we have covered the basics in LinkedIn Marketing and Analytics. In the beginning of the article, we covered the possibilities you can use on a daily basis to utilize the B2B network more for your brand as well as personal use. Once again, I want to emphasize that the best LinkedIn marketing strategy is useless (or certainly less effective) without measuring its results on an ongoing basis.
Please share your thoughts and the possible effects of our ideas in the comments below or on Twitter. We are happy to hear from you!

Related Articles
Must read: Our detailed guide to LinkedIn Analytics
Learn from the Big 5 on LinkedIn
What's the best time to post on social? Here's the data-driven answer!
New to Marketing? G2Crowd wrote a pretty comprehensive guide to it!