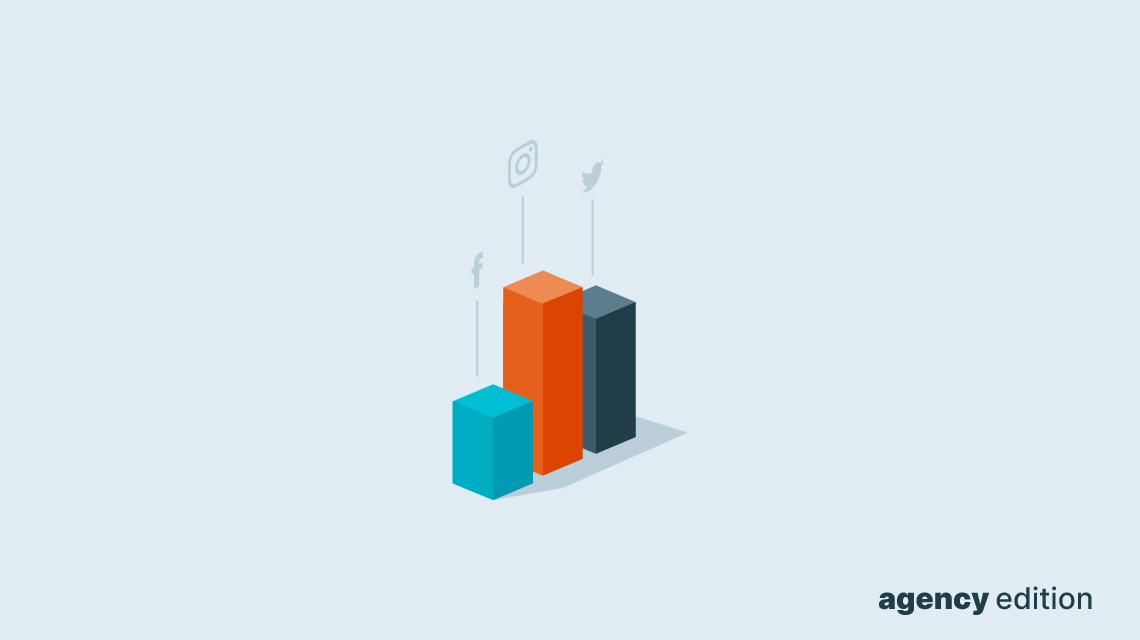 When you're talking to prospective clients during the sales process, they may want to see proof that you can achieve the results you're promising them. So why not show them an example of your past achievements?
A social media marketing case study that's full of persuasive data and client quotes is the perfect way to demonstrate the success customers can expect if they enlist your services.
Though it may take some time to produce, a well-put-together case study is worth the effort. In this article, we'll explain how to create a social media success story, with some key things to include. And to help you get started, we'll provide you with an example based on one of our own case studies.
Using quintly, you can automate the whole process of social media data collection, and use the data you've collected to create compelling marketing reports and case studies. Learn more about how to collect and analyze your clients' social media data in a single platform.
What is a social media case study?
A social media case study is an in-depth exploration of one of your biggest client success stories. It describes how you helped them solve their problems and reach their goals.
Often, case studies focus on a specific campaign designed to achieve a certain result. Perhaps your clients wanted to improve ROI on social media by 20%. Or, maybe they were struggling to make an impact on Facebook and looking to improve performance on that channel.
The case study should be based on conversations with your clients and include lots of quotes from them throughout. It should also include evidence and data to back up the claims.
You can publish case studies on your company's website or blog, and share them with leads as part of your sales funnel.
How to write a social media success story
A customer success story must be relatable, persuasive, and interesting enough to make sure that prospective leads will actually read it.

Every marketing case study is different and will follow your client's unique business and story. While there's no one-size fits-all approach, there are some elements we think are important to include. If you're not sure where to begin, here's a few ideas to get you started.
1. Reach out to your client
First, you need to ask the right clients to participate in your case study. Choose a company that came to you with a specific problem or goal, and with your help has been able to overcome challenges and achieve great results.
Ideally, the featured business should be similar to the ideal clients you are hoping to attract, so that potential clients can relate to their problems and desires.
You'll need to reach out and make sure they're happy for you to feature them in the case study, and don't mind investing some of their time. It may take a while for all the decision-makers to agree and sign off on the project, so allow plenty of time for this process. Once you have their agreement, you can start preparing to interview them.
2. Conduct an interview for your case study
The client interview is one of the most important steps because their feedback will become the backbone of the case study.
You could send your client over a list of questions and ask them to respond by email. However, it's better to set up a conversation with one or two representatives from the company, either by phone or video call, so you can have a more natural conversation and get deeper insights.
It's important that you don't go into a client interview cold. Being prepared means doing your research so that you won't waste your or your client's time.
Before the call, send over your questions so that they can start thinking about their answers. You should also request any assets or information you might need for the case study, such as the company logo and images you'll want to use.
Ask lots of open-ended questions that elicit detailed responses. Try to cover every angle so you won't have to go back and forth later for further clarification.
Here are a few example questions:
Why does social media matter for your brand?
What were your biggest challenges regarding social media marketing?
How have our services helped you overcome those challenges?
What's changed in your social media and marketing strategy since we began working together?
Check that it's ok to record the call so you can focus on the conversation and not have to worry about taking notes. A transcription software such as Otter.ai (available with a free plan) can help you record audio and transcribe it.
3. Compile data from social media analytics
Along with customer quotes, backing up your good work with social media data will go a long way.
When it comes to persuading new clients that you've got what it takes to help them overcome their challenges and reach their objectives, there's nothing more convincing than hard data.
It shows that your past campaigns have objectively performed well, and you're not just interpreting your results as positive. And, it builds trust with prospective customers because it shows that you're committed to tracking your own progress and keeping yourself accountable.
Graphs and screenshots also help to make your case study more engaging. You can use them to break up big chunks of text with visuals.
Select the most eye-catching and impressive metrics to include in your case study. If you are using a social media platform such as quintly, you can take screenshots from your dashboards to illustrate the points you're talking about.
You can include some data comparing your client's performance with their competitors.
For example, the graph below shows that even though Barcelona FC and Real Madrid shared roughly the same number of posts on Facebook in the selected period, the Catalan football club had a higher Interaction Rate than its rival: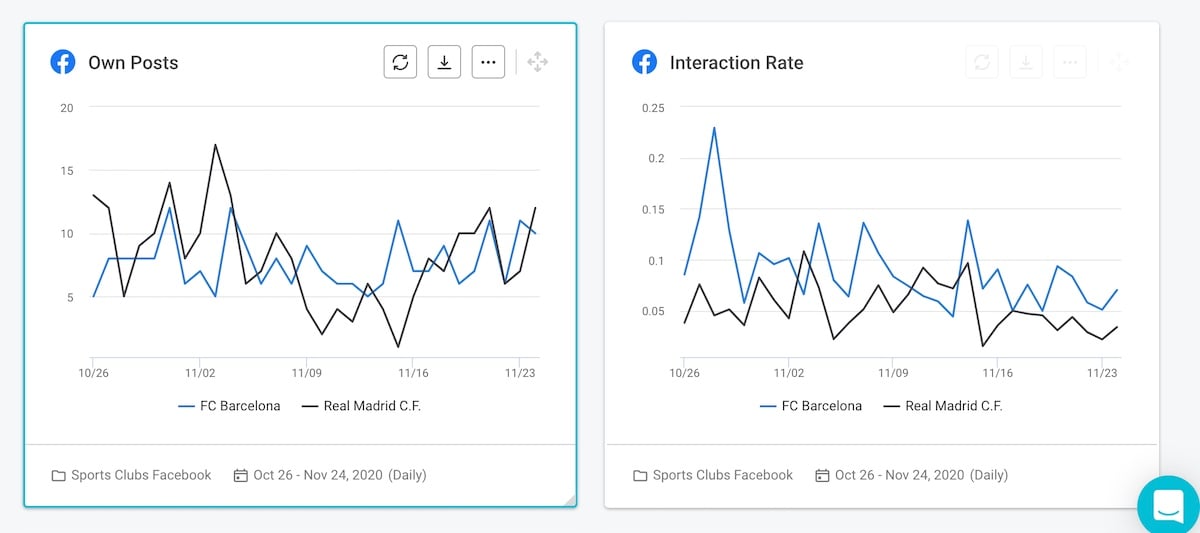 You can also contrast the client's current numbers against past results to show the improvement.
For example, the following graphs show a month-to-month increase in FC Barcelona's Interaction Rate on Instagram.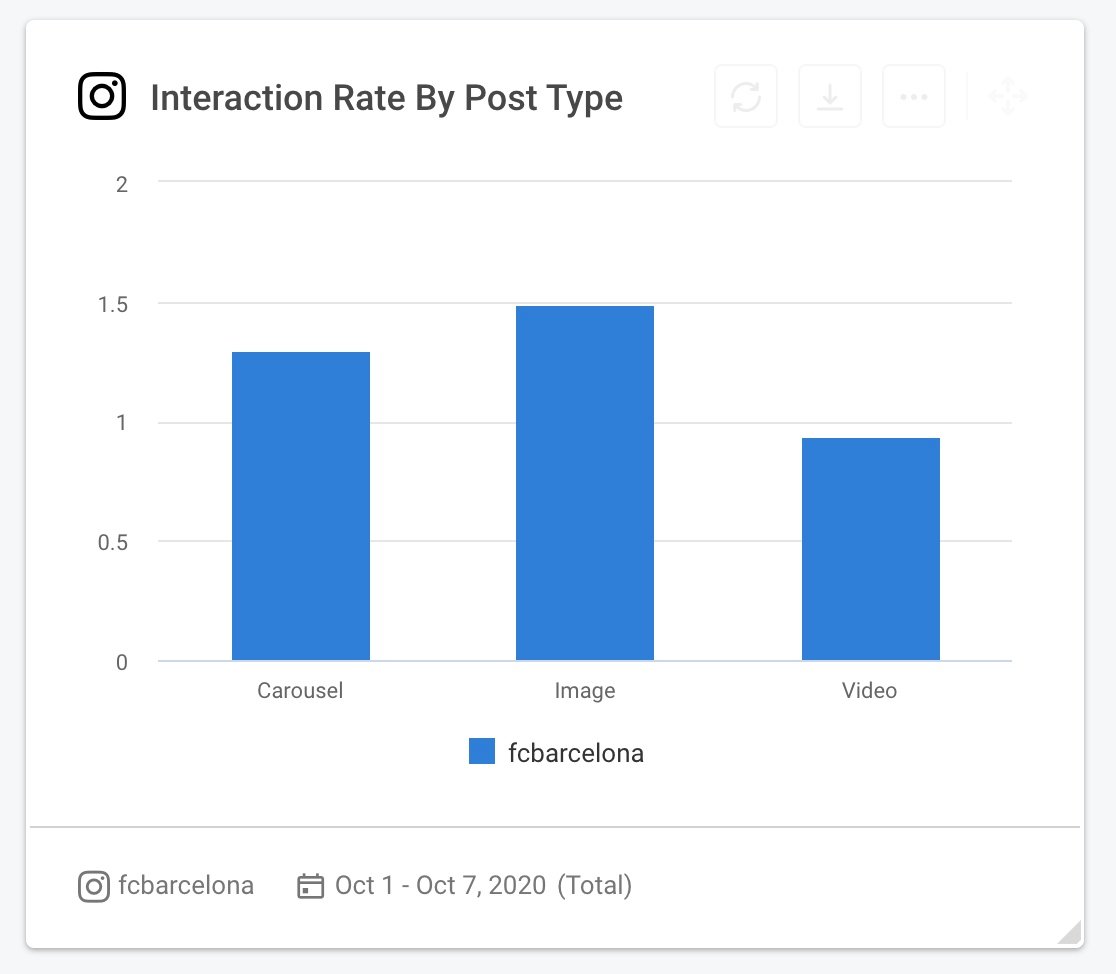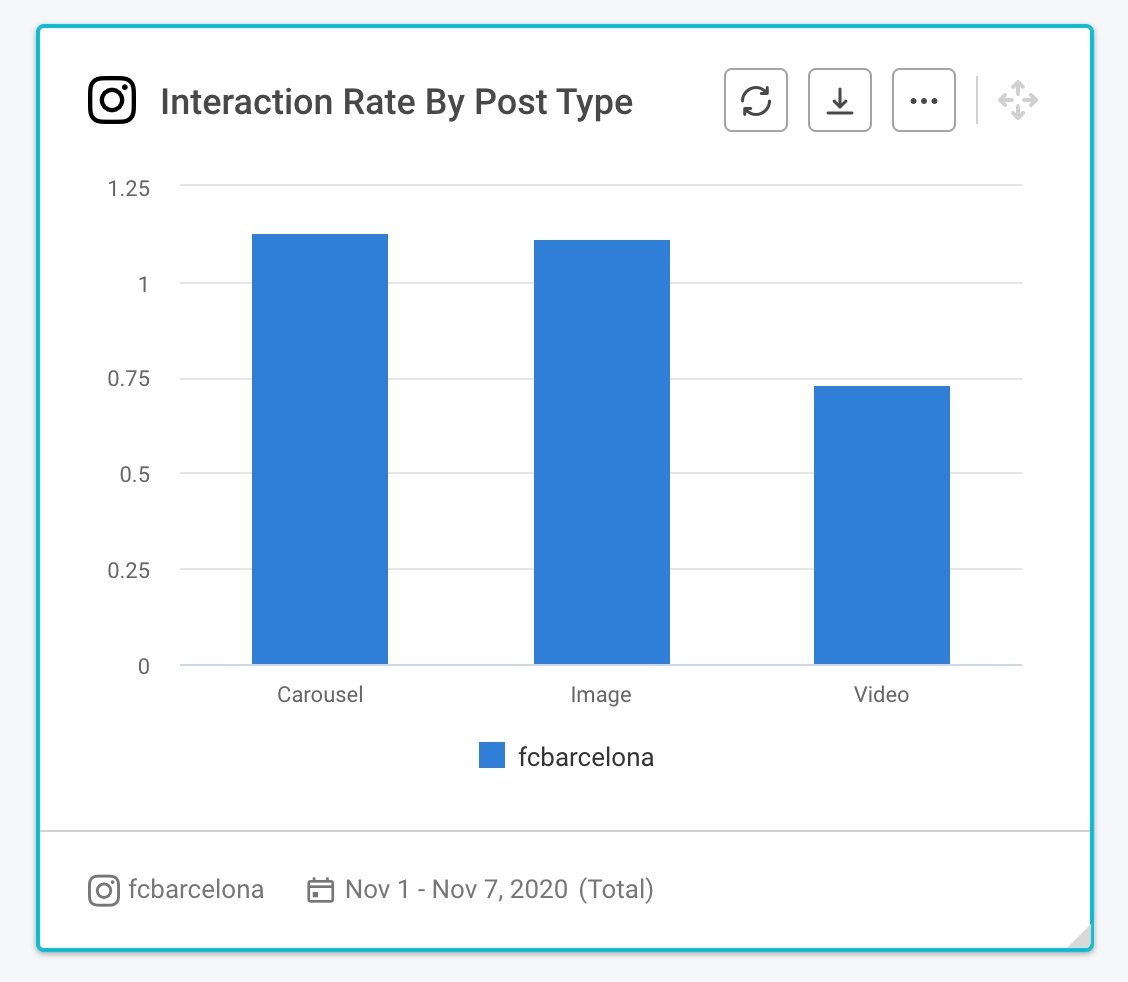 Retrieving high-quality data and presenting it in an easy-to-understand format is essential for creating an effective case study. And, it can shape the way your case study is going to look, depending on what specific data points you decide to focus on. So make sure you have all the necessary metrics and dashboards set up before you begin writing your content.
4. Write your case study
When you've got your client's responses to your questions and you've picked out some key data points to include, it's time to focus on the content of your case study.
To write an engaging case study, you must first grab the reader's attention with a great headline that's brief and clear. It can also mention the company name and a specific result they achieved.
Your headline could be something like: "Company A achieves X% increase in social media conversions with help from Y campaign".
As a subheading, summarize the contents of the case study in a single sentence so that even those who don't read the full article will get an idea of what you achieved.
Format your case study as a story with your customer as the protagonist. This can help to grab the reader's attention and take them on a journey with you.
When telling the story, remember to:
Describe where they began – the problems they were facing and the goals they wanted to achieve.
Explain what tactics you used to help them, and why you decided on this strategy.
Talk about how these tactics began to improve their results and bring them closer to hitting their social media KPIs and increasing ROI.
Keep the focus on your customer, using their own words to describe the situation.
Style and formatting matter. Your case study should be informative yet easy-to-read. So use conversational language and make sure the tone of voice is in keeping with your brand and appealing to your target customer.
Bullet points, short paragraphs, and images are good to break up the text. Make sure quotes and impressive statistics stand out, and cut down unnecessary words from quotes to keep them on-topic.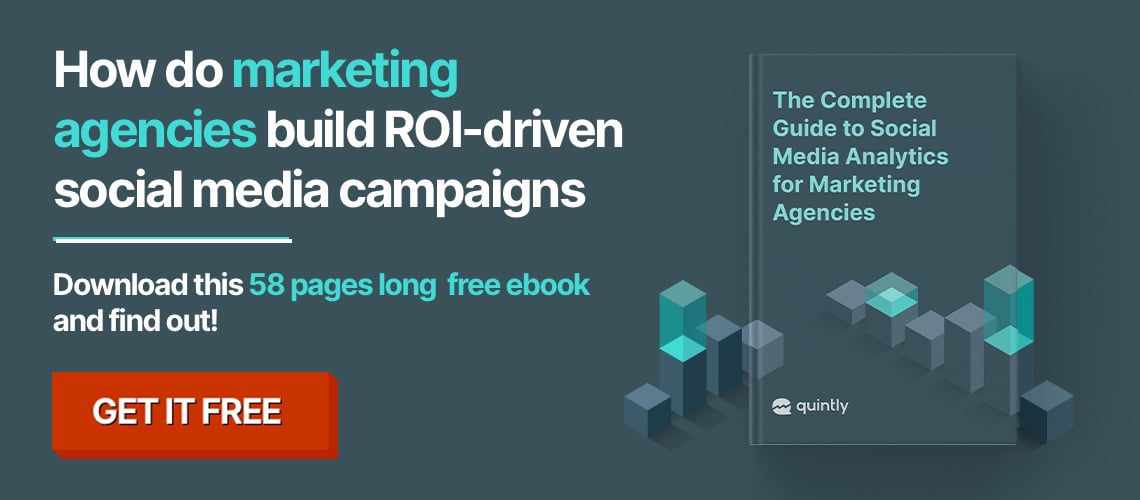 Case study example
At quintly, we use case studies to highlight the outstanding results that our customers have achieved.
For inspiration, you can read our social media case study on Benefit Cosmetics and how they increased their engagement by 50% using our platform.
Let's go through this case study step by step so you can use it for creating your own.
1. Write a headline and a summary
The headline must attract people's attention straight away. We did this by mentioning the company name, and a specific result achieved: 50% increase in engagement.
We've then summarized the case study in one sentence providing a key takeaway of what our client was able to achieve.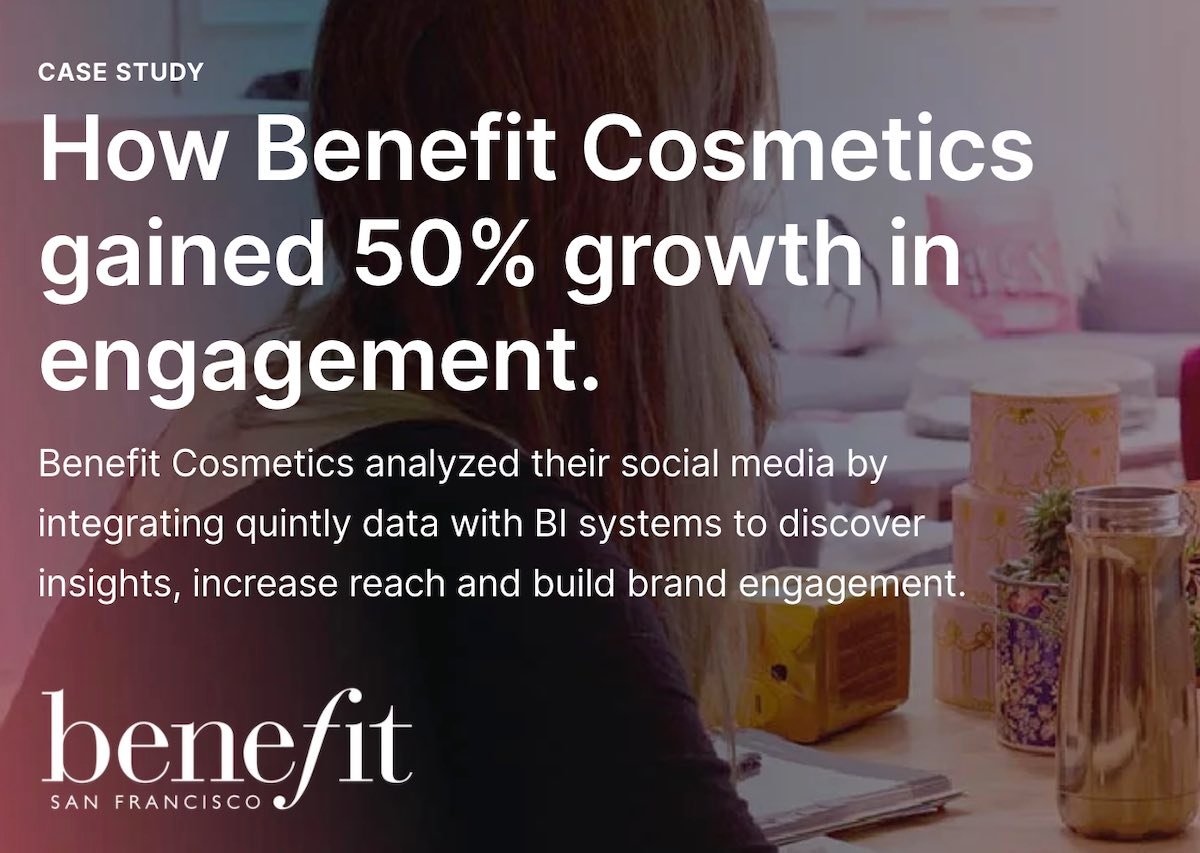 2. Provide background on the company
Who is your client? What do they do, and who is their target customer? Giving some background on your client will help readers relate to them.
Here, you can see that we provide some basic stats relating to the company and what the brand believes in.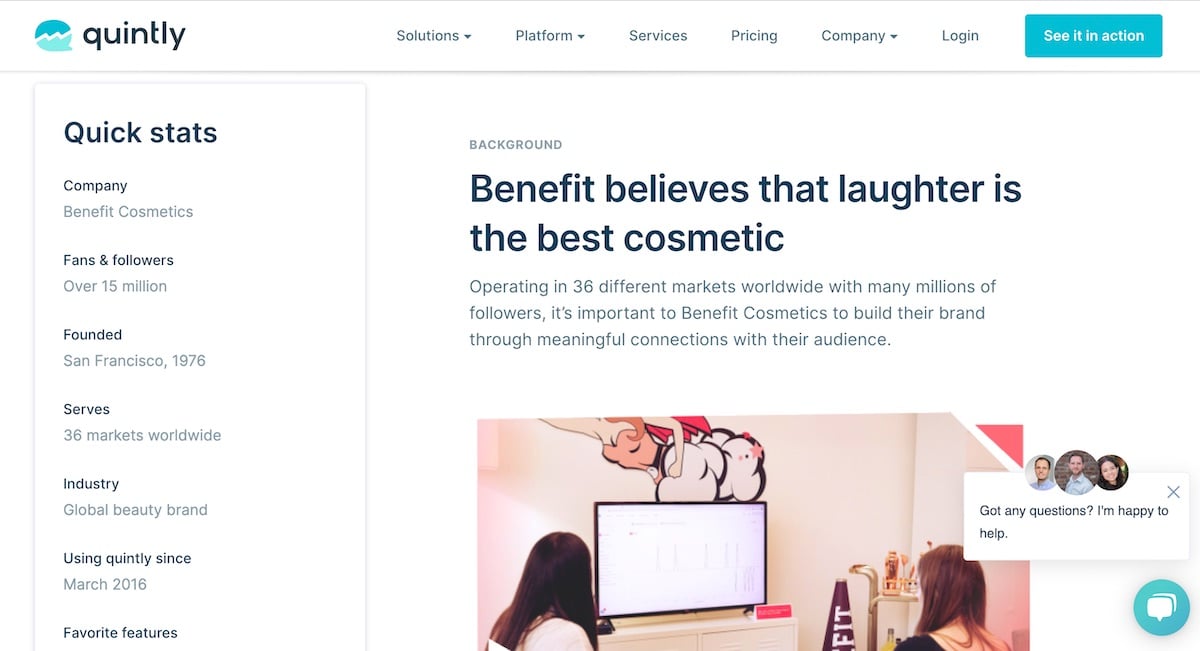 3. Highlight key results
Select a few of your most impressive metrics and make them stand out. We've chosen three metrics here that clearly demonstrate the success of our campaign.
4. Describe the problem or challenge
What wasn't working well for your client before they contracted your services?
In our case study, we used quotes from Toto Haba, Senior Vice President of Global Digital at Benefit to highlight the critical need for the company to produce great content and engage its audience through social channels.
We explained the problems they were facing, and how using quintly helped them overcome them.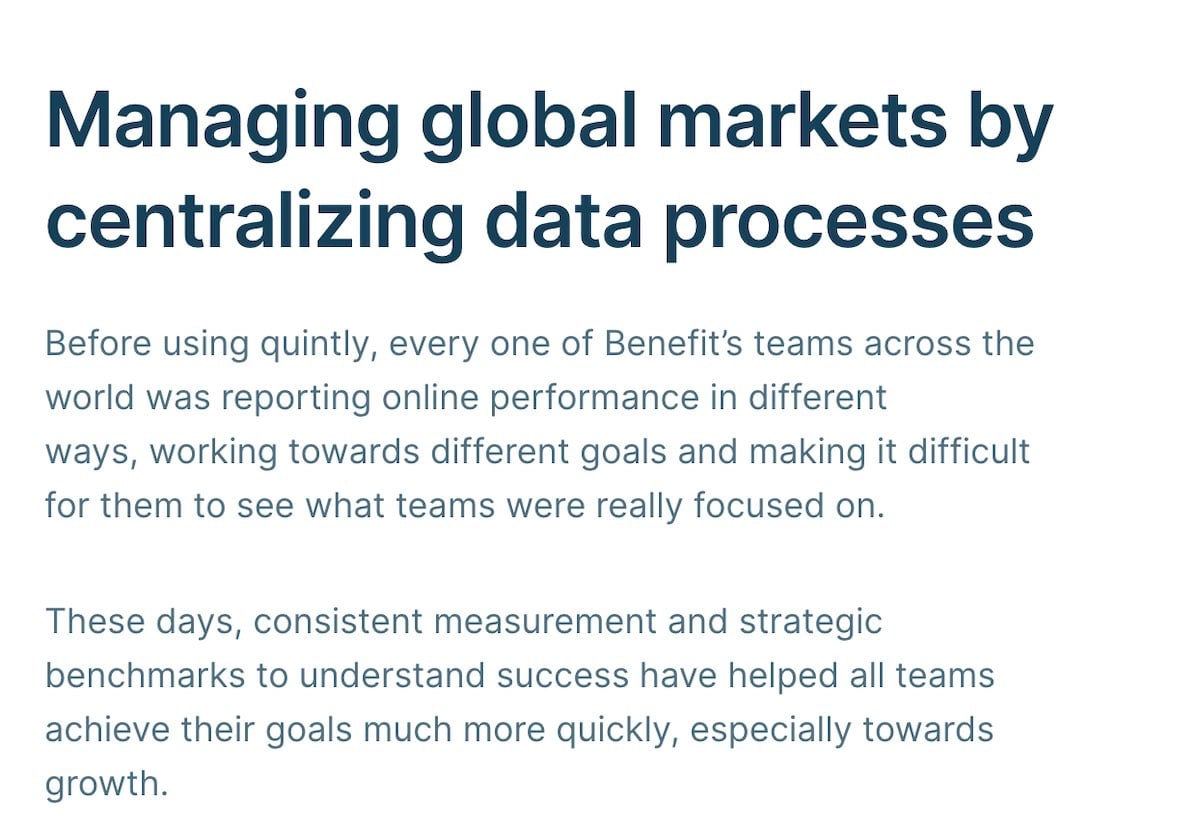 In your case, it could be that your clients don't have enough expertise in data tracking to effectively analyze their social media campaigns and create new strategies.
There may be various ways in which you've helped your client get better results, so don't be afraid to talk about them here, using direct quotes as much as possible.
5. Conclusion
You can close your report by summarizing once again the benefit that your clients has achieved.
Or, you can use another quote from your client's team, as we have done in our case study: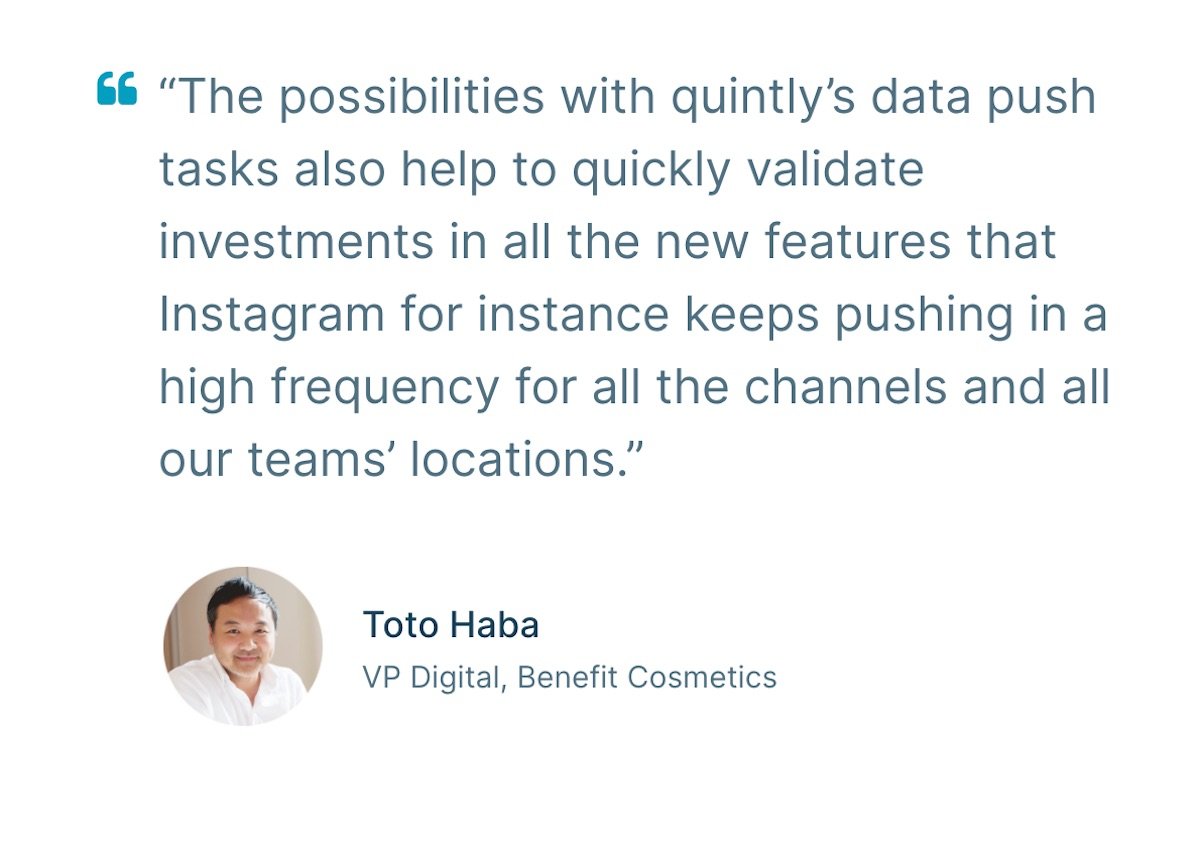 Collect and track data for your success stories
Collecting and analyzing data for case studies doesn't have to be a hassle.
With quintly, you can automate the whole process and access a wealth of high-quality metrics and dashboards.
Our tailor-made analytics solution for agencies can help you get amazing results for your clients on social media and have everything you need to put together your client testimonials.
So start automating your social media analytics now!