Looking back at this election, it has been quite a ride. With Donald Trump, a non-politician, real estate mogul and reality TV celebrity entered the race. He is out to challenge the "Washington establishment" while spurring lots of controversy along the way. And then there's Hillary Clinton, the former first lady and secretary of state, who will go down in history as the first female nominee for presidency in the USA. Despite all their political and personal differences, the democratic and republican candidates share one similar trait during their campaigns: the heavy use of social media. Let's see where they stand just shortly before election day looking back at data from the last six months in our US elections social media report.
Fan Distribution
One thing that has never changed since May 2016 was Donald Trump's lead over Hillary Clinton regarding their followers on both Facebook and Twitter. With 7.3 million fans on Facebook, he already had more than twice the amount than Clinton started with back in spring. However, the gap on their Twitter accounts has never been so large as that on Facebook.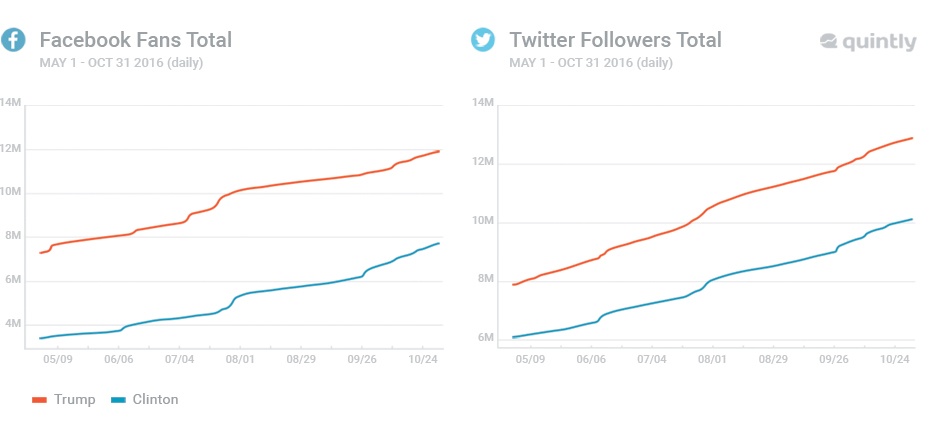 Looking at the relative fan distribution between them, there has been no real change in the last six months on Twitter. When considering Facebook, Hillary Clinton managed to catch up a bit. While she accumulated 31.6% of their total fans in May 2016, she is now at 38.8% showing a 7.2% increase.
Fan Change
One thing has become quite clear during our US elections coverage: fan change seems to be very much event driven. When you look at the graphs below, you can see the daily fan change between May and October 2016 for both candidates. All major bumps relate to certain events. However, these are not always election related. For example, Trump gathered around 100k new fans around the terrorist attack on a club in Orlando, FL on June 12.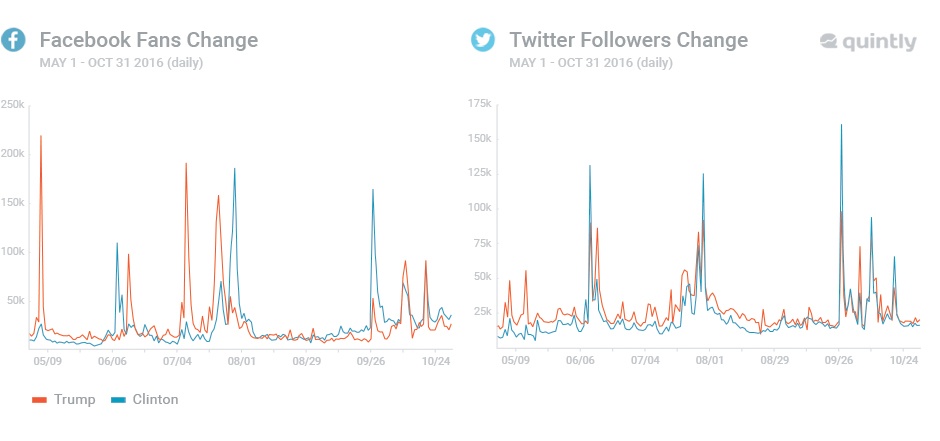 (Note: If the fan change is 1 on one day, the page received 1 new follower. If it is 100, it received 100 new followers. The same counts for a negative value, so -1 means that the profile has lost 1 follower.)
Trump's peaks:
May 4 - Becoming the presumptive nominee
June 12 - Terrorist attack in Orlando, FL
July 8 - Dallas shootings
July 21 - Republican National Convention
September 26 - First debate
October 9 - Second debate
October 19 - Third debate
Clinton's peaks:
June 7 - Becoming the presumptive nominee
July 27 - Democratic National Convention
September 26 - First debate
October 9 - Second debate
October 19 - Third debate
Total Number of Posts
Both candidates have been very present on social media and have posted a significant amount. While Hillary Clinton has sent around 800 more Tweets than Trump during the last six months, they just show a small differences in the number of posts they published on Facebook.
Overall, Clinton posted 1,462 times on Facebook and 2,836 on Twitter between May 1st and October 31st. Trump published 1,456 posts on Facebook and 2003 Tweets during the same period.
Total Interactions
Most social media managers aim for a high number of interactions on their published content as they hope to engage the followers. This is also true for political campaigns on social networks. On Facebook, interactions can be likes and reactions, comments and shares. On Twitter, these are replies, likes and retweets. Regarding interactions, Trump really shines. Not even in one month was he beaten by Hillary Clinton. Trump's strongest month was July on both Facebook and Twitter. Clinton achieved the most interactions on Facebook in September, the most on Twitter also in July.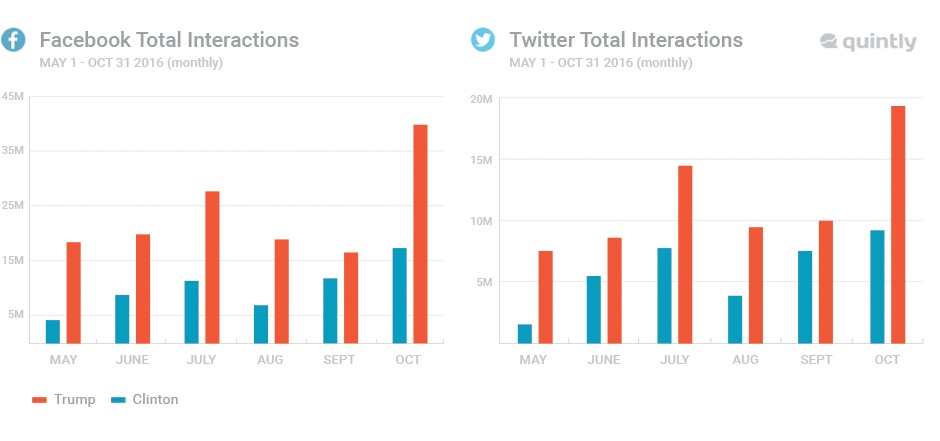 Overall, Clinton reached 60,598,609 interactions in Facebook and 31,442,348 on Twitter between May 1st and October 31st. Trump garnered 141,873,055 interactions on Facebook and 69,602,734 on Twitter during the same period.

Below you can see their most successful posts and Tweets based on the number of interactions the content received. Trump's post on Facebook is the overall winner on this network and Clinton's Tweet is the overall best performing on Twitter among both candidates.
Clinton's Facebook post with most interactions:
Trump's Facebook post with most interactions:
Clinton's Tweet with most interactions:
Delete your account. https://t.co/Oa92sncRQY

— Hillary Clinton (@HillaryClinton) June 9, 2016
Trumps's Tweet with most interactions:
How long did it take your staff of 823 people to think that up--and where are your 33,000 emails that you deleted? https://t.co/gECLNtQizQ

— Donald J. Trump (@realDonaldTrump) June 9, 2016
Sponsored Share
Facebook's advertising revenue is soaring and besides companies, parties and politicians also use this service to promote their agenda. This is why we have launched a state of the art machine learning process that helps detect sponsored content with an accuracy of 96%. According to this, both candidates have an increasing amount of paid content on Facebook as election day draws closer. Comparing the numbers from May to October, Trump started off with a rather small amount of sponsored posts. Hillary Clinton was also only at less than 30% at the beginning of this period. However, she had a steep increase in July. From then on, she boosted almost all of her Facebook content. However, it seems like she lowered the amount in October. While Trump has not reached these high of numbers, he has still increased the amount of sponsored posts over time and reached about 80% in September.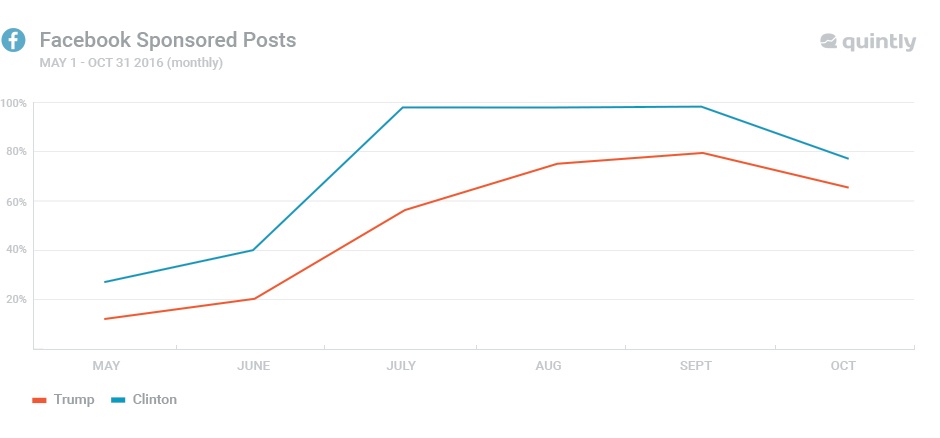 Key Findings
Our monthly analyses revealed some interesting facts about the campaigns on social media. Looking at fan change, it seems that, in politics, fan growth is very closely related to certain events, be that TV debates, conventions or other politically relevant incidents like shootings or terrorist attacks. It has also again become evident that posting a lot won't necessarily lead to more overall interactions. Considering Hillary Clinton on Twitter, she never reached the amount of interactions that Trump achieved despite her tweeting much more often than him.
His social media channels are also a lot more like a personal platform compared to Clinton's, who is using Facebook and Twitter as a kind of extension of her campaign. Considering the amount of sponsored content on Facebook, Hillary Clinton's team seems to give targeted social advertising a big part in the political marketing mix.
Prediction models like on FiveThirtyEight suggested a hard final stretch for Trump just a short time ago, projecting a chance of winning for him below 20%. He is currently at around 30%. Polls are also again narrowing, so the race will remain exciting until the end. However, no matter what the final result of this election will be, one thing is clear: Trump has changed the political landscape in the US. He has successfully established himself as a political force and stirred up his country with his often controversial and populistic style. Even if he doesn't become president, he will keep at least a large portion of his followers on both Facebook and Twitter, leaving him behind as a very influential figure after the 2016 race for presidency is over.
Follow us on Twitter and Facebook to never miss any news about social media analytics!