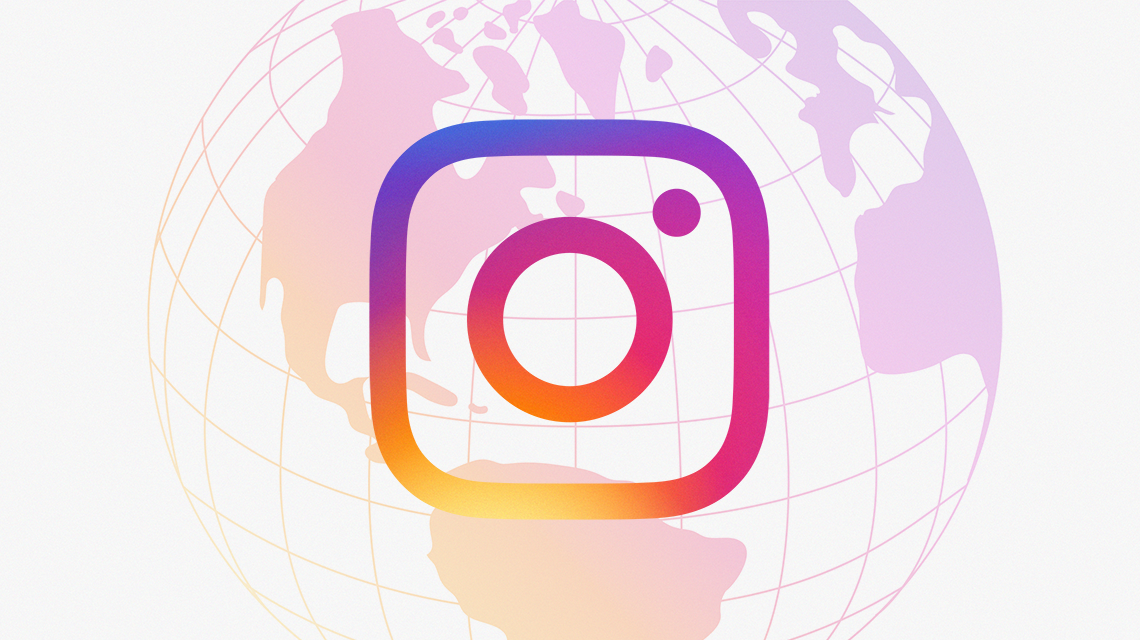 In recent years, Instagram has evolved from a photo-sharing app to a powerful marketing tool for businesses of all sizes and shapes: With 107.2 million active users, 90% of whom follow at least one business profile on the platform, Instagram is a place to be.
Instagram is also the most engaged social media platform for businesses, so it's no wonder that 25 million brands and 2 million advertisers use this platform to promote their products and services, connect with potential customers, drive website traffic, and increase e-commerce sales.
However, having an Instagram presence isn't enough to hook the attention of your target audience. Not only do modern people connect with their favorite brands on Instagram, but they also want to get a resolution or response when calling out businesses.
Simply put, people use
. What is more, they crave outstanding customer service on Instagram (it must be timely and attentive).
Any proof needed? According to one GetVoiP study, 77% of people would recommend a company to a friend after having a positive experience with them on social media, 64% of consumers say that they expect real-time assistance, and 52% of customers expect resolution within a day when using social media for customer support.
To stand out from the crowd of your competitors, you need to meet your customers' expectations, so using Instagram in your customer service strategy is a must. If you want to provide your target audience with outstanding customer service on Instagram, here are three steps for you to take.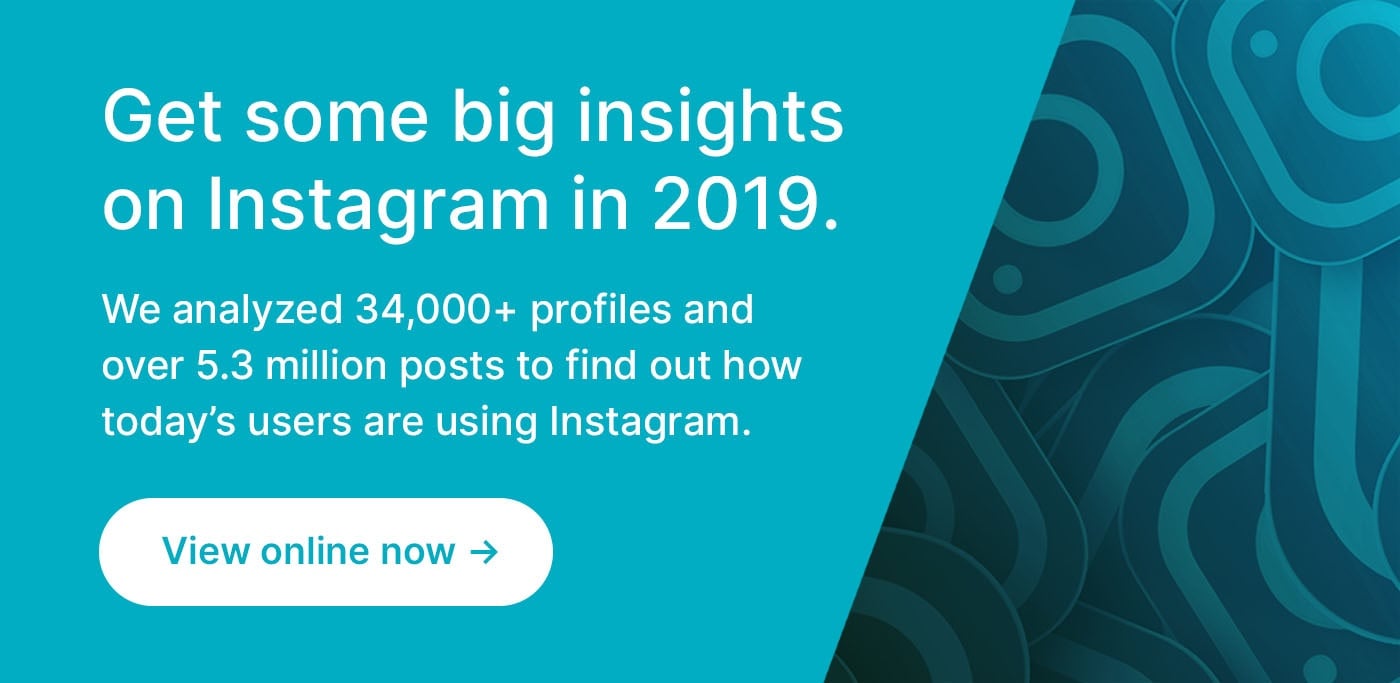 1. Make it easy for customers to get in touch with you
First things first: People have the average attention span of 8 seconds which means they have neither time nor desire to examine your Instagram profile looking for ways to connect with you.
If people can't reach out to you when they have questions or concerns, it leads to a negative customer experience that affects your brand reputation. When it comes to customer service on Instagram, it's important to make it easy for your visitors and followers to get in touch with you on the platform.
Let's find out actionable ways to improve customer experience with the help of Instagram business-friendly features.
Write about your customer support in the bio section
First impression matters. When people visit your Instagram, the bio section is one of the first things they see, so it's your visit card. Although it's limited to 150 characters and one clickable link, it's enough to optimize it for customer service.
Let's take a look at Adidas Women. As one of the world's most popular sportswear brands, the company constantly receives hundreds of comments and brand mentions on Instagram. Since Adidas knows the importance of providing excellent customer service on the platform, it uses its bio section to show its customers how to connect their customer support effectively by sending a direct message:

However, not all companies can meet their customers' direct messaging demands on Instagram, so they often use other social media platforms for customer service. Here's an example from Air France:

And here's another one from Toyota USA. The company doesn't have the customer support team for social media, so Toyota uses its bio to ask customers to connect them via phone:


If you use Instagram for providing customer service, that's great. It's a great idea to use your bio section to tell your customers how to contact you on Instagram. Here are several proven tactics you can try:
Write how to contact you on Instagram
Use emojis to illustrate your text
Add live chat link
But if you don't monitor customer requests on Instagram, it's better to tell your visitors that you don't provide customer service on the platform and offer them alternative ways to get their requests solved.
Add various contact buttons
Using Instagram for business promotion, it's important to set up a professional account as it offers different features that can help your brand achieve business goals. For example, you can add contact buttons to make it easier for your customers to get in touch with you.
Calling you out on Instagram, your customers may still want to use other contact options to share their customer experiences with your brand. It makes sense to offer contact options your audience prefers. According to one poll, the old-school methods of communication still work well for modern customers: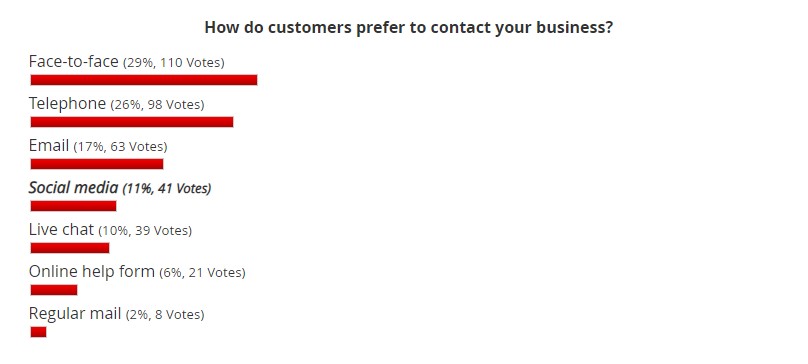 Thus, it's a great idea to offer various contact options for your target audience's taste. For instance, Hydro Flask allows its Instagram visitors and followers to send a direct message and the company also provides two contact options to help customers reach out to the brand via either a phone call or email: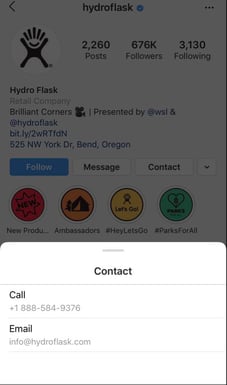 It's no secret that customers are different, so it can be hard for businesses to meet every consumer's needs and wants. However, offering several contact options on Instagram is a perfect way to help your worried customers get in touch with you straight from your profile.
Make sure people can comment on posts
For most users, the easiest way to share their thoughts with brands and hope for the reply is to leave them in the comment section. Thus, it's no wonder that popular companies manage a barrage of both satisfied and dissatisfied customers on Instagram.
People want to help other customers make the right purchase decision, so consumers tell an average of 16 people about a negative experience. In other words, comments can hurt your brand reputation, so it can be tempting to turn off commenting on your profile.
However, it's a bad idea; you need to make sure people can comment on your posts. Why? Not only does it help to increase social media engagement, but it also allows you to understand your customers' pain points.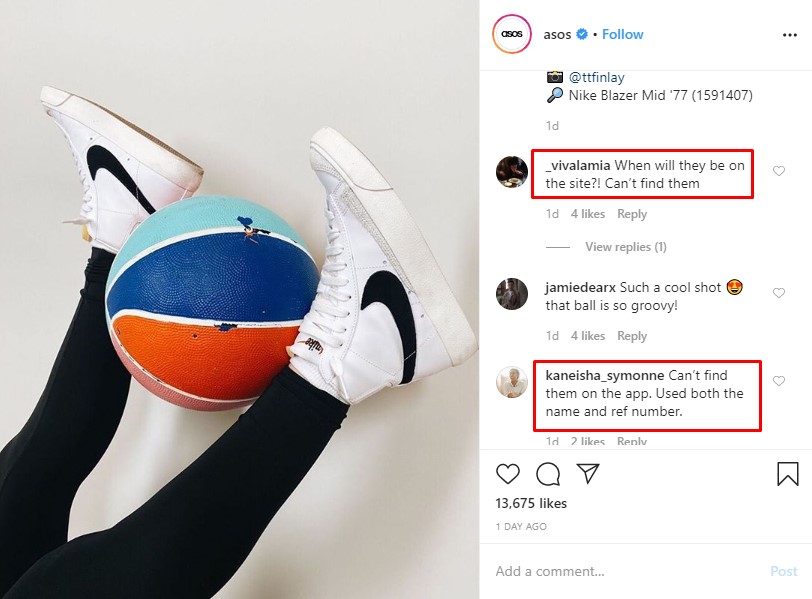 Comments are a valuable source of information about your customers, their thoughts on your product or service, and their experiences with your brand. Thus, it's important for businesses to allow customers to leave comments, read them, and analyze them for better customer service.
2. Get ready for providing customer service
No matter what your business niche is, you must be ready for handling customer requests on Instagram. And if you want to make your customers happy and satisfied, it's important to solve their requests fast. In other words, you need to be ready for providing customer service, and the following tricks can help you save time.
Turn on notifications
Outstanding customer service is about being active 24/7 online. When reaching out to brands on Instagram, users expect to get a reply or resolution fast even if they share their customer experiences with you when you're not active online. What is more, people are more likely to contact you when you're outside of your working hours.
Here's the catch:
As specified in the quintly Instagram Study, users interact with content 27.3% more on weekends than they do on weekdays. This means consumers may call out brands on Saturday and Sunday when you don't expect your followers to be active online.
If you want to keep up with your customers and provide outstanding customer service, it's important to make sure you never miss a message, comment, or mention from your customers. In other words, turning on notifications is a must.
Here's how to turn on notifications for posts, stories, comments, and direct messages: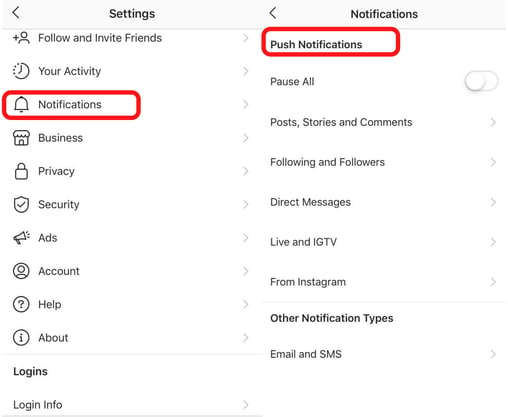 Create an FAQ Story Highlights album
More often than not, potential customers do research before buying products. And it's more likely that they have questions about your product as they want to make sure it can meet their needs and wants.
If you want to help your customers save time and improve customer experience, it's a great idea to create an FAQ story Highlights album that will appear right below the bio section. Not only can you help visitors find answers to their questions with ease, but you can also keep your Instagram feed cohesive.
What is more, over 500 million people use Instagram Stories daily which means this type of content is extremely popular among users. It's no wonder that big brands use Story Highlights for customer service. Check out how Dunkin' uses Story Highlights to feature its frequently-asked questions and answers to them: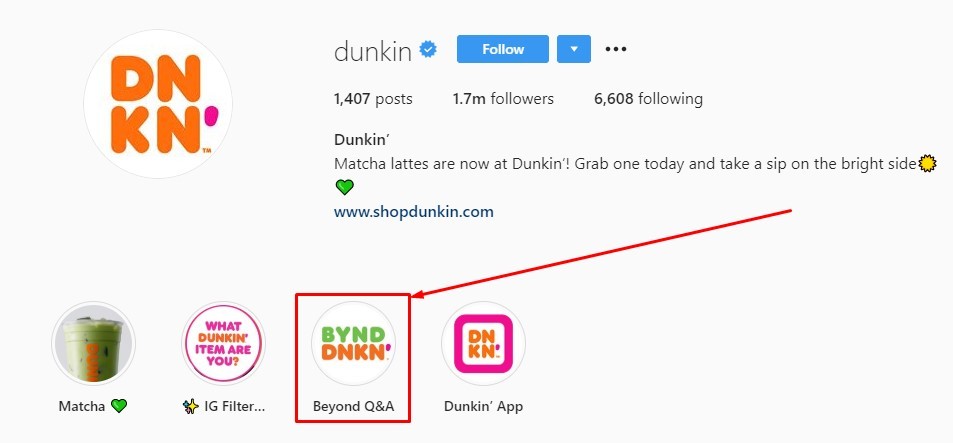 And if you want to go the extra mile, learn from Bali Body as this brand has several Story Highlight albums with FAQs for different products: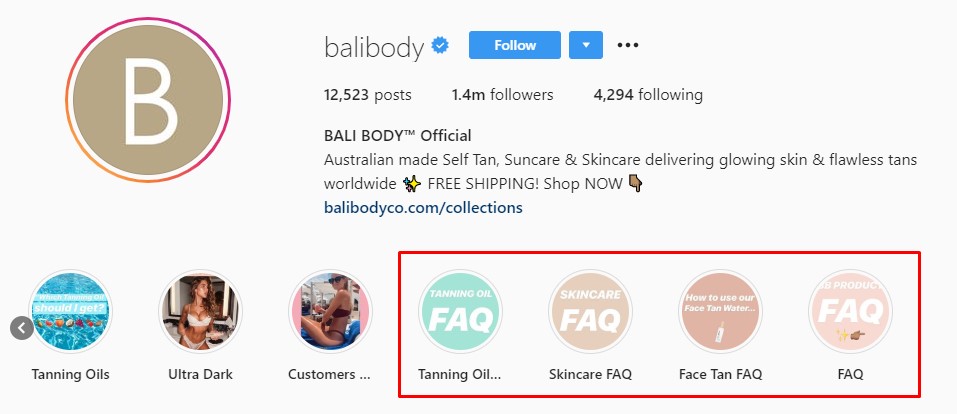 Having an FAQ Story Highlights album is a great way to provide quick information about your products and therefore reduce the time your customer support team needs to answer simple questions.
Use the quick replies feature
Do your customers use direct messages for communication? Do you receive the same questions often? Use the quick replies feature that allows you to create the list of canned responses to improve communication between your customer support team and your followers. It's a must for brands that provide customer service on Instagram.
With the quick replies feature, you can create and use previously formatted responses to insert them into a direct message. It's a great way to avoid typing the same response again to different people. Thus, it helps to solve customer inquiries faster without sacrificing the quality of your reply.
Here's how to set up quick replies and create the list of responses to the questions you receive more often: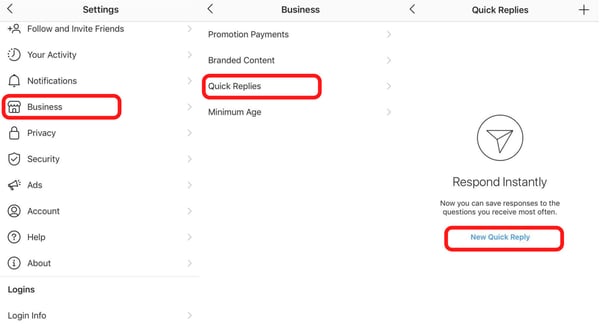 3. Deliver proactive customer service
With a variety of options on the market, customer expectations are rising daily. When it comes to customer support, people crave proactive customer service which means your brand can identify and resolve customer issues before they become problems. All in all, proactive customer service is all about knowing your target audience from A to Z. Here are several ways to deliver proactive customer service on Instagram.
Dive into Instagram insights
To offer help before followers ask for it, you need to know your target audience well. There's no better way to understand what resonates with your following best than taking a look at Instagram Insights, a free Instagram feature that helps businesses learn more about followers, their behavior, and preferences.
Whether you want to track reach, impressions, and interactions or measure the performance of your content, in-app Instagram Insights can help you a lot. But if you want to get advanced data on your following, consider using an analytical tool like Quintly as it offers Instagram Analytics.
Here are the key metrics you can track that matter for customer service:
Followers: Get in-depth insights on your following growth.
Content & Interactions: Understand what posts work best for your audience and how your followers interact with your content.
What is more, you can create reports, export and share them with your customer support teams for a better understanding of your followers. All in all, diving into Instagram insights is a proven way to meet customer expectations with ease.
Ask questions about your product
Instagram is a valuable source of customer feedback. If you want to understand your customers and their preferences, ask followers to share their thoughts on your product. No matter what tactic you choose, whether you put a question in the caption or collect customer feedback with Instagram Stories, the main idea is to show that you put your customers first.
For example, Logitech creates customer satisfaction surveys to include in the bio section and includes a call to action in the caption to grab the attention of its followers and invite them to share their experiences.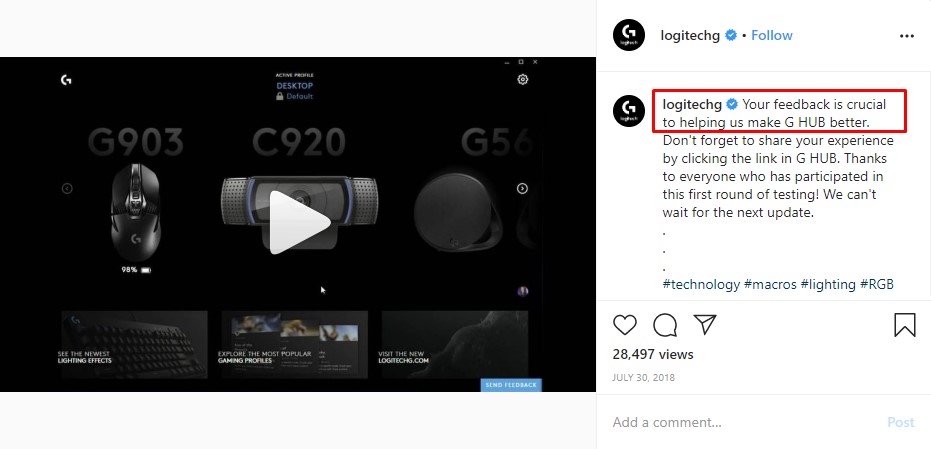 Listening to your followers is a proven way to understand them better and therefore take the first step in helping customers. Here's how to motivate customer feedback on Instagram:
Ask questions about your products and accept both positive and negative feedback if needed.
Make it easier for customers to share their thoughts by opening the comment section and using the clickable link in the bio.
Use interactive Instagram Stories features like polls, emoji sliders, question stickers.
Monitor brand mentions
Analyzing your Instagram profile isn't enough to understand your customers. It's harsh but true: Not all customers follow your business on Instagram. In fact, 96% of conversations about your brand come from people who don't follow you on Instagram.
Here's how customers spread the word about business on their profiles: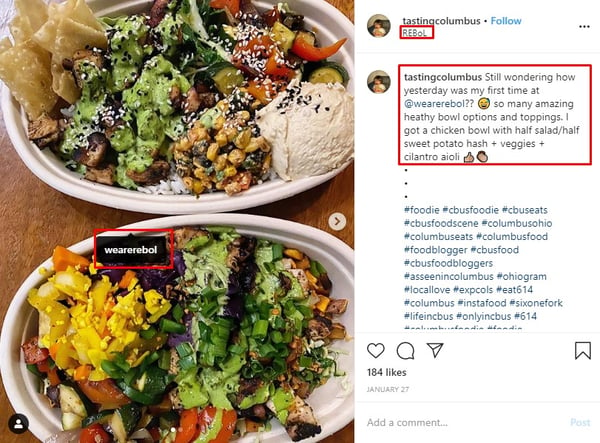 If the customer tags your business profile, you get a notification that helps you interact with the person and solve issues if needed. However, there's no need for consumers to follow your brand, add a location, or tag it when sharing their thoughts on your product.
When sharing customer experiences on Instagram, people want to help other customers, not your brand. For brands, this means that they can miss out on a great number of conversations if they don't monitor brand mentions.
The solution? Use social listening tools to get the whole picture of your brand reputation and customer satisfaction. After all, it's a great way to get an in-depth understanding of your target audience and therefore offer help before your customers ask for it.
The sum up
The days when Instagram was a simple photo-sharing app are far behind us. Not only do modern people use this platform for product discovery, but they also call out brands to get their requests solved in-app.
For brands, this means the importance of providing customer service on Instagram to meet customers' expectations and stay ahead of their competitors. To make the most out of your Instagram marketing, you need to provide outstanding customer service and the above-mentioned tips can help you make this process easier for your customers and you.

Related articles
How to Structure Digital Customer Service Successfully
5 reasons why you should use social media to connect with your customers
How to identify social media trends in an ever-changing marketing world
40 social media buzzwords every marketer needs to know