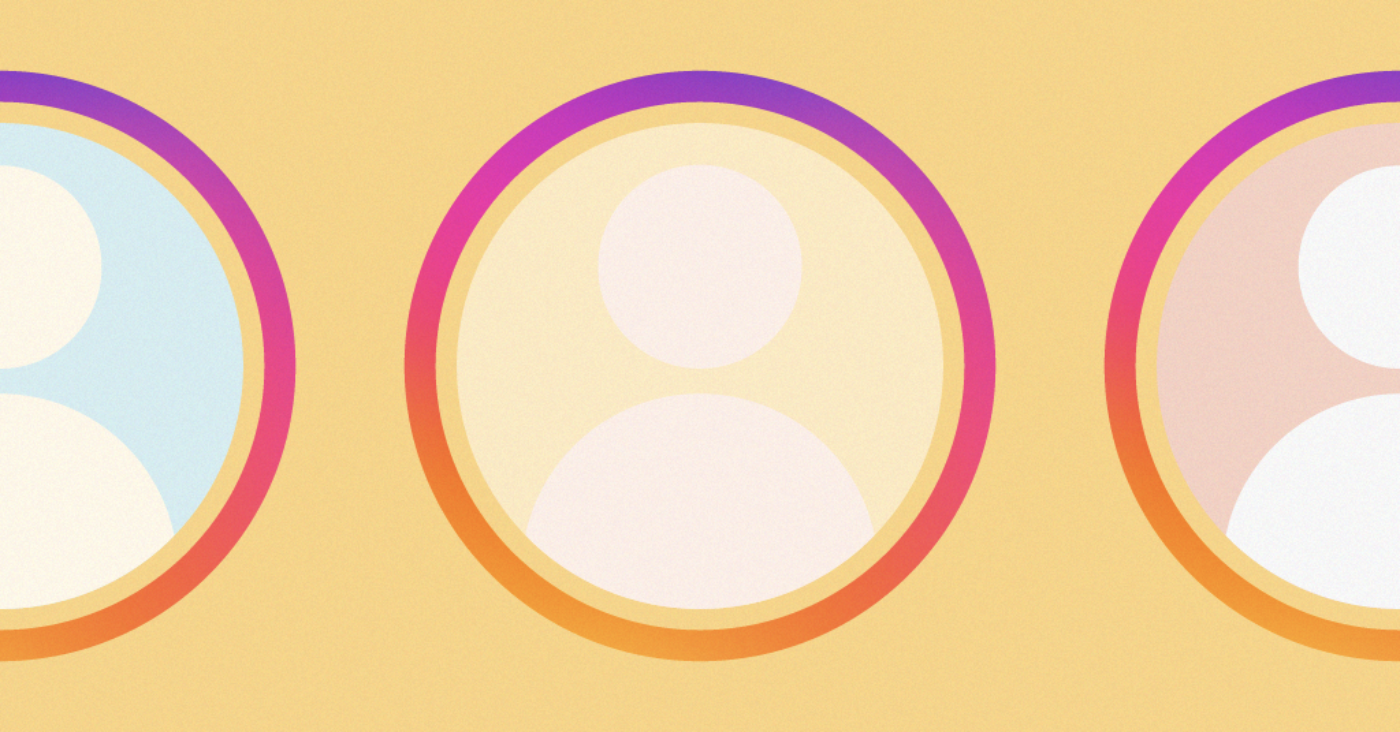 Over the last three years, Instagram Stories have become an important element of a successful social media strategy. With a limited lifespan of 24 hours, Instagram Stories create the fear of missing out (FOMO), so this form of content engages.
Today, over 500 billion people use Instagram Stories daily and people spend more than 32 minutes a day on Instagram. Instagram knows the power of short-lived content, so it rolls out new features to help brands interact with followers. From the countdown sticker to shoppable tags, there are many ways for brands to achieve business goals with Instagram Stories.
Want to know the best part? Instagram Stories help to get immediate feedback on customers' experiences and beliefs.
Although using Instagram Stories isn't the most obvious way for marketers to ask for customer feedback, it's still a critical one. And when you know some Instagram Stories hacks, you can get even better results.

So, who else wants to understand how to collect customer feedback with Instagram Stories? Here comes the list of seven ideas that may help you:
1. Add a Poll to Understand The Popularity of Products
An easy way to ask your followers for opinions is by using Instagram Stories polls. Limited to two customizable answer options, this poll is a simple and easy way to understand your followers better. Not only can brands increase engagement, but they can also find out their customers' preferences, so it's no wonder that many brands use Instagram polls.
With Instagram Stories polls, you can ask whether your consumers want to receive brand news via email, learn about sales, or even get multilingual customer service.
Let followers vote for either yes or no and analyze the data. What is more, you can contact people who voted for receiving brand news via email to ask them to join your email list - it's a great way to establish a connection with your potential customer and get business results.
When it comes to using Instagram Stories polls, Sephora is more creative than most brands. Instead of putting a question or the default responses, the company uses visuals to encourage followers to vote for their choice: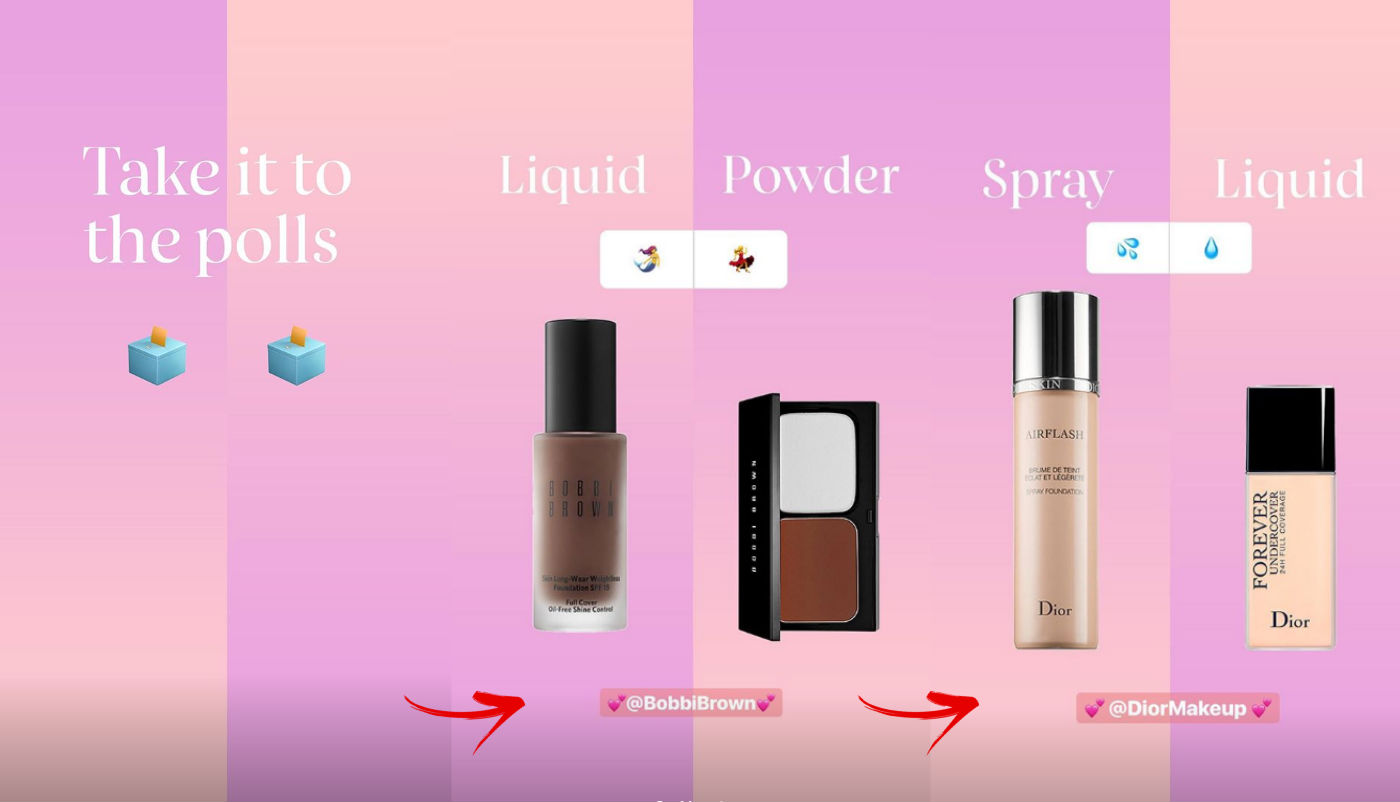 2. Use the Emoji Slider to Let Followers Rate Products
Back in 2018, Instagram introduced the emoji slider sticker as an interactive way to ask more nuanced questions. Since people are 4x more likely to respond to a message containing an emoji, this Instagram Stories sticker helps to use an emotional appeal, and therefore encourage followers to take action faster. In other words, it's interesting for people to use the emoji slider to share their thoughts about your product.
It's no wonder that brands use the emoji slider to understand their followers better. Let's take ASOS, for example.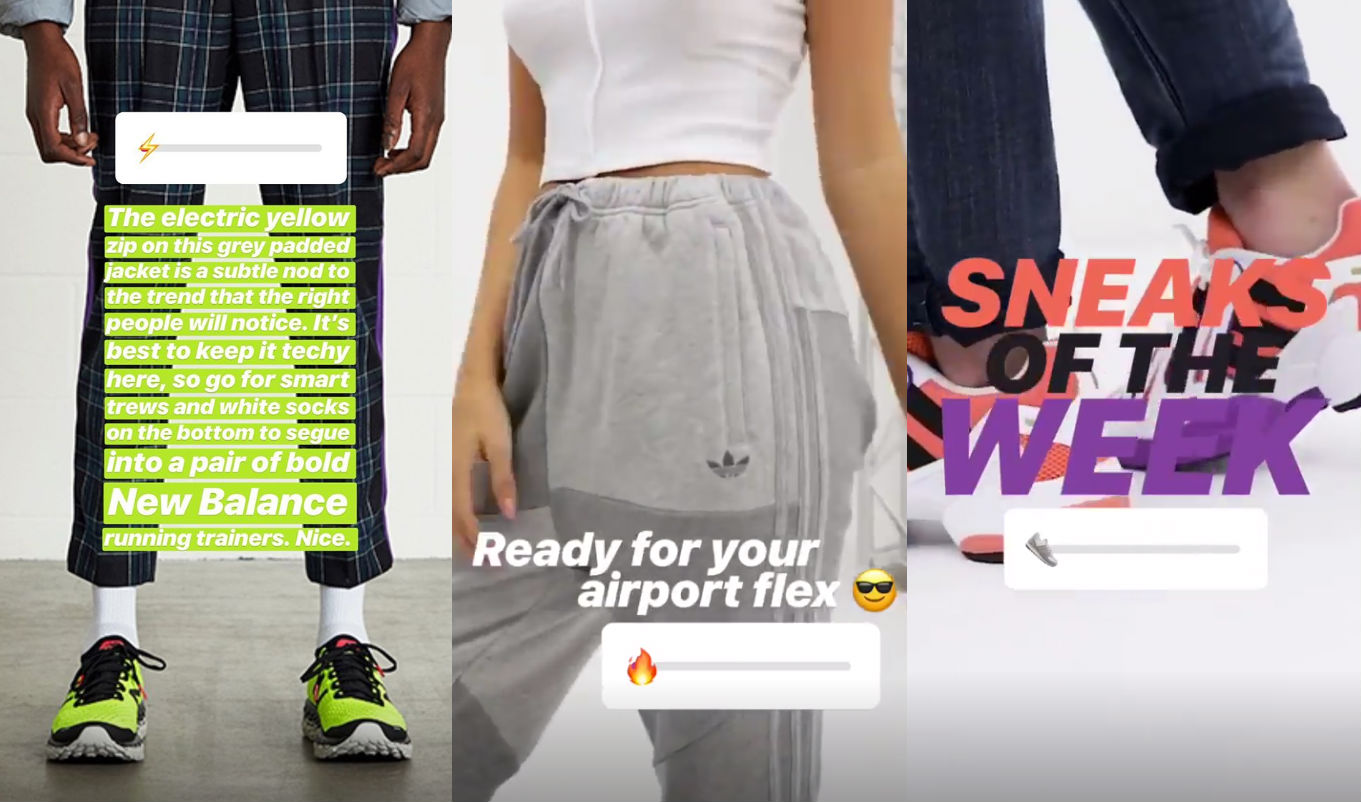 The emoji slider helps brands understand how individual friends answered as well as the average answer. And there are many ways to use this feature. While ASOS uses the emoji slider to rate one product, Hubspot knows how to make the most out of this feature. The company encourages followers to slide the emoji to the left or right to answer the questions: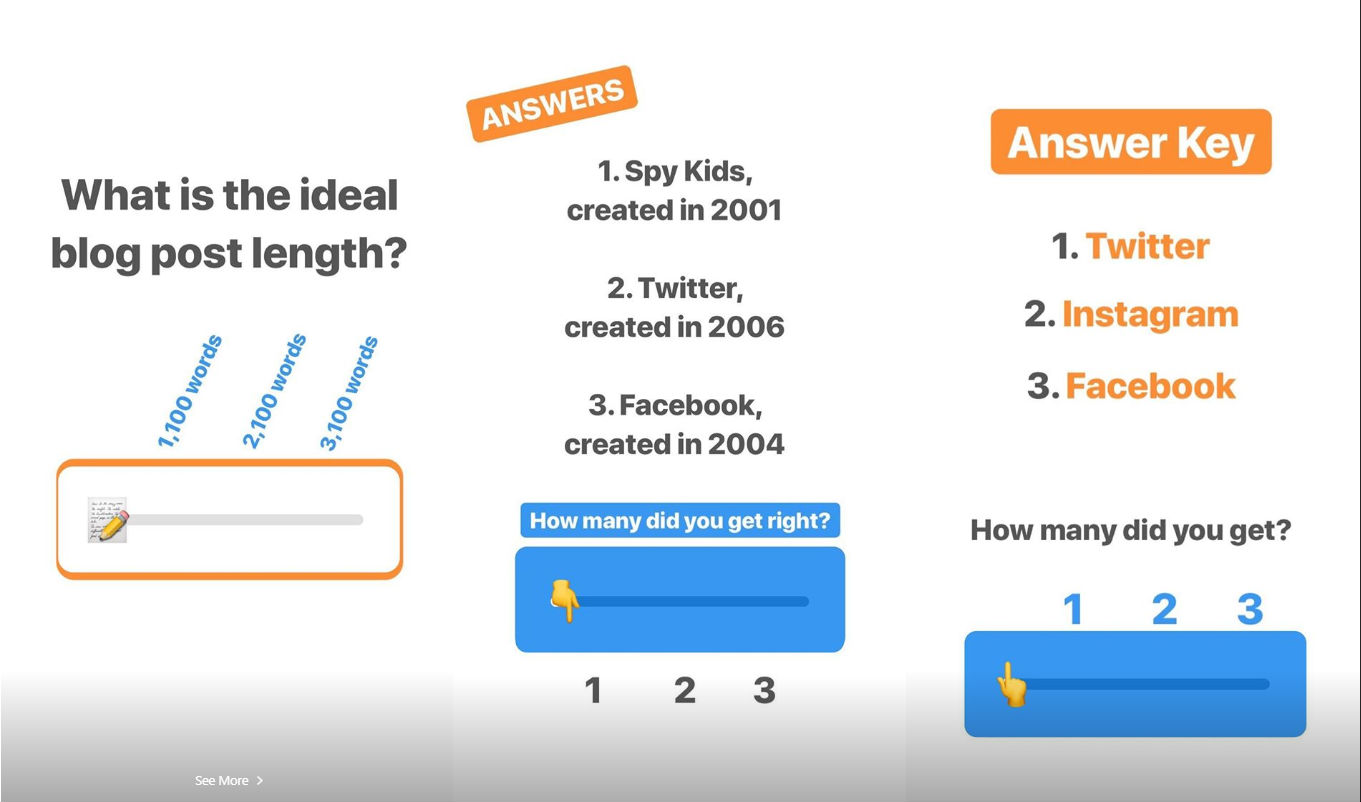 3. Collect Feedback with Question Stickers
Want to know more about your customers' thoughts and preference? Don't limit them to 'yes/no' options; use question stickers to ask open-ended questions and collect in-depth customer feedback.
Although it requires much time and effort to make up replies to these questions, Instagram followers are still interested in sharing their thoughts, so they are more likely to start a conversation if your question is short and sweet. Just take a look at how Starbucks does it: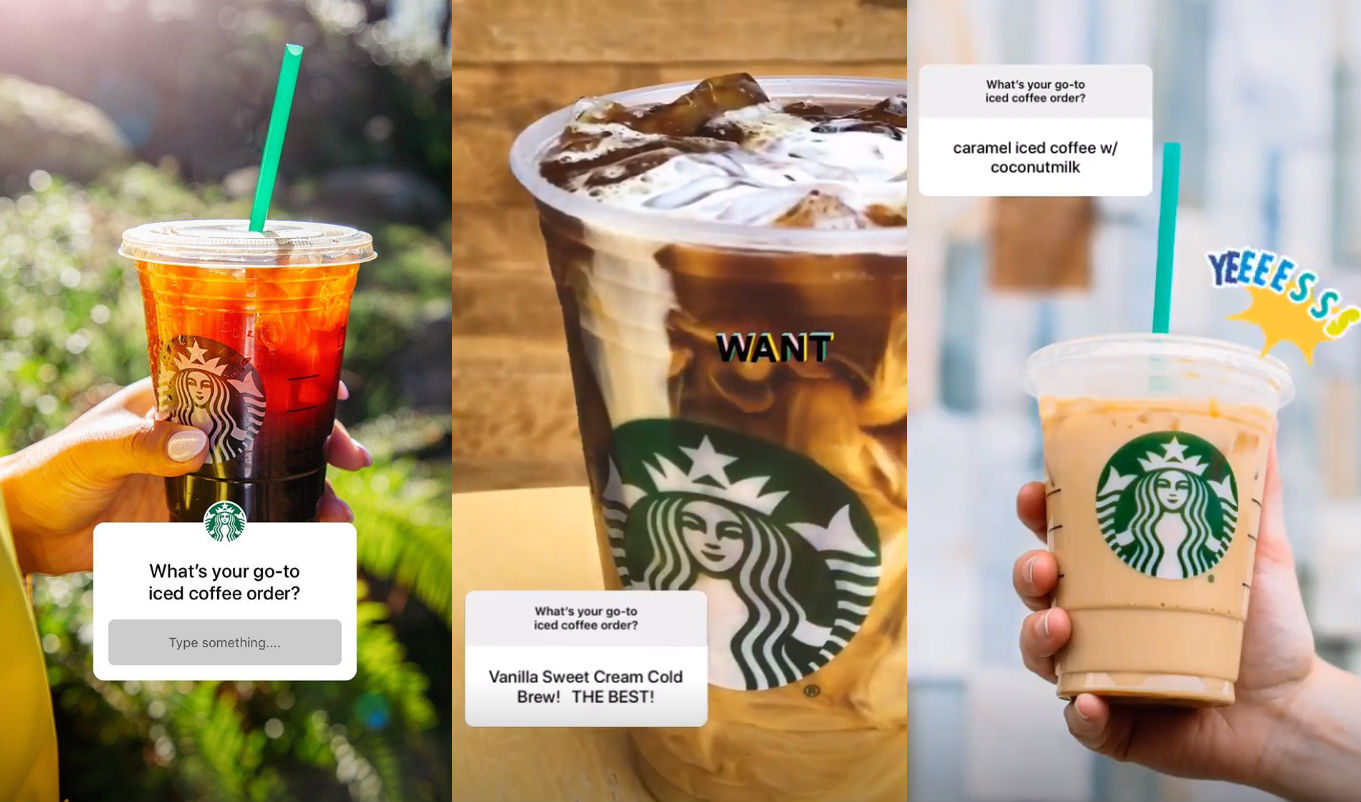 Since people love sharing their thoughts on social media and 80% of the posts are about ourselves, Instagram is a rare source of candid consumer opinion. What is more, companies can involve customers in a new product development. Here's how Lancome did it in honor of a new product launch: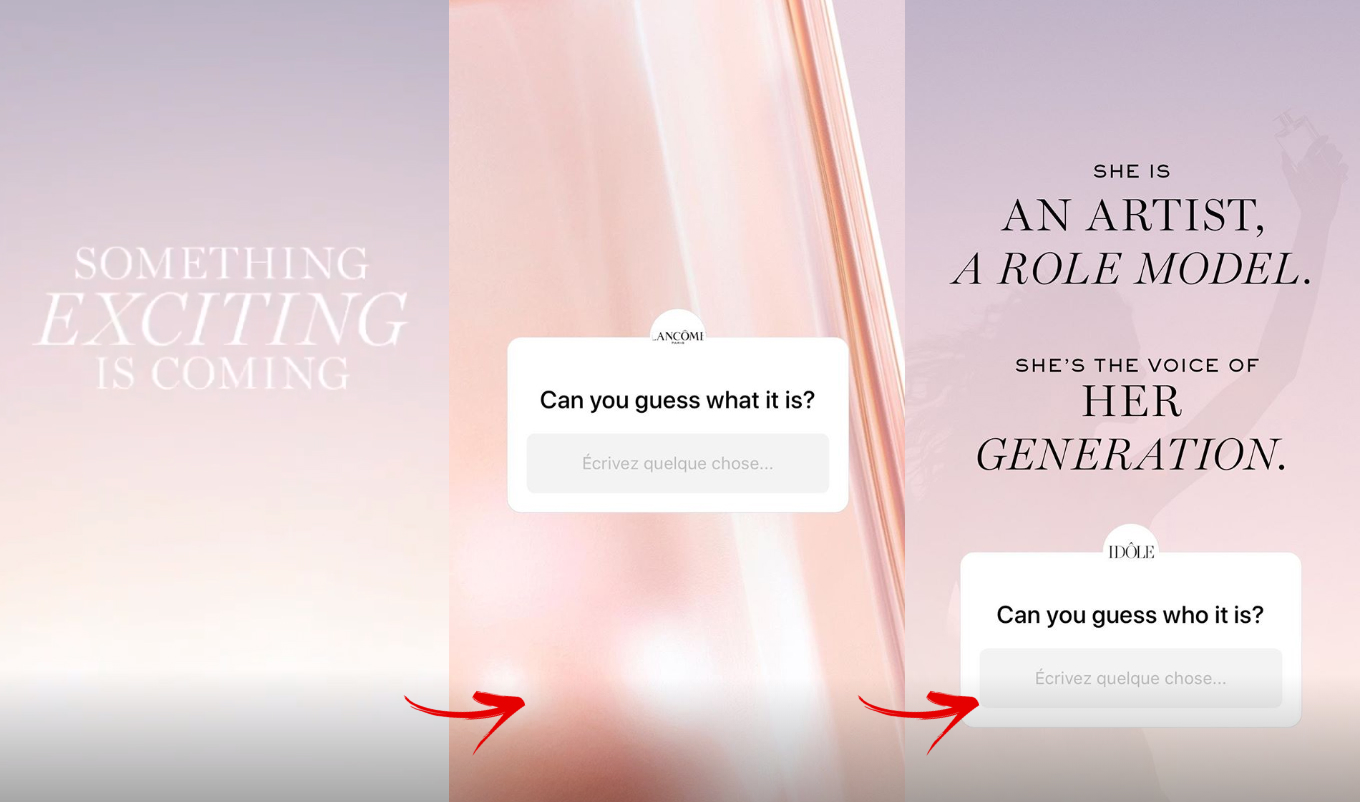 For the company, this means understanding their customers better. Analyzing their replies, Lancome can understand customers' expectations as well as other celebrities who influence their target audience.
4. Test Your Followers with the Quiz Sticker
Another great feature to engage your followers and collect feedback is the quiz sticker. Since people love quizzes, it attracts followers, so brands can use this feature for business. For example, Dunkin' Donuts created a quiz to test its followers to understand how well they know the company's history: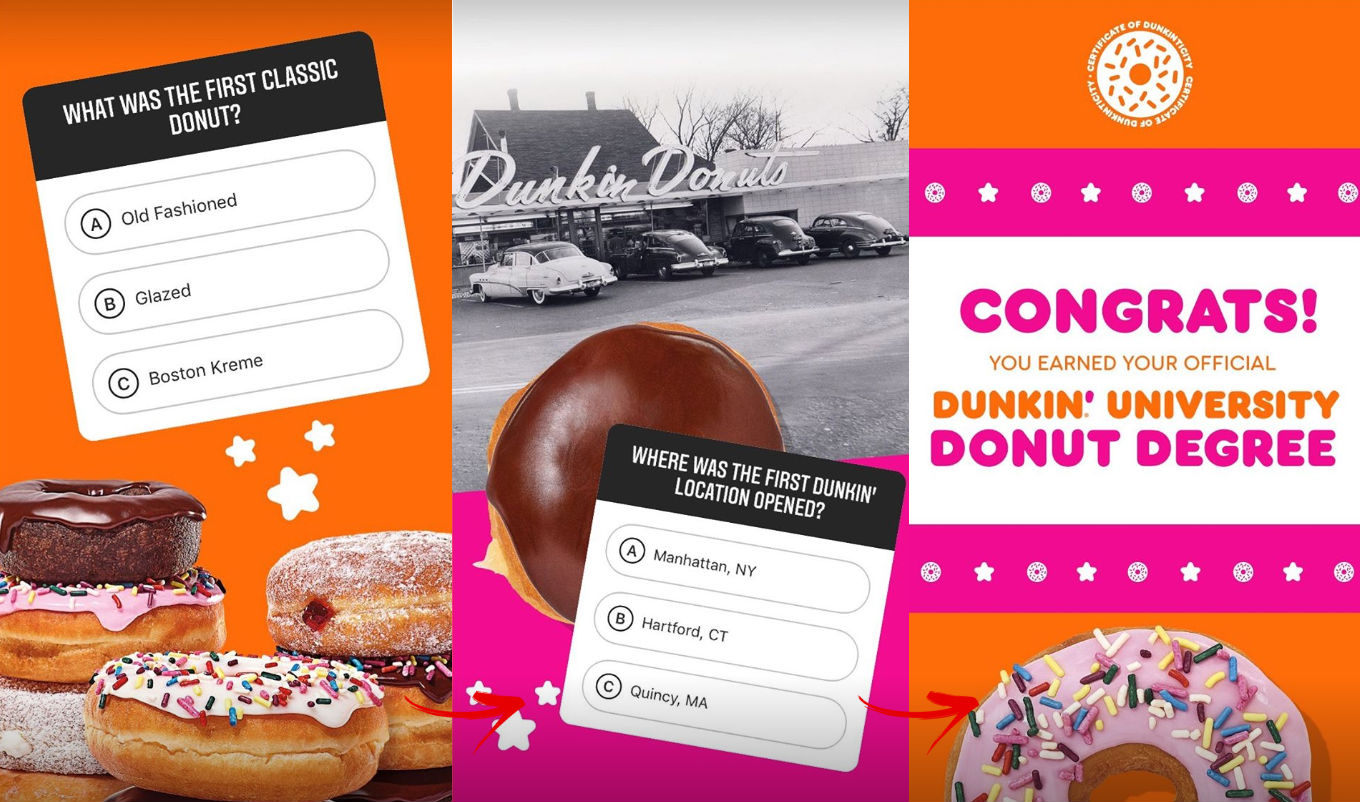 However, there are other ways to use the quiz stickers and gather customer feedback. For instance, brands can ask about their must-have products and provide 3-5 product options to see which one is the most favorite.
It's easy to get the quiz results and see who responded and how they did it by swiping up the Instagram Story. This information can help businesses understand how well followers know their company and product or what preferences they have.
5. Create Clickable Stories Links
If your account has reached 10k followers, there's an amazing opportunity for you to bring Instagram marketing to the next level - clickable stories links. With clickable IG Stories, it's easy to insert a link and direct followers to the content in-app.
Today, many brands generate website traffic with clickable links. For example, Bali Body educates its followers about products and lets them learn more about the products with the help of website pages: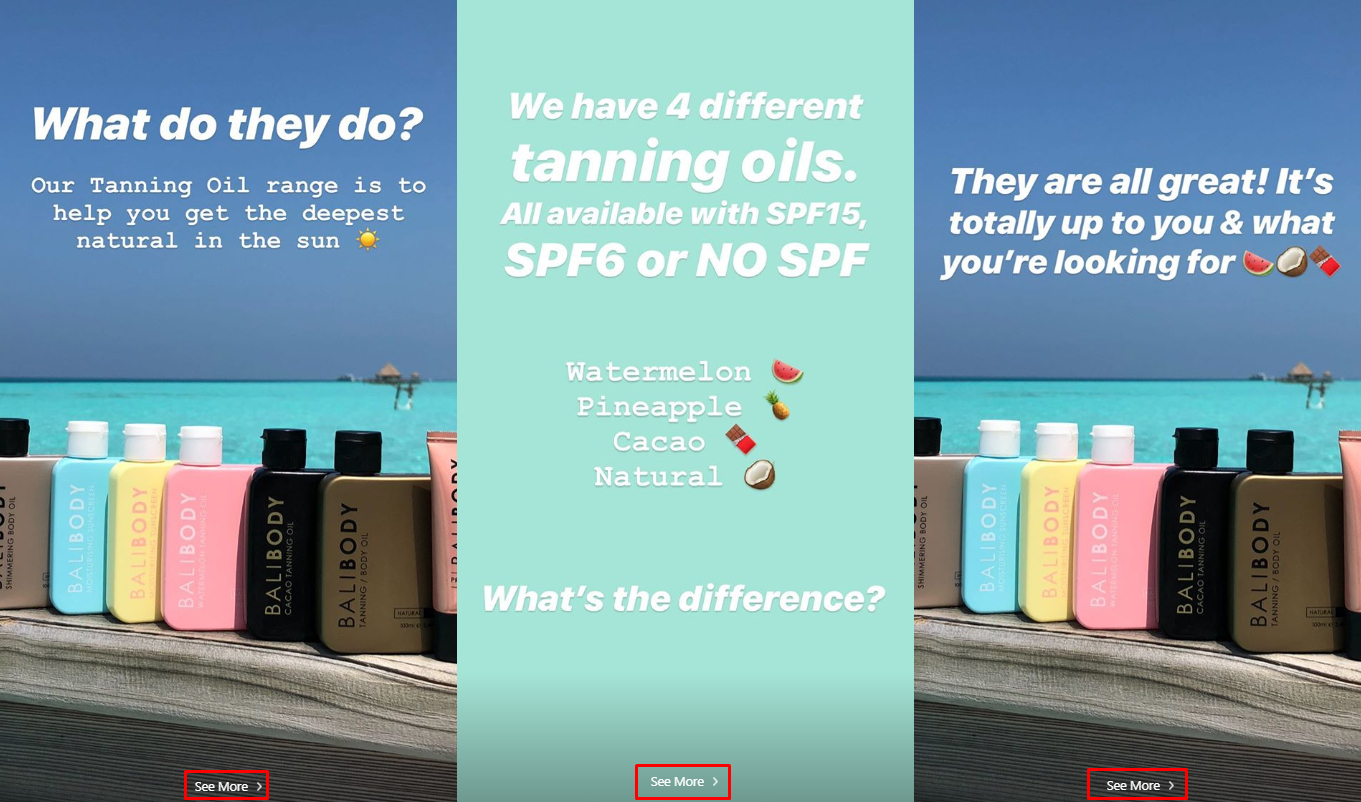 And if you want to collect customer feedback with Instagram Stories, clickable links give you another opportunity to take your followers to customized online surveys.
6. Collaborate with Niche Influencers
Wouldn't it be great if you could reach a wider audience in your niche on Instagram? With niche influencers, it's not a problem. Working with opinion leaders, you enter an already-established community of people who are ready to share their thoughts. In other words, gathering customer feedback with influencers is a proven way to understand more about your target audience, their preferences, and needs faster.
Moreover, there's no need to collaborate with celebrities like Kylie Jenner or Justin Bieber who charge much. Working with micro-influencers is one of the digital marketing trends, and it gives results.
Just take a look at an example from Unitude. In partnership with a fashion blogger Suzanna, the company was able to reach more potential customers and understand their preferences. When Unitude sent its bag for the review, Suzanna created several stories to show it off and ask followers about their thoughts: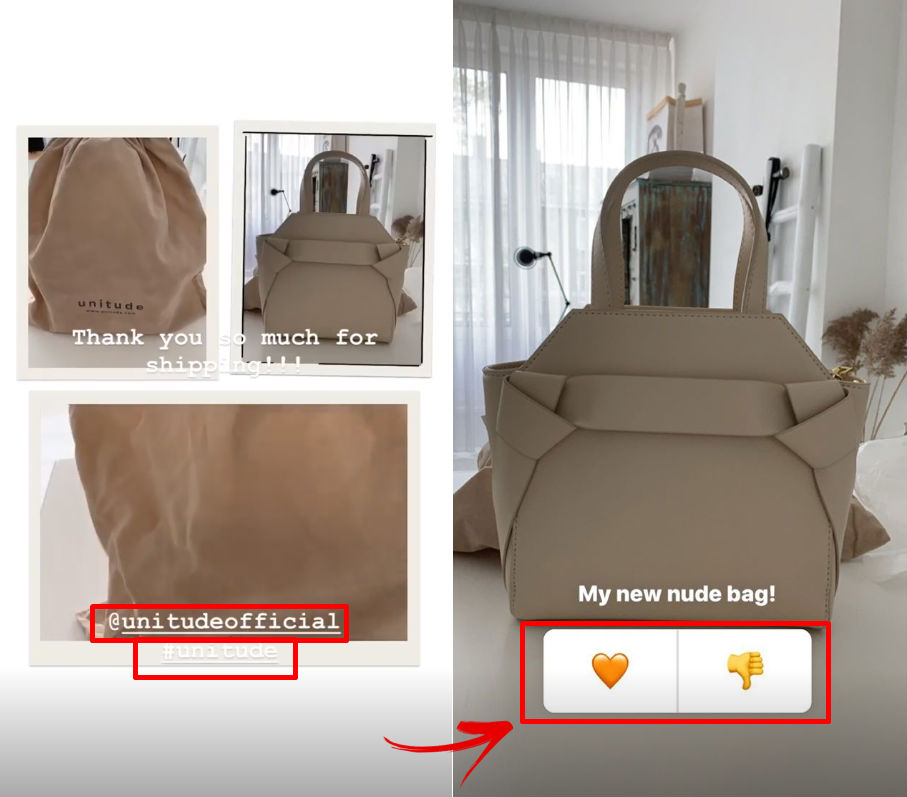 To understand what other potential customers think about the product, it was enough to analyze Instagram Stories. However, the influencer created an Instagram post so that Unitude could take a look at the comments: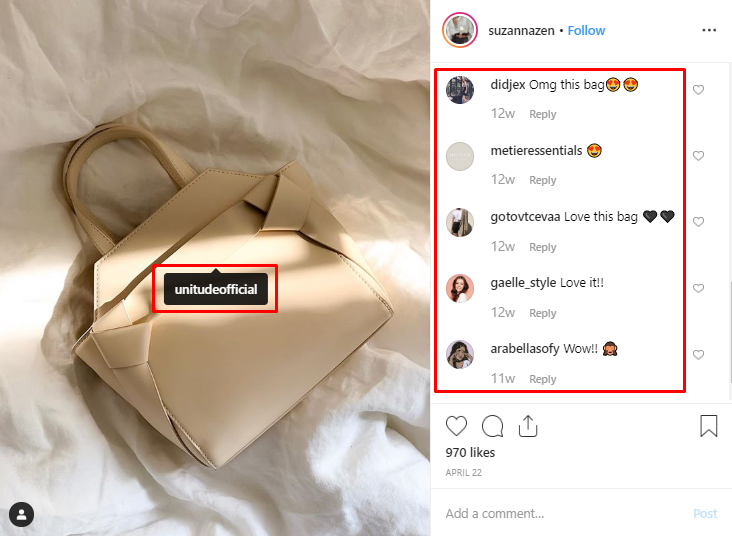 With 970 likes and 175 comments, Suzanna achieved an engagement rate of 21.6%. There's no need to get math help to understand that influencer marketing campaign gives results. Whether you run a big or small brand, you can turn to micro influencers who have a smaller but loyal following to spread the word about your product and collect customer feedback.
7. Monitor Brand Mentions
If you want to gather honest customer feedback, leave your Instagram account and spy on your customers. Why? According to one survey, around 45% of customers tell their friends about both good or bad experience. This means your customers can share their thoughts about your product on their Instagram accounts.
Monitoring brand mentions is a great way to understand your consumers better, increase customer satisfaction and even grow revenue as people spend 20–40% more money on brands that have interacted with them on social media. Thus, brands like Zappos keep an eye on what their customers say online:
If people tag your account or use your branded hashtag, collecting customer feedback on their Stories isn't a problem. But if customers don't tag your account on Instagram Stories, you may have trouble finding brand mentions unless you use social media monitoring software.
Over to You
Instagram Stories have various interactive features that allow companies to gather qualitative data about their potential customers in an interesting and engaging way. If you want to understand your consumers and their needs, collect customer feedback and analyze it to improve your product, and therefore gain a competitive advantage over your competitors.

Related readings
Instagram Ad Analytics - spending money wisely
Top 10 brands on Instagram in Mexico
How the UK's most-liked brands use Instagram
The best time to post on Instagram
40 social media buzzwords every marketer needs to know