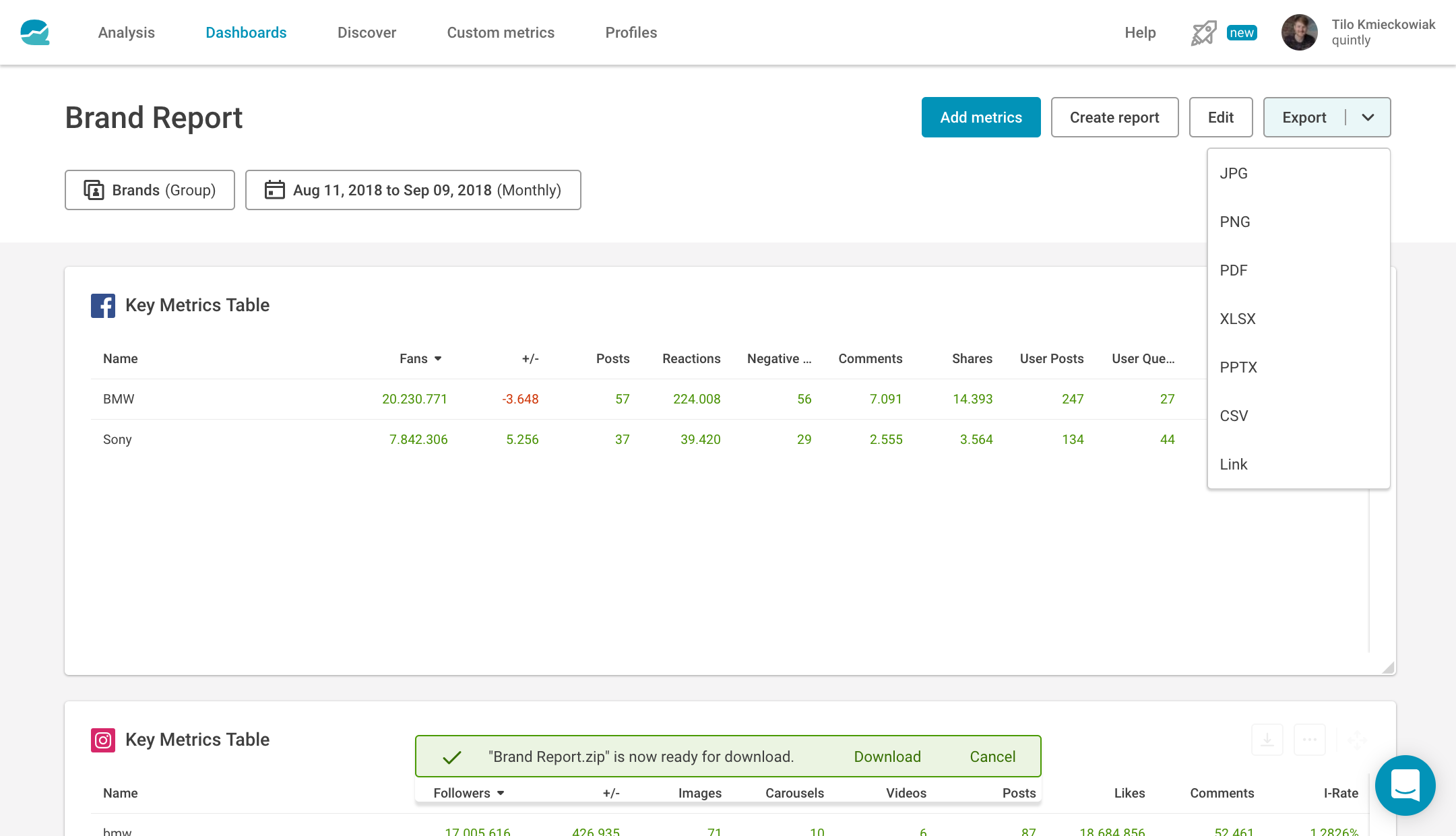 This article was updated on the 23rd July 2019.
Social media analytics are not just for the end-user and neither should those statistics be only seen as vanity metrics. Working with up-to-date data goes way beyond and has to fulfill certain requirements to be of use for a whole company. What benefit does it bring when the social media manager of a brand's Facebook, Twitter or YouTube profile knows about the performance results of its brand own social media strategy, but can't communicate these outcomes to other departments of the company? One way of sharing your data into an actionable format can be provided by creating an effective social media report. A well structured social media report will always be more powerful than using your instinctive or to make impulsive decisions.
The first step therefore it is to choose the right KPIs and put them together in a comprehensive way to provide your teams with the knowledge they need. Social media businesses thrive on data to learn what works. Let your marketing department know where to put their focus, let your customer service know what has been working best, be able to report to your boss with straightforward results. All that in a completely automated, clearly structured and easy to use workflow.
Creating an effective social media report
But what is the best way to create a social media report? Before your start to create your first social media report, it is important to keep in mind that a report always must be based and linked to a custom dashboard. When you have chosen a dashboard you want to have an automated reported for, it is time to create automated social media report. A great way of doing this is to use a software like quintly. In our social media analytics tool you'll find the "Report" button on the top right corner of your dashboard. Click on "Setup" and another window will open up. Just put in the email addresses of those you want to share your social media report with. Furthermore, it is also possible to specify the period of time, the frequency and to choose the preferred date when your report should be send out. Your social media reports will be automatically delivered to your recipients email inbox. You can also export your report in different formats such as PDF, Excel, PowerPoint or the dynamic shareable link.
We have already shown you how to set up customized dashboard. Now you will see that this can come in pretty handy in combination with your social media report. Think about creating multiple dashboards and equipping each of them with different social media statistics to serve different parts of your team with the exact data they need. Now set up reports for those social media dashboards to make sure that every department of your company is up-to-date on social media analytics and strengthen your crew internally. The automated reports will help your company to make smart decisions on every level in the chain of command.
Do you want to set up an effective social media report? If so, feel free to contact us. We will help.