Creating a social media report is a long-lasting and difficult task, which involves a lot of different aspects and certainly a lot of testing. Therefore, it's not easy to create the perfect social media report right from the start of your journey. But how do you set up a rock-solid report?
Our 'Ultimate Social Media Report Guide' gives you all the tricks and insights you need to create an informative and successful report.
By looking into the importance of the general outline (e.g. the design and its usability) and other fundamental basics of a social media report you will get a better understanding on the general conception of such a report.
We're also going to provide a closer look at the data-driven elements that are vital to include in your report, e.g. choosing the right KPIs and how to dig deeper into social media analytics by asking the right questions from the beginning.
Explore also how to tailor your reports according to your recipients. This is a crucial factor when you need to report to a client or to your boss.
So let our journey begin!
How to create an effective social media report?
As already stated, there is so much to think of when it comes to creating a social media report. Be it the question of how the report should look like, what KPIs you need to include or who eventually should receive your report.
Therefore, it's necessary to write down the expectations of your report and as well to answer the question 'What do I want to achieve?'.
Let's assume you want to measure the performance of all your social media channels on a weekly basis. The question behind this is that you want to evaluate which network works best for you and which not.
For example, Facebook and Instagram are well-performing channels for you but your Twitter performance is less impressive. This observation could be a good starting point for creating your social media report.

How to gather your social media data?
Assuming you want to compare the performance of your social media channels with each other. Before you can do this you need to get access to your social media data.
So how can you access your data? To make things easier for you, I'll briefly outline two methods with which you can evaluate your data.
The first method is pretty straightforward, but also a bit tricky: Manually gathering your data from the default analytics dashboard of Facebook, Instagram, and Twitter and import your performance data one by one to an Excel sheet. Be aware that with this method, you only have limited data access and no benchmarking possibilities.
Our second method is using a social media analytics tool that automatically pulls the data for you into a dashboard. Besides the advantage of automating the data gathering process, it also gives you the benefit to include all your data in one overview and as well to include the data of your competitors to it.
After you have taken your pick on your data gathering method, it's time to gain an understanding of your data.
What to analyze?
We can already tick off a few things from our social media report to-do list. Now it's time to shift our attention to the content of our report.
Now it is time to focus on the central social media KPIs that should be included. In our case, we want to take a look at our performance across the social networks Facebook, Twitter, and Instagram. To get an understanding of the performance on these platforms we need to go one step further and ask more detailed questions.
You might want to question yourself "Did my audience grow in the past three months?" or "Do my followers interact with my posts?"
Remember: Always keep a close eye on the social media strategy of your competitors to get an inspiration for other metrics you could add to your report.
It may also be effective to include metrics that go beyond the 'Total Number of Fans on Facebook', like your interactions on the different social media networks.
But be aware to keep the number of metrics you use in order to keep your social media report as concise as possible. Concise KPI reports might also be suitable for non-social-savvy recipients, for example, your clients.
Never forget, it is not always about the follower evaluation within a specific time range; There is so much more to the creation of a fantastic social media report.
If you are successful, then the key takeaway from every social media report should be constant improvements you have made and can make on your social network performance.
Questioning your own approach and also from time to time rethinking your social media strategy are important insights you gain from analyzing your social media appearance. Social media reports are enormously important indicators of how to grow your business.
Another key step is to focus on the arrangement of the used metrics in your social media reporting. Establishing a logic that signifies the importance of each and every metric is crucial. Through this you can avoid misleading anyone who is new to social media analytics, and provide him an immediate overview of social media data. Making your report easy to understand is an essential factor - it shows that you fully understand the data. This gives your report a much more professional look, and it will make a better impression in your presentation.
Tailor your social media report
A report's customization to the targeted audience is another salient feature, and should always be tailored to the recipient's individual needs. That means always select the KPIs and metrics that make your report meaningful to the person who you are presenting to.
Remember: The outline of your report depends on the recipients.
One example of this could be to exclude content related metrics from the report when presenting your data to the management floor, because this information may not be great of direct interest for the general goals of your company.
On the other hand, the information may still be relevant for internal reporting purposes, e.g. your social media marketing team.
A report for your social media team might include a variety of different metrics that provide a wide amount of content related information. Questions to be answered could be "Did a certain type of content drive the rate of interaction?" or "Did a new hashtag push engagement?"
You will thus use metrics that go down to the content level of your social media appearances. Among these, you might use the Interactions per Post, which tells you how many likes, shares, and comments a certain post accumulated. This will give you insights into how successful your content is that will also be relevant for your co-workers who are content creators.
Keep in mind: Create several dashboards with different purposes, e.g. one for the content marketing team or one for the customer service team, so that you always have the right data in one place.
Benchmark your performance
Report on your own performance and include the performance of all your competitors to see how you recently did in the overall comparison.
Make your social media report comprehensive by combining the data from all your social media networks to benchmark all platforms against one another. This doesn't only mean to include the data of your business – which is already a really powerful indicator of your overall performance, but it should also include the performance of our competitors on all the social networks you are using.

Combining your performance on Facebook, Twitter, YouTube, and Instagram makes your report even more valuable. Eventually, by combining your competitor's performance and your overall social media network performance, you'll receive a total overview of your achievements.
Personalize your social media report
The look of a social media report is an important factor. While the data in your report is, of course, the main factor, you also shouldn't forget that a good looking report is not only an eye-catcher but also can help a lot when it comes to readability of your report. For now, let us dig deeper into the role of the general visualization of your report.
Make it outstanding
Providing a well-looking social media report is one of the key elements of every social media analysis. It shows that you really care about the data, and did not simply randomly gathered KPI's on an empty white piece of paper. This is especially helpful when you have to present the data to a client or upper-management.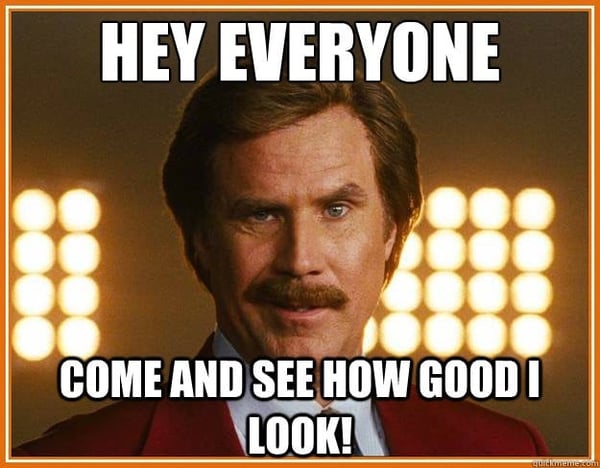 Start with the usage of custom colors that represent your corporate identity and give your report a personalized look - Personalization means that you can add your own company logo or name to the report.
White Label It!
When you use a dedicated software for social media reports, make sure that it offers a white labeling feature, which offers you the possibility to exchange the software company's logo with your own logo. Adjusting your report to the look of your company makes it even more professional.
Keep it simple
Another key step is to focus on the arrangement of the metrics used in your social media report. Establishing a logic that signifies the importance of each and every metric is crucial. Through this, you can avoid misleading anyone who is new to social media analytics and provide the user with an immediate overview of their social media data.
Making your report easy to understand is an essential factor – it shows that you fully understand the data.
Make your data accessible
Keep in mind that your social media data should always be easy to access. Why do you ask? The answer is simple. Having your report at hand when the data is needed is a crucial part of your social media analysis.
Especially when you have to report your social media data to your clients, your superiors or your fellow colleagues in the marketing team.
Make sure when you use a software for your social media analysis that it supports software supports features that enable you to export your social media data both manually and automatically into a report.
The advantage of a manual export is its flexible character. It guarantees that you can create a report whenever you need it. Through this, you can make sure that you always have the right data on hand when needed.
Using a system that helps you create automatic reports can streamline your workflow. So creating an automatic reporting system that will send you daily, weekly or monthly reports is a crucial factor that everyone will benefit from who is working for an agency or as a social media manager.
But that's not all when it comes to the creation of a report. Another point you should keep in mind is the range of formats your report should be available in. For this reason, make sure that you have the possibility to provide your reports in just more than a plain text document. For example, by offering a broad range of exporting formats like CSV, PDF or PPTX.
Tips for crafting your social media report
So let's sum up our findings: Tailor your social media report to your target audience needs. Use a social media analytics software that enables you the create manual and automatic reports that will help you to streamline your workflow and make your social media analysis even more efficient.
Include your and the data of your competitors to your report to receive a total understanding of your status quo.
Next, remember to keep an eye on the design of your report. Having a well-designed report includes readability and the inclusion of your corporate identity. This gives your report a much more professional look, and it will make a better impression in your presentation. We also created a designated webinar on social media reporting that includes the most important steps to save time in your social media routine.