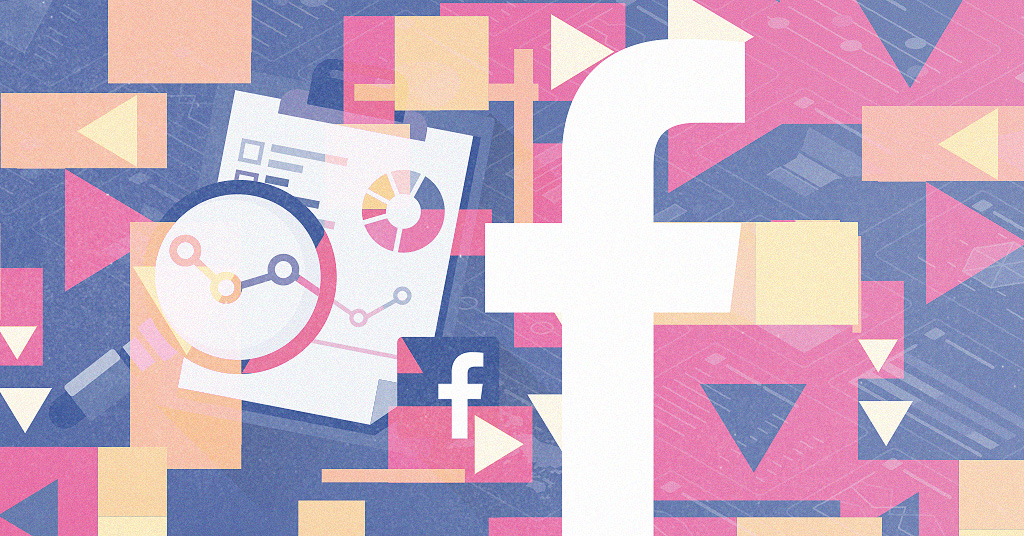 It goes without saying that Facebook is part of most people's everyday life. Yes, it's popularity might have reached its peak but no marketer should ever underestimate the effectiveness of the blue dinosaur. In the following article I will guide you through the findings while analyzing 105 million Facebook posts.
The past, the present and the future of the network is highly interesting to all marketers. We at quintly don't have a crystal ball to foresee the future, but we are able to set a data-driven foundation for some insights and predictions. That's why we decided to learn more about the network and how people used it in 2018 by analyzing 94,000 pages and over 105 million posts.
Now, let's jump into the findings.
The data set of our Facebook study
To provide you with a better understanding of our data set, here's the split of Facebook Pages we've analyzed. This info will not only help you to understand the data set but will also allow you to compare your own Facebook pages to our groups of profile sizes analyzed.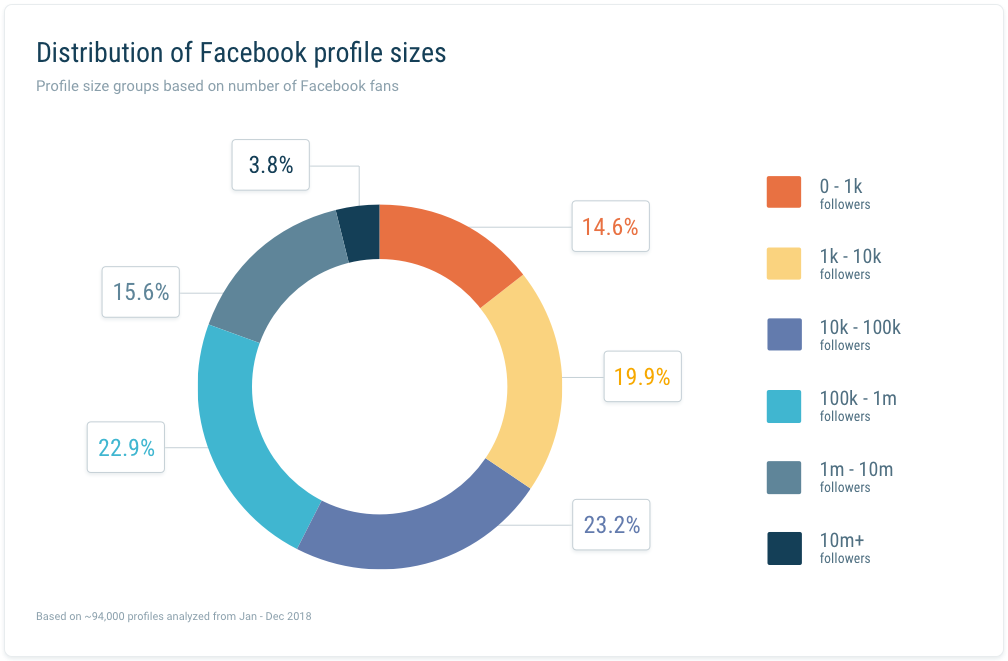 Here are the points our study covers:
Post type distribution & performance
The length of posts
Posting time
Split of reactions
Link posts have the biggest share of all posts
55% of the 105 million analyzed posts were Link posts. Photos were used in 29% of them and videos made up around 14%.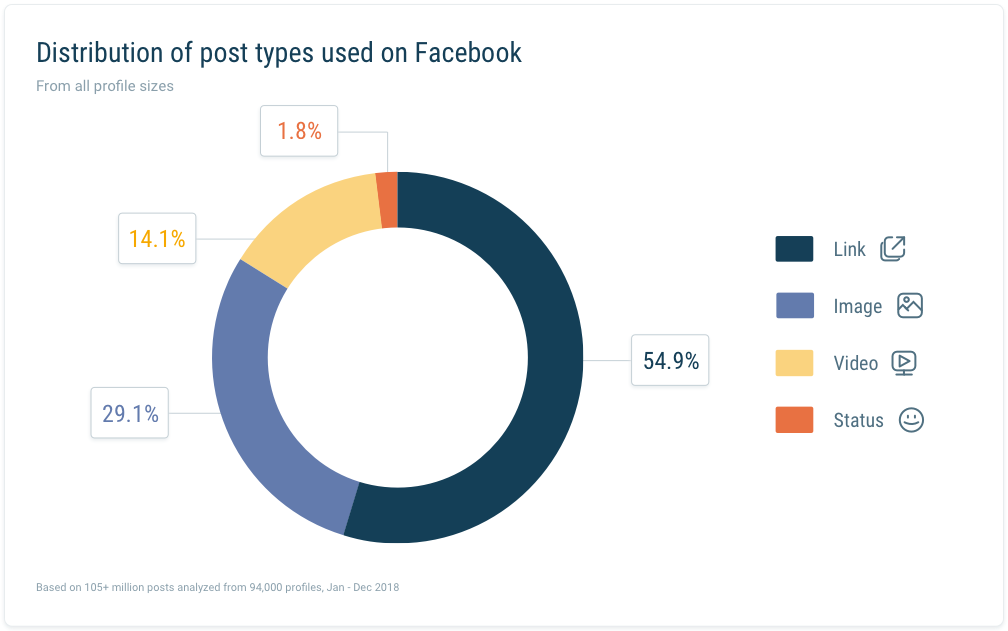 Knowing which post type is used most frequently is interesting but affects your marketing strategy to just a small extent. That's why we looked into the average interactions each post type receives. The results are quite surprising to me!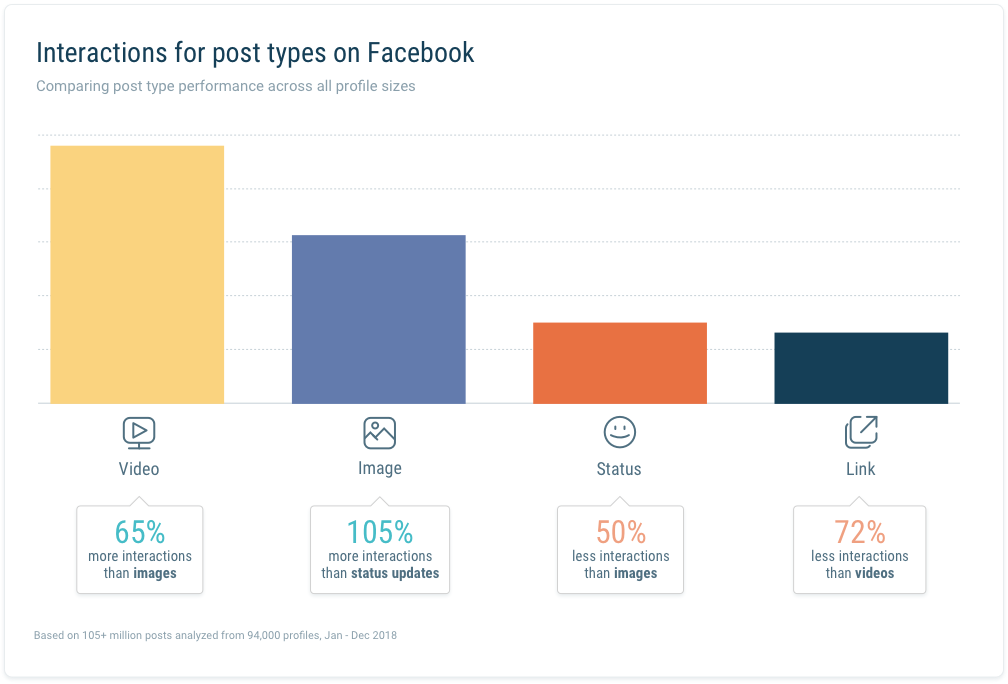 Natively uploaded videos seem to be the holy grail of interactions on Facebook, followed by images. Link posts, the most frequently used post type, do not seem to play any role when it comes to interactions. They receive 72% fewer interactions than video posts.
That's why social media analytics is crucial!
Depending on your goal, it still might make sense to post links but certainly not when you aim to engage your users. Link posts are the only way to drive traffic to your website from Facebook. If that's part of your strategy, you need to accept the algorithm penalization and live with a lower reach while working towards your goal and sending traffic to your website. Having said that, it always comes back to your strategic goal.
You wonder how people interacted? Do 'love', 'haha' and 'wow' play a role or is like still predominantly used? Find out in our study!

Weekend or Weekday? That is the question!
On average, we saw a tendency towards posting during the weekday. 23% of all posts are posted during the weekend. As a weekend just consists of two days (versus five working days), we need to take one step back.
Distributed evenly, every day would take up 14.23% of an entire week (100% / 7 days = 14.23%). This percentage multiplied by two (two weekend days) equals 28.46%.
That's five percentage points more than the actual 23% found in our study and indicates a slightly higher posting trend during weekdays.
Head over to our study in order to get more insights on this topic!
13% higher interaction on weekend posts!
Having discovered that less content is posted on weekends, we dug deeper into the behavior of Facebook users. When do people tend to engage more? On a rather relaxed Sunday or between work and hitting the gym?
We found out: on a rather relaxed Sunday!

Now it's up to you! Dig into your own Facebook analytics. When is your followership most active? On a weekday or on the weekend? Which post type performs best for you? Feel free to discuss your findings with us on Twitter or LinkedIn!

Recommended readings
Instagram Study: We analyzed 9 million posts
Facebook Post Reach Explained
Facebook Analytics: How to Analyze your Facebook Performance