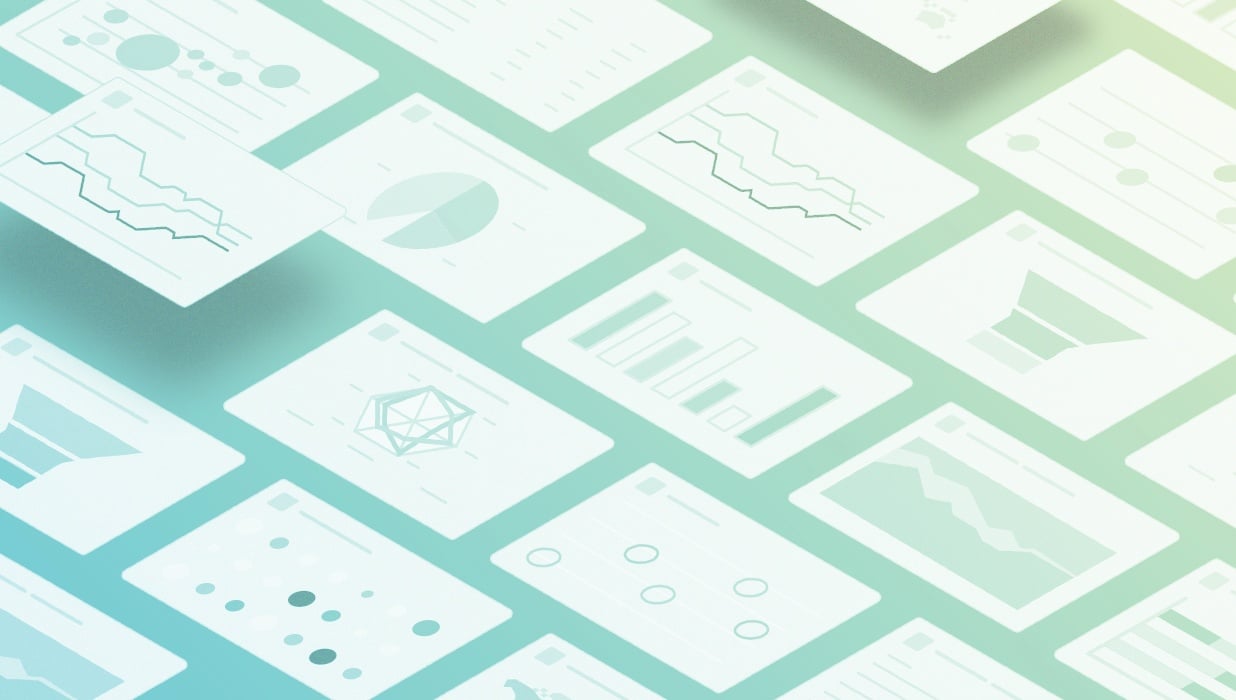 Tesco is known to be the largest grocery retailer in the UK with a market share of 27.6% and the third largest retailer in the world by profits, their brand is easily recognised in seven countries across the globe. But are they also leading their industry on social media?
I asked myself the same question because some big changes are afoot, that much seems certain. Sainsbury's is recently confirmed to merge with Asda, essentially combining the power of the second and third largest grocery retailers in the UK. Together, their share will make up 31.8% of the market, meaning Tesco could be up for some tough competition. It's no question that social media presence and digital marketing can be a powerful force for brands in situations like these, so let's see where things stand.
Raising the bar charts, cleaning up the table charts, our best in grocery puns

In the UK, Tesco is the largest grocery store chain so it is no big surprise they have a considerably larger following. With that in mind, one might think they should also have the highest performance, right?

Well, not so much. The metrics show that popularity and performance cannot speak for each other. Even though Tesco has double the fan count and a 9-times-higher fan change rate – kudos, Tesco team – in fact, Sainsbury's outperforms Tesco in terms of interactions. Tesco's huge fan base of 2.5 million followers is impressive but there are only 150 reactions, 260 comments and 27 shares per post on average. Whereas Sainsbury's, with just about 1.7 million followers, achieves 1,184 reactions, 597 comments and 321 shares per post on average. What's that? I think we just heard an announcement for a clean up in aisle Tesco.
Tesco: 2.5 Million follower - 437 Interactions per post
Sainsbury's: 1.7 Million follower - 2,102 Interactions per post
On the other hand, Tesco makes up for their questionable level of interactions with an impressive score in the department of customer care, with a response rate of 84%. Sainsbury's has a high response rate as well but it seems Tesco won't go down without a fight, showing a lot of promise in this extremely important metric for a retailer in their market.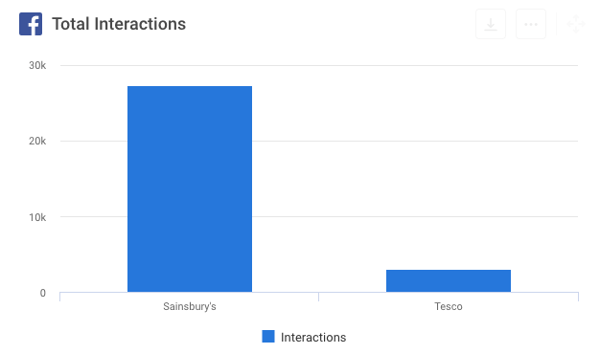 This metric shows precisely to what extent the total interactions of Sainsbury's and Tesco differ. In one month, Sainsbury's got 27,000 interactions in total while Tesco managed only 11% of that sum, at 3,000.
But why does Sainsbury's perform much better than Tesco, even with a significantly lower fan base and thus, much smaller potential organic reach? Let's right jump into the findings:

Both companies receive the highest amount of interactions on video posts. This is not entirely surprising considering our own past studies on the importance of video content on social. But especially for Sainsbury's, videos are taking the first place by far. With just a quick look at the post type distribution metric, it can be seen that Tesco is working against their own best practice.
Best practice would be posting videos before photos and status updates least often. However, Tesco's strategy goes the other way around. Their most common post type is the status, the second place goes to photos and the last one to videos.
Sainsbury's, on the other hand, have chosen the content strategy that seems to be more successful. They post videos more often and this explains as well why they got a good amount of interactions in total. Since links get the smallest number of interaction, they rarely post links. Makes sense, right?
Here's a little taste of what Sainsbury's best performing videos look like. For Fathers Day, they set up a nice, unexpected offer to do grocery shopping for new dads after they drive into the parking lot and film a simple, friendly slice of life for these people to share with their customers. Pretty cool, hm?
To sum up the findings, Tesco is doing great regarding fans. They exhibit a high fan change rate and have pushed the 2.5 million fans boundary so hats off, Tesco! It clearly states that they are the largest supermarket and people love the store. Not to mention, they value their customers and quickly respond to their questions on social.

On the other hand, Sainsbury's creates quality content and seem to have their posting game on point since their interactions are comparatively high. In particular, their strategy shows that ads on Facebook, for instance, can greatly benefit your social media performance and boost your visibility, allowing your quality content to reach a greater audience.
And with that, the showdown concludes. With both grocery giants showing strengths in different metrics on social media, we might say that Tesco shows off with their great popularity but Sainsbury's fans adore the content, they get to see, much more. Until next time, grocers!
Recommended Readings
Facebook's new Reaction Study
Social Media Benchmarking
A complete guide to LinkedIn Marketing