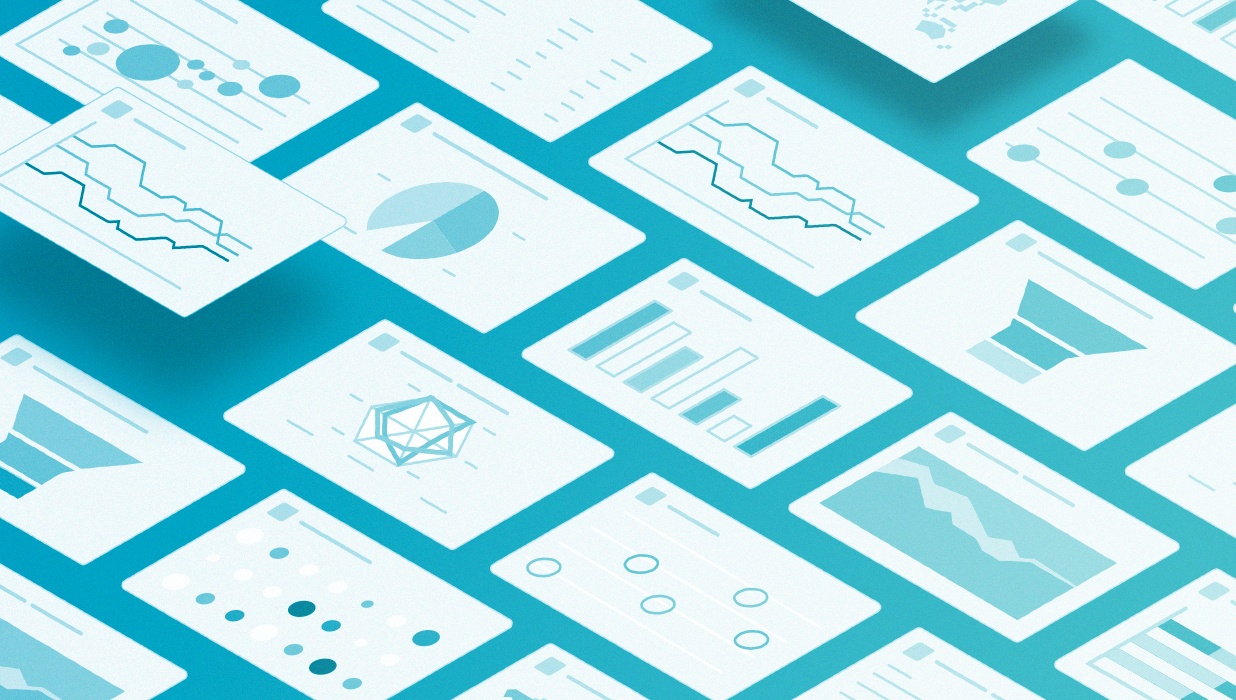 LinkedIn is not only a professional network to remain connected to your contacts but it also offers great possibilities for businesses to benefit their strategy – if used correctly. Its popularity is unbroken: LinkedIn could recently unveil that the network has 500 million active users worldwide.
As a professional space to connect and engage with a huge variety of business networks, LinkedIn is important to your business and brings potential leads, especially when you offer a B2B (Business to Business) product. A study shows that 41% of B2B marketers have mentioned LinkedIn as their number one important social platforms.
To help marketers with applying and optimizing their marketing strategy on LinkedIn, I will present various possible KPIs for measuring your impact. These can be used as an inspiration for setting up your own specific LinkedIn marketing goals and for exploring relevant outcomes.
Also read: How to Integrate LinkedIn into Your Social Media Strategy

LinkedIn Business KPI #1: Track the Changes in Company Followers
Followers on LinkedIn can be your potentials clients, customers or biggest fan who share the voice of your business. They are the ones who bring you most of the traffic. Therefore, it is important to take a closer look how the followers are growing over time and what kind of audiences you are reaching.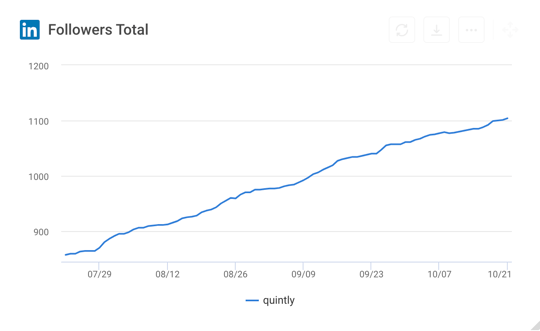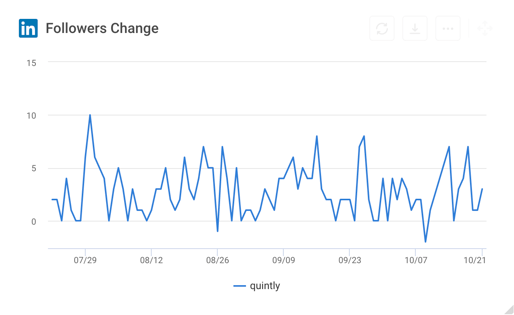 The company Followers Change chart helps you to compare the change in followers number for your business page; the changes are visible in daily, weekly, or monthly basis which gives you more detailed insights. When comparing with other competitors, LinkedIn KPIs like Followers change Rate would be more helpful to the relative changes in percentage.
LinkedIn Business KPI #2: Measure your Updates in an effective way
Similar to other social networks, LinkedIn allows you to publish almost all forms of content such as articles, company news, videos, photos, job opportunities even SlideShare presentations and event reviews. Naturally you want to focus more on the content that promotes your business. But the underlying principles should be to bring value to target community and keep them aware of recent activities.
Through the bubble chart, you get to know on which weekdays and at what times how many status updates were published and effectively analyze the posting behavior.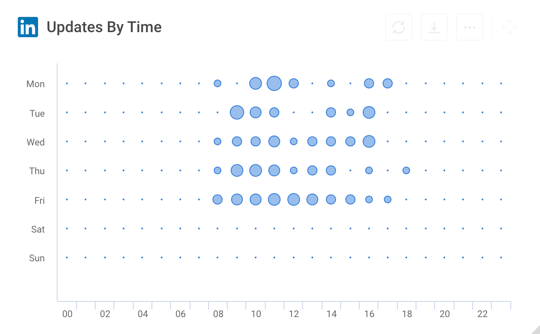 The total amount of weekly status updates of different LinkedIn pages (in the bar graph) will show you how you are performing in publishing contents. Depending on the responses per post, it is also necessary to track what type of updates (links, status, or photos) has sparked conversation which makes the future posts plan easier, for instance, what and how frequent to post on your company page.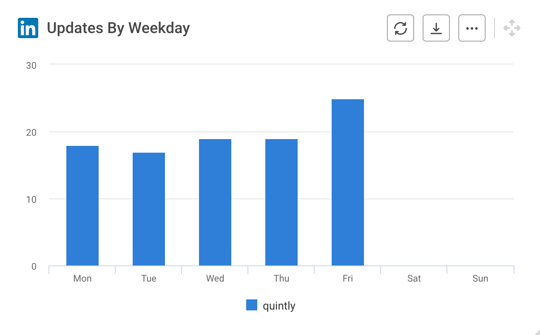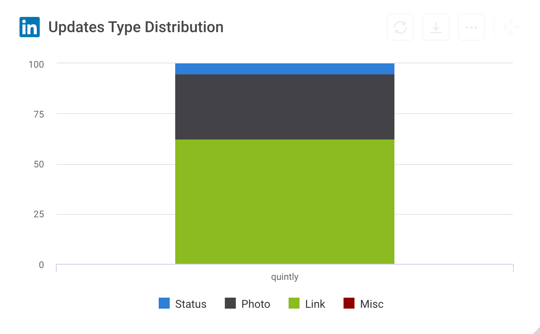 LinkedIn Business KPI #3: Receive more Insights on your Interaction
After each successful post, you should be curious to know how many impressions your post has received, the number of clicks your post generated and of course the number of interactions such as likes, comments, and shares. These are some regular posts' analytics you can also receive from LinkedIn. What would be more interesting to see - on which days and when the posts receive most views and afterwards use this information to tweak your content to improve the traffic.
Here is another bubble chart that compares the effects of updates and the following interactions by day and hour in a superimposed way. You can quickly inspect the exact day and time when the posts got highest interaction rate.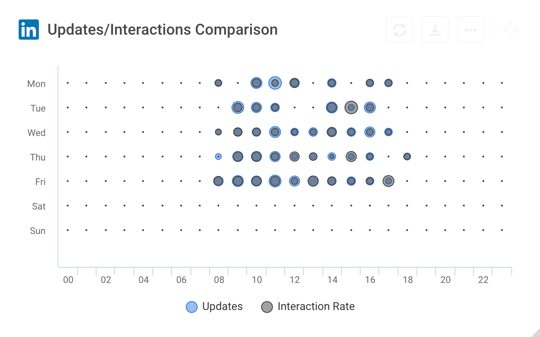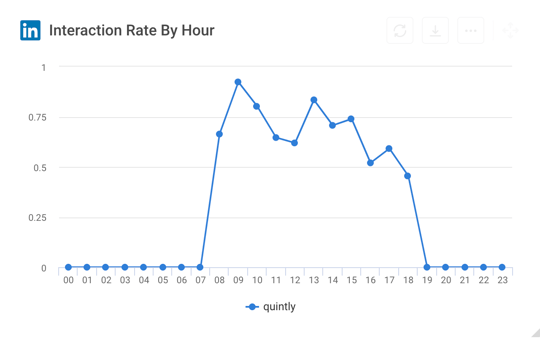 Being the world's largest professional network, LinkedIn provides you an interactive platform that is probably the best way to connect with your appropriate business audiences. By setting up an effective LinkedIn analytics process, you will be able to identify the trends here and understand more about your followers, content performance and interactions on your business page. So now let's start boosting your business on LinkedIn!
Recommended readings: