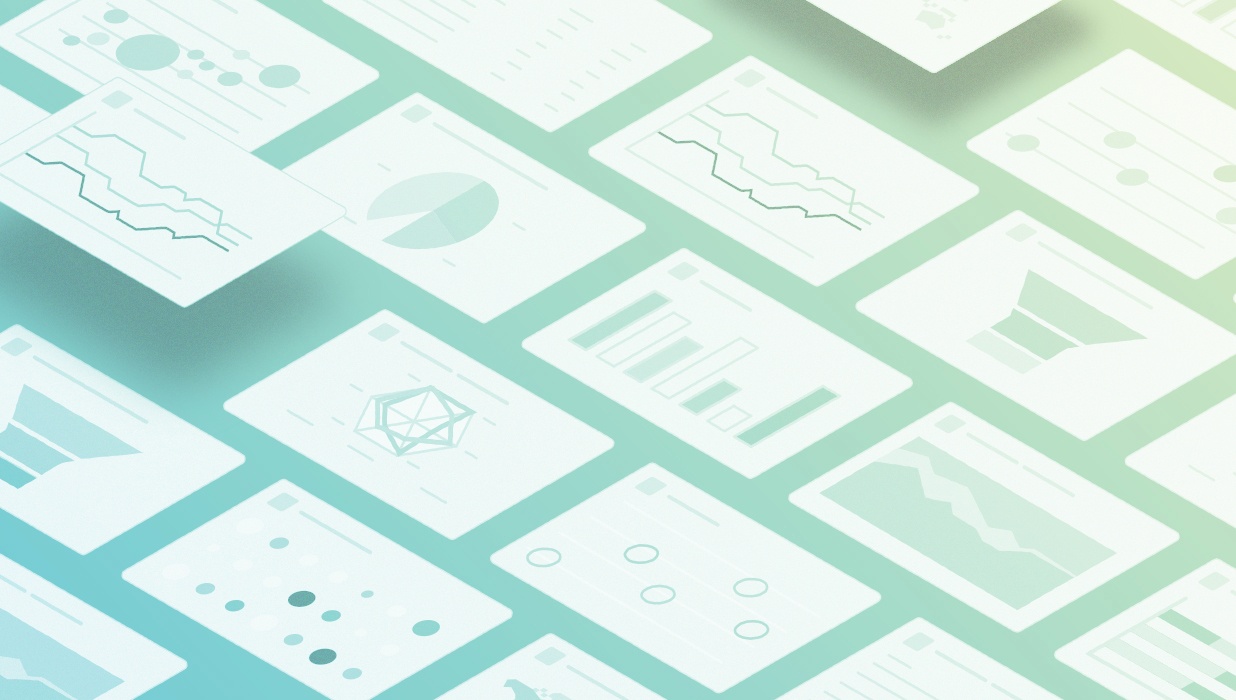 Social media platforms are, undoubtedly, a force to be reckoned with when it comes to many aspects of our lives, so it should come as no surprise that marketing and advertising is no exception.
In fact, according to a study conducted by GlobalWebIndex, 54% of social media users trust social media platforms for their research on products and brands they're interested in. You can see for yourself: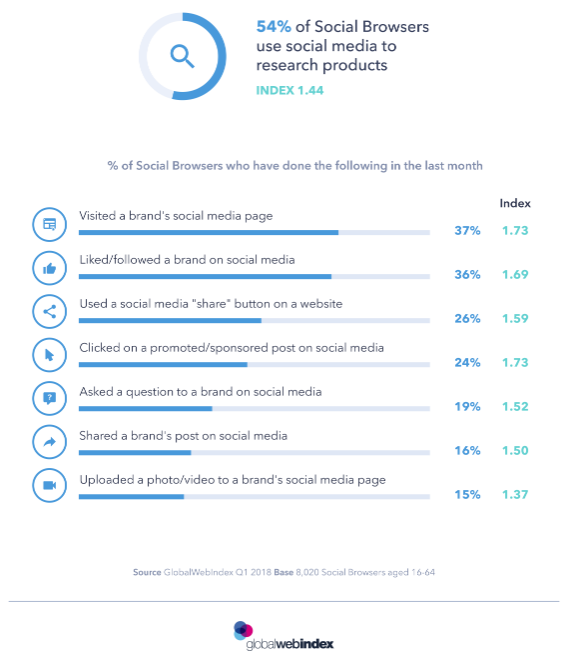 These numbers show that social media marketing is not only needed, it's essential for a brand to get the word across and manage to stand out. And while that is great for bigger brands, the question is, what can smaller brands do with not as big a budget in order to stand out and get more followers and, ultimately, buyers.
Well, the good thing about social media advertising and marketing is that, once one nails the tactics, they're inclined to grow. Simple as that. Social media marketing can be surprisingly budget-friendly and comes with a lot of benefits along the way.
But let's go ahead and look at strategies SMEs can use to get the most out of their social media accounts:
1. Determine your target audience
What is a target audience, really? Well, by definition, it's the audience that will find your product or service to be useful and relevant. It's the people you want to take the time and sell something to.
Check out your list of followers first and foremost and divide them into groups. Study the data you can extract that have to do with their age, location, income and job title, to find out how your product can help them with their day-to-day lives.
Another thing you should pay attention to, is being overly specific. You can't target based on one thing alone. Let's say that, for example, your brand sells fitness wearables. Of course the target audience, in the grand scheme of things, is millennials. However, not all millennials are into fitness and not all millennials can afford wearables.
This is where segmentation comes in handy. When you're done with targeting and segmenting, you can create your ideal buyer persona. This persona will help out with step two.
2. Determine your goals
In theory, goals should always come first, as without goals, you won't know what you're trying to achieve. But this is not exactly the case here.
Goals should be data-driven and, more importantly, specific and achievable. So, without knowing who would like to buy your product, you've got no data to back up your claim and start planning. Create your KPIs and make sure that they're measurable and very, very specific.
For example, if you want to increase sales, try and set "Increase sales by X percent over next month in the 18-25 age group" as your KPI. If you want to increase brand awareness, set "Increase brand awareness by X percent over next month in XYZ location" as your KPI.
Notice how these proposals are age or location-specific. This will help you segment your own goals and, ultimately, achieve them, one step at a time. And that way, you'll be able to make data-driven decisions as you go further.
3. What does the competition do?
According to our good friend, Wikipedia, "Benchmarking is the practice of comparing business processes and performance metrics to industry bests and best practices from other companies."
There's no doubt this is what you should do! You'll need to research your competitors, find out who they are, keep an eye on them, check their strategies, their content and make sure you can match and, ultimately, top that.
Be sure to make a data-driven decisions on who you can partner with and who you'll need to compete against. It's important to have an analytical and thorough approach. Try to understand why they post what they post and why their engagement rates X and not Y or Z percent and act accordingly by being creative.
This where social media analytics really proves its worth. Every organization will have its own range of metrics and KPIs to analyze – understanding how they can be used to advance your digital marketing performance is paramount to tilting the scale in your favour and holding a place in a busy, competitive market.
Tools like quintly aim to give you the deepest dive possible into your social media analysis with the greatest number of metrics available to offer, allowing you to have an overview of all your networks in one highly customizable, easy-to-use interface. Dashboards collect as many of these metrics as you need into different groupings relevant to your analysis and also form the basis for your reports or exports.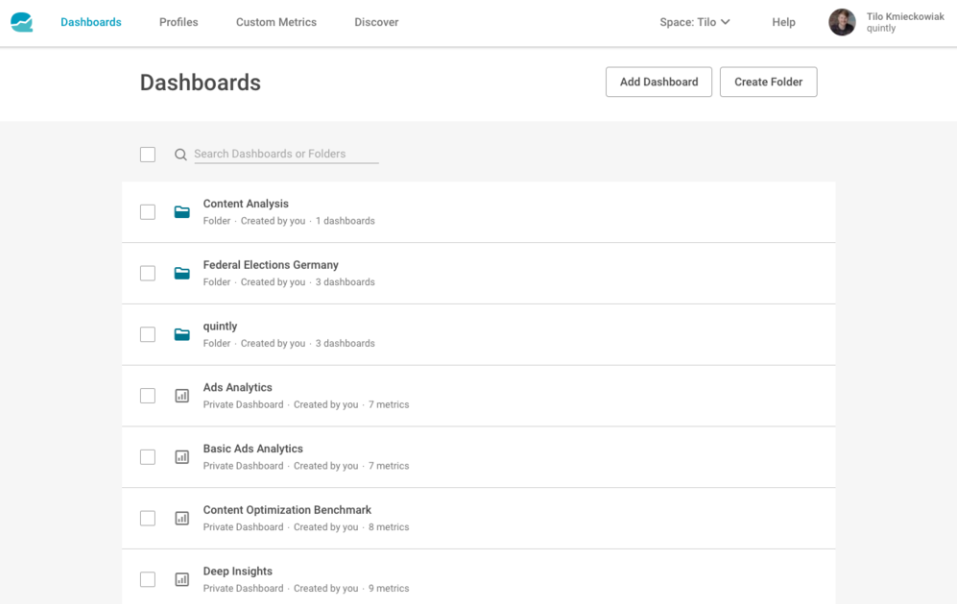 You'd be amazed at how much even a simple pie chart can help you understand how your fans perceive your brand. In this case, we see how total numbers of fans on Facebook are distributed to three big companies in the automobile industry.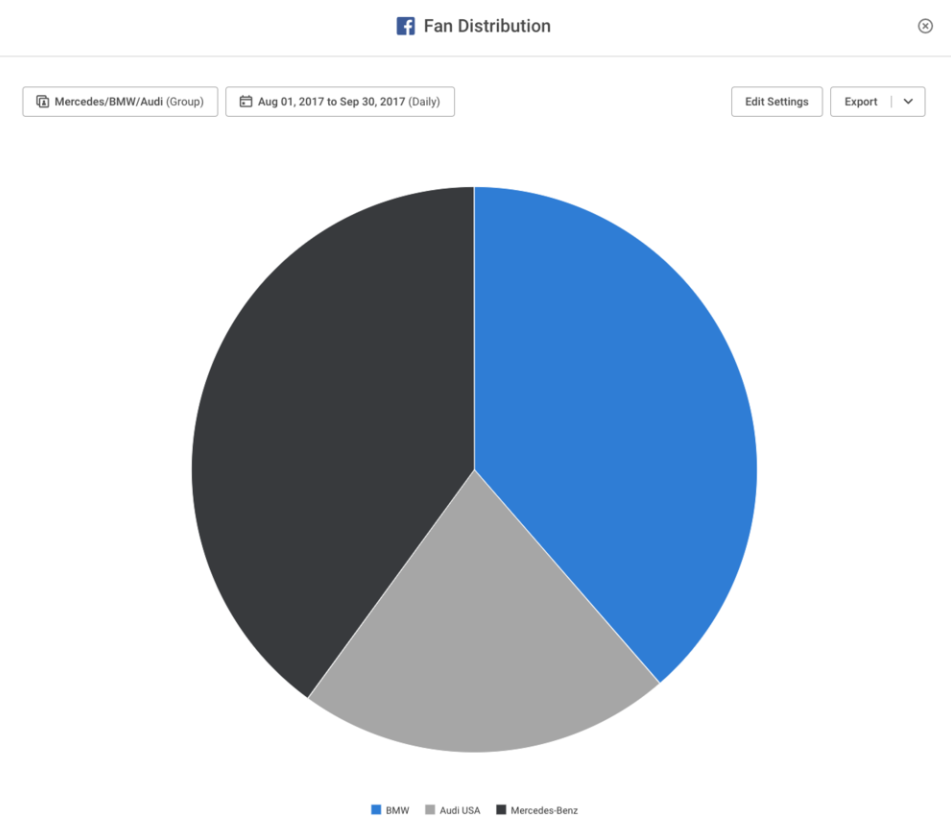 Below, we see a few metrics on a dashboard focused on analyzing gaming companies content performance on YouTube with a goal of optimizing for ongoing campaigns. Benchmarking competitors in this way can provide quick and actionable insights on what works and what doesn't for specific audiences.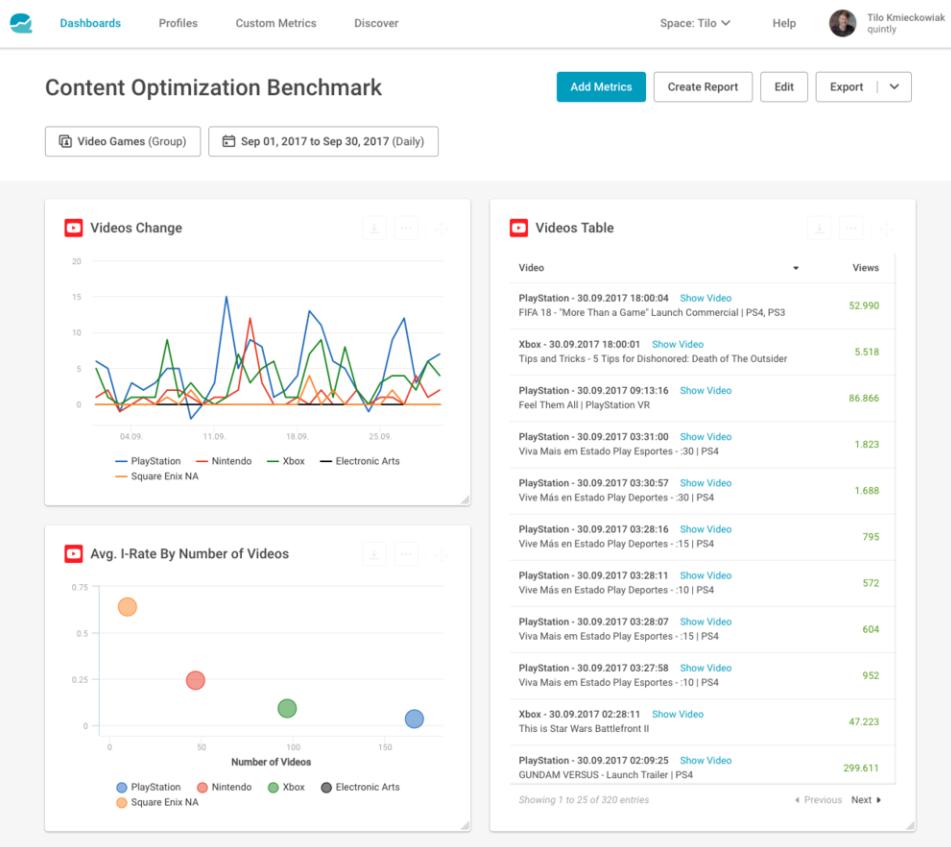 In another example looking at big German car brands, we have more details on a number of factors to their company performance on Facebook. In this case, not just fans data but also key metrics looking at posting habits and interactions.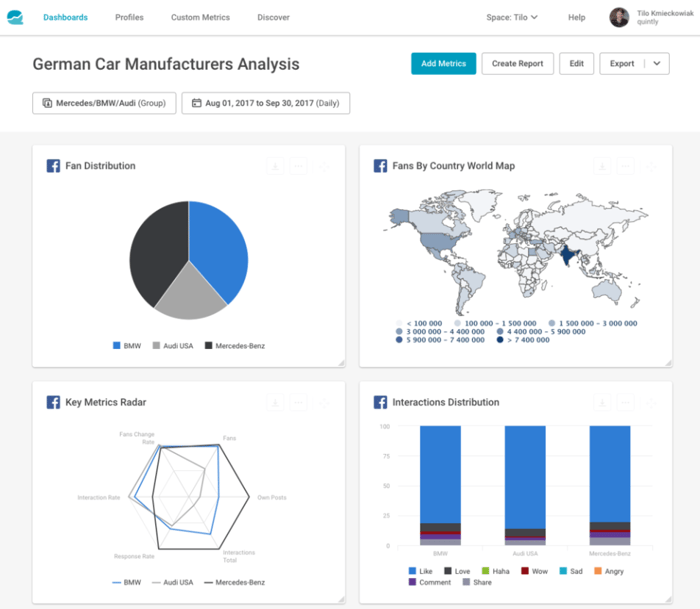 4. Content is king
In case it wasn't obvious enough, it is essential to make great use of the content you create. Settling for just 'good' doesn't cut it anymore, not with 70% of small businesses using social media.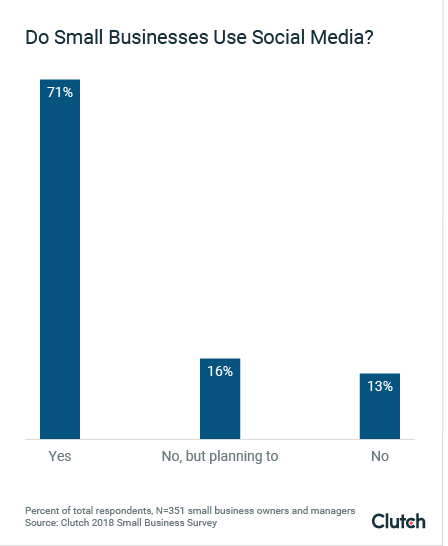 All of these businesses post content so you should want yours to stand out. Video content has and continues to be extremely effective, whether live or on platforms like Vimeo or YouTube, but also content such as memes and GIFs, blog posts, infographics, surveys, you name it!
Content needs to be clever, original and engaging, sure, but you'll need to cover two key aspects: It needs to answer the "Why" question and be consistent with the brand's own tone of voice.
It's a good idea to think like a consumer for that one. What kind of need does your product cover? Why would someone need it? Make sure to highlight that question and answer it, both for yourself-it will give you a lot more insight-and for your audience.
As far as the brand's tone is concerned, keep the following in mind: People have gone from fine-print in advertising, to email blasts, to spam emails, to voucher scams… They're not exactly trusting, when it comes to advertising and promoting.
In order to establish a brand tone, you'll need to sit down with your team and brainstorm. Answer those simple questions:
Who is your target audience?
Why would you, as a visitor, choose to follow this brand? What makes its tone stand out?
As soon as you've got the answers, test and then test again.
Create content with CTAs and catchphrases that people won't help but remember, use SEO techniques and make sure to remain original throughout the social channels you are going to use to promote your brand.
Content doesn't have to be just yours, though.
You can rely on user generated content as well. This will help with brand engagement, as it shows that you're taking your audience very seriously and that you value their opinion-so much so that you want them to help you out with your online presence!
Just make sure that your content doesn't go for any kind of hard sell. If you tip your hand too much or too soon, audiences will lose trust and move on.
5. Consider influencers
Yes, influencers can cost a lot. But reaching out to them won't cost a thing. Better yet, with a free sample or full-on product for them to try and review. Influencer marketing is nothing short of huge nowadays and it can help your brand reach new audiences. Just make sure that their content is consistent with your brand and that their audience will be interested in what you've got to offer.
Try and find the hashtags that are relevant to your niche and see which influencers use them. Analyze their content, follower counts and of course engagement for a decent period of time and you'll be on your way to more informed decisions towards approaching and working with possible influencers.
6. Make sure to interact with your followers
You'll need to know what your followers like and dislike about you and your brand. Not only that, but also, you'll need to know where and how your brand's name is mentioned and be ready to answer any and all complaints that have to do with you.
Brands that put humans first and focus on real connections and communication tend to have the best turnaround for positive sentiment and engaged audiences. Just look at big brands on Twitter who regularly hire witty social writers to manage comments and replies on the network. In other cases, sometimes on networks like Facebook, this process might also be leveraged through chatbots and even AI or other approaches to community management.
Make sure to keep the biggest part of your audience happy. Engage in social listening, which will enable you to always be one step ahead in seeing how users are talking about or mentioning your brand.
What is more, your audience will know that they're talking to a real person and not a faceless company, which is one of the biggest benefits that an SME can exploit. So, instead of being an unapproachable or unrelatable company, try to become your audience's friend and listen to their problems.
7. Treat your audience like they're family
Don't hesitate to pamper them. Spoil them a little bit. And make sure your customer service treats them right. If you don't think that customer service is a crucial part of marketing and sales, then you're mistaken.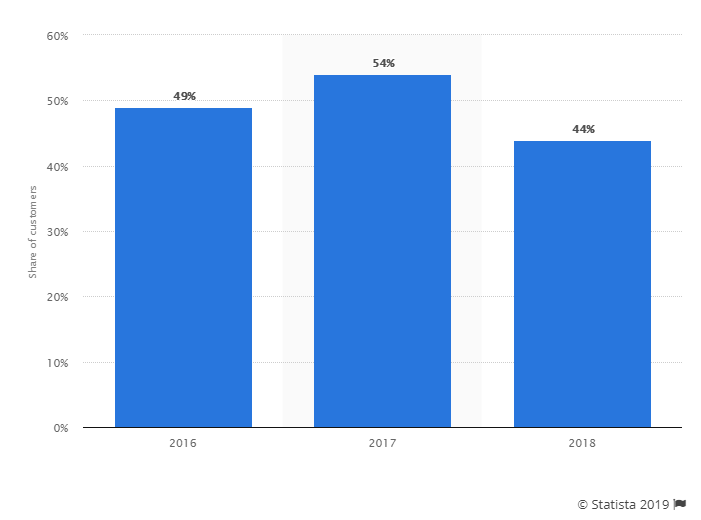 Chances are your audiences have hundreds of options to choose from. Make sure that you've got everything on point, your tone is friendly and conversational, especially in social media networks that go for a more personal approach by nature. (Hint: Twitter.)
Another tip? Don't be above loyalty programs. Reward your most loyal customers with gifts and benefits and save the most important rewards for the referrals. This can be a great way to grow your audience organically.
8. Don't just focus on the best in your niche
A lot can be learned from brands that failed in the past, especially those that seemed to be doing everything otherwise by the book.
Despite the endless lists of hot tips – this one included – there's not always such a clear right or wrong when it comes to social media and what didn't work for certain brands may work for you. Alternatively, you may even find a way to repurpose the tactic that drove another business' social media marketing strategy to failure.
Learn from the mistakes of others. That way, you'll buy yourself some extra time and have a lot more room to improve while, at the same time, minimizing the risk.
9. Create a website and use email marketing
Social media is fantastic but you need to earn peoples trust and you'll likely need more than a stream of witty Tweets to do this. A website where your audience can be redirected, can and will give your business more credibility.
Of course, a website won't do the work all on its own, much like your social media profiles wouldn't, either. This is why you would definitely need to use a tool or two, and of course, your imagination. It doesn't hurt to do some research on what Facebook Pixel is but we'll quickly run you through some essentials here.
Facebook Pixel is essentially a code that you can use on your website. That code will trace conversions that came from Facebook and help you create ads, target potential customers and retarget lost leads – i.e. leads that have already visited your website but didn't purchase anything.
These leads will see ads for your website again and they're free to go visit it one more time – and in turn, give you more and more chances to raise your conversions! Now, let's say that the lead has visited your website, they took a look around and liked what they saw. What can you do now?
The answer is simple, its execution less so: Use attractive design, powerful copy and keep the most important buttons where people can find them. Especially things like a "Subscribe" button for a newsletter or e-mail list you may have.
In case you're wondering why, e-mail marketing is still an incredibly effective tactic and, when used properly and in unison with social media, it can work wonders for your conversion numbers!
Any promotional or marketing-driven email should include a call-to-action (CTA), button or link that redirects your audience to your website or landing page. So get going, use the best newsletter templates that will be consistent with your brand voice and make sure your content is one to be remembered for!
Pro tip: Check this article out and get to work on creating an amazing newsletter if you haven't already!
In conclusion
There are billions of different strategies that can help your SME thrive and social media is a great way to make your business known to the public. Is there any tactic that is not mentioned in the article? Is there anything you'd like to be clarified? Please leave a comment and, if you found this helpful, don't forget to share!
Recommended Readings
7 Tips for Successful Social Media Video Ads
How to analyze Instagram Stories
The best time to post on Instagram
How do Instagram Insights work?
The 5 most important Facebook KPI's